Democracy* on Locke Street is one of the best independently-owned coffee shops in the city, and it's also one of the best vegan restaurants in Hamilton, too. Democracy offers an inviting and comfortable atmosphere for all who visit the cafe.
Immediately, I noticed the huge chalkboard walls, beckoning people of all ages to create their own artwork or messages to decorate the shop. Board games were stacked on a shelf, inviting customers to stay a while and spend time with friends. I'm going to share more details about our visit to Democracy (including some updated details since our first visit in February 2015 when this blog post was originally published!).
Posts may be sponsored. Post contains affiliate links. I may be compensated if you make a purchase using my link.
Democracy: A Welcoming Atmosphere
Democracy is one of the few coffee shops I've visited that wasn't filled with customers on their laptops. In fact, there were families here spending time together, as well as friends chatting over lattes and sandwiches. Democracy coffee shop has taken a rare stance nowadays – it does not offer a wifi connection at all.
What, no Internet? Say it isn't so! This decision was made purposefully by the owners, encouraging people to engage in conversation and spend quality time with one another. Remaining true to its namesake, Democracy suggests that discussion and debate are valuable, and perhaps this coffee shop would be a great place to immerse ourselves in dialogues with our colleagues and loved ones.
Another aspect that made me particularly happy was that there were several tables available on a Saturday afternoon when Justin and I visited Democracy. Maybe this related to the no-wifi thing, or maybe it was because this cafe had plenty of space and lots of tables.
Democracy* Cafe's Vegan Offerings
We made our way to the front counter, noticing a glass case containing bins full of bagels and numerous baked goods. The word vegan caught my eye and there was another reason to rejoice. When we visited in 2015, about half of the treats were vegan…nowadays, 100% of the desserts are vegan! In addition, many treats are gluten-free. The only dairy that's offered at Democracy goes into coffee and espresso beverages.
As always, Democracy restaurant's menu is 100% vegan, so you can be sure that everything on the menu is completely plant-based. The menu has changed over the years, and I'm always able to find a tasty dish or two that catches my interest.
Justin and I took a seat by the giant garage door window, which I imagine could be opened up during the summer months. Justin ordered the BBQ Pulled Mushroom (King oyster mushrooms shredded and sauteed in BBQ sauce and topped with coleslaw) and I ordered the Stuffed Focaccia (smoked tempeh baked right in the dough with apples, maple syrup, walnuts, caramelized onions, and Daiya vegan cheese).
The BBQ pulled mushroom sandwich was actually quite light and full of flavour. The BBQ sauce was tangy and delicious, while the coleslaw was crispy. As for the stuffed focaccia, wow was it ever good! Between the smoked tempeh, the sweet caramelized onions and maple syrup, and the gooey cheese, it was a very rich and savory mouthful.
Justin said that it was actually quite meaty in its taste, and that anyone who loved eating meat would really enjoy this sandwich. I've never eaten meat before, and I loved the sandwich. It was really filling – I couldn't finish the whole thing, and I lamented that.
We Love Democracy Restaurant
I thought this phrase on the chalkboard wall was quite funny (vegan/health food humour, anyone?): "Never eat ingredients you can't pronounce. Except quinoa. You should eat quinoa." On another wall, someone advocated for signing a petition to ban animal traps on trails. I later discovered was the petition was also advertised on the cafe's Facebook page. Any coffee shop that speaks up for the safety and welfare of animals is a place that I will support! It also helps that the food was very, very yummy.
On one way out, we couldn't resist getting coffee, a huge double chocolate cookie, and one of those decadent cinnamon buns. I'd love to come back for a latte or to enjoy a beer or glass of wine (yes, they serve alcohol, too!). Democracy Restaurant, we will be back (and we have been back…many, many times!).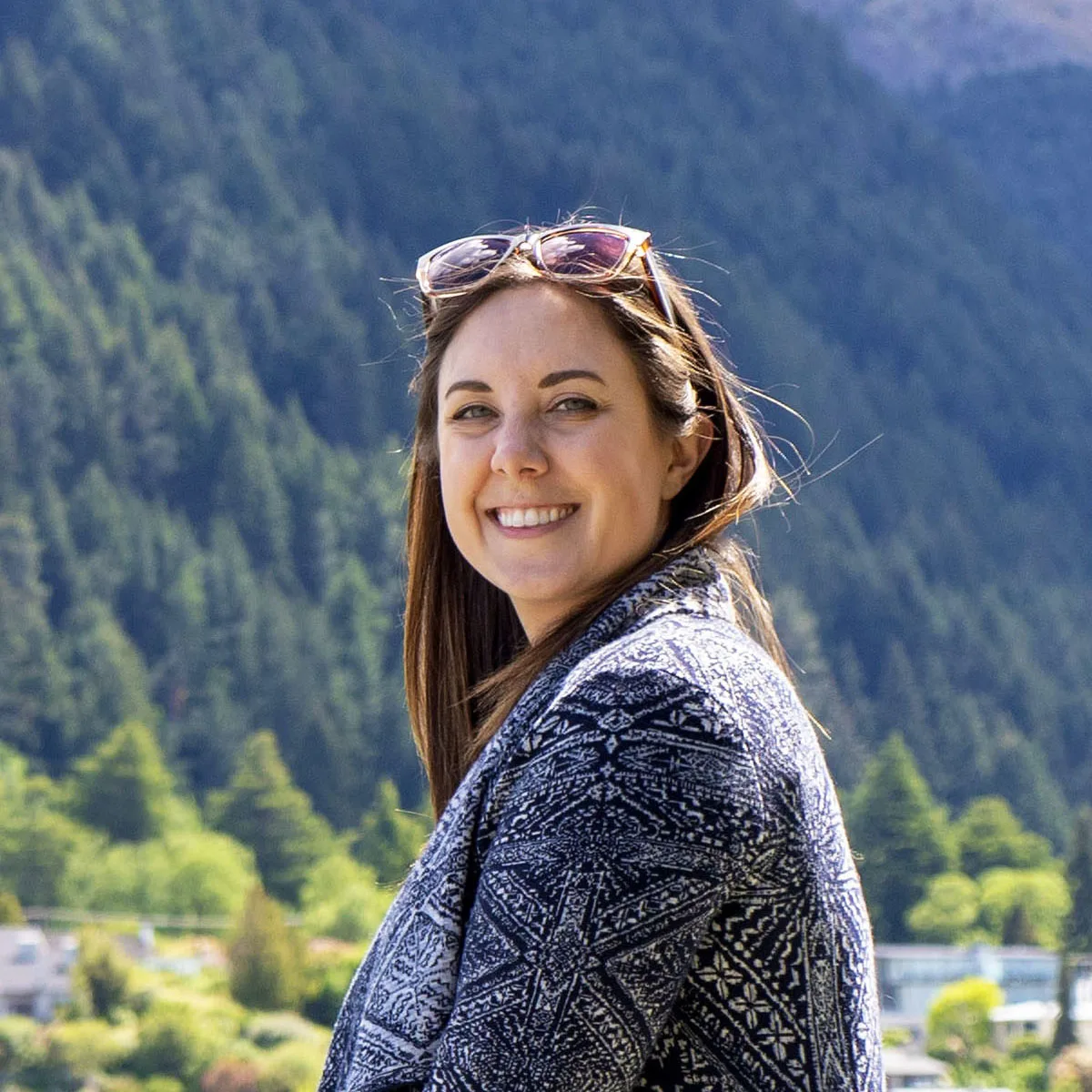 Lauren is the full-time travel blogger and content creator behind Justin Plus Lauren. She started Justin Plus Lauren in 2013 and has travelled to 50+ countries around the world. Lauren is an expert on vegan travel as one of the very first vegan travel bloggers. She also focuses on outdoor adventure travel, eco and sustainable travel, and creating amazing travel itineraries for cities and small towns.