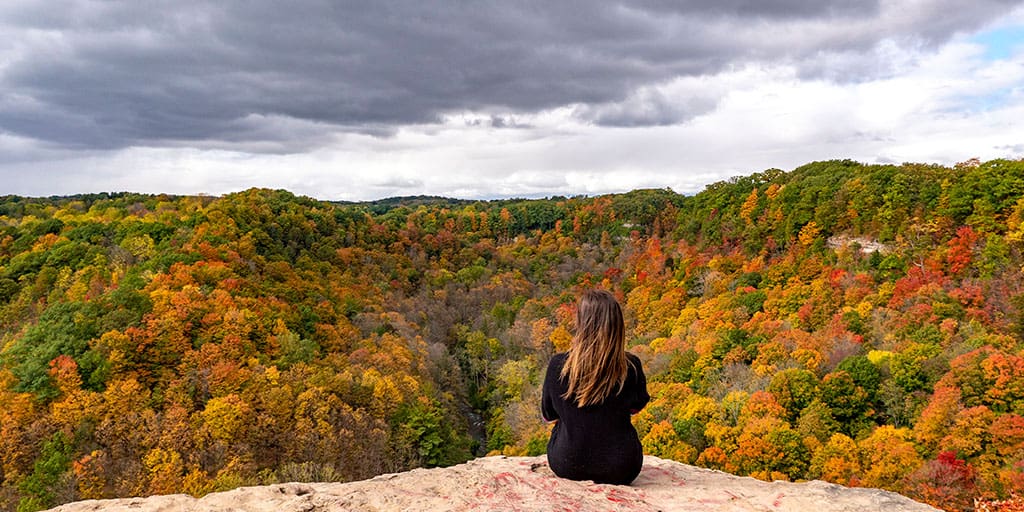 A guide to the Dundas Peak, Tews Falls, and Websters Falls from a local.
I've visited the Spencer Gorge Conservation Area since I was a kid. It's the scenic space made famous by Websters Falls, Tews Falls, and the Dundas Peak; there's so much natural beauty that it's bursting at the seams. While it's gorgeous all year long, the fall is a special season in the Dundas Valley. The treetops gleam gold, amber, copper, and rust.
I have so many memories of exploring the trails and waterfalls of Dundas while growing up there. We'd sway from makeshift rope swings at the Dundas Valley Conservation Area, flying through the air and rolling into piles of leaves. I remember taking class hiking trips to Webster's Falls right from my middle school, formerly known as Dundas District (now known as the District Lofts, as the school was transformed into condo units). Could you imagine going to school right beneath the escarpment, moments away from trails and waterfalls? I'm not even sure that I fully appreciated it back then. On one of those hikes, I recall walking along the path, headphones in my ears, listening to the Alanis Morrisette Jagged Little Pill CD on my Discman. A teacher confiscated the album due to its profane lyrics. Ah, the memories.
Even though I currently live up the highway a few cities away, I find myself continually returning to Dundas. It's where I feel most at home. Even though much has changed, I'm happy to show off my little hometown to everyone and anyone I know. Especially you, my lovely blog readers. Before the days of the Internet and forums and social media and blogs, the Dundas Peak (just known as "The Peak" to us) and its waterfalls were our little secret. Now, I'm overjoyed that so many people from around the world visit my hometown because it's one of the most beautiful places I've witnessed. While the trails are way more popular than ever before, I'm proud that this space that's a little part of me can be shared by so many.
Dundas Peak Parking
Parking your car to visit Websters Falls, Tews Falls, and the Dundas Peak never used to be an issue. We never had to pay for parking, and we could simply walk right to the trails for hiking and viewing the scenery. However, the Spencer Gorge and its waterfalls grew in popularity and the area couldn't accommodate the sheer number of visitors. The tourism campaign promoting Hamilton as the waterfall capital of the world was a resounding success (I've also called it the frozen waterfall capital of the world, too!). Therefore, the Hamilton Conservation Authority charges a parking fee and an entrance fee to dissuade people from visiting (yes, the tourism campaign was almost too successful). Don't let the price point turn you off – it's well worth the trip.
If you're looking for free parking at the Dundas Peak, you'll be hard pressed to find it. At the top of the escarpment, every side street is marked with no parking signs. Don't park on these streets as you'll surely get a ticket. You might be able to get away with simply not paying for parking at the Tews Falls lot on a weekday in the fall, but do so at your own risk (I don't recommend not paying as you'll likely get a parking ticket, and it's a tad unethical). From May to the end of October, you won't be allowed to park at any official parking lots as there is a shuttle service for guests from Christie Lake Conservation Area. Click here to learn more about the shuttle.
Dundas Peak Free Parking
If you don't mind a bit of a hike (after all, you're here to hike!), you can park below the escarpment right in town. There are many side streets near the District Lofts and Cascades Park. From Cascades Park (Livingstone Drive), leave your car behind and walk to the trail off Sydenham Road. From there, you'll reach the Tews Falls Lookout Trail (formerly known as the Webster's Falls Side Trail). Alternatively, you can park on Park Street (how aptly named!), Bond Street, or any others off King Street West. Continue walking west on King Street until you see a path beneath the train tracks to the right. Take that path and it will eventually connect to Tews Falls Lookout Trail. Those are the only ways I can truly recommend for Dundas Peak free parking; otherwise, just pay the entrance and parking fees like everyone else to be right at the trail entrance.
Reaching Webster's Falls from Tews Falls
Webster's Falls and Tews Falls are both spectacular waterfalls and relatively close to one another. Once upon a time, we used to be able to hike from one to the next with ease. Unfortunately, many visitors were disrespectful to the nearby landowners who generously allowed the trail to wind through their property. From nude photo shoots to trespassing and intruding around their home, the property owners revoked the rights for hikers to pass through their land. You're currently unable to hike between Webster's Falls and Tews Falls.
Here are a couple of suggestions: you can park at Tews Falls to hike to the waterfall and then to the Dundas Peak and back. Then, you can move your car to the parking lot at the Greensville Optimist Park to see Webster's Falls. Conversely, you can leave your car at the Tews Falls lot, walk down Harvest Road, Short Road, and then Fallsview Road to the waterfall. Maybe one day there will be another hiking route that will reunite the two waterfalls on the same path.
Reaching the Bottom of Websters Falls
To make matters even more confusing, there isn't any way to reach the base of Webster's Falls from the top of it. There used to be a staircase, but it was removed to preserve the ecology of the land. If you enter the Spencer Gorge Conservation Area to see Webster's Falls from the top of the escarpment (at Fallsview Road), you'll catch stunning views of the waterfall cascading over the edge. However, Websters Falls is most brilliantly viewed from the bottom of the waterfall, as seen in our video about Dundas. The official HCA website asks that you do not climb any fences or edges of the gorge to climb to the bottom of the falls. Webster's Falls is spectacular in all seasons, even in the winter when it's partially frozen and covered in snow.
To reach the base of Webster's Falls, start your hike at Woodleys Lane and King Street W/Highway 8. Walk underneath the bridge with the train tracks overhead and veer to the right up the old blocked road. Walk across the clearing until you reach a path entering the forest. Continue to walk along the path that runs beside Spencer Creek until you reach Websters Falls (keep to the left). Please note that this path is not maintained and there is no access to the top of the falls from the bottom.
Visiting Tews Falls
The easiest and most common hike nowadays starts at Tews Falls and follows the Tews Falls Lookout Trail (also known as the Spencer Adventure Trail) to the Dundas Peak. You'll witness the panoramic views of the valley, the stunning Spencer Gorge, and the geological wonders of the Niagara Escarpment (a UNESCO Biosphere Reserve). Right away, you'll reach Tews Falls, a waterfall that's merely a few metres short of Niagara Falls. I recommend checking Tews Falls out during the summer and fall months, as the waterfall can nearly dry up in the summer. If you can visit in the autumn just after a rainfall, Tews Falls will shine with the most magnificence.
Hiking to the Dundas Peak
From Tews Falls, continue hiking to the Dundas Peak. It's a relatively easy, gentle ascent to the top of the escarpment. You'll start by climbing a staircase. Then, admire the shady trees all around you, with small glimpses of the gorge and beyond. This hike is lovely all year long, although I'm partial to the autumn. Don't venture off the trail; follow the blue markers until you reach the Peak. It's technically called the "Dundas Lookout Side Trail", although it's only a few steps to the lookout itself.
Dundas Peak Lookout
At the main lookout of the Dundas Peak, you'll see the iconic short wall that's usually spray painted with some sort of graffiti. From there, enjoy panoramic views of the entire town. I have visited this spot with so many friends over the years, and even on my own. It was one of the first places I took Justin when we started dating. Back in those days, there were never many other people around and we usually had it to ourselves. Nowadays, it's a very different space with people taking turns snapping photographs of each other, as well as an unlimited amount of selfies. Just like everyone else, I was pleased to capture pictures at the Dundas Peak for my own Instagram account. While we can wistfully dream of earlier times when the Dundas Peak was left undiscovered by the masses, I'm happy to inspire others to visit this sensational scenery.
Get out there and see the Spencer Gorge, Dundas Peak, Websters Falls and Tews Falls during any season. I recommend going on a weekday during the fall for the gorgeous autumn colours. If you'd like to avoid the crowds, visit early in the morning where you'll be sharing the trail with mostly locals walking their dogs. Even when I visited on a weekday afternoon, it wasn't terribly crowded. The peak fall colours can happen anywhere from the end of September to mid October. They might peak later in October if the summer heat continues for longer than anticipated.
Necessities for a Day Hike
I recommend 10 essential items to bring with you for any day hike. These will keep you safe, comfortable, and happy during your hiking trip. These include:
Where to Stay in Dundas and Hamilton
Looking to make a weekend of it? There are a few fantastic accommodations in the Dundas and Hamilton area to upgrade your day hike to a weekend of fantastic memories.
The Osler House (Dundas, ON)
While there aren't very many accommodations in Dundas itself, the Osler House is a beautiful Victorian mansion where you can rest your head at night. It was once the home of the renowned Osler family, and it's now a boutique and exclusive inn. You're within walking distance of quaint downtown Dundas where you can browse the shops and have a delicious meal. Book your stay at the Olser House or read more reviews from fellow travelers.
Homewood Suites (Hamilton, ON)
If hotels are more your style, you'll have to venture into the bigger metropolis of Hamilton. I recommend staying at the Homewood Suites in Hamilton. This hotel has fantastic reviews from its guests, and it's in a really trendy area. Every room also has a kitchenette, a pool, free Wi-Fi, and complimentary breakfast. You'll feel right at home here! Book your stay at the Homewood Suites or read more reviews from fellow travelers.
Airbnb (Dundas and Hamilton, ON)
Of course, Airbnb is always an option. Find unique homes and apartments to feel right at home during your time in Dundas, Ontario. There are quite a few properties in Dundas on Airbnb. Check them out to compare. Haven't used Airbnb before? Use my link to save up to $60 on your first stay!
I hope you enjoyed this insider's perspective from a local Dundas gal. This hiking region is my own little slice of paradise and one of my favourite places. Yes, Dundas is a part of Hamilton now, so many non-locals will refer to this these trails and waterfalls as belonging to Hamilton. However, this will always be Dundas to me (sorry, not sorry, Hamilton…Dundas forever!). Enjoy your visit and please don't hesitate to ask me any questions about the waterfalls or Dundas in general as I'm always happy to help!
This post contains affiliate links. If you click one of them, I may receive a small commission at no extra cost to you.
Have you visited Dundas, Ontario or the Dundas Peak? Tell me about your adventures!