If you're follow a plant-based diet and you're visiting Stratford, Ontario, I suggest dining at these amazing Stratford vegan restaurants. Stratford is a short road trip away from Toronto, Hamilton, and other cities in southern Ontario.
There are lots of things to do in Stratford in the winter and the summer months. I recommend spending the weekend in Stratford so you can shop, dine, and absorb the surroundings of this beautiful little city. There are also lots of fantastic events and festivals in Stratford, including the summer World in a Weekend festival.
Posts may be sponsored. Post contains affiliate links. I may be compensated if you make a purchase using my link.
Stratford has one 100% vegan restaurant, one restaurant that's mostly vegan, one vegetarian restaurant (with mostly all vegan options), and a cute cafe offering delicious vegan breakfast selections. These are the top places to eat in Stratford and you can easily frequent all of them when you spend a weekend in the city.
Stratford Vegan Restaurants: Grounded
Grounded is a 100% vegan, whole foods plant-based cafe. You'll feel good after dining here as every meal is nutritious, delicious, and lovingly made from scratch. Grounded is one of the best restaurants in Stratford, Ontario, without a doubt!
The owner and chef, Heather McArthur, was born and raised in Stratford, Ontario. She worked in the culinary industry for many years before opening her own vegan restaurant in Stratford. Every dish on the menu is thoughtful and unique, and there are lots of gluten-free options, too.
While you can normally dine in, the restaurant is focused on takeout orders for the time being. It's easy to pre-order your meals ahead of time. There is a new menu each week, and then you can call in with your order. Order no later than Wednesday evening and you can pick up your order on Saturday. Treat yourself this weekend!
I started with the creamy turmeric hummus with gluten-free flatbread. It takes your typical hummus up a few notches. The turmeric adds an extra zip, and the flatbreads have a slight coconut flavor that goes great with the hummus.
For my main course, I ordered a sweet potato stuffed with vegan sausage, sprouted rice & maple mustard sauce. The flavors of this dish were bang on and they all worked so well with one another.
For dessert, I had a little chai cheesecake and some peppermint brownie bliss bites that were such a yummy sweet treat. Not only is the presentation delightful, but everything tastes even better than it looks!
If you're searching for Stratford vegan restaurants, Grounded is my number one choice. Everything on the menu is vegan. It's much fancier than anything I could create at home myself. And you don't have to feel guilty at all because the food is fresh and nourishing.
Stratford Vegan Restaurants: The Planet Diner
Now, for something a little bit different if you're looking to treat yourself to some comfort food! The Planet Diner is one of the best Stratford vegan restaurants that's "mostly vegan". The majority of the menu is vegan with a couple of meat offerings here and there.
The Planet Diner is known as the place "where herbivores can bring their carnivores". I think it's a great spot to prove just how comforting and delicious vegan food can taste. I'd love to see the omni-options removed from the menu entirely, but I do love that this restaurant has so much yummy vegan food in Stratford. It's one of the top Stratford restaurants for casual dining.
This mostly plant-based restaurant features vegan comfort food, like poutine, mac & cheese, burgers and more. I ordered the Chick'un Burger with a side of queso fries. They brushed some sort of vegan butter on top of the bun, too. The portions are large and the meal was hearty. I struggled to eat the whole thing, but I didn't want to leave any food behind. It was that good.
On another more recent visit, Justin and I dined at The Planet Diner together. This time, Justin ordered the Chick'Un Burger and I got the Southern Combo plate (mac & cheese, chick'un with BBQ sauce, and slaw). We also got some fun drinks: I had a root beer float and Justin had a vegan Caesar.
Don't leave the restaurant without trying their mouthwatering vegan donuts. I couldn't eat another bite of food, so I took a couple of donuts to go. It's the perfect midnight snack for later in the evening!
Stratford Vegan Restaurants: The Pulp Fresh Bar
Here's another one of the top Stratford vegan restaurants with food that's just as good for you as it is yummy. The Pulp is a family owned juice bar with fresh fruit smoothies, pressed juice, and savory bowls. You can pop in for a post workout smoothie, keep your fridge stocked with their juice, or dine here for lunch.
While this restaurant is 100% vegetarian, it's mostly vegan as well. All of the sauces for the bowls are vegan. Almost everything is vegan, but it's very clear on the menu board which bowls are vegetarian (and then you can make swaps if you'd like them to be vegan). It's also really easy to dine here if you follow a gluten-free diet, too.
I ordered the California bowl with marinated tofu, carrot, cucumber, seaweed avocado, pickled ginger and vegan sriracha mayo. Everything tasted perfectly. I paired the bowl with a kombucha because I wasn't hungry enough to order a smoothie this time around. I will have to come back for a smoothie on a hot, summer day!
El Cactus Taco Shop
El Cactus Taco Shop is another new spot in town, and it was right outside of our hotel, the Perth County Inn. Chef Alondra Galvez is a Mexican-born chef and graduate from the Stratford Chefs School. She has created innovative and flavourful dishes for this Mexican farm to table taco bar and takeout shop.
There are two vegan tacos on the menu: el Cactus (roasted cactus, poblano chili, avocado, ask for vegan cheese) and el Hippie (spicy walnut meat, cashew lime crema, avocado cream). We also got a vegan quesadilla and some Mexican sodas. These tacos were among the best we've ever had! For more vegan options, there's a burrito on the menu that I'm certain could be made vegan, as well as guac and chips.
The Alley Restaurant
The Alley is a vegan-friendly restaurant in Stratford, Ontario. The curated menu serves vegans, vegetarians, those seeking gluten-free meals, and those who don't have any dietary preferences. There's also a selection of craft cocktails and house brewed beer. I ordered the red coconut curry dish with tofu that was so fragrant and yummy.
There's also a vegan dessert on the menu, which can be a rarity at an upscale establishment. It is a coconut parfait with black sesame and stone fruit. It was unlike any dessert I've ever tasted, and it was bursting with flavour. Coconut fans will love this one.
Edison's Cafe Bar
When search for vegan restaurants in Stratford, don't overlook the veg-friendly ones. While Edison's Cafe Bar isn't an entirely vegan restaurant, they have lots of vegan, dairy-free, and gluten-free options on the menu. Edison's Cafe Bar is owned by a husband and wife team from Stratford, and they operate this establishment as a whole foods cafe.
I stopped at Edison's Cafe Bar for breakfast as there are a couple of vegan options on the menu. They also have amazing coffee here. I highly recommend ordering the chia pudding with fresh fruit, as well as a mug of freshly brewed coffee. Here's a listing of more fantastic coffee shops in Stratford.
We went back for breakfast on a second occasion and I couldn't resist ordering a chia bowl again. Justin got the avocado toast on charcoal bread and loved it. This time, we dined on their little outdoor patio and enjoyed the views of downtown Stratford.
Fun historical fact: Thomas Edison was once a resident of the upstairs inn in 1863. The cafe is really photogenic when you walk inside, and you can admire a gorgeous artwork featuring Edison across one of the cafe's brick walls. There are also a few vegan treats at the front counter, such as these peanut butter and raspberry chia jam cups.
Lady Glaze Doughnuts
Lady Glaze Doughnuts is a vegan-friendly doughnut shop in Stratford. There are several varieties of vegan donuts. Ask the staff which ones are plant-based. Lady Glaze Doughnuts is a stop on the Stratford Chocolate Trail, allowing you to redeem your voucher for a donut and a coffee.
I opted for a vanilla sprinkle donut with an iced Americano with oat milk. The doughnuts are fluffy, sweet and satisfying, while the coffee is equally as delicious. Stratford is very lucky to have two sources for vegan donuts, Lady Glaze Doughnuts and the Planet Diner.
Want to see more photos of Stratford?
View all of our travel photography in one place! You can browse and buy any of our pictures in the form of canvas prints, things for the home, and more!
More Vegan Guides in Ontario
I've written tons of vegan restaurant guides in Ontario (and around the world)! Here are a few more cities in Ontario with fantastic vegan food options: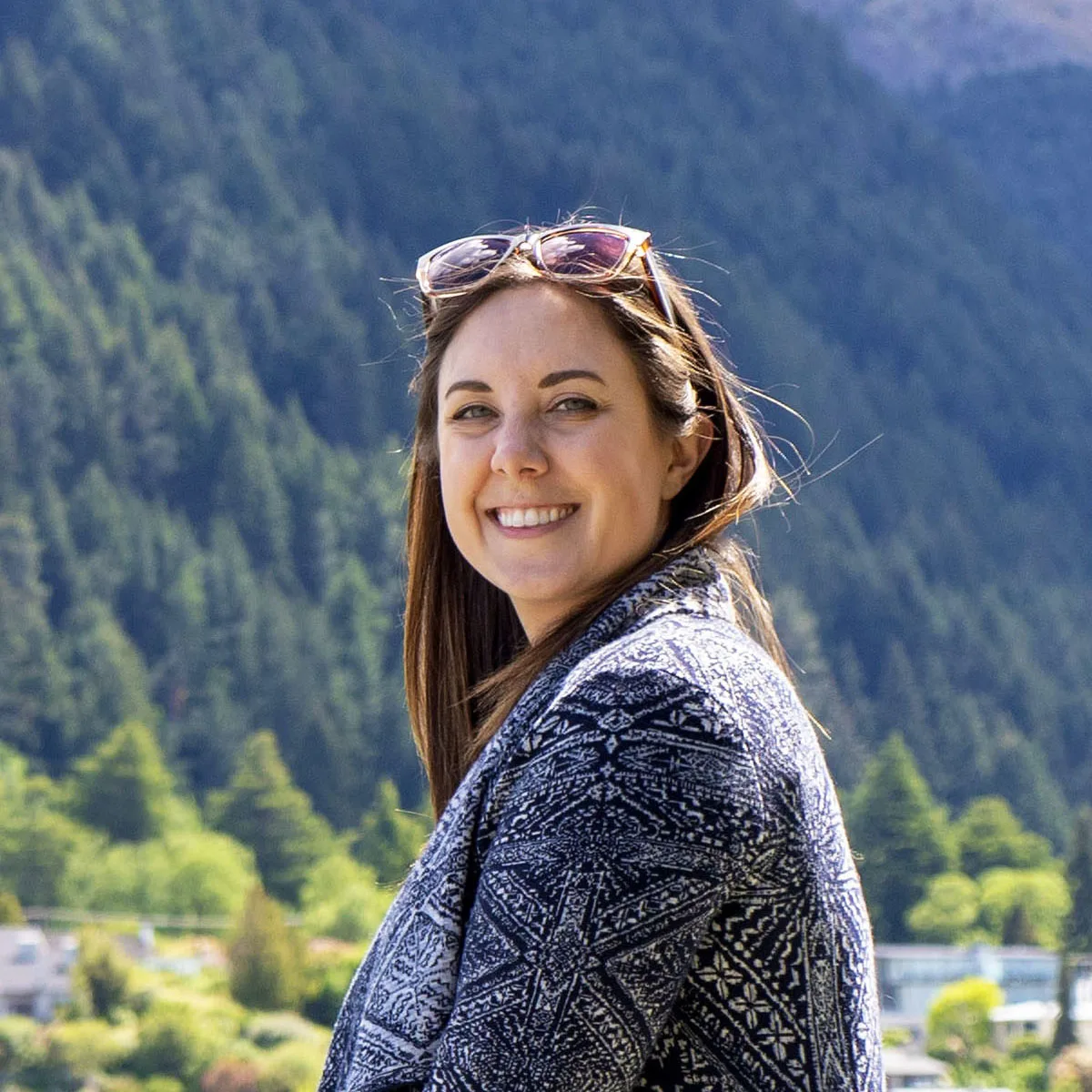 Lauren is the full-time travel blogger and content creator behind Justin Plus Lauren. She started Justin Plus Lauren in 2013 and has travelled to 45+ countries around the world. Lauren is an expert on vegan travel as one of the very first vegan travel bloggers. She also focuses on outdoor adventure travel, eco and sustainable travel, and creating amazing travel itineraries for cities and small towns.