These are the best things to do in Belleville, Ontario, whether you're planning a day trip or an extended long weekend in the city. Belleville sits on the north shore of the Bay of Quinte in southern Ontario, and it's perfectly positioned at about the halfway point between Toronto and Montreal. It's only about an hour from the United States border, and directly en route to Prince Edward County.
The city of Belleville has many fun attractions and activities to discover. Downtown Belleville features a historic city centre with many local shops, cafes and restaurants. There's no shortage of unique seasonal happenings, like Pop-Ups on the Bay, and there are plenty of outdoor adventures to be had. You can also pair a trip to Belleville with some other amazing spots around the Bay of Quinte region, too.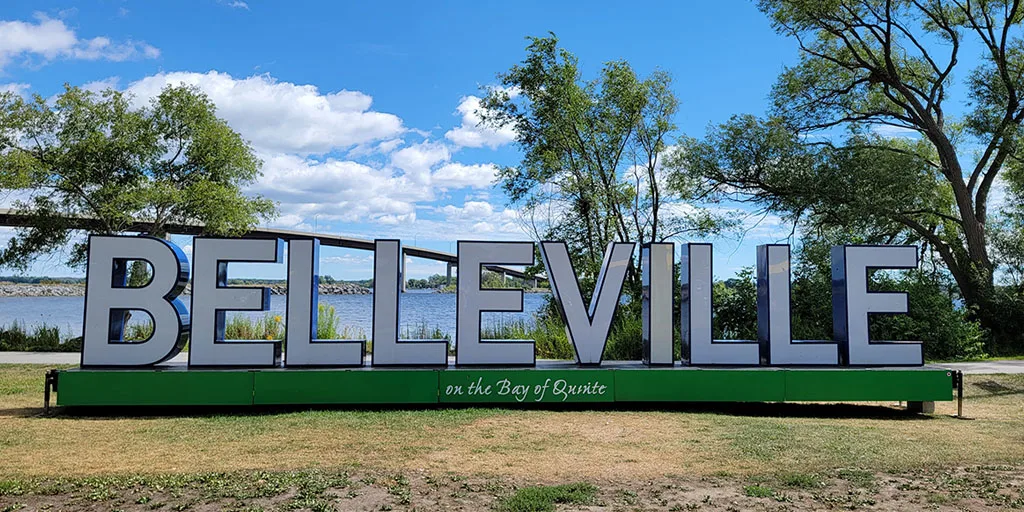 In this travel blog post about Belleville, I'm going to show you the the best of the city and why it's such a great place to visit. I'll show you where to stay, play, dine, and more. With this Belleville travel guide, you'll be able to build the best trip itinerary for a day trip to Belleville or a few days here. I spent three days in and around Belleville, which I highly recommend doing for yourself.
Where to Stay in Belleville, Ontario
I spent two nights at the Towneplace Suites by Marriott Belleville, located on the edge of the city. For a city with a sizeable population, Belleville isn't that large and it's really easy to get from point A to point B. The Towneplace Suites Belleville is a modern and comfortable place to stay with all of the best amenities.
A room at the Towneplace Suites is more akin to an apartment than a hotel room. There's a spacious living space with two large beds, a kitchenette where you can prepare meals, and a large bathroom. With a flatscreen TV, complimentary Wi-Fi, and a big desk, you can easily work from your room or simply enjoy your vacation.
Best Things to Do in Belleville: Explore Downtown Belleville
Downtown Belleville, established in 1816, has a vast collection of boutiques, shops, cafes, and restaurants inside rows of historic buildings. Go for a stroll on the main streets and side streets of Belleville's Downtown District for the full experience. There are bright and spacious patios, hidden courtyards, and a great coffee culture in town.
Get out on foot or bicycle to discover the pretty riverside trails on the edge of the Moira River. Visit the historic farmers market three times a week, and the artisan Side Hustle Market on select dates. The old architecture of Belleville showcases the rich history of the city. It's quite magnificent. Here's a map of the heritage properties in Belleville.
There are many annual events in the downtown core, so you can plan your visit around their community events. Enchanted is an event during the Christmas and holiday season with Santa and community festivities. Downtown at Dusk is an evening takeover of downtown Belleville with shopping, featured artists and food. The Porchfest Afterparty combines live music with delicious meals. Savour the Chill is a soup tasting contest.
Discover the Street Art and Murals
Do you love street art and colourful murals? Downtown Belleville has numerous murals dotting the landscape. You'll find these murals on the sides of buildings facing towards public parking lots, down narrow alleyways, and even as the flooring of a patio. All of the ones you see here are within walking distance of one another.
Searching for street art in the heart of the city is just as fun as finding it. Go for a walk on Front Street and Pinnacle Street in the heart of downtown to find much of this local art, but don't miss wandering beside and behind some buildings, too. Belleville has some of the best street art in Ontario. And if you love colourful murals, you'll adore my next suggestion on this list of the best places to visit in Belleville…
Fun Things to Do in Belleville: Pop-Ups on the Bay
When I first arrived in Belleville, I headed directly to Pop-Ups on the Bay and I'm so glad I did! It's a great introduction to the city through its food, drink, and waterfront beauty. Located at West Zwick's Park, Pop-Ups on the Bay is a waterfront pop-up village featuring food and drink vendors operating out of brightly painted shipping containers. There are also food trucks on-site.
Admire the art and grab some lunch for a waterfront picnic! I ventured over to these popup containers on a couple of occasions, enjoy a falafel wrap from Falafel Royale, a smoothie from Tropical Blends Cafe, an iced coffee from Benji's Cafe (they have vegan cinnamon buns, too!), and a handcrafted lemonade from Lemons. In addition to the food and drink, there's are many fun activities, like a little mini golf course and opportunities to rent kayaks.
Go Kayaking with Venture Outfitters
When you visit Belleville, you need to enjoy the beautiful scenery of the Bay of Quinte by water. It's easy to rent a kayak or stand-up paddleboard from Venture Outfitters, located at Pop-ups on the Bay. They rent SUPs, solo kayaks and tandem kayaks by the hour or by the day.
I took a solo kayak out for a paddle on the Bay of Quinte for an hour, and it was a really fun experience. It was a little bit wavy that day, but nothing too crazy. Just be prepared that you might get a little bit wet. On a hot summer day, it's really refreshing to be out on the water. Plus, water activities are a must when you visit a city along such beautiful shores.
This is a beautiful place to go kayaking. Paddle towards the bridge or along the shoreline of the park. I recommend paddling against the waves to start, and then allow the waves to bring you back to your starting point at the end of the kayaking adventure.
Waterfront Trail at Zwick Centennial Park
The Great Lakes Waterfront Trail meanders through Belleville and along the shores of the Bay of Quinte. The trail hugs the edge of Zwick Island and Zwick's Centennial Park. After I went kayaking, I went for a short walk around the park and the island, admiring views of the Bay of Quinte from land this time.
Visit Glanmore National Historic Site of Canada
The Glanmore National Historic Site of Canada is a treasure in the city that you need to experience. Visiting is one of the best things to do in Belleville for those who adore history and intriguing stories. Learn about the original residents of the home throughout four generations as you tour the carefully preserved and renovated rooms.
The museum houses approximately 20,000 artifacts that relate directly to Glanmore National Historic Site, depict the lifestyle of the original residents, or relate to the history of the Belleville region. These artifacts include furniture, clocks, antiquities, books, rugs, clothing and more.
There are many beautiful paintings throughout the home. Some of these are copies by Bertram and Cecilia Couldery who painted copies of well known paintings exhibited at art galleries in Europe. Copying famous works of art was a way for artists to practice and improve their skills. I also loved all of the paintings of dogs and cats throughout the home.
Toymaker Time Machine Experience
The Toymaker Time Machine Experience is unlike any museum exhibition or program that I've ever seen, and it's an absolute must for people of all ages (recommended for adults and children 8+). It is a new behind-the-scenes historical toymaking experience.
You'll join the museum's technician and toymaker, Dave Cox, as he helps you rediscover your inner child through past memories of childhood games. Perhaps these old games that will jog a past memory or you'll discover historic games that you've never heard about before.
Embark on a unique tour of the museum, going behind the scenes to typically off-limit spaces, playing games and even making one of your own to bring home. You'll see a handheld wooden game of Peg Solitaire, dating back to 1885, and then you'll be able to make one of your own that will become a future family heirloom.
Book this experience in advance at the museum's website. There are a limited amount of dates and spaces, so be sure to secure your space while you can. While I adore historic places, this was the most fun that I've had at a museum in a long time, so don't miss it!
Go Hiking at Potter's Creek Conservation Area
Potter's Creek Conservation Area is a wonderful place to go hiking in Belleville. The park is located on both sides of Old Highway 2, although the majority of the trails traverse through former farmland on the north side of the road.
There are 7km of paths to explore at Potter's Creek Conservation Area. On the north end of the park, there are several loop interconnecting loop trails through quiet forests, tranquil wetlands, and peaceful meadows. You can go for a short hike or a lengthier one here, too. I visited during the summer months, but Potter's Creek Conservation Area is also open during the winter season for hiking, cross-country skiing and snowshoeing.
On the south side of the park, there are shorter paved paths (the Parrott Riverfront Recreational Trail) offering beautiful views of the Bay of Quinte and a smaller pond teeming with wildlife. Exploring Potter's Creek Conservation Area for a couple of hours is one of the best things to do in Belleville. Definitely place this on your Belleville itinerary if you love gentle hikes and the great outdoors.
Things to Do in Belleville: Belleville Farmers Market
The Belleville Farmers Market was first established in 1816, and it was hosted inside the Belleville City Hall building from 1872. Nowadays, you'll find the market in the historic Market Square just behind City Hall in Belleville's Downtown District. The market is open Tuesdays, Thursdays and Saturdays year round from 9am to 5pm.
Belleville and Quinte area farmers, producers and artisans come together to sell their fresh produce and wares at the Belleville Farmers Market. There are locally grown fruits, vegetables, maple syrup and fresh cut flowers. You may also spot some baked goods, plants, and handcrafted items, too.
Things to Do in Belleville: Corby Park Rose Garden
The Corby Park Rose Garden is a historic rose garden in the quiet Old East Hill area of Belleville (222 Ann St). It's a lovely little park where you can go for a stroll and admire the flowers. There is a majestic fountain at one entrance of the park and flower beds throughout this pretty greenspace.
The Corby Rose Garden was originally owned by Henry Corby, a prominent businessman from England who helped Belleville grow as a community. The park was dedicated to the city in 1905 and was recently refurbished in 2016. As it was a really hot summer this year (and I visited Belleville in August), the roses were not quite at their prime. I suggest visiting the rose garden in June or July to see the roses at their best. Nevertheless, it's a pretty place to go for a walk all year long.
Things to Do in Belleville: Dine at Restaurants and Cafes
Belleville has an eclectic collection of restaurants, cafes and coffee shops. There are a wide variety of different international cuisines that cater to a number of dietary preferences and restrictions. As someone who follows a vegan diet, I had no issues finding numerous tasty meals in Belleville, and I barely scraped the surface of all of the amazing offerings in the city.
Aside from the restaurants and cafes that I mentioned above at Pop-ups on the Bay, here are the restaurants and coffee shops that I checked out when I visited Belleville. I thoroughly enjoyed my meals and coffee at each and every one of them. Check out my vegan guide to Belleville for more details.
Toro Sushi
Caribbean Kitchen
Birdy's Fine Casual Dining
Quinte Corner Cafe
Royal Haveli
Little Italy on 62
Sugar Mama's Bake Shoppe
Small Scale Bread
The Break Room
Gourmet Diem
More Things to Do Near Belleville Ontario
Belleville is the perfect place to establish as a home base when visiting the Bay of Quinte and Southeastern Ontario. Here are a couple of spots that you may want to add to this list: Quinte Botanical Gardens (when it reopens), nearby golf courses, the Shorelines Casino Belleville, Tyendinaga Cavern and Caves, and the Belleville Public Library & John M. Parrott Art Gallery.
Planning a trip in and around Belleville? The Bay of Quinte has so many amazing things to see and do, including several small towns to explore. When you're checking out the best things to do in Belleville, be sure to add a few of these top picks from the Bay of Quinte to your list, too.
Visit Dahlia May Flower Farm
Dahlia May Flower Farm is a small family farm in Quinte West with fields of the brightest and most beautiful blooms you'll ever see. They have a farm store that operates all year long, a weekly flower delivery service, and a monthly flower subscription service.
For those looking to visit the farm, Dahlia May opens their flower fields to the public for a limited time on weekends throughout August and September. They also have a sunflower field that's open as soon as the sunflowers begin to bloom.
You'll need to purchase tickets in advance to visit the flower fields. There are time slots with only a limited amount of guests allowed at a time. Don't forget to bring your camera. You'll be able to snap stunning photos with such a beautiful backdrop of colourful flowers.
Spend the Day in Brighton, Ontario
The town of Brighton isn't too far from Belleville. I recommend adding a trip to Brighton at the beginning or end of your Belleville trip. There's a quaint downtown to visit with shops and restaurants, as well as farm stands with the freshest local produce. You can also check out the town's parks and conservation areas, Presqu'ile Provincial Park and Proctor Park Conservation Area. Here are all of the best things to do in Brighton to help you plan your getaway.
The Bay of Quinte region has so many nature trails, lookout towers, and natural wonders to explore. Here's an overview of the best hiking trails in the Bay of Quinte. I recommend checking out these parks and greenspaces: