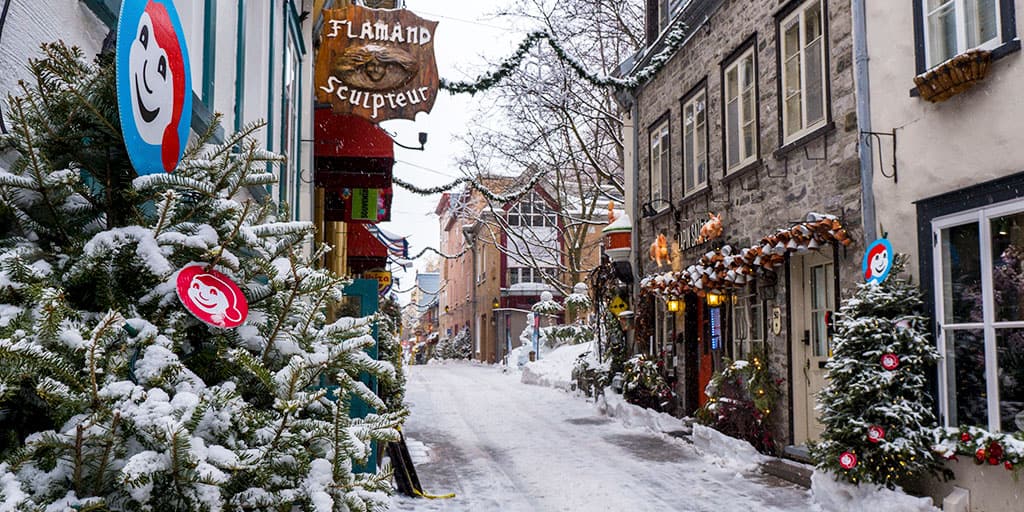 Quebec City is a destination that's wonderful no matter the season, and Quebec certainly gets all four seasons! Justin and I are fortunate to have visited Quebec City in the fall, winter, and summer. While I do love Quebec City in the summer, there are so many things to do in Quebec City in winter. Here are some bucket list items, activities, and ideas for planning your Quebec City winter getaway.
Posts may be sponsored. Post contains affiliate links. I may be compensated if you make a purchase using my link.
Quebec in Winter: Stay at the Ice Hotel
Spending the night at Quebec's ice hotel is one of the best things to do in Quebec in winter. The Hotel de Glace is a bucket list item that you'll want to check off your list at least once in your lifetime. It's the perfect Quebec City winter vacation, and one of the top ways to spend a winter weekend in Quebec City.
You might have thought that ice hotels were only overseas until now. This ice hotel in North America is more accessible to Canadians and Americans alike. It's the only hotel of its kind in the continent.
Each year, the property is made out of snow and ice from scratch. It's different every year and there are always new themes and new, creative ice sculptures. There are themed suites with fireplaces, relaxing spa experiences, and even an ice chapel for weddings.
Hotel de Glace is only open from the beginning of January through the end of March, making it the perfect addition to a Quebec City winter trip. Book your stay at the Hotel de Glace, and read more reviews from fellow travelers who have visited.
Quebec City Winter Activities at Quebec Winter Carnival
The Quebec Winter Carnival is an annual celebration of winter, snow, and ice. It's one of the world's largest winter celebrations, and it's one of the top things to do in Quebec City in winter. There's no better way to spend a Quebec City winter weekend than celebrating at the Carnaval de Quebec.
From the end of January until mid-February, the festivities are in full force. Images of Bonhomme, the iconic snowman ambassador of Carnaval, are plastered all over town. Pack your mittens, your arrow sash, and your stash of Caribou – the alcoholic drink of choice during Carnaval. You shouldn't visit Quebec in winter without planning a trip to the Quebec Winter Carnival.
These Quebec City winter activities include a sugar shack, ice slides, winter sports, hot tubs, and drinking at the ice bar. We participated in a life sized version of foosball. Admire the enormous ice palace in front of the Parliament building. You can go bowling in a massive inflatable ball where you're inside of it, trying to knock down the pins. For those daring folks, there's a snow bath…are you adventurous enough to wear your bathing suit in the snow?
Marvel at the snow sculptures, participate in the night parade, watch the challenging ice canoe race, and keep warm by attending the outdoor dance party. Meet Bonhomme de Neige and be sure to give him a hug for us! For more details and dates, please check out the Carnaval de Quebec official website.
Quebec in Winter: Village Vacances Valcartier
Have you heard of Village Vacances Valcartier before? Maybe not, but this is the site of the Quebec City ice hotel, and it also happens to be a massive snow park. Snow tubing is one of the best things to do in Quebec City in winter because it's thrilling, entertaining, and you could easily spend all day here.
Village Vacances Valcartier is the largest winter theme park in North America, with more than 35 snow slides, snow rafting, and a high speed tubing slide. Our favorite section of snow slides was called Himalaya. These are the steepest and longest slopes at Village Vacances Valcartier. You can also reach up to 80km/hour flying down these hills, just on your inner tubes. Book your snow tubing excursion here.
If you're not into snow tubing, there are lots of other Quebec City winter activities on site. There's a 1km skating path, and you can rent skates on site. You can also eat hot maple taffy, rolled up onto a lollipop from a bed of snow. It's delicious! Even if you're not staying overnight at the Hotel de Glace, you can book a tour of the ice hotel property to see the rooms, the snow sculptures, and the ice bar (you'll get a cocktail, too!). Along with the other recommendations listed here, you'll want to travel to Quebec City in the winter ASAP.
Pentathlon de Neiges
The Pentathlon de Neiges is a new winter sport and everyone is welcome to participate. It's one of the most unique Quebec City winter activities due to the sheer combination and amount of different sports involved. It's similar to a triathlon, except there are five different disciplines: biking, running, skiing, skating, and snowshoeing.
It's one of the most interesting things to do in Quebec City in winter. There are events for solo participants or for those working as a team. Even beginners are encouraged to join in the fun for healthy competition and exercise. There are events for schools, families and friends, and corporate challenges, in addition to the races for competing athletes. The Pentathlon de Neiges generally happens at the end of February, so feel free to plan your Quebec City winter vacation around it.
Red Bull Ice Cross (Formerly Red Bull Crashed Ice)
Red Bull Ice Cross (formerly known as Red Bull Crashed Ice) is an extreme winter sport where athletes plummet down icy hills and speed around sharp corners. It's one of the most exciting things to do in Quebec City in winter. Watch these amazing athletes and cheer them on from the stands.
The skating track flows through the urban center of Old Quebec, and over 50,000 people attend the event. It's very exciting to experience the races in person, and I encourage you to check it out. Not able to visit Quebec City in winter just yet? Check out our video for to see what it's like to attend Red Bull Ice Cross in Quebec City.
Quebec City Christmas Market
Looking for a fun Quebec City winter event, but heading to Quebec in December? The Quebec City Christmas Market unites a German tradition with Old Quebec. The outdoor event runs from the end of November until just before Christmas. You'll find vendors selling unique handmade wares, yummy treats, delicious mulled wine and other beverages, and Christmas decorations all around.
The organizers take great care in selecting small businesses that feature talented artists, bringing only the best to the market. The vendors at the wooden booths sell winter accessories, jewelry, clothing made from recycled materials, Christmas ornaments, wooden trinkets, ceramics, and so much more. There are also some local delicacies, such as flavoured vinegars and fruit jams from neighboring Ile d'Orleans. Of course, there's plenty of maple syrup to be found!
Wander Around Old Quebec in the Winter
Old Quebec is equally as charming in both the winter and summer months. There's something even more enchanting when Quartier Petit-Champlain is covered with a light dusting of snow. In December, the Christmas decorations adorn the buildings and homes all around town. Once the Quebec Winter Carnival arrives, you'll also find freshly carved ice sculptures around town.
Historic Old Quebec in winter is such a magical place, and it is one great reason to plan your Quebec City winter holiday. Grab your camera and take a stroll around Old Quebec in the winter for a magical experience. Check out my photo essay: Christmas in Old Quebec.
Montmorency Falls in the Winter
Montmorency Falls is stunning during the summer months, but it's a fascinating destination in the winter, too. The waterfall freezes over and eventually forms an impressive ice cone at its base, dubbed the Sugar Loaf. It's a massive mountain of ice that you can only witness in the winter. The icy falls are lit up at night, making this majestic scene even more magical.
There are lots of Quebec City winter activities happening at Montmorency Falls. For instance, you can go snowshoeing at Montmorency Falls. The cable car is open during certain times, too. Also, have you ever tried ice climbing? You can go ice climbing at Montmorency Falls for an amazing Quebec City winter adventure. And of course, the suspension bridge is open all winter long.
Toboggan Slide
At Dufferin Terrace near the Chateau Frontenac hotel, there's a steep toboggan slide that's an annual tradition. This long luge is one of the oldest attractions in the city, running since 1884. There are three runs side by side, and up to four passengers can ride a toboggan at a time.
Feel the cool breeze as you fly down the icy hill, approaching speeds of 70 km/hour. It's one of the most fun things to do in Quebec City in winter, and you'll want to add it to your Quebec City winter bucket list. Here's a short video to show you just how fast you go on the luge!
Where to Go Ice Skating in Quebec City
Each winter, there is an outdoor skating rink at Place D'Youville in Quebec City. There's even a system in place to keep the rink frozen during some warmer periods of time. The ice rink is free for everyone to use, and there are skate sharpening and rental services on site. You can't plan your Quebec City winter trip without doing a little bit of ice skating!
Maple Syrup and Sugar Shacks
Once March rolls around, it's maple syrup season! Indulge in this tasty Canadian treat at one of several sugar shacks in the region. You can learn about how maple sap is harvested from the trees and transformed into maple syrup. Be sure to taste maple syrup as it's poured and rolled on top of the snow. One place to eat maple syrup treats is at Village Vacances Valcartier, as mentioned above.
Want to see more photos of Quebec in winter?
View our entire travel photo album for more Quebec City winter pictures. Browse the buying options for any of our photos, including prints, gifts, and so much more.
I hope this has given you lots of ideas for a winter getaway in Quebec. There are so many fun things to do in Quebec City in winter that you can easily spend a weekend, a few days, or a whole week there. You'll have the chance to try new winter activities and sports, sleep overnight in an ice hotel, or participate in a local festival. Hope you have a blast on your Quebec City winter getaway!
Have you visited Quebec in the winter or the summer?