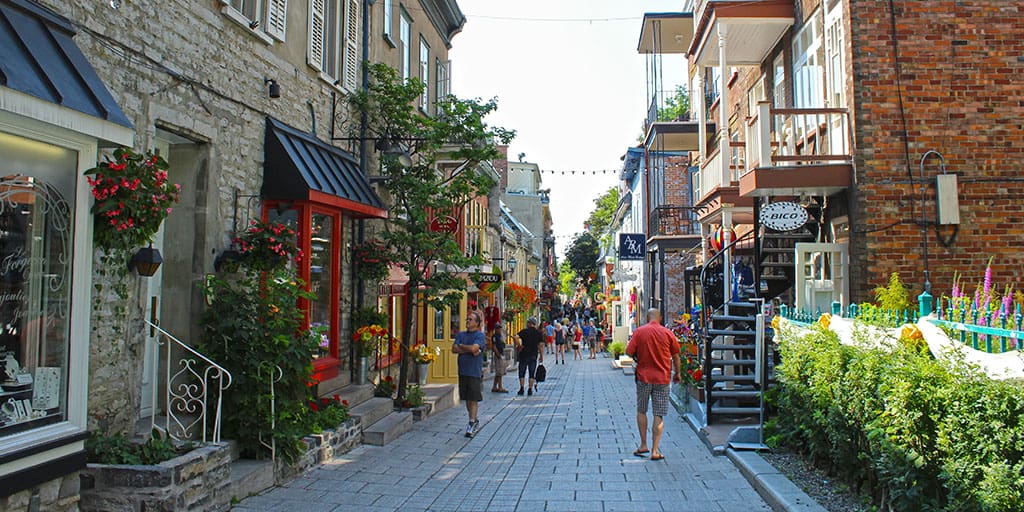 Quartier Petit Champlain is a historic neighborhood in the Lower Town area of Old Quebec. Located in Lower Town of Old Quebec, it's right beneath the escarpment and just a quick jaunt from Upper Town (whether you take the nearby funicular or the "Breakneck Stairs").
Where is Quartier Petit Champlain?
Essentially, Quartier Petit Champlain is located on Rue du Petit-Champlain, as well as the nearby streets of Boulevard Champlain, Rue du Cul-du-Sac, and portions of Rue du Marche Champlain, Rue Notre-Dame, and Rue Sous-le-Fort. It's the entire city block surrounding Rue du Petit-Champlain. If you continue any farther to the east beyond Quartier Petit Champlain, you'll reach the historic city square, Place Royale.
What to Do at Quartier Petit Champlain
Primarily, you'll want to walk up and down these historic streets, admiring the heritage buildings and scenery. We like to snap many pictures because the neighborhood is extremely photogenic. The narrow alleyways, wrought iron staircases, and brightly painted windows and doors are so pretty.
Quebec City's Prettiest Shopping District
Most visitors frequent the area for its bustling shops, cafes, and restaurants. There are many shops selling souvenirs, specialty items by local artists and craftspeople, jewelry, clothing, items for the home, and so on. Keep in mind that this is a very touristy locations, so many stores will be selling their wares at a premium price. You might be able to find some of the local specialty items elsewhere for less money.
I purchased a couple of small hand carved wooden cats at Sculpteur Flamand, a boutique dedicated to wooden sculptures. It's owned and operated by Quebec City native, Alain Flamand. He opened the shop in Quartier Petit Champlain over 35 years ago. He's crafted items out of wood since his childhood, and everything is completely handmade by Flamand. As for the wooden cats, I bought one for us that looks like our cat, Chickpea, and another that looks like my sister's cat as a gift for her. We didn't see any other wooden sculptures quite like the ones available at Sculpteur Flamand, so you can be sure that you'll find authentic, handmade gifts there.
Sample Local Treats
There are many local sweets and treats to sample in Quebec City. You can find many of them in historic Quartier Petit Champlain. Stop by La Petite Cabane à Sucre de Quebec to sample yummy maple products, including a year round tasting of maple taffy. And don't forget to try a Beavertail pastry at Queues de Castor. It's a vegan-friendly fried dough pastry with various sweet toppings (don't worry, no beavers are harmed!).
Parc Félix-Leclerc
Parc Félix-Leclerc is a small park on Rue Petit-Champlain. It is a lovely place with lots of flowers, shaded by many trees. There are several park benches where you can relax. Some of the ghost tours gather here in the evenings where the tour leaders perform a little show. We stumbled upon some people with their faces painted acting a little bit crazy and scary, so hopefully it was part of a ghost tour! By daylight, it's a cute little park where people sit to read a book or chat with friends.
Parc Petit-Champlain
At one end of Rue du Petit-Champlain, you'll find the funicular. At the opposite end of Rue du Petit-Champlain lies Parc Petit-Champlain. This is another small city park. When we visited Old Quebec in the summer, an exhibit from the outdoor public art festival, Passages Insolites was at Parc Petit-Champlain. I'll always think about the giant pigeons and soup cans whenever I see Parc Petit-Champlain from now on!
Visiting in the Winter
When we visited Quartier Petit Champlain in the wintertime, it looks straight out of a snow globe or a Christmas card. There are holiday lights everywhere, garlands draped across the streets, and decorations all around. Just before Quebec's Winter Carnival, there were ice sculptures all over Quartier Petit Champlain that were carved with great attention and detail.
Fresque du Petit-Champlain
Fresque du Petit-Champlain is a giant mural on the side of a building on Rue du Petit-Champlain. This fresco illustrates the milestones of the Quebec working class people that have lived in Cap-Blanc (the waterfront neighborhood) throughout history. The mural is painted on the side of 102 Rue du Petit-Champlain, a building currently owned by the Coopérative des artisans et commerçants du Quartier Petit Champlain.
When to Visit
Quartier Petit Champlain is open in every season, every day of the week. Most of the stores are open from 10:00-17:00 daily, with the exception of Thursday and Friday where they're open until 21:00. You can also walk around the streets anytime you like.
When we visited during the summer, this area became significantly busier in the afternoon. It was far less busy in the morning and in the evening. When cruise ships stop in Quebec City on specific days in July and August, it gets very busy. You can check this vessel schedule to see when cruise ships will be docked in Quebec City so you can plan accordingly.
Planning a trip to Quebec City? Check out our Quebec City 3 Day Itinerary to help plan your travels and inspire your next vacation.
Want to see more photos of Quebec City?
View all of our travel photography in one place! You can browse and buy any of our pictures, including prints, gifts and more.
Where to Stay in Old Quebec
Justin and I have stayed at two beautiful properties in Basse-Ville (Lower Town) of Old Quebec. We highly recommend both of these hotels as they're both lovely in their own way.
Le Saint Pierre Auberge Distinctive
Book Your Stay | Read Our Review | Read More Reviews by Fellow Travelers
Le Saint Pierre Auberge Distinctive is an enchanting boutique hotel that will make your stay extra special. Located inside a historic building, this property feels like its straight out of Europe. I really loved the exposed brick walls and preserved structure of the room. As this building used to be owned by an old insurance company, our bathroom had an interesting layout. It used to be the room that held the insurance company's safe. I love little interesting details like that.
Book Your Stay | Read Our Review | Read More Reviews by Fellow Travelers
Hotel 71
Book Your Stay | Read Our Review | Read More Reviews by Fellow Travelers
Similarly, Hotel 71 is relatively close to Le Saint Pierre Auberge in Lower Town, Old Quebec. The building itself is an old architectural gem, once home to the National Bank of Canada. However, the design and decor of Hotel 71 has a modern flair. We adored the contemporary elegance of our room and the views of the St. Lawrence River from our room. It's also wonderful to always have access to delicious coffee, both in the room and downstairs in the public seating area.
Book Your Stay | Read Our Review | Read More Reviews by Fellow Travelers
Map of Quartier Petit Champlain
If you'd like to get your bearings around town, here's a map of the neighborhood so you can see where it's located within Old Quebec.
What's your favorite shopping street in the world?
Lauren is the full-time travel blogger and content creator behind Justin Plus Lauren. She started Justin Plus Lauren in 2013 and has travelled to 45+ countries around the world. Lauren is an expert on vegan travel as one of the very first vegan travel bloggers. She also focuses on outdoor adventure travel, eco and sustainable travel, and creating amazing travel itineraries for cities and small towns.