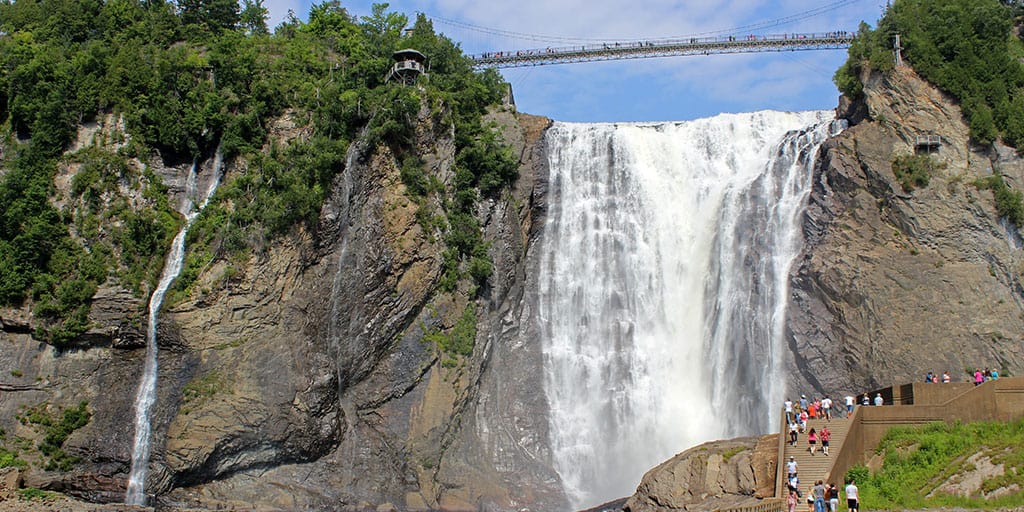 Justin and I may have saved one of the best spots for last during our three days in Quebec City. After a busy few days wandering the city streets, marveling at the fortified walls, and fully exploring this historic UNESCO World Heritage site, we ventured outside of the downtown area to Montmorency Falls. We stopped here before embarking on the eight-hour drive home, and it was one of the highlights of our trip. If you're a fan of outdoor marvels and waterfalls (who isn't?), Montmorency Falls Quebec is somewhere you simply must go.
Visiting Montmorency Falls Quebec
Montmorency Falls, or Chute Montmorency, is a huge waterfall located along the Montmorency River. And I'm not exaggerating, it is a huge waterfall. At 275 feet high and 150 feet across, it is the highest of all the waterfalls in Quebec. It's even nearly 100 feet higher than Niagara Falls! There are several different ways to enjoy views of the waterfall: from the cable car, from down at the base of the waterfall, from several staircases beside the waterfall, and from a suspension bridge over the crest of the falls!
Riding the Cable Car
We parked our car at the parking lot within the entrance to Montmorency Falls Park (Parc de la Chute-Montmorency), located at the top of this Quebec waterfall. From there, we chose to ride the aerial cable car down to the bottom of the waterfall. There are two trams running back and forth all day long, so it does not take long to wait for one to arrive. The ride from top to bottom was very smooth, and we were provided with incredible views of the waterfall on the way down. You can see Montmorency Falls from afar for the first time, and the scenery is nothing short of stunning.
Base of Montmorency Falls
There is a huge path leading to this Quebec City waterfall that accommodates many visitors. Thankfully, it actually wasn't too busy when we arrived, even though it was the middle of July. I was very surprised by the lack of crowds; it's a waterfall near Quebec City, a fairly popular place to visit. Though we arrived by car, many visitors arrived by bicycle on a bike path from Quebec City.
Montmorency Falls is absolutely gorgeous. The mist got quite intense at times right beside the falls. Some puddles had accumulated on the ground, but there were some ledges that you could step on above the puddles to avoid getting your feet too wet. Justin and I stood here for quite some time, marveling at its beauty and the sheer force of the water as it endlessly pummels over the cliff.
Staircases Beside the Falls
When you reach the base of the falls, there are some staircases directly to your right that lead up the side of the cliffs for additional views. There were several little gazebos on the way up that provided excellent viewpoints. We walked up to the first one for a fantastic look at Montmorency Falls Quebec.
While we weren't feeling especially lazy, we didn't feel that it was necessary to climb up to the upper gazebos. They likely didn't offer a vastly different view, but I could see that it would be useful if there were a lot of people gathering at the waterfall. Climbing up to that top gazebo would be a great way of escaping the crowds. I definitely recommend hiking up to at least the first hut as we saw a lovely rainbow at the base of the falls that wasn't visible when we stood at the very bottom.
Alternatively, you can start at the top of Montmorency Falls, walk across the suspension bridge, and climb down the staircase beside the waterfall. That way, you wouldn't have to climb up any staircases at all. In total, there are 487 steps meandering up the side of the hill next to this Quebec waterfall.
Suspension Bridge Above the Falls
After we were finished viewing the falls from the base, we ventured back up to the top of the waterfall for yet another scenic lookout. This time, it was from right above the waterfall on a suspension bridge that extends completely across the top of Montmorency Falls. We took the cable car back up to the top, which was another enjoyable ride. From there, we walked beyond Montmorency Manor (Manoir Montmorency) on a five minute walk to the bridge.
Montmorency Manor was the summer residence of Prince Edward, Duke of Kent, the father of Queen Victoria. It was constructed in 1781. Nowadays, it contains a restaurant with a lovely patio, and an interpretive center. The building itself is quite lovely and perfectly restored. There is a beautiful fountain right outside the front of Montmorency Manor, along with pretty flower gardens. It's also a pretty convenient rest stop as there's a place to use the bathroom, if needed.
After a short scenic walk, we were rewarded with impressive views of the surrounding region, as well as the waterfall. The water rushing over the rocky cliffs was very loud and powerful. While the view of the waterfall itself was best from down below, the suspension bridge offers fantastic area sights of the bridge to Île d'Orléans and the Montmorency River. You simply must see the waterfall from up above and down below to fully appreciate it.
Via Ferrata Routes
Now, Justin and I didn't attempt this exciting adventure, but you can also participate in climbing one of the three via ferrata routes at Montmorency Falls. Do you know what via ferrata is? Well, it's a rock climbing activity using steel cables attached to the rocks. Wearing a rock climbing harness, you'll scale the side of the cliffs, clipping yourself to the cables with carabiners, and make your way to the top.
The three via ferrata routes have varying levels of difficulty, so I suggest starting with the beginner's course if you've never attempted this activity before. I'd love to travel back to Quebec City to try via ferrata for the first time. It looks like such a thrilling adventure, and a great way to break into rock climbing. The via ferrata course at Montmorency Falls Park operates from June to October each year.
Travel Tips for Montmorency Falls
Try to go here on a weekday in the summer. It wasn't very busy for us, even on a Friday with a cruise ship in port. I could imagine it getting busier here on the weekends during the summer. You can visit Montmorency Falls in the spring and the fall, for fewer crowds and beautiful scenery.
Parking your car at Montmorency Park is quite expensive. It costs $11 from the end of April to November, and $7 in the winter. I recommend taking the bus or riding your bike, but it's the most convenient to drive to this waterfall near Quebec City.
Visiting Montmorency Falls itself is free. There is no charge to wander around the site. However, if you want to ride the cable car, that comes at a fee. It's an experience to ride the cable car, whether you take it one way or two ways, so I highly recommend that you shell out the money for it. However, if you're traveling on a budget, it's possible to see this Quebec City waterfall for free or the low cost of getting there.
The entire cove of the park is lit up at night. We didn't visit in the evening to see the lights at Montmorency Falls, but I'd love to return to see it.
Traveling to Montmorency Falls in the winter would be awesome. I'd love to see Montmorency Falls frozen over. Snowshoes are available for rent here in the winter. You can also winter camp here and go ice climbing. What an adventure!
Getting to this Waterfall in Quebec City
This amazing Quebec City waterfall is only 15 minutes away from Old Town Quebec. There are a few ways to get to Montmorency Falls Park. First, and the easiest way: drive to Montmorency Falls on your own. If you have a car, this option allows you to check out Montmorency Falls and you can combine the trip with neighboring Ile d'Orleans across the river.
Next, you can get there by bicycle. Rent a bike in Old Quebec near your hotel and take the Corridor du Littoral path from Marché du Vieux-Port (Old Port Market). It's a mostly flat route right along the St. Lawrence River. It should take you about 50 minutes to ride your bike there, one way.
It's also possible to get to Montmorency Falls Quebec by bus. Take the 800 bus from the Gare-Palais stop to Montmorency Falls, which takes approximately 30 minutes. It's about a five minute walk from the bus stop to the waterfall itself.
A fourth option is to book a tour to Montmorency Falls. That way, you won't have to worry about anything at all, and you'll be traveling with an informative guide. You can book a full day tour of Quebec City that also includes Montmorency Falls. You can also embark on a half day bike tour from Quebec City to Montmorency Falls.
Where to Stay
Justin and I have stayed at two beautiful properties in Basse-Ville (Lower Town) of Old Quebec. We highly recommend both of these hotels as they're both lovely in their own way.
Le Saint Pierre Auberge Distinctive
Book Your Stay | Read Our Review | Read More Reviews by Fellow Travelers
Le Saint Pierre Auberge Distinctive is an enchanting boutique hotel that will make your stay extra special. Located inside a historic building, this property feels like its straight out of Europe. I really loved the exposed brick walls and preserved structure of the room. As this building used to be owned by an old insurance company, our bathroom had an interesting layout. It used to be the room that held the insurance company's safe. I love little interesting details like that.
Book Your Stay | Read Our Review | Read More Reviews by Fellow Travelers
Hotel 71
Book Your Stay | Read Our Review | Read More Reviews by Fellow Travelers
Similarly, Hotel 71 is relatively close to Le Saint Pierre Auberge in Lower Town, Old Quebec. The building itself is an old architectural gem, once home to the National Bank of Canada. However, the design and decor of Hotel 71 has a modern flair. We adored the contemporary elegance of our room and the views of the St. Lawrence River from our room. It's also wonderful to always have access to delicious coffee, both in the room and downstairs in the public seating area.
Book Your Stay | Read Our Review | Read More Reviews by Fellow Travelers
Have you visited this Quebec waterfall?