Whale watching in Tadoussac is one of the best activities you can do in Quebec, especially if you're a nature and wildlife lover. When we embarked on a seven day road trip of the Gaspé Peninsula, I added a trip to Tadoussac specifically so we could go whale watching. It did not disappoint!
In this travel blog post, I'm going to show you the best ways to go whale watching in Tadoussac, part of Quebec's whale route. While going on a whale watching tour is the best choice, there are a few other ways you might be able to spot a whale or two when you're there that might surprise you.
Posts may be sponsored. Post contains affiliate links. I may be compensated if you make a purchase using my link.
I'll include a few more pointers about travelling to the town of Tadoussac, including another attraction that's a must visit if you find whales to be fascinating. I've also included more useful information, like how to get to Tadoussac, the best time of year to spot whales, where to stay in town, and other insightful tips.
Ways to Go Whale Watching in Tadoussac, Quebec
Tadoussac is an idyllic village where the salt waters of the St. Lawrence River meet the freshwaters of the Saguenay River. This is the oldest village in North America with lots of history.
Indigenous peoples (the Innu) lived here for centuries and called this place, "Totouskak", meaning "bosom", referring to the rounded hills near the village. When European settlers arrived in the mid-16th century, they recognized this place as an important centre for trade.
Tadoussac is a prime location in Canada (and the world!) to go whale watching. In a whale watching tour spanning a couple of hours, you will likely see multiple species of marine mammals as well as breathtaking landscapes.
The waters surrounding the Saguenay Fjord, Tadoussac Bay, and St. Lawrence River are a massive feeding ground for whales. Marine mammals spend their summers hunting for krill and other small fish. In the winter, they retreat thousands of kilometres to warmer waters.
There are a number of ways to go whale watching in Tadoussac. The best ways to spot whales in Tadoussac are by taking boat trips, kayaking excursions or simply watching whales from the shore. Our favourite way to go whale watching in Tadoussac was by taking a zodiac boat tour.
Getting to Tadoussac From Quebec City
There are a couple of ways to get to Tadoussac. Many people drive from parts of Canada and the USA, even if it takes several hours to get there. Justin and I flew from Toronto to Quebec City. Then, we picked up a rental car at the Quebec City Jean Lesage International Airport. Find the best rates on flights to Quebec City with Skyscanner.
If you're flying and picking up a rental car, I recommend comparing the prices online ahead of time to make sure you get the best deal. We love booking our rental cars through Discover Cars and always find the best prices. Compare car rental prices here.
The Best Whale Watching Tour in Tadoussac
If you're visiting Tadoussac, you must take a whale watching tour. It's such a great place for seeing many whale species. There are a couple of different kinds of whale watching tours to take from Tadoussac. We personally experienced the zodiac boat whale watching excursion and highly recommend it. Book your zodiac tour here.
Zodiac Whale Watching Tour
Your zodiac whale watching tour will depart from the Tadoussac Marina or Baie-Ste-Catherine Pier. The tour operator offers two pick-up locations. We stayed in Tadoussac so we met at the Tadoussac Marina for our trip. The tour itself lasts approximately 2.5 hours and includes whale watching in the St. Lawrence River and cruising the mouth of the Saguenay fjord.
This zodiac boat tour takes place on a 25-foot passenger inflatable or a 60-foot rigid boat, depending on the amount of guests. Justin and I sailed on the 60-foot rigid boat and it was a fantastic way to see the whales close up in their natural habitat.
We met our group at the Tadoussac Marina (Croisières AML tent) and were provided with waterproof jackets and pants to wear. These kept us dry and warm out on the water, though I recommend that you also bring a hat if it's a chillier day.
Our zodiac boat had a captain and a naturalist on board. The naturalist told us many intriguing facts about the whales and marine mammals on our journey. She also pointed out any whale sightings. We saw beluga whales, minke whales and humpback whales on our zodiac whale watching tour from Tadoussac.
I also love that the tour company complied with all of the rules and regulations of the Saguenay-St. Lawrence Marine Park. The boat is not allowed to stop or follow belugas. A guide can point out the belugas as we sail away from them. We also did not follow any whales, but allowed them to appear before us. It's important to protect and respect these magnificent creatures.
After we spent a couple of hours searching for whales, we headed back towards the Saguenay fjord. Our captain piloted the boat towards a little waterfall coming down from the lush cliffs. We also drifted past some cute seals lounging on the rocks. All in all, we highly recommend booking this zodiac whale watching tour when you visit Tadoussac.
Take a Whale Watching Cruise
The whale watching cruises operate on much larger vessels, like the AML Grand Fleuve with AML Cruises. It's generally a more comfortable trip as you can sit in an enclosed area indoors or outdoors. But, you may not be able to see the whales as close as you would on a zodiac boat tour. The zodiac boats also travel faster and can cover more ground.
The Tadoussac whale watching cruise operates for a longer amount of time than the zodiac boat tour (three hours). You will sail similar waters, the St. Lawrence River and the Saguenay fjord. There is a guide on board with bilingual commentary.
I preferred taking the zodiac boat tour as it's a more intimate experience where you'll feel closer to nature. However, there are some other reasons why someone may choose the whale watching cruise over the zodiac tour.
You cannot take the zodiac boat tour if you are pregnant, have back problems, or use a wheelchair. Children under six years old cannot take the zodiac tour either, but can sail on the whale watching cruise. Book your whale watching cruise in Tadoussac here.
More Ways to See Whales in Tadoussac
Aside from taking a whale watching boat cruise or a whale watching zodiac boat tour, there are other ways to see whales in Tadoussac. Some of these ways require more effort than others. It's possible to go whale watching from the shore! Keep your eyes peeled for whales when you're walking around Tadoussac and you never know when you might spot one.
Seeing Whales From the Shore
If you're lucky, you may be able to see whales from dry land in Tadoussac. One of the best place to go whale watching from the shore is the Sentier de la Pointe-de-l'Islet trail. Walk along the boardwalk in town past the Marine Mammal Interpretation Centre and around this looped path. There is a lookout point facing the Saguenay River where you can perhaps spot white beluga or minke whales. This walk takes about 20 minutes to complete, though I recommend staying longer when looking for whales.
The exterior of the Marine Mammal Interpretation Centre is another place where you might be able to see whales. Once you've finished touring the museum, walk out onto the rocks surrounding the centre to see if you can catch glimpses of any marine life.
The Cap-de-Bon-Désir Interpretation and Observation Centre combines history and the wonders of nature in a peaceful setting on the edge of the Saguenay-Saint-Laurent Marine Park (Parks Canada property). From the parking lot, follow the Porpoise Trail on a short forest walk down to the shores of the St. Lawrence River. Sit out on the massive flat rocks to admire the panoramic scenery.
It's possible to spot whales, seals, and marine mammals from this location, even while sitting on the shore. I recommend spending at least an hour, if not longer, relaxing and gazing out towards the horizon for your best chance to see whales.
Go Sea Kayaking to See Whales
Another way to see whales in Tadoussac is by sea kayak. The tour companies, Mer et Monde and Tadoussac Autrement offer half day and full day kayaking trips from Tadoussac. You can paddle in Tadoussac Bay, the St. Lawrence Estuary or along the cliffs of the Saguenay Fjord. It's possible to see endangered beluga whales, minke whales, and seals on your kayaking trip. Mer et Monde also operates out of the nearby Les Bergeronnes.
If you rent a kayak, you must adopt responsible practices as you navigate the Saguenay-St. Lawrence Marine Park. It is such a privilege to be able to watch these brilliant creatures in their natural habitat. These are sensitive regions and it's very important that we do not disturb the populations of beluga whales (which are declining). Please follow this guide to learn the most responsible and eco-friendly behaviours.
Seeing Whales From the Ferry
It's possible to see whales on the ferry between Baie-Sainte-Catherine and Tadoussac. You'll take this ferry when driving to Tadoussac. It operates all year long, 24 hours a day, and it is free to use.
Drive your car straight onto the ferry for this 10 minute crossing. Enjoy the stunning views of the Saguenay fjord and the Saguenay–St. Lawrence Marine Park on the way. It's possible to see whales from the ferry. Once you get out of your car, take a look and you might spot some.
While we didn't manage to see any whales during the ferry crossing, you may have better luck than us. The ferry makes regular crossings every 20 minutes (or every 30 minutes overnight). You don't need to make any special plans to arrive for the ferry at a certain time, and you don't need a ticket. Here is the ferry schedule if you'd like to see more information.
Visit the Marine Mammal Intrepretation Centre
The Marine Mammal Interpretation Centre (CIMM) is a science museum and exhibition devoted to the whales of the St. Lawrence River. It is the most popular museum in the region and delves into the scientific research of whales, presented in interesting and unique ways.
It is an absolute must visit if you're interested in whales. We suggest visiting the Marine Mammal Interpretation Centre in the morning before you embark on a whale watching tour in Tadoussac. You can learn all about the kinds of whales that you'll spot later in the day on your tour. This museum is incredibly detailed with lots of fun activities and engaging exhibits.
Aim to spend about an hour at the Marine Mammal Intrepretation Centre. Check out all of the displays beyond the skeletons, too. There are exhibits detailing the acoustic sounds of whales, ones where you can pick up a narwhal tooth, informative films with impressive drone footage, and the naturalists on site are there to answer all of your questions.
Ask them to see the sound and lights show while you're there. They'll dim the lights and you'll see the skeletons illuminated in a whole new way, set to music. Justin and I were really impressed with the presentations and extremely knowledgeable staff at CIMM. It's a must visit, especially if you plan to take a whale watching tour in Tadoussac.
Tips for Whale Watching in Tadoussac
Beyond all of the ways that I have described above, there are some general tips for whale watching in Tadoussac and other places around the world. You will gaze out across the water and look for water shooting up on the horizon. When whales come up for a breath, they will emit a white column of water into the air.
Once you see this narrow explosion of water, you know that there's a whale there. You'll probably spot its dorsal fin, too. Then, you have moments to watch this whale before it dives back down into the water for a few minutes. Here are the kinds of whales you can see in Tadoussac:
Blue Whales: Largest animals on the planet, only a few hundred exist (a threatened species)
Fin Whales: The world's second largest animal, a few dozen live in the St. Lawrence Estuary
Minke Whales: The smallest of the baleen whales, one of the most observed whales in this region
Beluga Whales: Easily identifiable by their white skin, they live year round in the St. Lawrence and they are also endangered species
Humpback Whales: Well known large cetaceans who expose their tales when they dive down
Where to Stay in Tadoussac
Hotel Tadoussac is an iconic accommodation in the middle of town. It's the most dominant building whether you're admiring Tadoussac by land or by sea. It's a wonderful place to call home for a couple of nights, and I couldn't imagine staying anywhere else.
The rooms are clean and comfortable with views overlooking Tadoussac Bay. There's complimentary Wi-Fi and an on-site restaurant. The location can't be beat. You can leave your car behind at the hotel and walk anywhere in town. If you're making the drive from Quebec City after a flight, stay at Hotel Tadoussac for two nights. You'll want at least one full day in Tadoussac to do the whale watching tour and see all of the town's attractions.
Frequently Asked Questions About Whale Watching in Tadoussac
Have more questions about going whale watching in Tadoussac? This FAQ will help answer any remaining questions that you might have before embarking on your trip.
What is the best time to see whales in Tadoussac?
The whale watching season in Tadoussac runs from May until the end of October. Mid-June to August are excellent choices. In September and October, the whales become even easier to spot as they are most active in the fall. You can see whales in Tadoussac any time of the day.
What kinds of whales live in Tadoussac?
You can see many varieties of whales in Tadoussac. These include: Blue Whale, Fin Whale, Minke Whale, Beluga Whale, and the Humpback Whale. You may also spot the Harbour Porpoise, Harp Seal, Harbour Seal and Grey Seal. There is also a Narwhal that lives in these waters, though it's extremely rare to spot it.
Can you see whales from the shore in Tadoussac?
Yes, you can see whales from the shores in Tadoussac. It is easier to spot them on a whale watching cruise or kayaking in Tadoussac Bay, but you can go whale watching from dry land. The best places to see whales from the shore are along the Pointe-de-l'Islet trail or a little bit outside of town at Cap-de-Bon-Désir near Les Bergeronnes.
Can you whale watch in the rain?
Whale watching tours operate rain or shine. The whales are not bothered by the rain. You can still go whale watching in the rain and you will spot whales regardless of the weather. On a whale watching tour, you will be wearing waterproof clothing, so the rain will not bother you either!
Where is the best place to see whales in Quebec?
Of course, it's Tadoussac! There are so many species of whales that frequent the St. Lawrence River, Tadoussac Bay, and the mouth of the Saguenay Fjord.
More Things to Do in Quebec
For more Quebec travel guides and itineraries, please check out these popular travel blog posts:
Need Travel Insurance?
You should never leave home without travel insurance! Check out the best rates to make sure you're covered in case of an emergency or accident.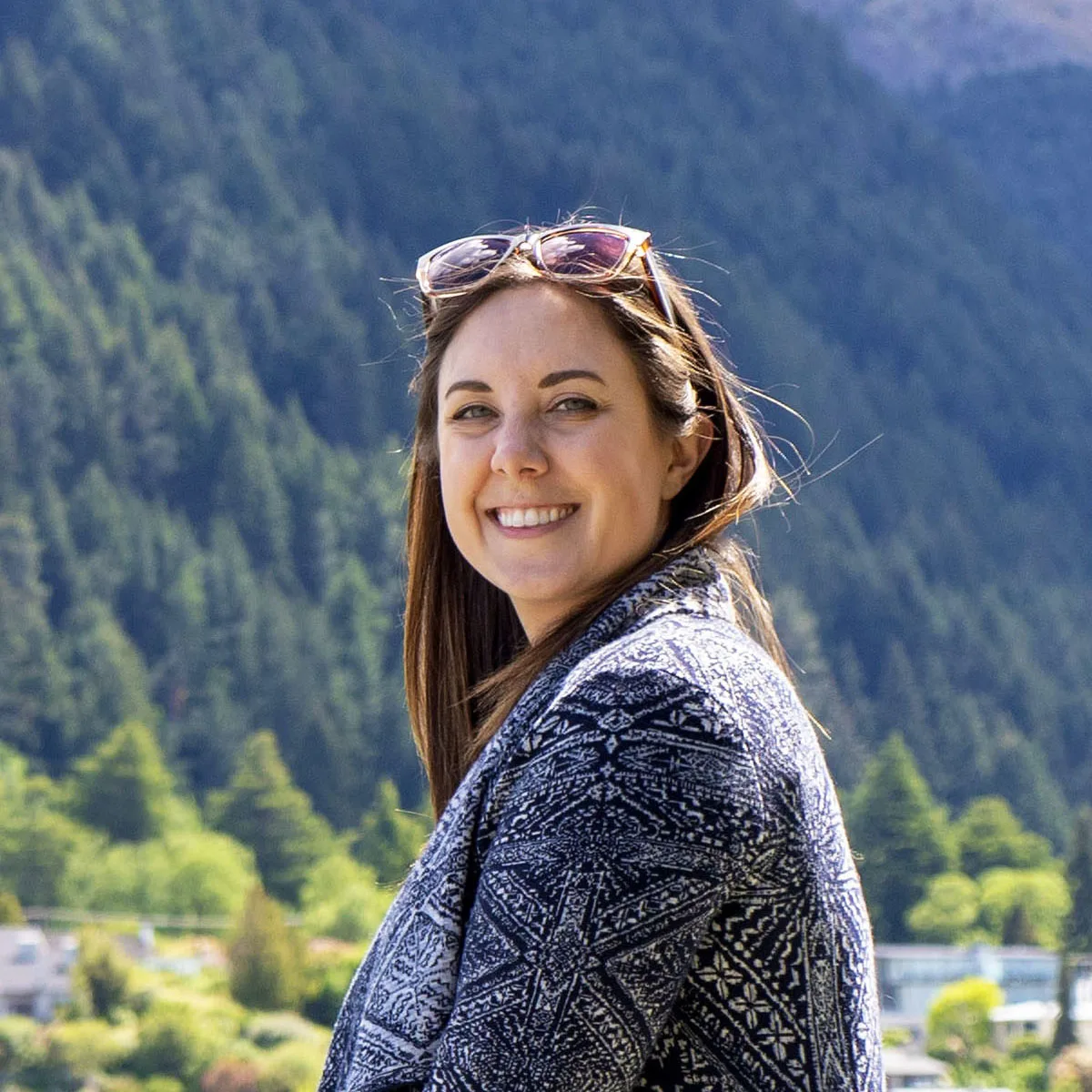 Lauren is the full-time travel blogger and content creator behind Justin Plus Lauren. She started Justin Plus Lauren in 2013 and has travelled to 50+ countries around the world. Lauren is an expert on vegan travel as one of the very first vegan travel bloggers. She also focuses on outdoor adventure travel, eco and sustainable travel, and creating amazing travel itineraries for cities and small towns.