Place Royale is a central plaza located in the historic Basse-Ville, or Lower Town neighbourhood of Old Quebec. It is celebrated as the place of origin of French Civilization in North America. Place Royale contains one of the largest collections of well-preserved 17th and 18th century buildings in the continent, and is recognized as one of North America's oldest colonial settlements.
Posts may be sponsored. Post contains affiliate links. I may be compensated if you make a purchase using my link.
History of Place Royale
Place Royale was a thriving hub of trade and commerce under the French regime. This public square was a bustling marketplace, and also a spot where criminal executions were carried out. It was the site of Samuel de Champlain's first and second habitations, dating back to 1608, the year Quebec was founded. The dark stone circle on the ground in the photograph above represents the site of Champlain's second habitation, a stone building which served as a home, a warehouse, a trading post and a fort. The church, Notre-Dame-des-Victoires is built where the habitations once stood.
Nowadays, Place Royale still serves as a central area in Basse-Ville where visitors can marvel at the historic buildings, visit the church, enjoy a meal or beverages on a patio, take plenty of photographs, and do lots of people-watching. Place Royale, along with the rest of Old Quebec, has been designated as a UNESCO World Heritage Site.
Place Royale is a modern-day movie site. In fact, while we were visiting this region, we walked past a film shoot in progress! The movie, Catch Me If You Can, features scenes filmed at Place Royale, which was used to represent an area of France. The Angelina Jolie movie, Taking Lives, used Notre-Dame-des-Victoires as a filming location.
Bust of Louis XIV
In the middle of this town square, there is a bust of Louis XIV that has an interesting history.
This one is a replica of the original, which was erected in 1686. The original bronze bust was created in 1665 by Le Bernin, a master Italian artist, architect and sculptor. However, the original work was removed in 1700 as it was thought to disrupt traffic in the square. Unfortunately, the original Louis XIV bust was somehow lost and never recovered. In 1928, French Minister of Commerce and Communications presented Canada with a replica of the original sculpture, and it was reinstalled in Place Royale in 1931. Again, it was removed in 1944 as it was thought to disrupt traffic. Finally, it was reinstalled permanently in 1964 where it remains to the present day.
Notre-Dame-des-Victoires Church
Notre-Dame-des-Victoires is a small Roman Catholic church in Place Royale. Construction on the church began in 1687 and it was completed in 1723. The church was almost destroyed by bombing during the Conquest of 1759, it was fully restored in 1816. Today, it remains as a historic monument, a fully functioning place of worship, and a tourist attraction. Entering the church is free of charge, so we took a peek inside.
Things To Do
As I mentioned previously, Place Royale is a great place to take in the sights, take lots of photographs, and visit the church. Another worthwhile site to check out (unfortunately, we did not, but perhaps next time) is Centre d'Interpretation de Place-Royal, an interpretive centre with illuminating exhibits about the history, the people, and the buildings of Vieux Quebec. Occasionally here, you might see a street performer or two – we heard some musical performances by a traditional French band, a man playing the harp, and a woman performing as a statue.
One of our most memorable times on the trip was sitting out on the patio of La Pizz in Place Royale. We ordered a pitcher of sangria and admired our surroundings. After such busy days walking all over the city to see everything, it was wonderful to be able to relax on a patio and enjoy some cold drinks.
Justin and I were able to chat and reflect on our trip to Quebec, watch all of the people walking by, take a breather and do absolutely nothing at all. I think that it is really important on vacations like these, where you want to be able to visit all of the important sites with a limited amount of time, that you take some time to relax. You will definitely burn out if you rush around from place to place, so be sure to balance your time wisely and soak in your surroundings! Sitting on the patio, I was able to admire all of the details in the historic stonework houses, and take pleasure in the brightly-colored flowers hanging from window boxes. The sangria was also super refreshing!
I also highly recommend checking out Place Royale in the evening. It is wonderful to see the church and the buildings all lit up. Walking around Quebec City at night is perfectly safe as crime in the city is incredibly low. I felt absolutely safe walking around in the evening hours!
Place Royale

27 rue Notre-Dame

Basse-Ville, Vieux Quebec

Quebec City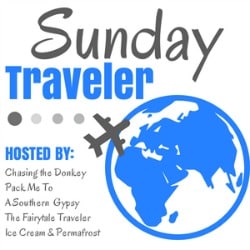 This post is part of the #SundayTraveler blog link-up. Please visit Pack Me To's post about a new curated travel directory to join in the fun!