There are so many things to do in Dundas Ontario, making it the perfect day trip from Toronto, Hamilton, or anywhere in southern Ontario. I grew up in Dundas and lived there for most of my life. I think that might be one reason why I love visiting small towns so much. Dundas is such a cute and picturesque place, and I really feel right at home in small towns.
I'm going to break down all the best things to do in Dundas, so you can pick and choose your favorite activities and interests from the list. Whether you love hiking, local parks, shops, restaurants, or simply wandering around an adorable downtown main street, Dundas has got it all.
Posts may be sponsored. Post contains affiliate links. I may be compensated if you make a purchase using my link.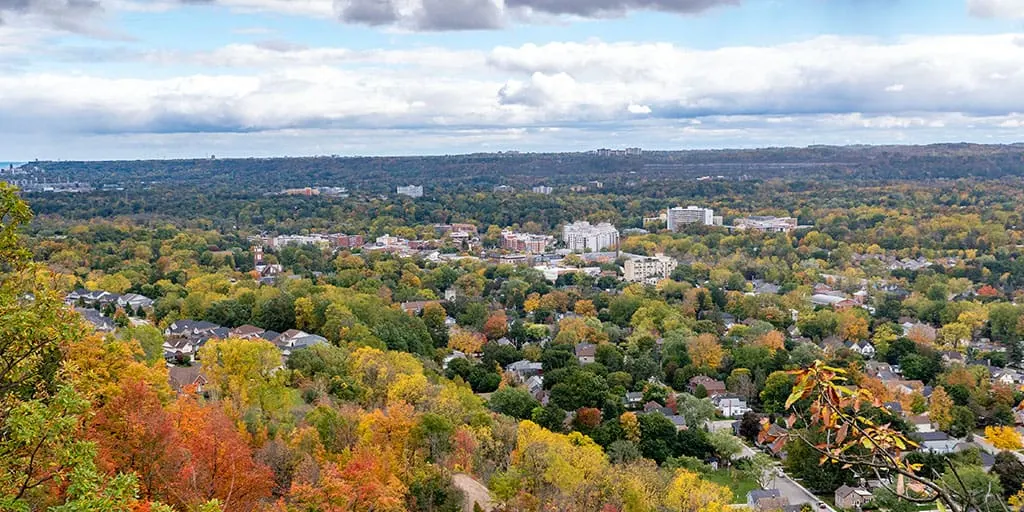 Facts About Dundas Ontario
I thought you might like to learn a little bit more about the town of Dundas, its history, and what makes Dundas such a special place. First, Dundas is nicknamed the "Valley Town" because it's situated at the base of the escarpment in the Dundas Valley. There are an abundance of trees and greenspace in Dundas, and it's surrounded by the spectacular escarpment. Dundas is one of the prettiest towns in Ontario for this reason alone.
The population of Dundas remains at about 20,000 and has for decades. There's not much new development in Dundas, mainly because the town can only expand so far. There are protected green spaces and the Dundas Valley Conservation Area taking up a large landmass. Dundas has remained free from the urban sprawl that exists in many surrounding towns and communities. There are so many things to do in Dundas Ontario, and many of them involve exploring the great outdoors.
Amalgamation with Hamilton
In the year 2000, the town of Dundas amalgamated with the city of Hamilton. It's no longer considered to be its own town, but a community of Hamilton. Most of the residents (my family included) fought against amalgamation.
We all plastered "Dundas Forever" stickers on our cars and up in our windows. Unfortunately, they decided to move ahead and create the Hamilton "super city", which includes Dundas and several other communities. The spirit and community of Dundas continues to live on.
Interesting Things About Dundas
Due to the 19th century historic architecture in downtown Dundas, its often used as a filming location for movies and television. Movies and TV shows like Man of the Year, Haven, the West Wing, and The Incredible Hulk were shot in Dundas. It's always pretty thrilling for the locals to witness another movie being filmed in town, and usually everyone gathers to attempt to mingle with the celebrities.
Dundas used to be home to an internationally renowned cactus grower called Ben Veldhuis Cactus Greenhouses. In 1976, the town hosted its first annual Cactus Festival. This street festival happens during the third weekend of August, and it's one of the biggest celebrations in town. More on the Dundas Cactus Festival in a bit!
Located just west of McMaster University (where I went to school for English literature!), Dundas became a community for many university students and faculty. There's a thriving arts community in Dundas, and there are studio tours in town. There's also the popular Dundas Valley School of Art. And a fun fact: my old band, Winter Equinox, is mentioned on the Dundas Wikipedia page.
Things to Do in Dundas Ontario: Dundas Hiking Trails
Exploring the beautiful natural spaces is one of the best reasons to visit Dundas. The town boasts so many gorgeous and preserved conservation areas and parks. If you love waterfalls, hiking trails, and wandering around the great outdoors, you'll love your trip to Dundas. Here are some of the best places to go hiking in Dundas.
Dundas Valley Conservation Area
The Dundas Valley Conservation Area is a 1200 hectare conservation area featuring spectacular forests and interesting rock formations. While there are many hiking trails at the Dundas Valley Conservation Area, the Dundas Valley Trail Centre is the focal point of the park. There's a replica of a Victorian train station, complete with a train car on some old railroad tracks.
I suggest hiking the main loop trail and adding some additional hikes to the mix if you want to explore even more. You might stumble upon the ruins of the Hermitage on your hike. It's one of the most intriguing man made structures at hte conservation area with a fascinating story behind it. Here are more in-depth details about the hiking trails at the Dundas Valley Conservation Area.
It's one of my favorite places to go hiking in Dundas, and one of the best things to do in Dundas Ontario. The trails at the Dundas Valley Conservation Area are very scenic, not terribly challenging, and you'll be right in the middle of nature. You might witness some deer or other wildlife, and the trees extend far overhead. If you can visit in the fall, it's one of the best spots to witness the beautiful fall colors.
Webster's Falls, Tews Falls, and the Dundas Peak
Dundas Peak, Tews Falls, and Webster's Falls has certainly changed over the years. It was once a quiet place that only the locals knew about, and it's become a wildly popular spot from out of towners. This happened for such a good reason: it has one of the prettiest scenic lookouts in Ontario that is easily accessible from the trails. You won't need to hike too far to enjoy these beautiful views.
Nowadays, there isn't one trail that connects all three sites at Spencer Gorge Conservation Area. Dundas Peak and Tews Falls are connected with one path, and you can enjoy the scenery of Webster's Falls on another. It is possible to experience both places in one day because they aren't too far apart. You may just need to move your car from one parking lot to the other.
Please note that there is currently a reservation system in place at Spencer Gorge Conservation Area to limit crowds. You can read all of the details about planning your visit to the Dundas Peak, Tews Falls, and Webster's Falls in my handy insider's guide.
The Hamilton Rail Trail
The Rail Trail is an impressive 32km in length, and it's one of the longer walks within Dundas and beyond. The trail extends between Hamilton and Brantford, and it's a relatively flat trail the whole way. It runs through the Dundas Valley Conservation Area, the Bruce Trail, and several other trails. I've walked the Rail Trail to get from the conservation area to Dundas's University Plaza on several occasions.
It's not the most scenic or exciting path in the world. However, it can help you get from point A to point B quicker than walking through town. Plus, it's one of the best biking trails in Dundas. It's perfect if you're looking for a long distance bike ride that's completely removed from traffic and the roads.
Borer's Falls Conservation Area
Borer's Falls Conservation Area is another stunning natural area of Dundas. There's a 4.5km trail and you'll eventually reach a beautiful, 15 metre high waterfalls. Over a century ago, it provided water power to the Rock Chapel Village Sawmill, owned and operated by the Borer family.
While the flow of the water diminishes in the summer, you can expect to see a waterfall here all year long. Looking to see more waterfalls in Hamilton? Check out my list of the most amazing waterfalls in Hamilton, which includes Borer's Falls.
Dundas Driving Park
Last, I can't write an article about the best things to do in Dundas Ontario without mentioning the Dundas Driving Park. It's one of the main parks in Dundas (if not THE main park) where many families and friends gather.
Growing up in Dundas, who could ever forget the annual Easter egg hunts that happened at the Dundas Driving Park…or the slightly terrifying park equipment that used to be there (including the little merry go round that was super dangerous!). It also used to be the home of Parkside Secondary School, the high school that rivaled mine (yeah, Highland!).
Nowadays, there's still modern playground equipment, the splash pad, the outdoor amphitheater, tennis courts, and a skate park. The Dundas Driving Park has a huge circular driveway that you can walk or drive around completely to enter/exit. There are some areas of green space throughout the park, and it's really just a great place to go for a walk.
Arts and Culture in Dundas
As I mentioned earlier, Dundas has always been a hub for local artists. A number of musicians have come from Dundas (including Caribou, Junior Boys, a member of Elliot Brood, and others). In terms of classical music, you can hear the Dundas Valley Orchestra or the Dundas Concert Band perform at local events. The Dundas Concert Band often plays in the bandshell at the Dundas Driving Park. There's also a thriving arts scene in Dundas. Here are some ways you can check out local arts, crafts, and studios.
The Carnegie Gallery
You can't miss the Carnegie Gallery when you come to Dundas. It's right in the middle of downtown Dundas in one of the most beautiful, historic buildings that used to be the old public library. The Carnegie Gallery features works by local artists and regularly hosts various exhibitions. They've also got a little shop with works by regional artisans, too.
Dundas Valley School of Art
Looking to learn a new skill? Why not take a class at the Dundas Valley School of Art! It's an exciting environment for artists and art instruction. They have programs in pottery, sculpture, printmaking, photography, and so much more.
Dundas Studio Tour
Since 1997, the Dundas Studio Tour highlights the best local arts and crafts in the region. It happens the week before Thanksgiving, and you can take a tour of local studios around Dundas to view the works of amazing local talent. There are a number of permanent studios that you can visit anytime.
Best Places to Visit in Dundas: Downtown Dundas
Downtown Dundas is home to many delightful boutique shops and restaurants featuring a variety of international cuisine. The main street is King Street West, although you may find a few hidden gems down the neighboring side streets and alleyways. Wandering around downtown Dundas is one of the best things to do in Dundas Ontario.
I love going for a stroll down King Street West to visit the shops, cafes, and restaurants. Often times, there are banners draped across the road to advertise the next festival in town. Around the holidays, all of the lamp posts are decorated with festive wreaths, and there's a huge Christmas tree in the middle of town in a parking lot at the "four banks corner" (there's a bank on each corner at an intersection).
Here are some of my favorite unique shops in downtown Dundas where you're sure to find an amazing gift or a sweet treat.
Beanermunky Chocolate
Beanermunky Chocolate is an adorable chocolate shop in downtown Dundas that you simply must visit if you have any cravings for sweet treats. They create artisan chocolates that are absolutely divine, and they clearly mark all of their vegan and gluten-free chocolates. The staff members are super friendly and helpful, and their chocolate uses the highest quality ingredients.
The Keeping Room
The Keeping Room in downtown Dundas has been around for as long as I can remember! Named after the large central room of the house during colonial times, The Keeping Room has just about every kitchen utensil and accessory imaginable. You'll surely find some unique kitchen gadgets there.
Horn of Plenty Urban Market
I've shopped at the Horn of Plenty for many, many years. It's a natural grocery store featuring bulk food products and healthy ingredients. They've got fresh produce, pantry items, baked goods, supplements, and there's even a juice shop there, too.
Picone Fine Food
If you're looking for more delicious ingredients and fresh produce, hop over to Picone Fine Food. It's a specialty grocery store featuring the best ingredients, from local produce to imported pantry items (a huge section of Italian food items). They also sell some prepared dishes and lunches, as well as coffee at their espresso bar.
Barely Bent Used Books
Barely Bent is a used book store in Dundas. Its current owner was a loyal customer to the shop before she owned it, and she purchased it several years ago. They have a wide variety of genres for every interest, and the books are all in excellent condition.
Records on Wheels
Records on Wheels recently celebrated its 40th anniversary in downtown Dundas. It was my record store of choice when I was growing up. Back then, I was more into CDs than records, but I love vinyl most of all these days. Records on Wheels specializes in vinyl (both new and used), as well as CDs, cassettes and collectables.
Cabinet of Curiosities
I literally just heard about this intriguing shop in Dundas, located at 30 Hatt Street (just a street away from the main downtown Dundas strip). While I haven't visited Cabinet of Curiosities yet, I will be checking it out the next time I'm in Dundas. They've got antiques, collectibles, oddities, and all sorts of unique and rare treasures. They've got thousands of items to discover! They regularly loan props for movies and TV, including Umbrella Academy, American Gods, Hannibal, Handmaids Tale, Reign, Murdock Mysteries and more. So cool! I can't wait to visit.
The Shoe Box
Okay, so the Shoe Box isn't in downtown Dundas, but I had to give it a shout out. This is the best shoe store in Dundas that's up at University Plaza. My best friend, Shannon, has worked at the Shoe Box for years. They've got so many great styles of shoes for all seasons. If you head over to the Shoe Box, say hi to Shannon for me!
Dundas Restaurants and Cafes
When you visit downtown Dundas, don't miss the excellent restaurants and cafes! Dining at these establishments is one of the top things to do in Dundas Ontario. I'm going to share my favorite restaurants in Dundas that I've visited for many years.
I frequented many of these restaurants when I lived in Dundas, but I also dine there while visiting friends who still live in the area. I also have an annual meetup with some of my old high school friends, and we always end up dining at a restaurant in Dundas (even though no one lives in town anymore).
Bangkok Spoon Deluxe
Bangkok Spoon Deluxe is a Thai restaurant in downtown Dundas. It's in a very historic building in Dundas where the old legendary Deluxe 50s diner used to be. The Deluxe diner remained vacant for decades. You used to be able to peer into the front windows and view a perfectly preserved and untouched 50s diner.
After the owners shut down their diner, they left the property as it was for years and years. After the owner's passing, the space was sold and the Bangkok Spoon opened in its place. It was the end of an era in Dundas, although the restaurant keeps the spirit of the old restaurant alive in its name. There's also a photograph of the old Deluxe signage inside the restaurant, too.
Bangkok Spoon is Dundas' first authentic Thai restaurant, and they cater to omnivore and vegetarian diets. As a vegan, I'm able to find several dishes on the menu, and the staff members are happy to explain which dishes are suitable. I've dined here more times than I can count, and it's delicious every time.
The Thirsty Cactus
The Thirsty Cactus is a taste of the southwest in Dundas, Ontario. It's been around for ages, and I've dined here on numerous occasions (both indoors and outdoors on their awesome patio). It's my top pick for Mexican food in Dundas, and it doesn't disappoint. I love their veggie fajitas, and you can't go wrong with nachos.
Collins Brewhouse
The Collins Brewhouse is one of the most iconic restaurants and pubs in Dundas. They've got a fantastic, spacious patio, and I've definitely spent a birthday or two at the Collins. It's one of the best places to go for a meal or drinks. They've got great craft beer on tap, and also a wonderful variety of cocktails.
The Collins family immigrated from Ireland to Canada in 1833 and opened a saloon in downtown Dundas. Then, they opened the Collins Hotel across the street, and it also operated as a tavern. While the Collins family ceased ownership in 1913, the Collins Hotel stayed open until 1968. This building is an important piece of Dundas' history. The Collins Hotel is considered to be one of Ontario's first hotels, and it continues to be the home of the Collins Brewhouse.
Little Asia
Little Asia is my new favorite restaurant in Dundas. The food there is absolutely delicious! It's a vegetarian and vegan Asian comfort food establishment, and I've dined there numerous times. They've got everything from rich curries to fresh stir fried noodles.
The head chef and co-owner, Mama Vone, escaped from communist Laos to a refugee camp in Thailand, eventually immigrating to Canada. Her husband, Saeng, works the front of house. Both are truly passionate about their food and their restaurant, and I've loved both the food and the hospitable atmosphere.
India Village
India Village has two locations (one in Dundas, one in Ancaster), and they serve some of the best Indian food that I've ever had in Canada. I love how all of the vegan items are clearly marked on the menu. Plus, if you love spicy food, they will make it spicy for you! My friend asked for his food to be made super spicy, and he was sweating!
B.Love Conscious Eatery
B.Love Conscious Eatery is a vegan restaurant in Dundas, serving up healthy meals and raw desserts. They use primarily organic, non-GMO, and mostly local ingredients (when available). There are salads, sandwiches, comforting dishes, smoothies, and more.
Sensational Samosa
It took many years for Sensational Samosa to open, and it's finally opened! Seriously, I only have this photo available that says "coming soon" because it took a while for it to open. I haven't had the chance to visit Sensational Samosa yet, but I can't wait to check them out. I've only heard rave reviews! They've got their delish samosas, as well as some other substantial meal offerings, too.
Detour Coffee Roasters
Okay, so I'm going to have a little bit of a brag moment here. Detour Coffee Roasters is pretty huge now. They have a cozy coffee shop in downtown Dundas, but I also see their coffee beans everywhere in Canada and the USA. Other coffee shops proudly state that they serve Detour beans, and for good reason. Detour Coffee Roasters has some of the finest coffee around.
Back when Detour first opened, they didn't have a cafe, a coffee subscription program online, or anything like that. They operated out of a tiny space behind another business. You had to walk around to an isolated back parking lot where you'd see a little sign for the coffee shop. They didn't sell any drinks. Detour only sold packages of their coffee beans. For a while there, I was exclusively drinking Detour's coffee, brewed from the comfort of my own home.
Detour Coffee Roasters has a charming cafe in the middle of town, and you really need to visit if you are a coffee lover. They've got freshly brewed coffee and espresso beverages, some lunch items, and both freshly baked bread and desserts. A short while back, Detour completely renovated the cafe and it looks so beautiful. I've always been a fan of Detour, and I'll always recommend them to my friends (and you!).
Shawn & Ed Brewing Co
For years, there was a rumor around town that Dundas was going to get its own brewery. It's now a reality! Shawn & Ed Brewing Company is a craft brewery in Dundas, Ontario. They've got a taproom, a patio, and a bottle shop. Definitely pay them a visit if you love craft beer and want to support a local brewery.
Events and Festivals in Dundas
One of the best things about living in Dundas was attending all of the annual festivals. There are several annual events in Dundas to look forward to, especially back when I was growing up. For the bigger festivals, the town closes down King Street West to traffic for pedestrians only. I still enjoy attending these festivals when I can because they're a lot of fun and they hold a lot of nostalgia for me.
If you want a little taste of local culture, attending a traditional festival or event is one of the best things to do in Dundas Ontario. Some of them happen during the day right through to the evening, so it's easy to combine some outdoor adventures with the festivals or events. Plus, it's one of the best ways to experience downtown Dundas.
Dundas Cactus Festival
The Dundas Cactus Festival happens the third weekend of August every year. I'm pretty sure that everyone in town turns up for it, and people from nearby cities even come out for the festivities. The main downtown street (King Street) is closed down to vehicles.
People can walk through the streets. Vendors and shops are open until midnight. There's stages with live music featured all day and night. Food trucks line the streets featuring tasty, unhealthy treats. And there's a carnival midway with rides and games.
On the Thursday night, there's the annual Dundas Cactus Festival parade with floats featuring local organizations, businesses, and marching bands. The rest of the festival starts up on Friday night and runs throughout the entire weekend.
Dundas Buskerfest
Dundas Buskerfest takes place during the first weekend of June (from Friday night to Sunday), and it's the second biggest festival in Dundas. Back in the day, Dundas used to have a Kite Festival that happened this same weekend. But, the Kite Festival took place in the Dundas Valley Conservation Area, and the town wanted another event to draw attention to the downtown businesses. I'm not sure exactly what happened (perhaps some small town drama!), but the Dundas Kite Festival is no more and the Dundas Buskerfest is here to stay.
Dundas Buskerfest features street performers from around the world, busking and showing off their talents. Typically, there are several buskers performing at the same time from one end of King Street to the other. The street is closed down for pedestrian traffic only. You can walk from one end of downtown to the other, checking out the buskers as you go. If one of them catches your attention, a small crowd usually forms around each one, so you can stop to watch them.
There's also vendors, food trucks, crafters and artisans, and more. I've been to several busker festivals in Ontario, and the Dundas Buskerfest is definitely one of the best ones. If you're in town the first weekend of June, a trip to the Buskerfest is one of the most amazing things to do in Dundas Ontario.
Tree Lighting & Dickens of a Christmas
From the end of November through until Christmas, Dundas celebrates the holiday season with its Dickens of a Christmas event. It happens on Saturdays from 11am to 3pm and Sundays from noon to 3pm. You might catch Father Christmas strolling around town, hear the magical voices of carolers, and you can enjoy complimentary hot apple cider and gingerbread cookies.
There are also "Breakfasts with Santa" at multiple restaurants throughout Dundas. When the streets of Dundas are covered with a light dusting of snow and the town gets into Christmas mode, it's super magical!
The Dundas Tree Lighting ceremony is one of the most festive events of the season. This event kicks off the Dickens of a Christmas celebrations. The community gathers around the Christmas tree to sing Christmas carols. Then, the official tree lighting happens, and Santa usually comes riding in on top of a fire truck. Then, kids are invited to sit on Santa's lap, and candy canes are plentiful. The Dundas Tree Lighting ceremony is actually the oldest tree lighting ceremony in Canada!
Dundas Farmers Market
The Dundas Farmers Market is a small community market with farm fresh produce, baked goods, preserves, wine, and more. It aims to connect local farmers with the community. You'll find lots of organic fruits and veggies and so much more. The market takes place every Thursday from 3pm to 7pm at a municipal parking lot (at Hatt Street and Miller's Lane). Shopping at the Dundas Farmers Market is one of my favorite things to do in Dundas Ontario.
Where to Stay in Dundas and Hamilton
Looking to make a weekend of it? There are a few fantastic accommodations in the Dundas and Hamilton area to upgrade your day hike to a weekend of fantastic memories.
The Osler House in Dundas, ON
While there aren't very many accommodations in Dundas itself, the Osler House is a beautiful Victorian mansion where you can rest your head at night. It was once the home of the renowned Osler family, and it's now a boutique and exclusive inn. You're within walking distance of quaint downtown Dundas where you can browse the shops and have a delicious meal. Book your stay at the Olser House or read more reviews from fellow travelers.
Homewood Suites in Hamilton, ON
If hotels are more your style, you'll have to venture into the bigger metropolis of Hamilton. I recommend staying at the Homewood Suites in Hamilton. This hotel has fantastic reviews from its guests, and it's in a really trendy area. Every room also has a kitchenette, a pool, free Wi-Fi, and complimentary breakfast. You'll feel right at home here! Book your stay at the Homewood Suites or read more reviews from fellow travelers.
You can also compare all stays in Dundas and the Hamilton area on one convenient map. This map shows hotels and vacation rentals so you can compare prices and locations.
More Ontario Travel Guides
Want to visit more Ontario cities and towns? Why not make a road trip out of it! Here are some more southern Ontario travel guides that you might find helpful.
Frequently Asked Questions About Dundas
What are some things to do in Dundas, Ontario?
Dundas is perfect for outdoor adventures like hiking! You can explore the Dundas Valley Conservation Area, Webster's Falls, and the Dundas Peak. Dundas also has an adorable historic downtown with lots of shops and cafes.
What are some local events in Dundas?
Dundas has lots of festivals and events, including the Dundas Cactus Festival, Dundas Buskerfest, Dickens of a Christmas, and the Dundas Farmers Market (weekly in the summer months).
What are some top restaurants in Dundas?
If you're looking for dining options, Dundas has lots of amazing restaurants and cafes. Check out the Collins Brewhouse, the Thirsty Cactus, India Village, Little Asia, or Detour Coffee House.
More Blog Posts About Hamilton, Halton and Brant
Looking for more travel blog posts and articles from Hamilton, Halton and Brant region in Ontario, Canada? It isn't too far from home for me, so I have lots of great reads for you.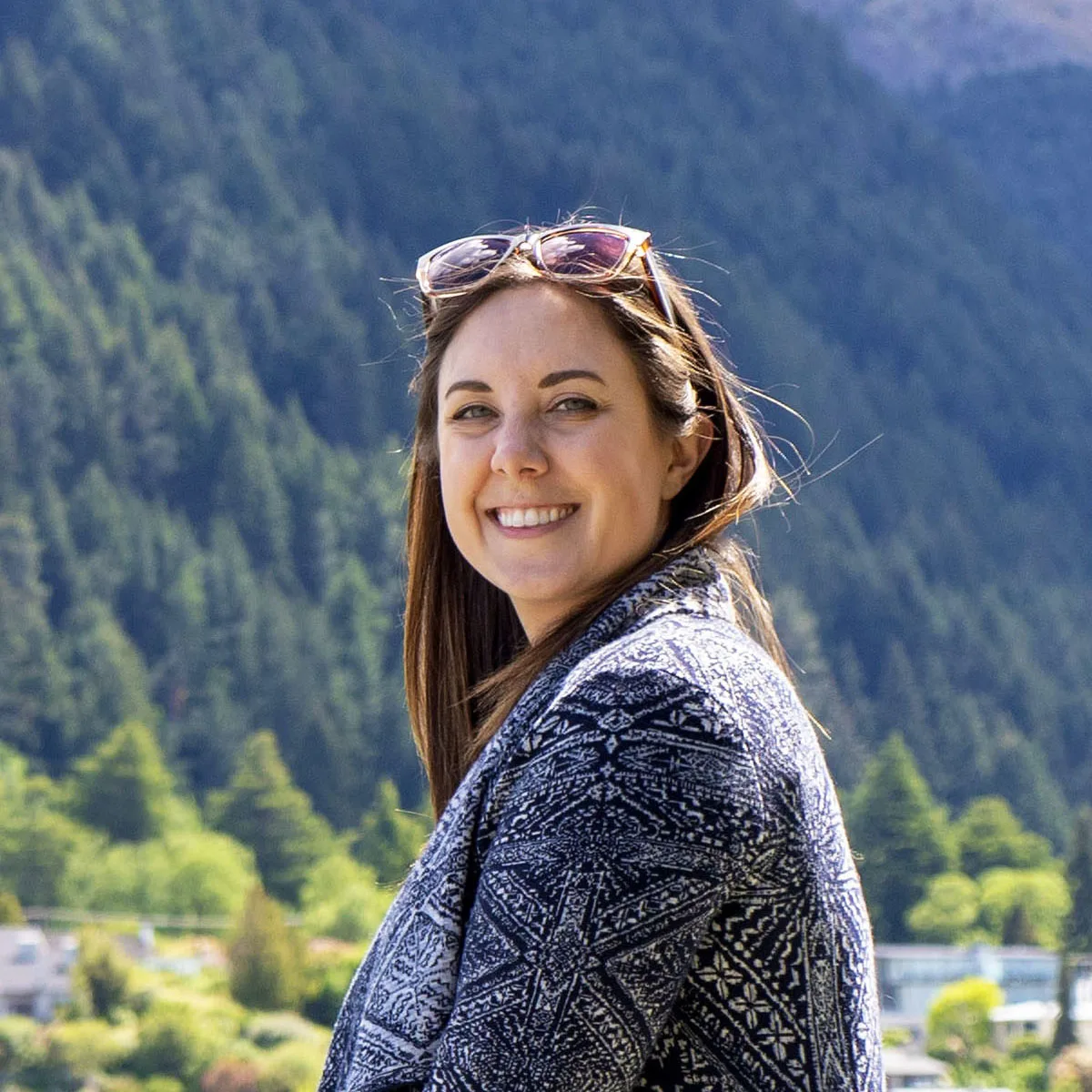 Lauren is the full-time travel blogger and content creator behind Justin Plus Lauren. She started Justin Plus Lauren in 2013 and has travelled to 45+ countries around the world. Lauren is an expert on vegan travel as one of the very first vegan travel bloggers. She also focuses on outdoor adventure travel, eco and sustainable travel, and creating amazing travel itineraries for cities and small towns.