Mountsberg Conservation Area is a fun outing for the day with lots of activities and adventures for people of all ages. Located in Campbellville, Ontario (near Milton and about an hour from Toronto), you can hike its many trails and enjoy lots of scenic views.
We visited Crawford Lake Conservation Area a little while prior, which is also one of the Conservation Halton parks. Although we loved hiking around Crawford Lake, it's an entirely different experience from Mountsberg. I recommend visiting both!
Posts may be sponsored. Post contains affiliate links. I may be compensated if you make a purchase using my link.
Not only does Mountsberg have lake views and trails, but there are also some animal experiences and encounters. There are farm animals at Mountsberg Conservation Area, and there's also a rescue centre for birds of prey. You can also return to Mountsberg at various points of the year for fun events and festivals.
Things to Do at Mountsberg Conservation Area
There are lots of outdoor activities to enjoy at Mountsberg Conservation Area. Here are a few that we can personally recommend.
Enjoy a Picnic by the Lake
Mountsberg Conservation Area is adjacent to the Mountsberg Reservoir, offering serene views of the twinkling waters. There are several picnic tables next to the water. Justin and I claimed one and started our visit with a picnic lunch.
We brought our own buffet of vegan meals, including homemade potato salad, hummus and red pepper bread, quinoa salad, and these delicious marshmallow treats by local vegan company, Sweets from the Earth.
It's so peaceful munching on yummy foods while listening to the sounds of ducks and geese paddling around the lake. We were so thankful that it was a bright and sunny spring day.
Exploring the Hiking Trails
After our picnic, we set out on the hiking trails at Mountsberg Conservation Area. We walked across a set of railroad tracks towards the trails. Along the Sugar Bush Trail, there were loads of maple trees which were tapped throughout March for maple syrup. There is a maple syrup festival every March at Mountsberg.
Using a map that we picked up at the visitor center, we followed the Lakeshore Lookout Trail, extending north along the lake. On the map, it showed two separate observation towers – one at the beginning, and one at the end of the path. It sounded pretty neat, so we decided to find the towers.
We found the first tower along the trail beside the lake. It's really pretty impossible to miss it. We climbed to the top and enjoyed a beautiful view overlooking the water. The shade of the tower was a great reprieve from the hot sun.
Geocaching at Mountsberg
We found a hidden box with treasures inside it for fans of geocaching. Though we haven't ever tried geocaching, it was really fun to stumble upon this mysterious small box filled with various goodies. I won't divulge the location of the geocache as I don't want to spoil anything for those participating in this activity.
There were a few more pretty areas along the trail. Unfortunately, the trail also got extremely muddy. It was likely just the time of the year, with it being spring and all. The trail was also close to the lake and nearby marshlands.
We were determined to keep hiking, and eventually reached a point where we could see the highway. Hearing the noise from the highway wasn't exactly what you strive to discover during a peaceful hike, so we looped around and headed back. We never found the second observation tower. Maybe you'll have better luck than us!
We were almost back to the car when we noticed a turtle on the train tracks. This poor little guy could easily get run over by the train. I'm sure he liked the warmth of the black tarmac, but I wanted him to be in a safe place back near the marsh. I safely transported him away from the railroad tracks so he wouldn't be killed.
Birdwatching at Mountsberg Conservation Area
On the hike back, we followed a different route and stumbled upon a nice surprise. Our journey ended at Swallowville, a tiny bird city. There were tons of bird feeders, home to a couple hundred swallows during the spring and summer months. Birds were chirping and fluttering all around.
There are more opportunities to see wild birds at Mountsberg Conservation Area, too. I've witnessed wild turkeys wandering across the trails, and there are lots of birds that live in the forest. It's a great place to go in Ontario for birdwatching, whether it's on your hikes or at the bird feeders.
Animals at Mountsberg Conservation Area
For the animal lovers in the crowd, you'll love visiting Mountsberg Conservation Area. There is a Raptor Centre with birds of prey, and barns and pastures with farm animals.
The Raptor Centre at Mountsberg Conservation Area
Mountsberg Conservation Area houses a Raptor Centre where visitors can meet over 15 different species of birds of prey. Many of the birds have permanent injuries and cannot be released back into the wild. In many situations, the raptors were imprinted by humans and cannot survive on their own. They live out the rest of their lives as animal ambassadors at the Mountsberg Raptor Centre.
We saw vultures, hawks, eagles, falcons, and owls up close. It's an educational experience for people of all ages to learn about these spectacular creatures by reading the information plaques and viewing the animals in closer detail.
Sometimes Mountsberg Conservation Area hosts educational demonstrations with one or two of the raptors. There's a seating area and you'll gather around a knowledgeable member of staff. Usually, the staff member will introduce you to one or two birds of prey and tell you a little more about how they live in the wild.
Farm Animals at Mountsberg Conservation Area
Mountsberg has a barn with many farm animals, such as horses, donkeys, goats, sheep, and bunnies. There is a large pasture where the horses and donkeys can roam around freely on nice days. There's another large fenced off area where you can see the goats and the sheep.
I thought this was a great setup as it wasn't any sort of petting zoo. The animals could approach us if they liked, and there was enough space for them to be away from people if they chose.
We saw several young sheep with their mothers watching over them. Baby goats frolicked and jumped with their parents watching close by. Some of the goats came over to say hello to us, while many of the sheep enjoyed relaxing beneath a shady tree.
There were also a few chickens roaming freely around the property, not straying too far from the main barn. Many of the chickens came up to us and didn't seem to mind our presence.
I always try my best to investigate whether or not these kinds of experiences are good for the animals, where the animals come from, and what happens to them. While I wasn't able to determine where they come from, it seems as though the animals do live at Mountsberg for their lives. They are there for educational purposes, so children (and adults) can connect personally to farm animals.
Mountsberg Conservation Area does fundraisers to help care for the animals. In a recent fundraiser, they were able to purchase a blanket for their senior horse, Sally, to keep her warm at night. They neutered one of the male rabbits so he could live among the female rabbits. They also purchased a hay feeder for the donkeys, and a lot of the money went towards food for the resident animals.
Events at Mountsberg Conservation Area
There are many events and festivals at Mountsberg Conservation Area throughout the year. Some of these involve volunteering at Mountsberg and there are many educational programs and class trips for children. Here are a couple of events that we've attended at Mountsberg Conservation Area and totally loved.
Maple Syrup Festival
Mountsberg Conservation Area has an annual maple syrup festival where you can experience a very Canadian event! This park is home to the 150-year old Mountsberg Sugar Bush where maple sap is still collected and used to produce syrup using historical and modern methods.
You can walk through the forest to see the buckets attached to the trees, which is how they collect the sap. There are lots of demonstrations showing traditional methods of making maple syrup. It's really educational and a lot of fun. There is also a pancake house and lots of sweet treats made out of maple syrup.
Winterlit
Mountsberg Conservation Area hosts Winterlit, an event that offers 2km of illuminated trails that transforms the conservation area into a winter wonderland. While these forest trails are magical during the daytime hours, they're equally as brilliant in the nighttime now.
Strings of twinkling lights guide you through the forest, and the art installations make these forest paths even more special. Winterlit allows you to spend a memorable evening in the forest with your family, friends, or loved ones.
Winterlit happens from December 26th until February 20th on Thursday to Sunday evenings. You need to book your tickets in advance and this event does sell out each night.
Want to see more photos of Mountsberg Conservation Area?
View all of our travel photography in one place! You can browse and buy any of our pictures in the form of canvas prints, things for the home, and more!
Mountsberg Conservation Area is much more than just hiking trails around a gorgeous lake. There are many opportunities for wildlife encounters, and you never know what you might discover on your next adventure there.
More Blog Posts About Hamilton, Halton and Brant
Looking for more travel blog posts and articles from Hamilton, Halton and Brant region in Ontario, Canada? It isn't too far from home for me, so I have lots of great reads for you.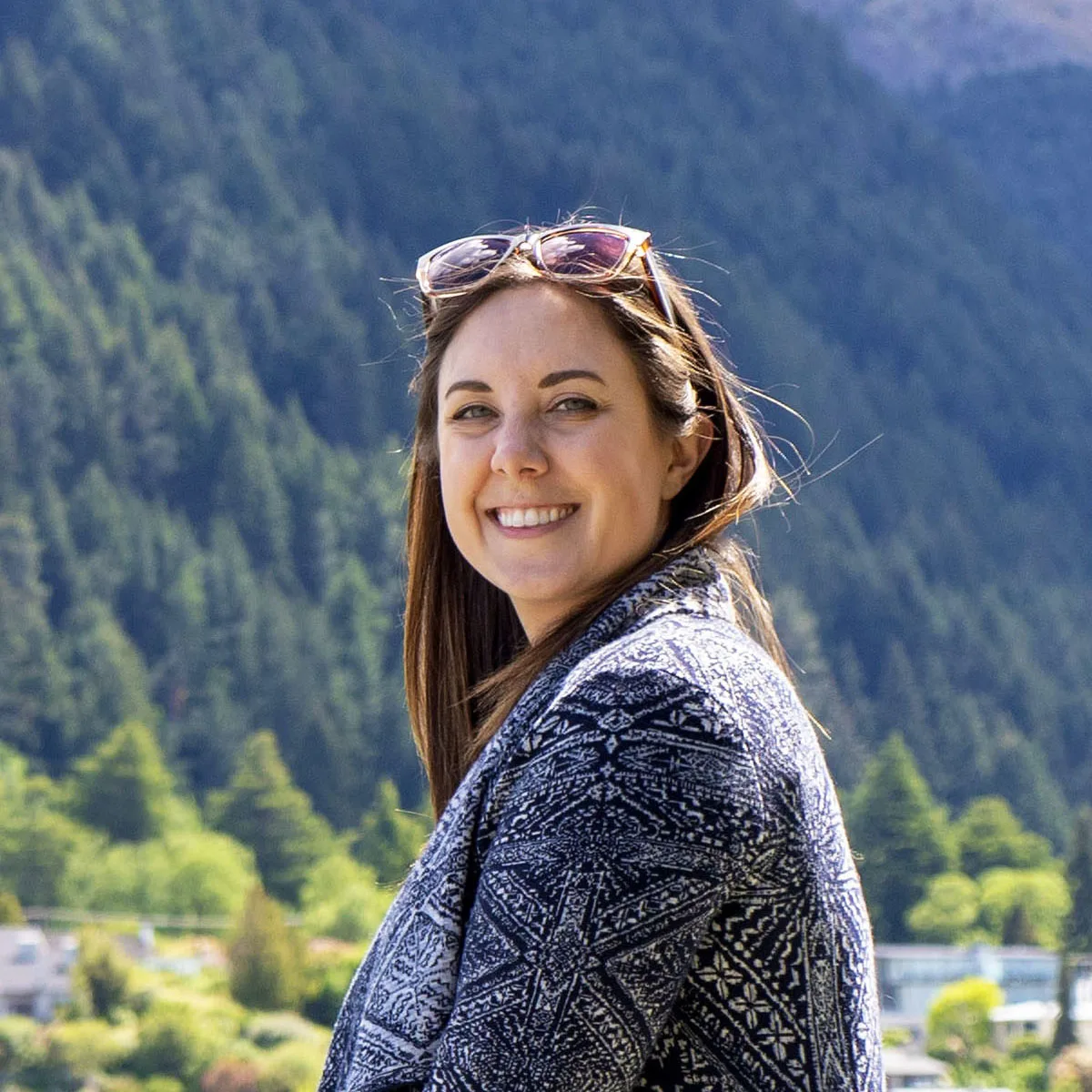 Lauren is the full-time travel blogger and content creator behind Justin Plus Lauren. She started Justin Plus Lauren in 2013 and has travelled to 45+ countries around the world. Lauren is an expert on vegan travel as one of the very first vegan travel bloggers. She also focuses on outdoor adventure travel, eco and sustainable travel, and creating amazing travel itineraries for cities and small towns.