There are so many unique things to do in Windsor that you'll love, and I'm going to help you plan an amazing weekend in Windsor, Ontario. Windsor is a fantastic road trip destination, whether you're continuing onto the USA or taking a trip within Ontario.
It's known for its manufacturing and industrial heritage, and the city is dubbed the "Automotive Capital of Canada". It's also known by the second lesser-known nickname of "Rose City". With nods to both industry and horticulture, Windsor is a city that will truly surprise you.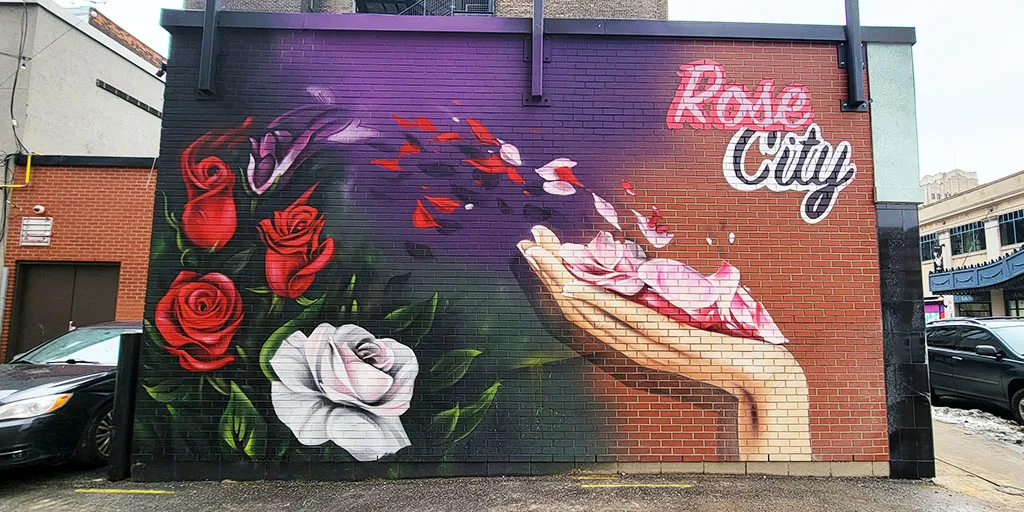 My interests skew to sustainable and green activities. There are an alarming amount of eco-friendly activities and attractions, as well as plant-based eats. There's a large community of artists, makers, and creative minds.
Something that really stood out on my trip to Windsor was the warm hospitality that I received, universally, from everyone I met. Windsor locals are really proud to call Windsor home. I could really feel the sense of community through every place I visited. It seemed as though everyone knew one another, even in a city of 200,000.
I've taken two trips to Windsor now, both in the summer and winter. This article combines the best of both seasons, including activities that are available all year long. Here are the best things to do in Windsor, Ontario for a memorable weekend getaway.
Where to Stay in Windsor, Ontario
If you're looking to spend a weekend away in Windsor, I suggest making yourself at home at an inviting bed and breakfast. It's really lovely for a couples getaway or even if you're travelling with family or friends. My top pick for an accommodation in Windsor is A Hidden Gem B&B.
Located in the hip Walkerville neighbourhood of Windsor, A Hidden Gem B&B is within walking distance of many great attractions and restaurants. Sue and Troy are excellent hosts who will make you feel right at home. I stayed on the third floor in the Loft Suite, which was such a warm and spacious place to rest my head at night.
The Loft Suite has a comfortable bed, a little reading nook in the window, a flatscreen TV, a mini fridge, and a microwave. There's also a private bathroom with a shower and jacuzzi tub. You'll be able to choose your breakfast in the morning from a menu in the room, as well as your preferred dining time. And there's also complimentary Wi-Fi for those looking to stay connected.
In the morning, I enjoyed a delicious vegan breakfast of apple pancakes, potatoes, vegan bacon (from the Vegan Gardiners shop in town), fresh fruit and vegan muffins. Sue and Troy are such welcoming and gracious hosts. We had some great conversations and I even got to meet their friendly cat, Romeo, towards the end of my stay after mentioning how much I love cats.
More Hotels and Accommodations in Windsor
Best Things to Do in Windsor: Take a Pottery Class
Have you ever wanted to try making pottery? I took a pottery wheel class at Sketch Clay & Pottery for the first time and it was a lot of fun! Sketch Clay and Pottery is located at Urban Surf in Tecumseh. You can take a pottery wheel class or paint your own pottery, if you'd rather paint a piece that's already created.
You can construct your own bowls or mugs on the pottery wheel. Never used a pottery wheel before? No problem! It was my first time, too. Danielle is such a great teacher. She patiently explained every step to turn a slab of clay into something functional. It didn't take too long and before I knew it, I had created my own little bowl.
If you'd rather paint a piece of pottery, there are shelves upon shelves of unpainted pieces at Sketch Clay & Pottery. Pick one that catches your eye. You can paint it right on site or you can purchase a pottery kit-2-go. Regardless of whether you paint it there or at home, bring it back and they'll fire it in the kiln for you.
Sketch Clay and Pottery also hosts birthday parties, too. And if you don't feel like making or painting pottery, you can buy pieces that Danielle created herself. Taking a pottery wheel class is one of the best things to do in Windsor, Ontario. I really surprised myself at how quickly I picked it up, and I had a blast!
Things to Do in Windsor in Summer: Take a Sunset SUP Tour
Right on the edge of Lake St. Clair, it's easy to enjoy water activities in Windsor. Every day in the summer, Urban Surf offers a Sunset Paddle at 7:30pm from Pike Creek to Lake St. Clair. They'll get you outfitted with a stand-up paddle board and they'll also let you borrow a waterproof bag for your phone throughout your journey. It's certainly a good idea, just in case you fall in the water!
The sunset paddle is great for people of all ages and abilities, even if you've never tried SUP before. The creek is extremely calm, and you can paddle at your own pace. Two guides will paddle out to the lake with you, so you can always ask them for tips and advice on the way. It's fun for families, friends, couples, and even those traveling solo, like myself.
Once you reach the lake, the water gets slightly more choppy. And there really aren't many waves at all. Our group paddled out to the lake to watch the sunset together. At this point, feel free to sit down on your paddle board and relax. It's all about soaking up the beautiful surroundings as you watch the sun go down. There's nothing like taking in the views of an unobstructed, gorgeous sunset.
We paddled back before the sun went completely down, as it was best to have some daylight left as we navigated our way back. The sky was awash in pink, red, and purple. It was a calm and peaceful paddle back to land. After your paddle, why not try a treat at Maverick's Cold Bar? They've got vegan ice cream and other snacks!
Urban Surf also has other special events in addition to their nightly sunset paddles. You can register for "Boards & Brews" to enjoy paddling, beer, and a bonfire at night. There's also the "Light up the Night" event, which begins with a bonfire and continues with a moonlight paddle (spoiler alert: glow sticks are involved!). No matter what time of day you try it, a SUP trip is one of the best things to do in Windsor Ontario.
Go Cycling on Bike Friendly Paths
A bike ride along Lake St. Clair is one of the perfect Windsor activities in the spring, summer and fall. If you're looking for what to do in Windsor, add bike riding to your list. Don't have your own bike with you? You can rent a cruiser bike or even an electric bike at Urban Surf. I was thinking about taking the electric bike out for a spin. But, with thunderstorm clouds looming ahead, I decided it might be a bad idea to ride one of these for the first time through the rain. So, I opted for a cruiser bike instead.
On your bike ride in Tecumseh from Urban Surf, you can catch glimpses of spectacular estate homes, panoramic lake vistas, and hidden lighthouses. Enjoy the green spaces around the region as you bike along the trails, encountering small parks and even a sandy beach. Exploring the city by bike is one of the best things to do in Windsor Ontario.
With miles of trails and paths to explore, be sure to check out the Cycling Tourism Map on the official TWEPI website. There are six highlighted routes throughout the region, with gorgeous lakeside trails in Tecumseh and the Windsor Riverfront Trail in the city. There's nothing like taking your bike out for a spin, feeling the wind in your hair without a care in the world. Whether you decide to ride an electric bike or a regular bike, cycling is one of the great things to do in Windsor Ontario.
Top Windsor Activities: Take an Invigorating Yoga Class
After waking up at A Hidden Gem B&B and having breakfast, I walked down the street to take a morning yoga class at Breathe Pilates and Yoga Studio. Located in Walkerville, Breathe Pilates and Yoga offers a variety of classes, including pilates, hatha yoga, slow flow yoga, aerial yoga, and many more. Taking a yoga class here is one of the best things to do in Windsor, Ontario.
I attended a morning yoga class and it was exactly what I needed. We focused on breathing, slow flow movements, and some balance poses. It wasn't too vigorous and everyone was encouraged to listen to their bodies and go at a pace that was comfortable to them. If I lived locally, I'd go here regularly for yoga! But, if you're visiting like I was, I encourage you to book at least one session to start your day off right.
The owner, Nikki, is also the woman behind the Good Human Community. Throughout the difficult times of the past couple of years, Nikki wanted to shine a light on the positive things happening in the world and encourage people to do great things in their own communities. They also have merchandise where the proceeds go towards organizations in the local community. So far, they have donated to Trans Wellness Ontario, The Indian Residential School Survivor Society, and Canadian Mental Health Association Windsor Essex .
Windsor Attractions: Check Out the Street Art
One of my favourite things to do in Windsor, Ontario, is admire all of the street art. There's street art and murals to discover all over the city and within many neighbourhoods. Some of the best street art is right downtown, including WIFF Alley (University Avenue between Pelissier and Victoria). There are more murals around Wyandotte St W and Ouellette Ave.
If you venture outside of downtown Windsor, you'll find some works in Walkerville and East Windsor. There are a number of works on Drouillard Rd, for instance. It's fun to wander around town and stumble upon these bright and beautiful works of art.
Best Things to Do in Windsor: Visit Amazing Shops & Boutiques
Windsor has lots of independently owned small businesses with unique wares and offerings. You'll discover so many one-of-a-kind finds to treat yourself or someone you love. Here are my favourite shops in Windsor where you can shop and support local.
ShopEco: Beauty + Wellness
Now that you've embarked on cycling and SUP adventures, it's time to relax and take care of yourself. Enter ShopEco. It's an independent retail store with two locations in Windsor, focusing on clean and sustainable beauty products. I visited their location in Tecumseh and was immediately greeted by their knowledgeable staff.
ShopEco specializes in local, Canadian products, which use the best ingredients that are also kind to the environment. The staff at ShopEco helped me develop my own skincare routine that will restore and rejuvenate my skin. Most of their products are also vegan, and they're all cruelty-free and not tested on animals.
Shopping for beauty and skincare items can sometimes be overwhelming. There's such a massive variety of products, and you don't know which ones are actually good for your skin. There's really so much marketing and you might be throwing your money away on products that don't work, test on animals, or contain harmful chemicals and carcinogens.
You don't need to worry about any of that when you visit ShopEco. Their staff will choose products that work perfectly with your skin type, and they only sell eco-friendly, clean beauty brands. The entire experience was relaxing, enjoyable, and one of the best things to do in Windsor.
There's such a peaceful and calming atmosphere in their retail store. So, indulge a little! As their sign says, "Self care isn't selfish" and there's nothing wrong with taking care of yourself.
Ocean Bottom Soap Company
Ocean Bottom Soap Company offers handcrafted soaps, bath and body products, and wellness products using natural and organic ingredients that are sourced both locally and worldwide. Most of their products are vegan, and all of their products are eco-friendly and sustainable. Their soaps use high quality oils, butters and botanical ingredients, so you can be sure that you're putting only the best products on your skin.
As soon as I walked into Ocean Bottom Soap Company, I smelled all of the amazing aromas that filled the air. There are many different scented soaps, bath bombs, and lotions for every preference. You can also buy products for particular skin conditions, like acne, eczema and rosacea.
Ocean Bottom Soap Company doesn't waste any products or materials. You can purchase bags of soap ends to use as a luxurious bubble bath. I love that health and wellness is a main focus, but Ocean Bottom also cares about the health of our planet, too.
You can find Ocean Bottom Soap at many local hotels, health stores and small businesses. One of the best things to do in Windsor, Ontario is visiting the retail shop itself. Take a stroll around this wonderful smelling environment and treat yourself to a variety of soap and body products. Shopping here is such a luxurious and relaxing experience!
Urban Art Market
Urban Art Market is the ultimate way to shop local. You're supporting a local business that's filled with more small businesses! Urban Art Market features the works of over 40 local crafters, artisans and makers from the community.
It's a great place to go shopping for gifts or you can treat yourself, too. You'll find pottery, jewelry, knitwear, art, cards, stationary, accessories, and more. Even though the store isn't that big, you could spend a long amount of time admiring all of the beautiful creations.
It's really neat that you can also meet some of the makers when you go shopping. Some of the vendors will be present in the shop or they might even be working on some of their crafts. There are always new creations added to the shop, and there are seasonal items, too. Pop by Urban Art Market as shopping here was one of my favourite things to do in Windsor, Ontario.
La Verns Market
La Verns Market is a boutique grocery store in downtown Windsor. Located on the corner of Pelissier Street and University Avenue, La Verns Market is a fully curated bodega with packaged items, fresh produce, and takeaway meals.
There are lots of unique food items and those that cater to special diets, like vegan and gluten-free products. It's wonderful to have a small grocery store in downtown Windsor that's walkable for so many people. You can also pop by for a lunch meal to-go if you work downtown. The staff is friendly and helpful, too.
Best Things to Do in Windsor: Eat Yummy Vegan Food
When you travel, do you plan your activities first, or do you plan the activities around your meals? One of my favorite things to do in Windsor Ontario was simply to eat all of the yummy food. I traveled a few hours away from home for the Windsor attractions that I mentioned above, but also for the amazing vegan food scene.
Nooch
Nooch is a vegan restaurant in Windsor offering comfort food that both omnivores and vegans will love. They've got all of your favorite meals made from plants. You'll find items on the menu like Buffalo bites (made from seitan), jackfruit tacos, poutine, Caesar kale salad, a Reuben sandwich, and a Philly cheesesteak.
I opted to try the Detroiter hot dog (which really pleased one of my friends who lives just across the border in Michigan). It's a Field Roast frankfurter topped with the most delicious chili ever. Then, there are mustard and onions on top of the chili. It was served with a mountain of fries. Seriously, I don't think any more fries could fit on my plate!
They also have tons of desserts (I went away with a slice of their famous carrot cake), so you'll have to save a little bit of room for something sweet. Please note that these photos were taken at Nooch's old location, and they've since opened at a new spot in Windsor.
Carrots n' Dates
Carrots n' Dates specializes in wholesome, gluten-free and plant-based food made with the freshest ingredients. I've now visited Carrots n' Dates on two occasions, and both times I really enjoyed my meals and desserts. I'm certain you'll love it, too.
You'll find healthy and delicious vegan meals here, like salads, soups, bowls, and burgers. It was really difficult to choose just one menu item for dinner as everything sounded so yummy. On my first visit, I tried the Buddha Bowl: warm brown rice, greens, grilled smoked tofu, red peppers, carrots, cucumber, sesame, and tahini dressing.
Paired with a kombucha, it was absolutely delicious. I happily munched on my tasty Buddha Bowl while listening to live music in front of a colorful mural wall. It was blissful!
On my second visit to Carrots n' Dates, I ordered the Pad Thai bowl with tofu and mushrooms. It was so fresh and satisfying, truly the perfect lunch dish. I couldn't resist trying one of their donuts with an Americano after my meal, too. There is a large display of baked goods, desserts and chocolates, and many are both vegan and gluten-free.
Healthy Mama
Healthy Mama is a relaxed, plant-based and gluten-free bistro in Tecumseh, Ontario. They're also a small retail shop with many frozen meals, grab and go items, and interesting packaged foods that I hadn't seen before. Everything is vegan and gluten-free, which certainly makes my dining and shopping experience a breeze because I can eat anything on the menu!
This restaurant and shop has such a warm and welcoming vibe from the staff. You'll certainly feel right at home here, as I could tell that this establishment has many repeat guests. There's a wonderful patio outdoors, perfect for warm, summer days.
I visited Healthy Mama for breakfast, and couldn't resist trying one of their smoothie bowls. I chose the Pink Pitaya Smoothie Bowl, basically for the fact that it was pink, but it also happened to be satisfying and delicious.
I'd love to return someday for lunch or dinner to try more dishes. Spicy sushi bowl, Crab Cake Po' Boy, Mexi-Mac N Cheese? Yes, please! I feel like I'll have many tough decisions ahead of me.
Thyme Kitchen
Thyme Kitchen is a chef driven restaurant, inspired by local ingredients, in the heart of Windsor. While they aren't exclusively vegan or vegetarian, they do have plenty of options for those following vegan or gluten-free diets. It's the perfect spot for breakfast, lunch, or weekend brunch. I've visited Thyme Kitchen twice now and thoroughly enjoyed both of my meals.
I asked the staff for their recommendations, and they informed me that the Tofu Crunch Wrap was one of their most popular items. I was definitely not disappointed with this choice. The ingredients included: brown rice, tofu, tomato, avocado, peppers, spinach, vegan cheese, and crunchy tostada, wrapped inside a wheat tortilla. It was paired with a delightful chipotle aioli, as well as two sides of your choice (I selected potato hash and the pineapple coleslaw).
If I could eat this everyday for breakfast or lunch, I'd be so happy! The combination of the fillings with the crunchiness of the tostada, dipped in the chipotle aioli was absolutely divine. The side dishes were super yummy, too!
On my second visit to Thyme Kitchen, I had a falafel wrap, a side salad, and a cup of miso vegetable soup. The falafel tasted delicious, and I loved the fillings of veggies, beans and vegan cheese. The green salad was really yummy, and I love how there were sliced grapes on top.
Erie Street Gastropub
Erie St Gastropub is an amazing lunch, dinner, and late night establishment for delicious food and drink. There are vegan items clearly marked on the menu, as well as what can be prepared vegan or vegetarian. The food is described as Asian fusion and it's one of the best meals I've had in Windsor. The chef is incredibly talented and I'd happily dine here all the time if I lived closer.
To start, I had vegan dumplings with tofu and veggies that were full of flavour. For my main, I ordered the Bun Cha Gio: vermicelli noodle topped with shredded salad, cucumber, Vietnamese pickle, mint and sweet & sour dipping sauce, with tofu and veggie spring rolls. There's also a dessert that can be prepared vegan, the Che Chuoi (homemade tapioca and coconut cream pudding with caramelized banana).
Erie Street Gastropub also has a talented bartender who prepares innovative cocktails. Plus, there's an extensive craft beer menu with local and international brews for every taste. I highly recommend Erie St Gastropub for a delectable dinner choice or an evening out with your friends.
Plant Joy Doughnuts
Plant Joy is the first vegan doughnut shop in Windsor. Jordynne couldn't find a vegan doughnut in Windsor, so she decided to make her own. Plant Joy was born back in April 2018, serving Windsor at local farmers markets. The city clearly cannot get enough, and Jordynne opened the retail location for Plant Joy in 2019. This doughnut shop always has an endless stream of customers, looking for their donut fix.
Plant Joy has many flavors of donuts. Some of them are around all the time, and some are seasonal. I was overjoyed that Jordynne spelled my name out of donuts! Not only did it look super adorable, but it also meant that I got to eat six doughnuts. I tried lemon lavender, chocolate, cinnamon sugar, strawberries & cream, raspberry, and vanilla frosted. It was hard to choose a favorite, but I think I'd have to go with the strawberries and cream. Yum!
You've simply gotta try these award-winning donuts. They're light, fluffy, flavorful, and almost the size of my head, I kid you not. Plant Joy uses fair-trade, organic, and locally sourced ingredients wherever possible. When you travel to Windsor, you must stop by Plant Joy for one…two…or however many doughnuts you'd like. Surprise your loved ones by spelling out their name in doughnuts. It really brought so much joy to my life to see my name in donuts!
Best Things to Do in Windsor: Visit Coffee Shops and Cafes
As someone who is a massive fan of coffee and coffee shops, I was surprised by the large amount of fantastic cafes in Windsor. There's a fabulous coffee culture brewing in Windsor, so it's a great place to go coffee shop hopping. It's one of the top things to do in Windsor, Ontario, and you don't want to miss these amazing cafes.
Taloola Cafe
Taloola Cafe is a cozy coffee shop in Walkerville that I absolutely adored. The decor is so warm and inviting, especially the giant world map splashed across one of the walls. I could easily see myself snuggling into a chair or booth and spending some time here, if I was a regular to Taloola Cafe.
This cafe is very vegan-friendly, through their regular menu and baked goods. There are numerous cookies, loaves and other goodies that are vegan (look for the little "V" on the sign). You can also enjoy several vegan meals here for lunch.
I popped by Taloola Cafe after my yoga class for an Americano with oat milk and a vegan chocolate chip cookie. It was the perfect snack and little boost of caffeine that I needed to continue with my day. The staff members here are very friendly and helpful, too. Definitely don't miss Taloola Cafe when you visit Windsor.
The Coffee Exchange
The Coffee Exchange is a lovely little coffee shop in downtown Windsor. They're open every day, including late on Fridays and Saturdays, which I appreciate as many cafes tend to close earlier in the day. They brew coffee beans that are roasted by a Canadian award winning specialty roaster, 49th Parallel Coffee Roasters. They also brew coffee using an innovative hybrid technique that combines drip brewing and a French press.
I ordered a vanilla oat latte at The Coffee Exchange and wasn't disappointed. It was rich and delicious, and exactly what I needed. I wouldn't hesitate to return!
Cafe March 21
Cafe March 21 opened in downtown Windsor on March 21st, 2015, and it's located inside a cute little house. The shop owners dream of opening more cafes in the future named after each month of the year. Cafe March 21 serves coffee and espresso beverages, tea, and lemonade. They also have oat and almond milk as their plant-based milk options.
They have a variety of cookies, including some vegan options. You can also order lunch at Cafe March 21. I noticed several vegan options on the menu, including steamed dumplings and four different kinds of ramen. There's also a little shop with coffee related items and random cute blind box toys.
Getting to Windsor
I had a comfortable and relaxing journey from Toronto to Windsor aboard VIA Rail Canada. Their trains travel from Toronto's Union Station to Windsor. It's definitely less stressful and more eco-friendly than driving down to Windsor on your own.
VIA Rail: Business Class
I was fortunate enough to experience Business Class travel on VIA Rail between Toronto and Windsor. As I arrived a little bit early to Union Station, I took advantage of the Business Class Lounge. Help yourself to complimentary coffee and beverages before your trip. Sit back and relax with free Wi-Fi in their spacious lounge area. When it's time to board the train, someone at the front desk will announce it over the speaker. Then, when you walk down to the boarding area, you're able to skip the line and board first.
On the train, I enjoyed a luxurious experience in their spacious and comfortable seats. As I wanted to work on my laptop computer, I sat at a large table and spread out all of my work and belongings. There's free Wi-Fi on board, as well as places to plug in and charge your devices.
Business Class comes with a complimentary meal, which was breakfast in my case. I didn't request a vegan meal ahead of time, though they can accommodate this request. Thankfully, they were able to cobble together a vegan breakfast without any difficulties: fresh fruit and a bagel with jam.
Coffee was continually flowing while I was on board, too. All in all, I had a safe and relaxing trip with VIA Rail Canada, and I highly recommend that you choose the train for your adventures.
Renting a Car in Windsor
When I arrived at the train station in Windsor, a representative from Enterprise Rent-A-Car picked me up. It's nice that they offer this service. You don't need to worry about how you'll get to the rental car office when you arrive in the city. We went to their office to sign a few papers, and then I took off in one of their vehicles for the duration of my trip. Renting a car with Enterprise was so easy, and the car was practically brand new.
I do recommend renting a car, as you might find that your favorite Windsor attractions are across town from one another. It's also wonderful to have a car, especially in those situations where you accumulate bags and boxes with all of the goodies you found shopping in Windsor.
If you're looking for a weekend getaway in southern Ontario, Windsor needs to be on your radar. Using the Via Rail, it's easy to get to Windsor from Toronto or any other city in Ontario. There are so many things to do in Windsor Ontario, especially for those who love outdoor adventures, eco-friendly activities, and delicious vegan eats.
More Things to Do in Southwestern Ontario
While there are lots of great things to do in Windsor Ontario, the region is full of fun activities and attractions. I've been to Ontario's Southwest on numerous occasions and there are always new places to explore. I love that there's a seemingly endless amount of things to see and do in southwestern Ontario. Here are some ideas to help you plan your adventures: