Embarking on a 1000 Islands kayaking tour is one of the top ways to explore the region, up close and personal. There's really nothing like a peaceful paddle in this stunning region of Ontario, Canada. As you drift past numerous islands, both big and small, you never know what you'll discover around every turn. We're going to show you exactly how to take the best 1000 Islands kayaking day trip with an amazing, knowledgeable guide. This way, you'll explore the most unique places and learn the stories behind them.
Kayaking in the Thousand Islands truly allows you to explore spaces that are relatively inaccessible otherwise. It's the perfect activity if you're spending a weekend or a few days in the area. Add this one to your 1000 Islands itinerary for sure! Even if you aren't a seasoned paddler, it's not a problem. This 1000 Islands kayaking trip is suitable for those at a beginner and an advanced level.
Posts may be sponsored. Post contains affiliate links. I may be compensated if you make a purchase using my link.
Before heading to the Thousand Islands, Justin and I stayed overnight in Kingston after going stand-up paddleboarding on the St. Lawrence River. These couple of days involved lots of adventures on the water for us. Our next stop was the town of Gananoque to meet our tour guides at 1000 Islands Kayaking.
Day Tour With 1000 Islands Kayaking
We met the owner of 1000 Islands Kayaking, Scott, and our tour guide for the day, Kelly. Scott was so enthusiastic about kayaking and the region; we could really see his passion for the Thousand Islands. Kelly took us out to the pier and talked briefly about the kayaks and paddles we would be using for the day. We received a quick safety briefing and paddling instructions.
Before long, Justin and I were in the water and paddling away from Gananoque. We were mindful of the larger ferries and boats along the St. Lawrence River. This waterway hosts many larger ships carrying passengers all over the 1000 Islands. Though we did not encounter many vessels, we were certain to always give them the right of way.
Kelly guided us through a basic "Kayaking 101" lesson, showing us a few different types of kayaking strokes. These short lessons were naturally integrated into our kayaking tour as we meandered down the river. Despite the fact that we had kayaked before, we'd actually never been given a formal lesson. It was really nice knowing how to maneuver our kayaks easily when we needed to change our position (if we were about to glide into a rock…or each other). The most valuable part of this lesson was learning how to stop! Kelly was a great teacher who had such a bright and cheerful attitude throughout the day.
Learning About the Landscape
The 1000 Islands is actually comprised of 1,864 islands in total. The islands are actually the tops of an ancient mountain range that once stood tall in this region before the last Ice Age. When the glaciers melted and water flowed, it formed the Great Lakes and the St. Lawrence River. Most of the mountain range was submerged, leaving some rocky, granite land masses to protrude from the surface of the water. These are the islands that exist today.
Kelly guided us past Sisters Island and Pike Island. We floated along the river, passing many custom built cottages and buildings on our way. One cottage was designed to look as though it was partially submerged into the water. Once we were past the larger mouth of the river, we entered much calmer channels. The water was very still with small ripples forming only when our paddles pierced the surface.
The Wonders of the 1000 Islands
The 1000 Islands are part of the Frontenac Arch Biosphere Reserve, a UNESCO World Biosphere Reserve. It is notable for its biodiversity. This region's Precambrian rock provides habitat for many rare and endangered species, including many reptiles and amphibians. There are also over 250 species of birds that live in this area. We saw many types of birds while we kayaked, including a variety of geese, ducks, eagles, heron, and even an osprey (a species that nearly died out from pesticide use and whose numbers are slowly increasing due to conservation efforts).
Kelly showed us the remnants of a sunken shipwreck with an interesting tale. Back in the early 1900s, the ship was purposely run aground. At a New Year's Eve party in the 1930s, the owners celebrated on the ship and decided to sink the ship once and for all. They lit the ship on fire and fled presumably across the frozen water back to land. As we paddled by, we could easily see parts of the ship visible underwater. The water was quite clear throughout our journey. We continued to paddle around the Admiralty Islands in awe of our beautiful surroundings.
Kayaking to Half Moon Bay
We kayaked to Half Moon Bay, a small cove at the southeastern portion of Bostwick Island. It is a secluded area with tall, rocky cliffs. Unlike some of the other islands, these cliffs are flat, smoothed by the rushing water during the glacial melt. This cove is a natural amphitheater, and also known as the tallest cathedral. Church services of a variety of denominations are held here on a regular basis. Since the 1800s, people have paddled their small boats into Half Moon Bay to worship together.
Our 1000 Islands, Ontario kayak tour continued around Bostwick Island and past Mermaid Island. Our midday destination was Beau Rivage Island where we would eat lunch together.
Lunch at Beau Rivage Island
We informed Scott that we both consumed a vegan diet ahead of time, and he was happy to accommodate our diet. The meal relied heavily on fresh, local produce and could easily be altered into a vegan dish. While Kelly prepared our meal in one of the pavilions, Justin and I explored a section of Beau Rivage on our own. It was a peaceful and quiet island with only a few visitors who traveled there by boat. Camping was permitted on Beau Rivage, though we would only be staying a short while.
Kelly called us for lunch and we were astounded at how amazing this meal looked! It was hard to believe that we transported all of the ingredients stowed away in our kayaks, and Kelly prepared everything so quickly! There were loads of fresh veggies to be placed inside rosemary wraps from a local farmer's market. The meal used almost all locally produced ingredients from the farms of South Eastern Ontario. Some vegetables, such as the lettuce, came right from Kelly's own backyard garden! She made a zucchini hummus and a quinoa/kale salad. There were also plates of fresh fruits that were perfectly ripe. We were so delighted with this healthy and delicious lunch.
Kayaking to McDonald Island
Scott joined us for the remainder of our Thousand Islands kayaking trip. We made one more stop on McDonald Island to catch some glimpses of the tiny beach and the oTENTik accommodations there. These cabins are a comfortable alternative to camping, so you can stay indoors within the wilderness. Justin and I aren't hugely into camping, even though we love spending time outdoors. Glamping is the perfect compromise for us. I'd love to stay here one day!
On the way back, we absorbed the scenery all around us. You simply must kayak the 1000 Islands when you're here. It's a breathtaking region and we only skimmed the surface of what it has to offer. Plus, taking a Thousand Islands kayaking tour with a knowledgeable guide is a must.
Kelly went into great detail about the flora and fauna as we encountered it on our journey. She's not only an expert about kayaking and the natural surroundings, but also cares deeply for the environment. We had a fabulous day out on the water with her. Kayaking in the 1000 Islands is such an enriching experience, both for the physical exercise and the gorgeous nature.
1000 Islands Tours and Adventures
We highly recommend 1000 Islands Kayaking and their tours. We had a fantastic day, filled with many memorable moments. 1000 Islands Kayaking offers full and half day tours, kayaking lessons, and even a "paddle and a pint" where you go kayaking and then out to a local pub afterwards!
Looking for more adventures in the 1000 Islands and beyond? Here are the best things to do in the Thousand Islands for a weekend, three days, or more. You can go hiking at the 1000 Islands National Park or check out the Hell Holes Nature Trails and caves on a road trip traveling west of Kingston. Keen on hiking? Here are the top hiking trails in the 1000 Islands, including the Thousand Islands National Park and Marble Rock Conservation Area.
Want to see more photos of 1000 Islands kayaking?
View all of our travel photography in one place! You can browse and buy any of our pictures, including prints, gifts and more.
Where to Stay in Gananoque
I stayed at the Colonial Resort & Spa when I traveled to the Thousand Islands, and it was the perfect place to stay. Even though I was out and about for most of the day, it's always nice to have a cozy and comfortable place to call home. The location is ideal for a trip to the 1000 Islands. You're within walking distance of downtown Gananoque and the whole Thousand Islands region is only a short drive away. It's only a couple of minutes away from the kayaking launch site.
The Colonial Resort & Spa offers complimentary Wi-Fi, a mini fridge, a flatscreen TV with cable channels, and both an indoor and outdoor swimming pool. There's free parking right outside of your room. Book your stay at the Colonial Resort & Spa, or feel free to check out more reviews written by fellow travelers who have stayed there.
Rather stay at an Airbnb apartment rental or cottage in the area? Take a look at these Airbnb properties in Gananoque for waterfront tiny homes and cottage rentals.
Looking for More Kayaking Adventures?
Justin and I love to kayak when we travel. Here are some more blog posts and features about kayaking from around the world:
More Things to Do in South Eastern Ontario
Looking for even more things to do in South Eastern Ontario? I've got many travel blog posts and travel guides for you.
Have you ever visited the 1000 Islands?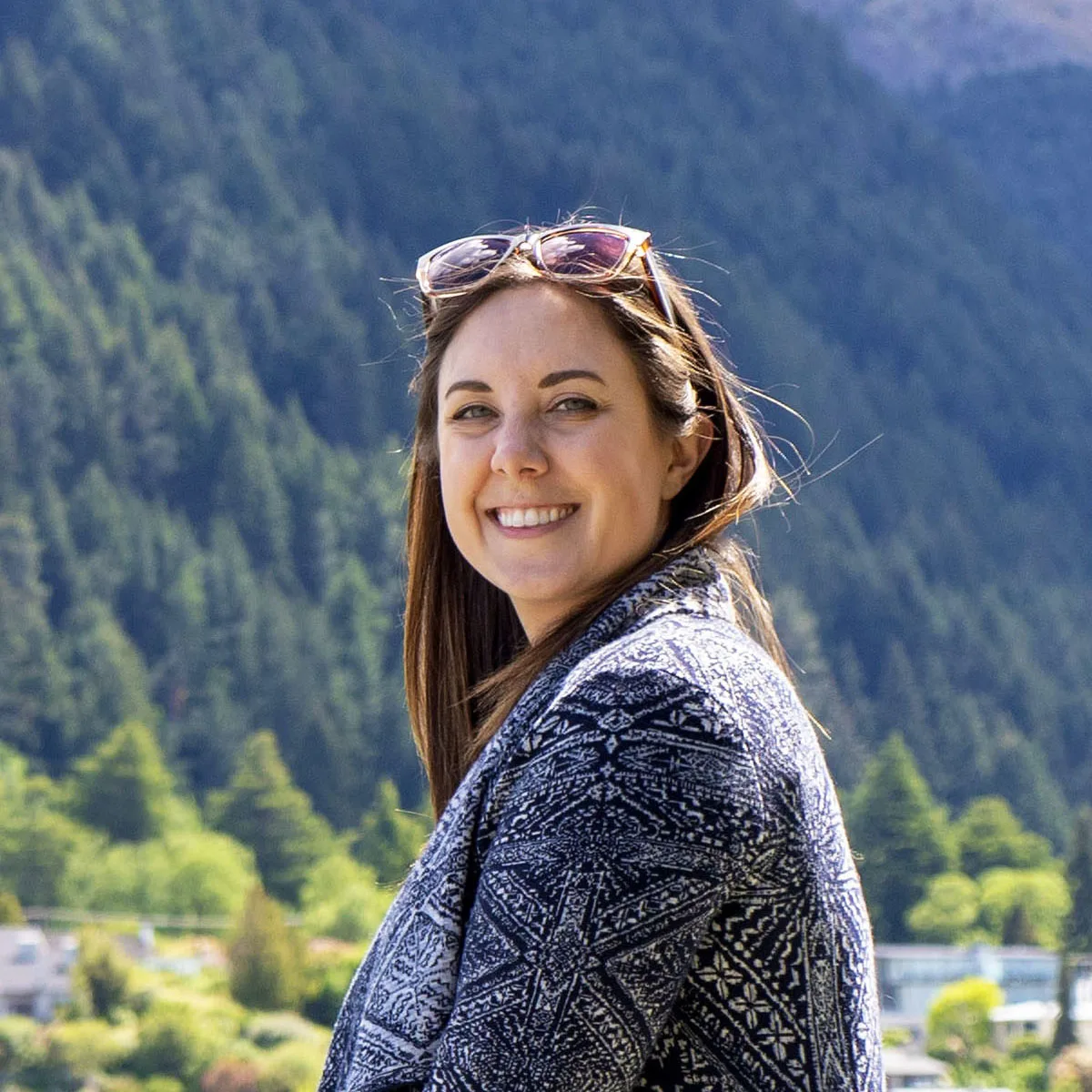 Lauren is the full-time travel blogger and content creator behind Justin Plus Lauren. She started Justin Plus Lauren in 2013 and has travelled to 45+ countries around the world. Lauren is an expert on vegan travel as one of the very first vegan travel bloggers. She also focuses on outdoor adventure travel, eco and sustainable travel, and creating amazing travel itineraries for cities and small towns.