There are so many amazing things to do in Grand Bend, Ontario, especially during the summer months. One of the most picturesque freshwater lakes, Lake Huron, has a stretch of coastline called Ontario's Blue Coast. Grand Bend and Grand Bend Beach are right along this expanse of white, powdery sand with twinkling, Caribbean blue waters.
Grand Bend isn't just home to one of the best beaches in Ontario. There are numerous adventures and reasons to visit with something for every kind of traveler: the outdoor adventurer, the foodie, and the beach bum. I visited Grand Bend on a girls trip, but it's also a great destination for couples, families with small kids, and groups of friends.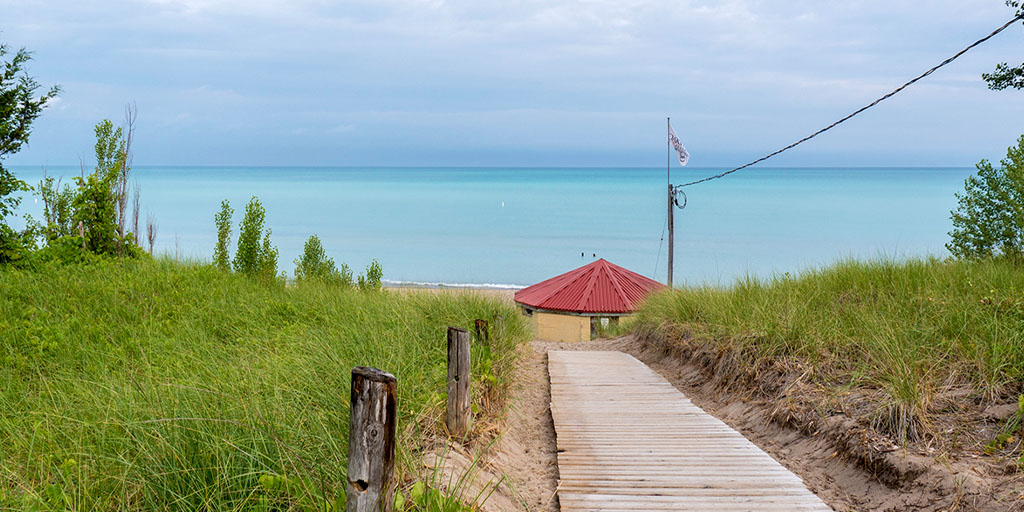 Grand Bend is one of the best places to take a road trip in Ontario. These are the best things to do in Grand Bend, Ontario over a weekend, and I'll also give you some ideas to extend your weekend with a day trip down to Sarnia.
Luxury Resort Stay at Oakwood Resort
Right on the beach, Oakwood Resort is a luxurious accommodation and golf course in Grand Bend where you absolutely need to stay. Between its private beach, golf course, and therapeutic spa, you'll have a quiet and relaxing place all day and night. The suites are reminiscent of northern cabins with their own private balconies and fireplaces.
The hotel grounds are beautifully landscaped, there's a full service spa with an indoor pool, and there are even hammocks for swaying in the breeze. At breakfast, there's a massive buffet with lots of options, and the chef even whipped up a tofu scramble for me.
Things to Do in Grand Bend: Grand Bend Beach
There's non-stop, action packed fun in Grand Bend. It's perfect for a day at the beach, soaking up the sun, building sand castles, or splashing around in the waters of Lake Huron. The main beach area has a splash pad and playground for the kiddos.
There's easy access to lots of restaurants, cafes, and bars in town with plenty of activities (like escape rooms, miniature golf, and even axe throwing). Plus, the turquoise blue water looks straight out of the Caribbean. Here are even more tips and important information about the beach in Grand Bend.
Grand Bend Lighthouse
For all of those lighthouse chasers out there, check out the Grand Bend lighthouse at the end of the pier. Watch the waves crash all around you, especially on a slightly stormy day. We even saw someone surfing among the swells. I highly recommend walking all over Grand Bend: by the pier and lighthouse, along the beach, and all over town.
Water Sports on Lake Huron
There are water sports for all ages and interests in Grand Bend. From Sea-Doo watercraft rentals to Flyboarding and parasailing, you can try these thrilling activities for the first time on brilliant, blue waters.
We opted for a slightly tamer boat ride with Xtreme Watersports to soak up the scenery. As the boat glides along, feel the wind in your hair and the sun in your face. Discover Grand Bend from new perspectives out on the water.
Wander Around This Ontario Beach Town
You don't just need to visit Grand Bend Beach when you go to Grand Bend. There's an adorable main street lined with beach shops, restaurants, and cafes. You'll want to go for a stroll or two up and down the main street.
Grand Bend Wineries
Traditionally, when we think about wine regions in Ontario, Niagara or Prince Edward County might spring to mind. However, the rural areas of Huron Shores make up Ontario's newest emerging wine region.
Alton Farms Estate Winery is the pioneer winery and vineyard, while Dark Horses Estate Winery offers a luxurious tasting room, restaurant, and banquet space. You'll soon see that wine tasting is one of the best things to do in Grand Bend, Ontario.
Alton Farms Estate Winery
In Plympton-Wyoming, Alton Farms Estate Winery was originally only a dream of owners, Marc and Anne Alton. There weren't any wine growers in this area, but Marc knew that the setting would be perfect for producing delicious and flavourful wines.
Nowadays, Alton Farms Estate Winery handcrafts 13 to 17 wines each year from six acres of vineyards. We chatted with the friendly and knowledgeable owners, and sampled wine and finger foods from a charcuterie board (they made a vegan one for me!). My favourite was the 2016 Aberarder White.
Dark Horse Estate Winery
The architecture and vineyards of Dark Horse Estate Winery will surely wow you! Sample wines at their elegant tasting room or enjoy them on the spacious patio overlooking the vineyards.
As someone who tends to like white wines on the sweeter side, I really enjoyed their Late Harvest Vidal, but I also recommend that you sample their sparkling wine.
Coffee Break at Highway Girl
Highway Girl, a finer food shop, is the place to truly find something for everyone. They cater to all diets and allergies, including vegan, raw, gluten-free…you name it! The owner has family members who have food allergies, and she knows how difficult it can be to eat at a restaurant. She decided to offer eats and treats for every diet.
There's a wide selection of vegan and raw desserts (think: an entire refrigerated unit) and sandwiches can be made vegan and gluten-free. This place is a total gem, and I encourage you to check it out for lunch, a treat, or a caffeinated beverage. I went away with one of their mini vegan chocolate cheesecakes, donuts, and some coffee.
Things to Do in Grand Bend: Pinery Provincial Park
Looking for the perfect combination of wilderness and beach? Head to Pinery Provincial Park to explore the forest, nature, and 10km of beautiful sandy beaches. The park itself has an exceptional biodiversity of flora and fauna, including 800 vascular plants and 300 bird species. Among the Oak Savanna and Coastal Dune Ecosystems, there are opportunities for outdoor recreation all year long.
You can camp here (book early for summer campsites), rent canoes and kayaks, go biking on a 14km trail, walk on 10 different trails, or simply savour the views. Of course, it happened to be pouring rain when we checked out Pinery Provincial Park, but the rain made our surroundings even more lush and green.
Even though we couldn't properly enjoy the beach, I checked out the views and will happily return on sunnier days. Did you know that Pinery isn't only a great place for summer trips? It's open all year long! I returned to visit Pinery Provincial Park in the winter, stayed in a yurt at the park, and it was so much fun.
Dine at Midori Sushi
Who knew there was a sushi restaurant at this beach town? Midori Sushi is right on the main strip in Grand Bend. Definitely grab a seat on the patio during the summer months, or you can even enjoy a meal and a drink from the swing set up by the outdoor bar. The vegan options are clearly marked on the menu.
There were too many yummy meals on the menu that made it difficult to choose. I settled on a miso soup, edamame with garlic and lime, cucumber rolls, and sweet potato rolls. To make my lunch complete, I added a lime frozen margarita, the perfect summer beverage. To see more vegan meals in Grand Bend, check out my Grand Bend vegan restaurant guide.
Famous Grand Bend Sunsets
Grand Bend and Ontario's Blue Coast are home to some of this most spectacular sunsets ever. The sun's beach points perfectly in a westerly direction, and the sunset rivals any tropical one I've seen. Unfortunately, as it rained during our overnight stay in Grand Bend, we didn't get to see the iconic sunset. However, the skies were quite dramatic that evening.
This is a picture of what you can expect from a Grand Bend sunset, except I took this photo in the wintertime. It's so beautiful! The sunsets are worth the overnight trip alone, and viewing the sunset is one of the top things to do in Grand Bend, Ontario.
Day Trip to Sarnia From Grand Bend
While there are so many great things to do in Grand Bend, it's also a good jumping off point for other nearby destinations. Since Grand Bend is such a small town, you might want to visit a larger city for more amenities and various things to do.
I suggest driving south to Sarnia, which is a little under an hour from Grand Bend. Here are some of the best things to do in Sarnia for a memorable day.
Canatara Beach
Canatara Beach in Sarnia has some of the clearest waters I've ever seen. It's also a quieter beach if you're seeking a relaxing getaway. There's about one kilometre of sandy beach, and the waters range between deep blue and turquoise on a sunny day.
It was overcast and on the verge of rain when we visited, but the rain held off and we walked along the beach. Canatara Beach has a nearby park, ample free parking, a taco food truck, and water sport rentals (kayaks and stand-up paddle boards).
Visit a Craft Brewery: Refined Fool Brewery
If you love beer, you've gotta try the brews over at Refined Fool Brewery in Sarnia. They now have two locations (one downtown and one midtown), but they humbly started out as backyard brewers. Over the years, they've created 97 different beers and have a large sampling to taste at their brewery.
Pick four of them for a flight – I tried the Troll Toll (cream ale), Hipster Doofus (strawberry wheat beer), Pinky Brewster (raspberry wheat beer), and My Cousin Knows the Drummer (German wheat beer). They were super refreshing and I love the quirky beer names.
Coffee Break: Visit Blackwater Coffee Co
When you wake up in Sarnia (or arrive for the day), the first place you'll want to head is Blackwater Coffee Co. The owner, Dave, has perfected the art of roasting beans for the last 25 years. There's a roast for every palate as well as small bites of food (they have everything bagels as a vegan option).
Their dark roast was smooth and rich without any bitterness. Try a plant-based milk option for lattes and cappuccinos.
Check out Waterfront Park (Point Edward)
In the small community of Point Edward that neighbours Sarnia, take a stroll at Waterfront Park beneath the Blue Water Bridge. Take a look across the water – yes, that's Michigan directly across the way! Don't leave without sampling "bridge fries" from the local fry truck.
Fantastic Restaurants in Sarnia
There are many amazing choices for restaurants in Sarnia with something for every taste. There's even a vegan restaurant in Sarnia, too! Here are my top picks for Sarnia dining options.
Cafe Mexico
Cafe Mexico in Sarnia offers tacos, brunch, coffee, and cocktails. Those are pretty much all of my favourite things. The restaurant owners share their love for Mexican culture, tradition, and hospitality through food and drink.
On the menu, you'll find two vegan tacos: the vegan chorizo and refried bean. There's also nacho chips and pico de gallo or guacamole. I also ordered a refreshing and tasty Cosmopolitan.
Match Eatery & Public House
Located right at the Gateway Casino Point Edward, Match Eatery & Public House is a modern pub with a contemporary twist. Dine on their patio with views of the St. Clair River or watch sporting events at the bar.
The Big Toasted Veggie Sandwich was hearty and delicious, with roasted beets, portobello mushrooms, and hummus. Leave off the cheese and the onion ring (but add crispy onions!) to make it vegan. I also asked for some vegan nachos which was no problem at all. While the restaurant doesn't have vegan cheese, they artfully arranged a number of toppings around the nacho chips for a yummy feast.
Greens Organic Cafe
Greens Organic Cafe is the only vegan and plant-based restaurant in Sarnia with food that everyone will adore. They have a rotating menu of bowls, wraps, burgers, pasta, tacos, and more. I had a raw walnut taco wrap with spiced walnut filling, cashew sour cream, avocado, onion, and veggies.
Also, I couldn't resist ordering a pina colada smoothie and a peanut butter cookie for dessert. In addition to the tantalizing menu, you'll find a range of vegan products in their fridge and a variety of desserts.
As you can see, there are so many awesome things to do in Grand Bend (and Sarnia!). I always look forward to exploring more of my own backyard, and can't wait to return (perhaps with Justin in tow next time!). Check out more of our adventures in Ontario's Southwest.