Grand Bend, Ontario is a pretty little beach town on the shores of Lake Huron, and Pinery Provincial Park is a nearby unique park. This charming destination on Ontario's Blue Coast is best known for its sandy beaches, turquoise waters, and stunning sunsets. While tourists flock to the main shopping strip in the summer season, causing traffic jams along Highway 21, there are entirely different vibes in the winter.
It's quiet, serene, and snow covered. While some seasonal attractions are closed, it's a wonderful time to explore natural attractions, participate in winter activities, and have the place nearly to yourself.
Posts may be sponsored. Post contains affiliate links. I may be compensated if you make a purchase using my link.
Pinery Provincial Park Yurts
Pinery Provincial Park is a unique ecosystem in southwest Ontario on a vast stretch of land between Highway 21 and Lake Huron. It's the largest remaining tract of Oak Savanna, and it's also one of the longest freshwater coastal dune ecosystems in the province.
Pinery Provincial Park is an amazing place to visit in all seasons. While it's most popular during the summer months, it's an entirely new experience in the winter. It's easy to stay at the park, too. There are roofed accommodations, including 12 yurts that are open all year long. I spent two nights in one of the Pinery Provincial Park yurts in the middle of the winter.
What is a Yurt?
The word "yurt" is the Russian translation for what people in Mongolia call a home or dwelling. Mongolians have lived in yurts for thousands of years, especially nomadic people (90% of the rural population in Mongolia today still live in yurts!). They take between 30 minutes and a few hours to set up and can sleep up to several people.
Generally, there is a dome for a roof, and a fireplace with a chimney that sticks out from the top of it. The circular shape of the building allows it to be cooled and heated quickly and efficiently. The Pinery Provincial Park yurts don't have fireplaces, but they do have heaters and electricity and they are more permanent structures than traditional yurts.
Yurts at Pinery are similar to glamping. It's far more luxurious than camping because you have a comfortable bed and you don't need to set up your tent or anything, really. Similar to camping, you're right in the middle of the park, close to the great outdoors.
A Tour of the Pinery Provincial Park Yurt
The Pinery Provincial Park yurts have electric heat, lighting, tables, and bunk bed sleeping that fit up to 6 people. There's a deck outside of each yurt with a picnic table for outdoor dining, along with a gas barbecue for cooking. Each yurt comes with its own parking space and a small fire pit for bonfires.
There isn't any running water or restroom facilities inside the yurts. Instead, there's a comfort station just down the road with bathrooms, showers, and laundry facilities. To book your stay at the yurts, you can make online reservations or call Ontario Parks at 1-888-ONT-PARK.
Things To Know: Pinery Provincial Park in Winter
There's an app for Pinery Provincial Park! Download the Explore Pinery app from your phone's app store for all park information. Going digital saves paper printouts of park information and maps, so it's the eco-friendly choice.
Are you more of a camper than a glamper? While I feel like that's pretty brave in the winter, it's possible to go winter camping in tents at Riverside Area 1 (same area as the yurts).
While dogs are permitted in the park on a leash, pets are not allowed in the yurts. You may not bring snowmobiles, ATVs or horses in the park either. Watch the posted speed limits within the park. You don't want to mistakenly run over wildlife living in the park, so pay attention to the road and slow down.
Packing List for Yurt Camping
Your yurt will only have the very bare essentials: two bunk beds with mattresses, a table and plastic chairs, electricity and heating. You'll have to bring everything else along with you. Here are some things to pack for staying overnight in a yurt:
Bed sheets, blankets, and pillows
Firewood (to be purchased at the main gate in the winter) and matches
All toiletries
Water bottle (all water taps in the park that are safe for drinking are marked with a blue sign)
Snacks and food to cook on the barbecue
Silverware, dishes, cups
Warm socks or slippers
Books, journals, board games, playing cards
Visiting Pinery Provincial Park in the Winter
Staying at the Pinery Provincial Park yurts can be a relaxing escape from everyday life. There are also lots of things to do in Pinery Provincial Park in the winter, too. Feel free to have as relaxing or as active of a getaway as you like! Here are some winter activities at Pinery that will allow you to immerse yourself in the natural surroundings of the park.
Hiking and Snowshoeing
There are two hiking trails that are open and maintained in the winter: the Cedar Trail and the Heritage Trail. When I visited Pinery Provincial Park, there was only a light dusting of snow. Wearing my winter boots worked well on these trails. When there's lots of snow, you'll find that the trails are packed down pretty well. Feel free to wear hiking boots or winter boots.
If there's lots of snow, you can go snowshoeing on these trails. Make sure that you don't go snowshoeing around steep slopes for your own safety, and please don't trample in environmentally sensitive areas. It's best to stay on the marked trails.
I hiked on the Cedar Trail at Pinery Provincial Park in the winter. It's a loop trail that you can hike in about an hour or so. There's a lookout along the Cedar Trail where a wooden boardwalk leads to a pretty view overlooking the river. It's completely accessible all year long. If you're looking for a really short hike, you can even walk out to the boardwalk and back in about 20 minutes round trip.
A Trip to the Beach Areas
There are nine beach areas at Pinery Provincial Park (P1 – P9), as well as Dunes Beach and Burley Beach. The most accessible beach by car in the winter is the one at P9. There's a large parking lot there. You can drive down to P9, park your car, and the beach is only a short walk away. It's possible to reach Dunes Beach by walking from the yurts down the road, past the visitor's centre, and towards the water.
I visited the beach area at P9, and not surprisingly, had it all to myself. Winter at Pinery Provincial Park is very quiet and peaceful. While there were a few other groups spending the night at the yurts when I was there, I never saw another soul out on the trails or by the beach. As you walk past the parking lot and down towards the beach, you'll be able to spot lots of chickadees that live in the trees by the picnic tables.
Visiting the beaches of Pinery in the winter is unlike any other beach experience. While the sun was shining brightly above, the wind off the water was freezing. You'll want to bundle up, especially when you venture down to the waterfront. It's chilly, but that scenery is worth any small amount of discomfort.
The waves crash against the shore, except the sand is buried beneath a sizable layer of snow and ice. Pieces of ice float on the surface of the water. The Caribbean turquoise waters of the summer are transformed to a frosty shade of deep blue. The snowbanks reach the rolling sand dunes and stretch far into the distance.
Pinery Provincial Park Visitor Centre
During the winter, the Pinery Provincial Park Visitor's Centre is open on weekends and daily during Christmas and March breaks. There's loads of information about the ecology and wildlife of the park across several exhibits and displays. Chat to the friendly staff and ask them any questions that you might have. Also, be sure to say hello to the rescued turtles that live at the visitor centre, too.
Cross-Country Skiing
Check the weather report before you go if you plan to go cross-country skiing at Pinery Provincial Park. While there are lots of ski trails at Pinery, it's all about having enough snow. On some occasions, there's plenty of snow for fabulous ski conditions. When I visited, there wasn't enough snow on the ground to go skiing.
When there is enough snow, Pinery Provincial Park has five ski trails that vary in length and difficulty. Four of the trails are track-set for classic cross-country skiing, while the fifth trail is groomed for skate-skiing. The shortest ski trail is the Chickadee Trail at 4.2km, while the lengthiest classic trail is the Huron Trail at 9.6km. The Skate Ski Trail is 11km in length. In total, there are 38 kilometres of ski trails.
Things to Do in Grand Bend in the Winter
While the tourist area of Grand Bend is mostly shut down during the winter months, there are still lots of excellent things to do in Grand Bend in the winter. Aside from all of the winter outdoor adventures at Pinery, I recommend treating yourself to the spa, craft beer, and browsing a charming farm shop with culinary delights.
Go for a Spa Day at Oakwood Resort
On a chilly winter day, what's better than pampering yourself indoors? The Lakeside Spa at Oakwood Resort is just down the road from Pinery Provincial Park. There are so many relaxing and rejuvenating spa treatments where you could easily spend the entire day treating yourself. Choose from spa packages, facial treatments, body treatments, massages, and so much more.
I went to Lakeside Spa for a massage after a full morning of hiking in the snow at Pinery. Without a doubt, this massage was one of the best that I've ever had in my life! After my 60 minute massage, I was practically melting into the floor as I was just so completely relaxed and feeling great.
If you'd rather stay in a hotel than glamping in Pinery Provincial Park yurts, there's always the option to spend the night at Oakwood Resort. I stayed at Oakwood Resort the last time I visited Grand Bend in the summertime. In addition to the spa, you'll also have access to the indoor swimming pool, the fitness center, and you're just steps from the beach. Feel free to take a look at more reviews by fellow travellers who have spent the night.
Visit Forest Glen Herb Farm
If you're looking to brighten up your day on a dreary winter afternoon, head over to Forest Glen Herb Farm just down the road in Forest, Ontario. Upon entering the retail space of Forest Glen Herb Farm, you'll be treated to a feast for the senses. There are several rooms featuring dried flowers and bunches of lavender hanging from the walls and the ceiling. The owner, Cynthia, grows all of her flowers and herbs at the farm, so you're truly buying farm fresh ingredients and ornaments.
If you're looking to purchase herbs and ingredients, you'll find several varieties of garlic and an assortment of every spice and herb imaginable. Cynthia has prepared unique blends of potpourri made from her own dried flowers, and you can also buy everlasting flower arrangements and wreaths for your home. I sat down with Cynthia for a cup of tea, and she showed me how to make dried flowers into beautiful arrangements. It's possible to attend a class at Forest Glen Herb Farm to design your own wreaths and decorations made out of Cynthia's dried flowers, too.
I'd absolutely love to return in the summer to tour the farm itself. However, a trip to the farm shop is such a treat. Set aside at least an hour to browse the shop and have a chat with Cynthia who is a wealth of information. Or even better, sign up for a class to make your own herb vinegar, culinary herb blends, potpourri, jam, wreaths, and more.
Drink Beer at Stonepicker Brewing Company
Just a little further south down Highway 21, you'll find a brewery in the middle of farm country. Most breweries that I've ever visited have been in the city or tucked away in some industrial area. Stonepicker Brewing Company is right among the farmers fields and uses ingredients sourced locally from the farm.
The water for the beer comes straight from the farm well, 110 feet down and tapping into 20,000 year old water. They produce the malt on the farm from their own home grown barley. And even better, the extra grain and water from the beer process is returned to the fields as fertilizer for the following year's crops.
As for the beer itself, it's super refreshing and tasty. I had the chance to sample six different varieties. Now, I'm not generally one to enjoy dark beers or bitter IPAs. However, I enjoyed every single beer that I tried at Stonepicker Brewing Company. Here are the ones that I tried (pictured from left to right):
Crop Tour: A light lager, easy drinking beer.
Born in a Barn: Belgian blonde with fruity notes (this one was my personal favourite!).
Stonepicker 21: Amber ale that's mild with little bitterness.
Tractor on the Wall: An oatmeal stout that tastes smooth and chocolatey.
Big Red 9350: A hoppy red IPA with a citrus flavour.
Kick in the Teeth: A double IPA
I love that Stonepicker Brewing Company has events happening all year long, even in the dead of winter. There's live music, trivia nights, and even yoga at the brewery. You might want to plan your trip to the Pinery Provincial Park yurts to coincide with one of their events.
Winter Sunsets at Grand Bend Beach
The sunset at Grand Bend finds its way to the top of every list of best sunsets in Ontario. And for excellent reason: it is one of the top places to witness a sunset in the province. Let me tell you, winter is no exception to this bold claim. The sunsets in Grand Bend in the winter time are equally as stunning as in the summer.
You'll be trading warm breezes on the beach for frigid winds, and you might find yourself hiding inside your winter jacket. You won't feel the sand between your toes; you'll feel the crunching of snow and ice beneath your winter boots. Once you look out across the lake, you'll be eternally gratefully that you braved the cold temperatures to watch the sun go down. There are chunks of ice drifting atop the waves, but those pastel streaks that illuminate the sky will remind you of summers gone by. I think that the winter sunsets and the summer sunsets at Grand Bend are equally beautiful in their own unique ways.
Eat Delicious Vegan Meals
I had dinner at two delightful establishments during my stay in Grand Bend. Dave's Pub and Grill at Oakwood Resort has laid back vibes with fabulous views overlooking the golf course. I ordered the plant-based Beyond Burger where I was also able to add vegan cheese. There's also a vegan chili available on the menu, too.
The Lake Hound is a family owned restaurant in Grand Bend that features delicious eats paired with a casual atmosphere. There's live music on some evenings, and trivia nights on other occasions. The Lake Hound is a very vegan-friendly restaurant with many options on the menu.
In fact, there's a 100% vegan takeaway counter inside the restaurant called Completely Rooted that's open for breakfast and lunch. I dined at the Lake Hound for dinner and ate the yummiest vegan burrito, paired with a vegan Caesar salad.
For a more in depth look at vegan food in Grand Bend, check out my vegan restaurant guide to Grand Bend, Ontario.
Want to see more photos of Pinery?
View all of our travel photography in one place! You can browse and buy any of our pictures, including prints, gifts and more.
The Pinery yurts are one of the best things to do in Grand Bend in the winter. Sleeping in a yurt is a fun experience, and it's a great way to go winter camping without sleeping outdoors. You can stay close to nature to have full access of Pinery Provincial Park, as well as the surrounding region for a unique and exceptional getaway.
More Things to Do in Southwestern Ontario
I've been to Ontario's Southwest on numerous occasions and there are always new places to explore. I love that there's a seemingly endless amount of things to see and do in southwestern Ontario. Here are some ideas to help you plan your adventures: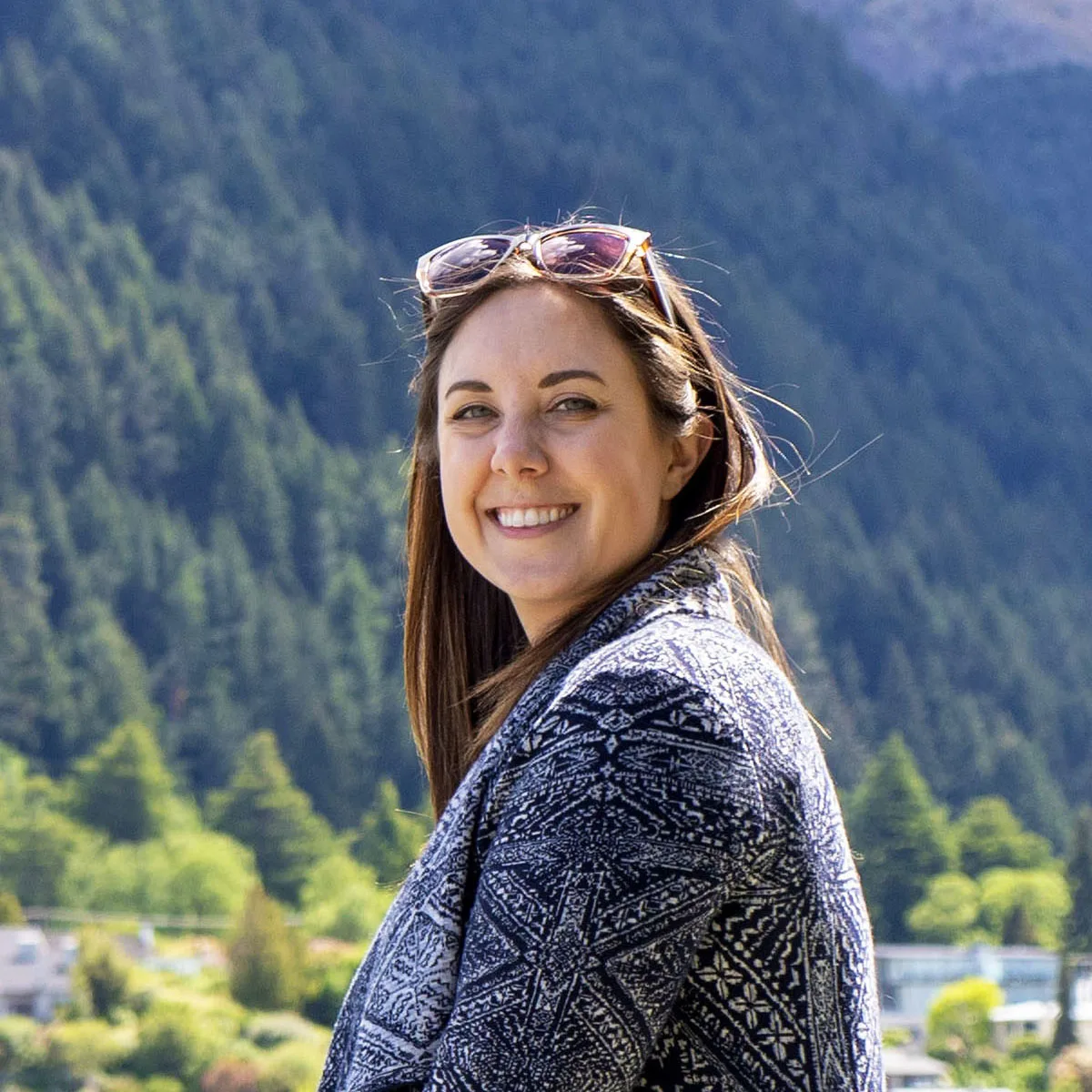 Lauren is the full-time travel blogger and content creator behind Justin Plus Lauren. She started Justin Plus Lauren in 2013 and has travelled to 45+ countries around the world. Lauren is an expert on vegan travel as one of the very first vegan travel bloggers. She also focuses on outdoor adventure travel, eco and sustainable travel, and creating amazing travel itineraries for cities and small towns.