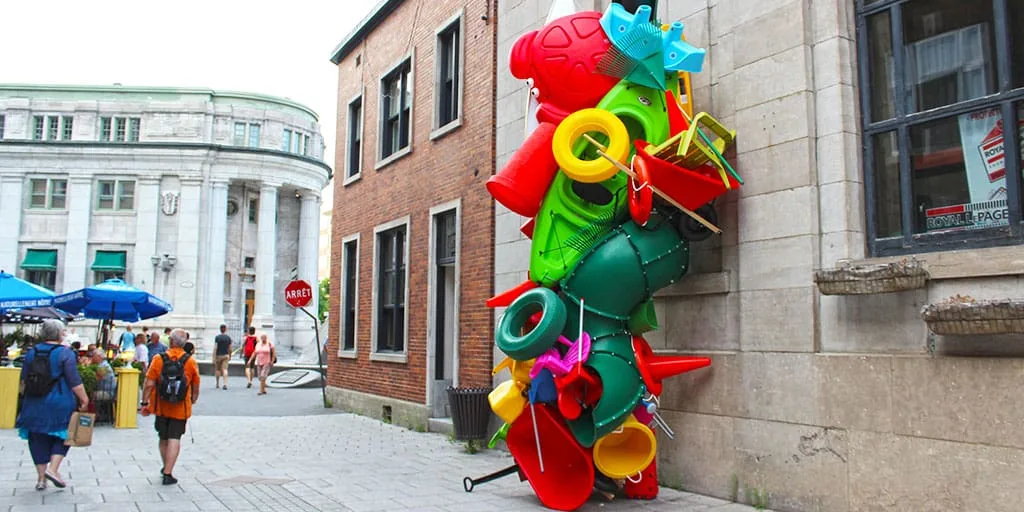 Justin and I quite literally stumbled upon Passages Insolites, or Unusual Passages, leaving our hotel in the Lower Town of Old Quebec City. It's quite jarring to witness bright bursts of color co-existing with historic buildings and old architecture. We discovered that Passages Insolites is an annual art festival in Quebec City that runs throughout the summer months.
The project unites professional visual artists and collectives of architects from Quebec City and the surrounding area. They arrange interesting and thought provoking art installations throughout Old Quebec. This Quebec City art festival is free for the public. Feel free to wander around and explore at any time of the day or night.
Posts may be sponsored. Post contains affiliate links. I may be compensated if you make a purchase using my link.
Passages Insolites / Unusual Passages Quebec
Back when we experienced Passages Insolites in July of 2014, there were six art installations in Basse-Terre (Lower Town), Old Quebec. Now, this annual Quebec City art festival has expanded across the city and it's even bigger than ever. Most recently, there were 14 art exhibits in both Lower Town and Upper Town of Old Quebec City.
I'll tell you about all of the amazing and interactive art exhibits that we saw during our time in Quebec City. It's best to plan a trip to Quebec City during the summer so you can attend the public art festival in person.
Stock In Transit (Stock En Transit)
The first art display we saw was called "Stock in Transit". There were several different sculpted works in various locations down Rue Du Sault-Au-Matelot. The artist is José Luis Torres, and here is a description of the art piece:
With a pinch of irony, Stock en transit (Stock in Transit) playfully brings together an impressive number of colorful objects from our familiar surroundings. These polymorphous sculptures question the elusiveness of things as well as our tendency towards excessive consumption and hoarding of diverse objects, especially in the summertime.
It was so interesting to see these brightly colored objects reminiscent of summertime spilling out from window frames, fire escapes, and hanging from the walls juxtaposed with the historic architecture of Old Quebec. They stood out wildly and had many people snapping shots with their cameras or posing alongside the art. We found four different pieces of art along this street that corresponded with the "Stock In Transit" display.
We viewed some of these at nighttime while walking back from dinner at Chez Victor to our hotel, Le Saint Pierre Auberge. Illuminated by lights, it's easy to see the art by day or night.
Above Ground Pool (Piscine Hors-Terre)
We must have walked past this one about a gazillion times and didn't even realize it was part of the art exhibit (which is why I have no photos of it!). We really just thought there were just some nice chairs placed outside for people to sit on. As it turns out, this was the interactive art display called "Piscine Hors-Terre" or "Above Ground Pool" by Plux 5 and the Collectif de la Fourchette. As described by the artists:
The installation is a breath of fresh air, an ode to the lightness of summer afternoons, to the fleeting moments where the everyday frenzy gives way to the passive observation of a melting turbo rocket popsicle. Distorted perceptions and hijacked symbols immerse the passersby in a strange pond where they can take a dip and daydream beneath the meanders of water. Free swim every day.
Noodle Delirium (Delirious Frites)
This one was quite possibly the most eye catching and interactive display at Passages Insolites. Noodle Delirium was located on Rue Saint-Paul and was created by Collecif Arg – Les Astronautes. Hundreds and hundreds of pool noodles form a tunnel to walk through (or ride your bike through, as we saw one teenage boy attempt while some teenage girls screamed and many people laughed!). Here is the artists' description:
The installation transforms a discreet anonymous crack into an intriguing, colourful, textured passage. The stroller who ventures through it finds himself caught in a canal where pool noodles are used to modulate tactile, nearly organic paths that feel sensuous to some yet troubling to others.
Justin and I visited Noodle Delirium once during the day, and once at nighttime.
Great Wind (Mèches Noires)
For whatever reason, we missed this art installation entirely. It was located just up the street from Noodle Delirium on Rue Saint-Paul. Here are details about Great Wind by Laurent Gagnon:
Mysterious amusing yet threatening shapes organically spring from a facade on St-Paul Street. Entanglements of sensuous, waving cedar fragments sprawl above our heads. These reminders of the wind flow also depict the unpredictable fluctuations of algae, of hair, or the sinuous wiring of the nervous system.
The Odyssey (L'Odyssée)
The Odyssey was located at the base of Rue du Petit-Champlain. It features three giant pigeons gawking at a huge can of Campbell's Soup. Here's more about The Odyssey by Cooke-Sasseville:
A park is taken over by three oversized pigeons with their eye on a can of Campbell soup. These birds look like they cannot figure out how to open the object or how much food it contains. A reference to pop art and Andy Warhol, the installation becomes a representation of the so-called hermeticism that brings criticism to contemporary art.
We took photos with the soup and pigeons, so you can truly grasp the scale of this art installation. It's a lot bigger than it originally looks in the pictures.
Push a Stump! (Pousse une Souche!)
Push a Stump! was an interactive display that encouraged people to play with small pegs of wood that slid through either side of a larger board. It was created by 1X1X1 Laboratoire de Création:
The St. Laurence River is a trading area, a gateway to the world, a place of material, economical and human passages. The interactive installation offers an opportunity to leave a temporary mark and interact directly with a live person on the other side. Newly created shapes, transformed by the comings and goings, reflect exchanges in constant renewal and remodeling.
I decided to give it a try by leaning back on it to see if the wooden pegs would shape to my body. It was really hard to lean on the wooden pegs to push them through (it hurt a bit!), so I cheated a little and pushed them through with my hands. This artwork definitely captured the curiosity of the crowds.
Plan Your Visit
Passages Insolites, or the Unusual Passages exhibit around Quartier Petit Champlain and Place Royale was so much fun to explore. We didn't have an official map or instructions. We quite literally stumbled upon each display and really enjoyed the surprise. It was great to have a mix of conceptual art and interactive exhibits.
And one of the best parts of this art exhibition? It's completely free for everyone to enjoy! Passages Insolites / Unusual Passages happens 24 hours a day. You'll likely already be roaming around Old Quebec when you visit Quebec City. There's a great chance that you'll see art like this on your trip.
Each year, you'll find the dates for the art festival on the official website. It generally operates from mid-June to Canadian Thanksgiving weekend in October. On the website, there will also be a map of where you'll find each outdoor public art display around town. There are also descriptions about the public art and details about the artist.
Looking for more art? You can find murals and street art in Quebec City that's available to check out throughout the year.
Want to see more photos of Quebec City?
View all of our travel photography in one place! You can browse and buy any of our pictures, including prints, gifts and more.
Where to Stay in Old Quebec
Justin and I have stayed at two beautiful properties in Basse-Terre (Lower Town) of Old Quebec. We highly recommend both of these hotels as they're both lovely in their own way.
Le Saint Pierre Auberge Distinctive
Book Your Stay | Read Our Review | Read More Reviews by Fellow Travelers
First, Le Saint Pierre Auberge Distinctive is an enchanting boutique hotel that will make your stay extra special. Located inside a historic building, this property feels like its straight out of Europe. I really loved the exposed brick walls and preserved structure of the room. As this building used to be owned by an old insurance company, our bathroom had an interesting layout. It used to be the room that held the insurance company's safe. I love little interesting details like that.
Book Your Stay | Read Our Review | Read More Reviews by Fellow Travelers
Hotel 71
Book Your Stay | Read Our Review | Read More Reviews by Fellow Travelers
Similarly, Hotel 71 is relatively close to Le Saint Pierre Auberge in Lower Town, Old Quebec. Hotel 71 is a slightly more modern hotel in its design and decor. The building itself is an old architectural gem, once home to the National Bank of Canada. We adored the contemporary elegance of our room and the views of the St. Lawrence River from our room. It's also wonderful to always have access to delicious coffee, both in the room and downstairs in the public seating area.
Book Your Stay | Read Our Review | Read More Reviews by Fellow Travelers
Essential Quebec City Travel Guide
Getting There: If you're arriving by air, you'll fly into the Quebec City Jean Lesage International Airport. From there, it's about a 20-25 minute taxi ride to Old Quebec. Search for the best rates on flights to Quebec City.

Getting Around: When you're in Quebec City, you won't need a car. Renting a bike is a fun idea to get around the city, but you can walk everywhere. If you'd like to visit nearby attractions outside Quebec City, I suggest renting a car. Compare car rental prices for the best rate.

Fast Facts: Canadian Dollar is the currency. Power voltage is 110-120 V 60 Hz using Power Sockets A and B. You'll need an adapter if you're visiting from an international destination outside of North America.

SIM Cards & Mobile: You can rent a portable Wi-Fi device with unlimited data that works in 130+ countries worldwide. We've used our portable device all over the world and love how we're always connected!

Travel Safety: Don't forget to get travel insurance before your trip. Whether you have an accident, have a flight delay, experience a theft, or need to return home sooner than anticipated, it's always best to cover your bases. Get a travel insurance quote now for the best rates.
Browse all of our Quebec photos and read more of our Quebec travel blog posts.
Have you ever visited Unusual Passages Quebec? What's your favorite outdoor art exhibit from anywhere in the world?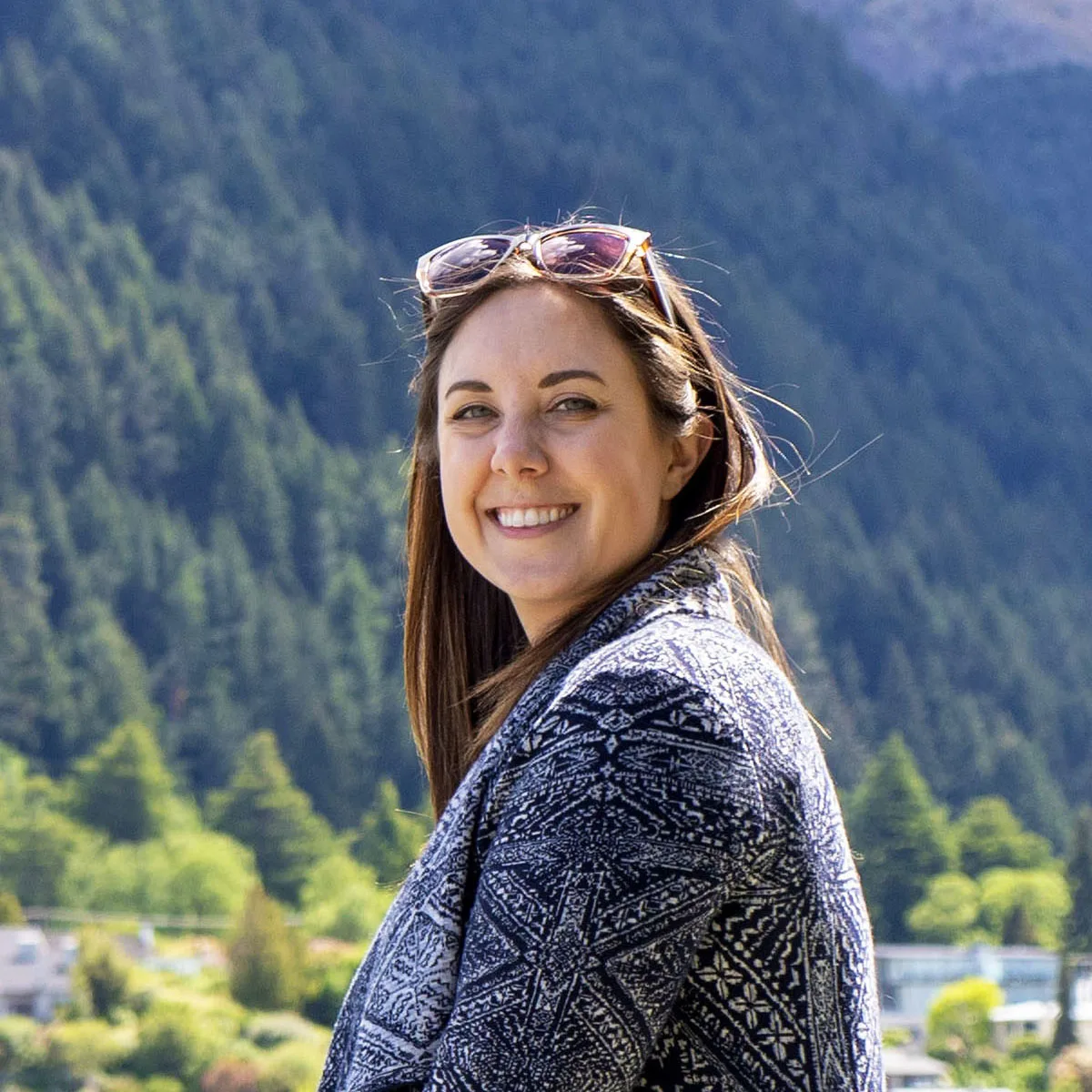 Lauren is the full-time travel blogger and content creator behind Justin Plus Lauren. She started Justin Plus Lauren in 2013 and has travelled to 50+ countries around the world. Lauren is an expert on vegan travel as one of the very first vegan travel bloggers. She also focuses on outdoor adventure travel, eco and sustainable travel, and creating amazing travel itineraries for cities and small towns.