Visiting Niagara Falls in the fall is always a good idea. It's one of my favourite times of year to travel there. While there are still plenty of visitors, there are less crowds, most of the main attractions are still open, the fall colours are vibrant, and there are some wonderful autumn events. While I do love going to Niagara Falls in the winter, the fall is really one of the best times of year to plan your trip.
Whether you visit Niagara Falls in September, October, or November, you'll surely have an amazing time. While I can't suggest a perfect month to see the region, they are all awesome in their own way. After all, taking a stroll to view the Horseshoe Falls and the American Falls is brilliant in all seasons. Here's our guide to planning the best trip to Niagara Falls in the fall, including many unique attractions and fun things to see and do.
Posts may be sponsored. Post contains affiliate links. I may be compensated if you make a purchase using my link.
In this blog post about travelling to Niagara Falls in the fall, I'm going to show you:
Where to stay in Niagara Falls
The top attractions to visit in Niagara Falls in the fall
Where to see fall colours in Niagara Falls
The top events in the autumn season
The best culinary experiences and restaurants
Where to Stay in Niagara Falls, Ontario
My recommended place to stay in Niagara Falls is the Marriott Fallsview Hotel & Spa. This hotel offers the best views of Niagara Falls from your hotel room, making your trip to the Falls even more magical. There's also a spa, a restaurant on site (Morton's Grille), and even a Starbucks right inside the hotel.
I fell in love with my room at first sight! The bed was large and super comfortable, there's a flatscreen TV with many channels, and complimentary Wi-Fi. But, the thing that I loved most about the room was that view.
There are incredible views of Niagara Falls from high above (I stayed on floor 19) that you can comfortably see whenever you want. There are two chairs propped in front of the window so you can relax and soak up the scenery, day or night. I even enjoyed some room service (edamame hummus!) in front of the window.
Another great perk of visiting Niagara Falls in the fall? The hotel rates tend to be cheaper than during the peak season summer months, especially on weekdays. So, you can splurge on the best rooms with the most awesome Niagara Falls scenery without breaking the bank.
Niagara Falls in the Fall: Top Attractions
Niagara Falls is home to so many famous attractions that you'll need to experience, especially if it's your first time visiting the Falls. Most of these activities involve multiple ways to see the waterfalls from many perspectives. Others are unique experiences that you may not have heard about before. Add all of these Niagara Falls attractions to your bucket list to see Niagara's natural beauty.
Seeing the American Falls and Horseshoe Falls
The Niagara River connects two Great Lakes (Lake Ontario and Lake Erie), and it's most famous for its brilliant waterfalls. Niagara Falls consists of three waterfalls: the American Falls and Bridal Veil Falls (on the New York State side) and the Horseshoe Falls (on the Canadian side).
Niagara Falls is a border city, so you can visit Niagara Falls in Canada and Niagara Falls in the United States by crossing the Rainbow Bridge. This article focuses specifically on the Canadian side.
When you visit, there's a paved walking path on the Canadian side that follows the Niagara Parkway. You can see the waterfalls as you walk on this path with several viewing platforms. There are many tower viewers (those coin operated binoculars mounted on a stand) to see the brilliance of the waterfalls up as close as you can get.
My favourite place to check out the scenery is right up beside the Horseshoe Falls. It's hard to describe the power behind these rushing waters. It's really difficult to fathom the sheer amount of water that flows over the edge every second of every day. 3,160 tons of water flows over Niagara Falls every second (75,750 gallons of water per second!).
Journey Behind the Falls
Journey Behind the Falls, a Niagara Parks attraction, gives you an alternate perspective of this spectacular waterfall. Take a self-guided walking tour through 130 year old tunnels to experience the power of Niagara.
There are multiple cave entrances where you can see Niagara Falls plummeting down right before your eyes. Hearing the crashing waters was another reminder of the sheer amount of water that cascades to the river below every second of the day. Remarkably, it's one fifth of the entire world's fresh water.
The best part of Journey Behind the Falls is the observation deck at the end of the tunnel system. Standing right beside Niagara Falls is an experience like no other. It's a good thing that we received another set of ponchos as the mist was even more intense here than on the Niagara City Cruises.
If you're worried that all of these rain ponchos generates a huge amount of waste, fear not. Niagara Parks has a fantastic recycling initiative. The plastic ponchos are reused to make plastic bags, water bottles, and even outdoor furniture. Feel free to also keep your poncho as a souvenir of your day exploring the Falls.
Journey Behind the Falls runs all year long and it's one of the top Niagara Falls winter attractions. It's one of my favorite ways to experience Niagara Falls, too. Plan your trip in advance and buy your ticket to Journey Behind the Falls.
Niagara City Cruises by Hornblower
You really can't visit Niagara Falls in the fall without taking a trip aboard Niagara City Cruises (formerly Hornblower Niagara Cruises). It's a popular tourist attraction and just about as close as you can get to Niagara Falls itself. Take this iconic boat ride into the misty waters of the Niagara River to get up close to the American Falls and Horseshoe Falls. Wear one of the bright red ponchos and stand at the edge of the boat to feel the mist in your face.
You might know this one as the Maid of the Mist boat tour, but that's what it's called on the American side of Niagara Falls. Niagara City Cruises by Hornblower is the proper name for it on the Canadian side of Niagara Falls. It's one of the most famous and greatest outdoor activities here.
In autumn, Niagara City Cruises operates on a limited schedule compared to the summer months. You can book your boat ride from Friday to Monday (closed on Tuesday, Wednesday and Thursday) until the end of October. After that, they cease operations for the season as they're closed during the winter.
Niagara Parks Power Station
The Niagara Parks Power Station is one of the newest attractions in the city, and you can enjoy different experiences by day and night. Located on the Niagara Parkway, this Romanesque style architectural masterpiece is truly a sight to behold.
It was the first major power plant on the Canadian side of the Falls, and it opened in 1905. It's also the longest operating power plant on the Niagara River, open from 1905 to 2006. Nowadays, you can visit this restored landmark attraction with immersive exhibits, unique artifacts, and lots of stories.
Learn about the inner workings of one of the most amazing power plants that harnessed the energy of the Horseshoe Falls and turned it into electricity. You can even experience an interactive control panel where you'll learn how to harness electricity from water power for yourself.
Return in the evening for an engaging journey at the Niagara Parks Power Station. Currents: Niagara's Power Transformed is an illuminating spectacle with lights and music where you'll experience the Power Station in a whole new light. I'll go into more detail about this under the "events" section of this blog post.
The Tunnel at the Niagara Power Station
Want to see Niagara Falls in a way you've never experienced before, even if you travel to Niagara Falls regularly? The Tunnel at the Niagara Parks Power Station is a long awaited attraction that's open at last. Descend 180 feet below the Niagara Parks Power Station to experience the 2200 foot long tunnel and a new underground perspective of the Falls.
Learn about the history of hydroelectricity in Niagara, plus enjoy never before seen views of Niagara Falls from the viewing platform at the end of the tunnel. Get your tickets to the Tower and Tailrace Tunnel Tour for two fun attractions in one.
Clifton Hill Attractions and Activities
Clifton Hill is a world famous street in Niagara Falls that's home to many attractions, restaurants, and so much more. You can't visit Niagara without taking a stroll down Clifton Hill! While there are many kitschy museums and arcades, here are a few places you should definitely check out.
The Niagara Skywheel operates year round, and it's Canada's largest Ferris wheel. Soar high in the sky to catch views of the waterfalls from your enclosed basket that seats up to eight people. The Niagara Speedway is one of Clifton Hill's newest attractions that combines kart racing with a rollercoaster ride. Also, be sure to check out the Niagara Brewing Company and the Niagara Distillery for craft beverages.
Visit the Floral Showhouse
The Floral Showhouse offers a brilliant display of plants and flowers inside three main greenhouses, as well as a tropical foyer. Some of the plants change with the seasons, so it could be a new experience every time you visit. They also have an impressive collection of orchids, succulents, cacti, and other tropical plant species that you can see anytime of year.
I also adored the outdoor "Life on Display" miniature village with dozens of tiny replica homes and Ontario landmarks. There are colourful homes, treehouses, and a miniature train that winds around the property.
See the Fall Colours in Niagara Falls
Seeing the fall colours is one of the main reasons to visit Niagara Falls in the fall. While you'll be immersed in Niagara fall colours on many walks and wanderings, here are my favourite ways to view the fall foliage in Niagara.
White Water Walk
White Water Walk is one of the best places to view the fall colours and get up close to the waters of the Niagara River. It's a little known gem in Niagara Falls, and I highly suggest that you check it out. You'll be able to witness the spectacular Niagara River rapids before your eyes.
A short distance down from Niagara Falls, the White Water Walk is a boardwalk extending along the Niagara River. Take a stroll down this boardwalk to observe these intense turquoise blue waters that remind me of tropical destinations at times.
Just how fast moving is the water in this river? These are class six white-water rapids, among the most intense in the world. The Niagara Whirlpool Rapids are four kilometres of three to five metre standing waves. These rapids are not caused by rock formations at the bottom of the river bed. Instead, it's the force of the water (both volume and speed) that creates these raging rapids.
White Water Walk closes for the season at the beginning of November, so make sure you plan your trip before then. Learn more about the White Water Walk at the Niagara Parks website, including how to book your ticket.
Go Hiking at Niagara Glen
Niagara Glen is one of the best places to go for a hike in Niagara Falls. Hiking along the Niagara Escarpment is one of the top things to do in Ontario, especially in the fall. In the autumn, this stunning landscape looks even more amazing with red, orange, and yellow trees surrounding the turquoise waters of the Niagara River.
Not only can you admire the brilliant fall colours and rushing Niagara River waters, but there are also ancient rock formations and lush ferns and plants along the way. After descending down into the Niagara Gorge, wander around 4km of trails through the Carolinian forest.
Niagara Falls Helicopter Ride
While I visited in late September / early autumn while Niagara Falls was still green, seeing the fall colours from above would be quite spectacular. With that said, it's an amazing thing to do all year round. The trees lining the Niagara River gorge look stunning when the leaves change colour. You can view it all from above on a helicopter ride of Niagara Falls.
Flights operate all year long, and it's the ride of a lifetime. While the helicopter ride is only about 12 minutes long, it feels like it goes by quickly because it's so enjoyable. You'll soar high in the sky above the river rapids, giant whirlpool, and the waterfalls. You'll also hear informative commentary about what you're witnessing on the flight path as you go. Book your helicopter ride for the ultimate experience.
Best Events in Niagara Falls in the Fall
There are many events that happen in Niagara Falls all year long, and the fall season is no exception. Some of these events happen year round and some of them only happen in the fall. Checking out these fall events in Niagara Falls gives you a great reason to visit this time of year.
Floral Showhouse Chrysanthemum Display
Dating back to 1946, the Floral Showhouse Chrysanthemum Display takes place every fall in Niagara Falls. Everywhere you look, you'll be able to admire bright and beautiful autumn blooms in vibrant shades of pink, orange, peach and purple.
The Niagara Falls Chrysanthemum Show displays 35 varieties of mums (1350 total!), as well as 200 additional plants including blue star ferns, asparagus ferns, Boston ferns, birds of paradise and palms. This is one of the Floral Showhouse's most beloved displays and enjoyed for over 75 years.
Currents: Niagara's Power Transformed
Currents: Niagara's Power Transformed is a lights and sound show at the Niagara Parks Power Station. There are beautiful 3D projections that sync with an electrifying musical score. Follow the natural and mechanized history of the Falls on a one-of-a-kind sensory experience with imagery and effects.
Show happen nightly all year long. Check out the Niagara Parks Power Station by day to learn about the history of the building, and return at night to see the show. It's a half hour long and you can book your tickets in advance at the Niagara Parks website.
All Hallows Eve at Old Fort Erie
Just a short drive from Niagara Falls, the ghost tour series called "All Hallows Eve" happens at Old Fort Erie every October. You'll tour the property of Canada's bloodiest battlefield by candlelight, hearing chilling tales and Halloween ghost stories intertwined with history.
Nightly Illuminations of Niagara Falls
Every evening from nightfall until 2:00am, the Falls are illuminated by hundreds of LED lights that project colours onto the waterfalls. There are a variety of colour patterns projected onto the water to celebrate holidays and support various causes.
The Inspired by Nature Illumination Display is happening right now. You'll witness colour palettes inspired by nature, like sunrises, sunsets, rainbows, and even the Northern Lights. There's also a calendar of causes with their corresponding colours that alternate each night.
Niagara Grape & Wine Festival
The Niagara Grape and Wine Festival is Canada's largest wine festival. After being postponed for a couple of years, it's back! Spanning two weekends in September, the Niagara Grape and Wine Festival is bigger and better than ever.
Embark on a self-guided tour of some of Niagara region's best wineries with their Discovery Pass Program. Savour the harvest with food and wine pairings by some of the top winemakers and chefs in the area.
Haunt Manor: Canada's Largest Haunted Attraction
Haunt Manor is Canada's largest haunted attraction, operating on Fridays, Saturdays and Sundays in October. There are five haunted mazes through outdoor tunnels and spooky backwoods trails, haunted houses, shows, and more.
Best Culinary Experiences in Niagara Falls
When you travel to Niagara Falls, you must immerse yourself in the culinary experiences that are unique to the region. When you think about Niagara Falls, a couple of local specialties might come to mind: ice wine and maple syrup. I highly recommend that you taste maple products and visit local Niagara wineries. Niagara Falls also has an amazing local food scene, especially at one restaurant that fully embraces the concept of farm to table.
Maple Syrup Tasting at Maple Leaf Place
Maple Leaf Place is Niagara's largest free attraction, and you can participate in something that's truly Canadian here…a maple syrup tasting! Have you ever done a maple syrup flight before? Did you know that there's a difference in the various kinds of maple syrup? I had no idea until I visited Maple Leaf Place.
You will receive samples of three kinds of maple syrup: light, amber, and dark. I'm pretty sure that I've only ever had light and amber maple syrup before because those are the most common kinds you'll find at the store. I discovered that I love Ontario made dark maple syrup the most because it tastes the most maple-y. Yum!
They also have an indoor maple taffy demonstration. Typically, hot maple taffy is poured onto snow and rolled up onto a stick. In this case, Maple Leaf Place has a freezing table to create these sweet and sticky maple delights. Of course, you can also purchase maple syrup and products here, as well as a variety of other authentic Canadian creations.
Wine and Dine at Two Sisters Vineyard
Just a short distance away, Niagara-on-the-Lake is a must visit in Niagara region for anyone who loves wine and wineries. Two Sisters Vineyard is a spectacular winery that looks straight out of Italy. Go for a wine tasting, see the magnificent barrel room, and dine at their on-site restaurant.
The patio of their restaurant, Kitchen76, overlooks the vineyards. There's a rustic Italian menu featuring classics like pasta, pizza, and polenta. Make sure you try the crispy artichokes that are simply divine. Each dish is paired with a Two Sisters wine recommendation that compliments the meal.
Wine and Vegan Charcuterie Board at The Hare Wine Co
The Hare Wine Co is another Niagara winery that you need to check out when visiting Niagara Falls in the fall. There's a charming atmosphere from the moment you set foot in the property, and there's a wine for every taste.
Sample a variety of Hare Wine with a delectable charcuterie board. Upon request, Hare Wine can create a vegan charcuterie board with vegan cheeses and gluten-free crackers. It was such a relaxing experience to sip wine and nibble on vegan cheese and crackers in their indoor tasting room.
Farm to Table Dining at AG Inspired Cuisine
AG Inspired Cuisine is one of Canada's top fine dining restaurants, and you'll find it right here in Niagara Falls. Located inside the Sterling Inn & Spa, you'll be wowed and delighted by this farm to table experience. We savoured a five course meal and the chef can cater to all dietary preferences and food allergies.
I enjoyed an incredible vegan meal at AG Inspired Cuisine: fresh shishito peppers from their nearby garden, charred white cabbage with chimihurri and a walnut vinaigrette, eggplant and cornmeal crusted tofu with Romesco sauce, a fruity palate cleanser, and a vegan chocolate cake with iced cranberries. The dishes rotate depending on what's in season, so you can sample new meals each time you go.
Restaurants in Niagara Falls With the Best View
Beyond the aforementioned Niagara culinary experiences, there are lots of fabulous restaurants with seating at the edge of the Falls. All of these Niagara restaurants offer different views of the waterfalls. Why not dine at a restaurant with a view?
Table Rock House Restaurant
Table Rock House Restaurant is just about as close as you can get to dining at the Falls. It's right in front of the Horseshoe Falls! Not only is the view incredible, but the food is delicious, too. There's an emphasis on locally sourced ingredients for fresh meals at Table Rock House Restaurant.
I dined at Table Rock House Restaurant for lunch and was delighted to see a vegan option on the menu (no modifications necessary!). The Vegan Power Bowl has quinoa, a seven grain salad, lettuce, tofu, roasted red pepper hummus, beets, and so much more. It's really yummy.
Queen Victoria Place Restaurant
Queen Victoria Place Restaurant is another dining option with a brilliant view. Dine out on their patio to see the magnificent rushing waters only a short distance away. This restaurant is situated inside a historic building, constructed in 1904, and it was the former residence of the Commissioners of Niagara Parks.
I ordered a plant-based burger with fries that hit the spot. There's another vegan option on the menu, the vegan forest mushroom tourtiere. You can also order a plant-based snack platter to start, which consists of hummus, grilled vegetable tapenade, garden vegetables and pita chips.
Massimo's Italian Fallsview Restaurant
Massimo's Italian Fallsview Restaurant is on a top floor of the Sheraton Fallsview hotel, so you can expect to marvel at views of the waterfalls while dining there. I had dinner at Massimo's and it was wonderful to see the falls illuminated at night while I ate.
You will need to make special arrangements with your server for a vegan meal. The fresh pasta has eggs in it, but you can order the vegan/gluten-free pasta no problem. I ordered bruschetta bread without cheese. There aren't any vegan pasta sauces on the menu, but the chef prepared a vegan version of the primavera pasta (subbing out the pesto and creating an aglio e olio dish with veggies).
I'd love to see this Italian restaurant create some vegan dishes for their regular menu. The food is so delicious and I feel as though this would be easy enough to do. However, it was easy to make substitutions where needed to create my own vegan meal.
Skylon Tower
While I didn't dine at the Skylon Tower this time around, I have experienced their restaurant in the past. It's a 360 degree revolving restaurant up high in the sky. It's a wonderful place to catch glimpses of Niagara Falls as you dine from high up above.
There are vegetarian and vegan options on the menu, too. Fine dining in the sky? Sign me up! If you don't want to dine in the Skylon Tower and simply want to visit, you can book your ticket here. Otherwise, it's free to visit the Skylon Tower if you enjoy a meal there.
Want to see more photos of Niagara Falls?
View all of our travel photography in one place! You can browse and buy any of our pictures in the form of canvas prints, things for the home, and more!
After reading this article and traveling to Niagara Falls, you might agree that going in the fall is the best time of year to visit. When do you love seeing Niagara Falls the most: spring, summer, fall or winter? I think they're all beautiful and wonderful in their own way, but there is something extra amazing about seeing Niagara Falls in autumn.
More Things to Do in Niagara Region
Looking for more things to do in Niagara Falls and Niagara region? I consider myself to be a local expert as I've always lived within an hour or so of the Falls, and I've visited more times than I can count. Here's what to see and do in Niagara region.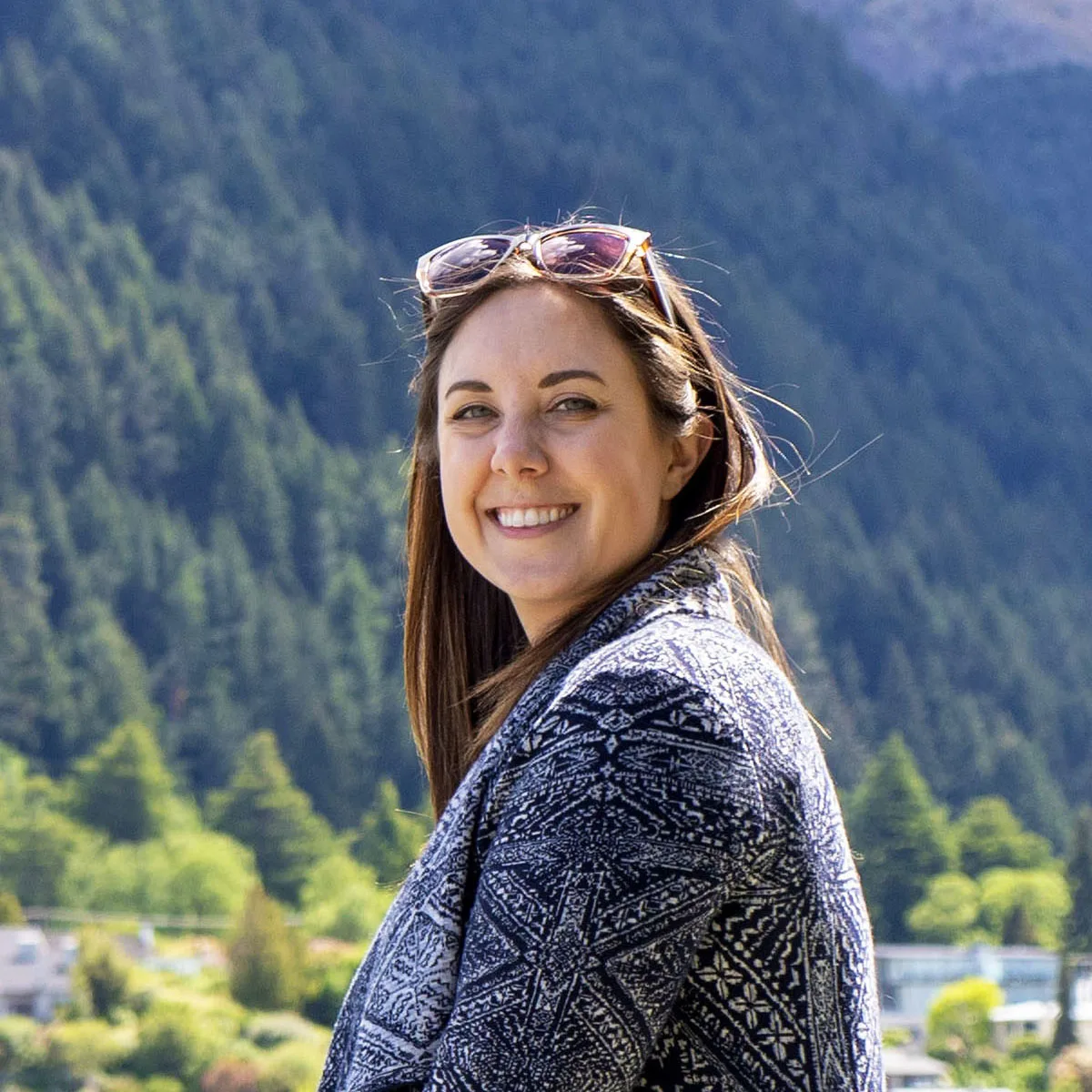 Lauren is the full-time travel blogger and content creator behind Justin Plus Lauren. She started Justin Plus Lauren in 2013 and has travelled to 45+ countries around the world. Lauren is an expert on vegan travel as one of the very first vegan travel bloggers. She also focuses on outdoor adventure travel, eco and sustainable travel, and creating amazing travel itineraries for cities and small towns.