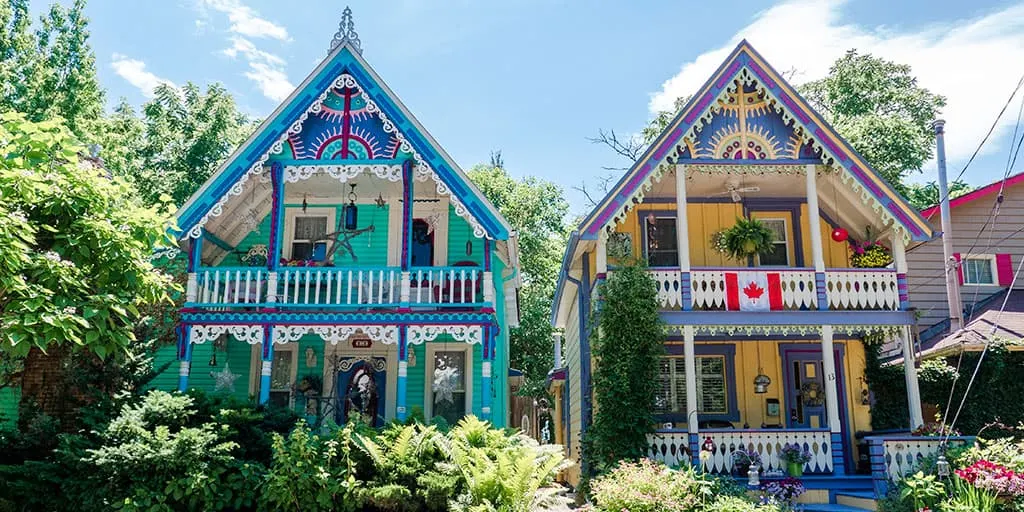 These Grimsby Beach cottages aren't your average beach homes. They're the most cheery, colorful gingerbread houses that I've ever seen. Also known as the Painted Ladies of Grimsby, who knew that those living in Toronto, Hamilton, or Niagara didn't have to travel far to see brightly painted houses? I'm going to tell you more about the interesting history of the Grimsby Beach cottages and how you can plan your visit to see these unique houses that come in all colors of the rainbow.
Do You Seek Colorful Houses on Your Travels?
I know that I do! In fact, I'm drawn to bright and vibrant houses and homes wherever I go. I've even started a little collection of ceramic houses that I've picked up from my worldly travels as miniature versions of these places. (If anyone wants to paint small ceramic houses of these Grimsby Beach cottages, hook a girl up!) I visited Burano, an island in Venice, where there are rows of colorful homes lining the canals.
I spent three days in Copenhagen, staying right near Nyhavn and its rows of colorful 17th century townhouses. I loved wandering around Copenhagen because there are bright and colorful houses everywhere you look.
Ireland is one of the most wonderful places in the world for those who love colorful homes. There are so many villages where the houses are bright shades of pink, purple, green, and every color you can imagine. Cobh was one of my favorite seaside villages for colorful homes with its famous "Deck of Cards" houses.
Of course, there's also the most famous Painted Ladies of them all, the ones you'll find in San Francisco. Featured in the show credits for the TV show, Full House, I just had to see them in person when I traveled to San Francisco.
And the closest I've come to finding rows of colorful houses in Canada were the ones in St. John's Newfoundland. Known as Jellybean Row, there are actually rows upon rows of vibrant homes that wrap around city blocks in St. John's.
Grimsby Beach Cottages: The Painted Ladies of Ontario
I don't live too far from Grimsby, and I had no idea until recently that there were pretty painted houses so close to home. I combined my trip to Grimsby Beach with a hike on the Bruce Trail as you can easily visit this neighborhood in under an hour. You can also combine your visit with a trip to the beach, too. Please note that the town of Grimsby advises that you do not swim at the beach, but they're great for beach walks to soak up those wonderful views.
You'll find the majority of these Victorian Grimsby gingerbread cottages on Auditorium Circle, a small court in Grimsby Beach. There are more colorful houses on the neighboring street, Temple Lane. I suggest walking around the whole neighborhood to discover the houses and the parks that will tell you a little bit about the history of the region.
The History of the Grimsby Beach Cottages
The history of the Grimsby Beach cottages dates back to the 1800s, and some of the homes here are over 150 years old. From 1859 to 1875, Grimsby Beach was a Methodist meeting ground and campsite for prayer and worship. People would camp at this location overnight. By day, the Methodists gathered with family and friends to participate in religious activities.
In 1875, the organizers began replacing the tents with the cottages at Grimsby Beach. In 1888, they built a large auditorium (called The Temple) in the middle of the park that could fit 7000 people. This area was known as the "Chautauqua of Canada". Even though Grimsby Beach was thriving through the early 1900s with new speakers, numerous attractions (gardens, restaurants, hotels, tennis courts), the Methodist group that owned the park went bankrupt in 1909.
From Methodist Camp to Amusement Park
Right after the fall of the Methodist park, an American named Harry Wylie bought the property and turned it into an amusement park. Talk about the complete opposite of what used to be there! There was a midway, a roller coaster, a dance hall, a casino, live theater productions and movie screenings. But, the success of the new park didn't last long. It began to decline in the 1920s, and the local residents took over the park by the 1930s. Later, when the massive QEW (Queen Elizabeth Way) highway was built, it took over a large portion of the park.
Visiting Grimsby Beach Today
Grimsby Beach is a very quiet residential neighborhood where many residents take great pride in their beautiful homes. Although the original temple building is long gone, you can find a memorial to it in the middle of Auditorium Circle.
Sadly, fires over the years destroyed some of the original wooden gingerbread cottages. But, many homeowners winterized their homes and transformed them into places that you could live in all year long. Before the 1980s, many of the houses were looking a bit rough. Thankfully, many of the Grimsby Beach cottages have fresh coats of paint and new designs. There's carved wooden trim and ornate seaside decor on the houses and their picket fences. It's charming and unlike anywhere I've visited in the past.
Don't miss a stop at Bell Park, one of the remaining spaces that dates back to the Methodist community. It features an old bell at the center of the park, dating back to 1884. The bell was supposed to hang in the temple building, but it was too heavy for the structure. Instead, it sits in the middle of the park where you'll still find it today.
Be sure to take a trip down to Grimsby Beach, too. There's a little path leading down to the waterfront where you can admire the calming scenery of Lake Ontario.
Want to see more photos of Grimsby Beach?
View all of our travel photography in one place! You can browse and buy any of our pictures, including prints, gifts and more.
Plan Your Visit to Grimsby Beach
Do you want to see Grimsby's Painted Ladies in person? You can visit by taking the QEW and exiting at Bartlett Avenue. From there, it's a short drive down to the lake. There is a small parking lot on Temple Lane near Bell Park or there are spaces for street parking on Park Road North.
Be kind and respectful as you visit. Don't be disruptive and don't run onto people's properties and front porches without permission (sadly, some people actually venture on homeowners' properties without asking first!). Even though these colorful houses attract many visitors, please be quiet and courteous when you visit. Many are very proud of their gorgeous homes; I'm sure you'll strike up a conversation with many homeowners if they're outdoors when you pass by.
Here's a map of Grimsby Beach and the street where you'll find many of the gingerbread cottages, Auditorium Circle. Keep walking around Temple Lane and the surrounding streets to see pretty little parks, beautiful gardens, quirky decorations, and the vibrant Grimsby Beach cottages.
What are some of your favorite colorful homes that you've seen around the world?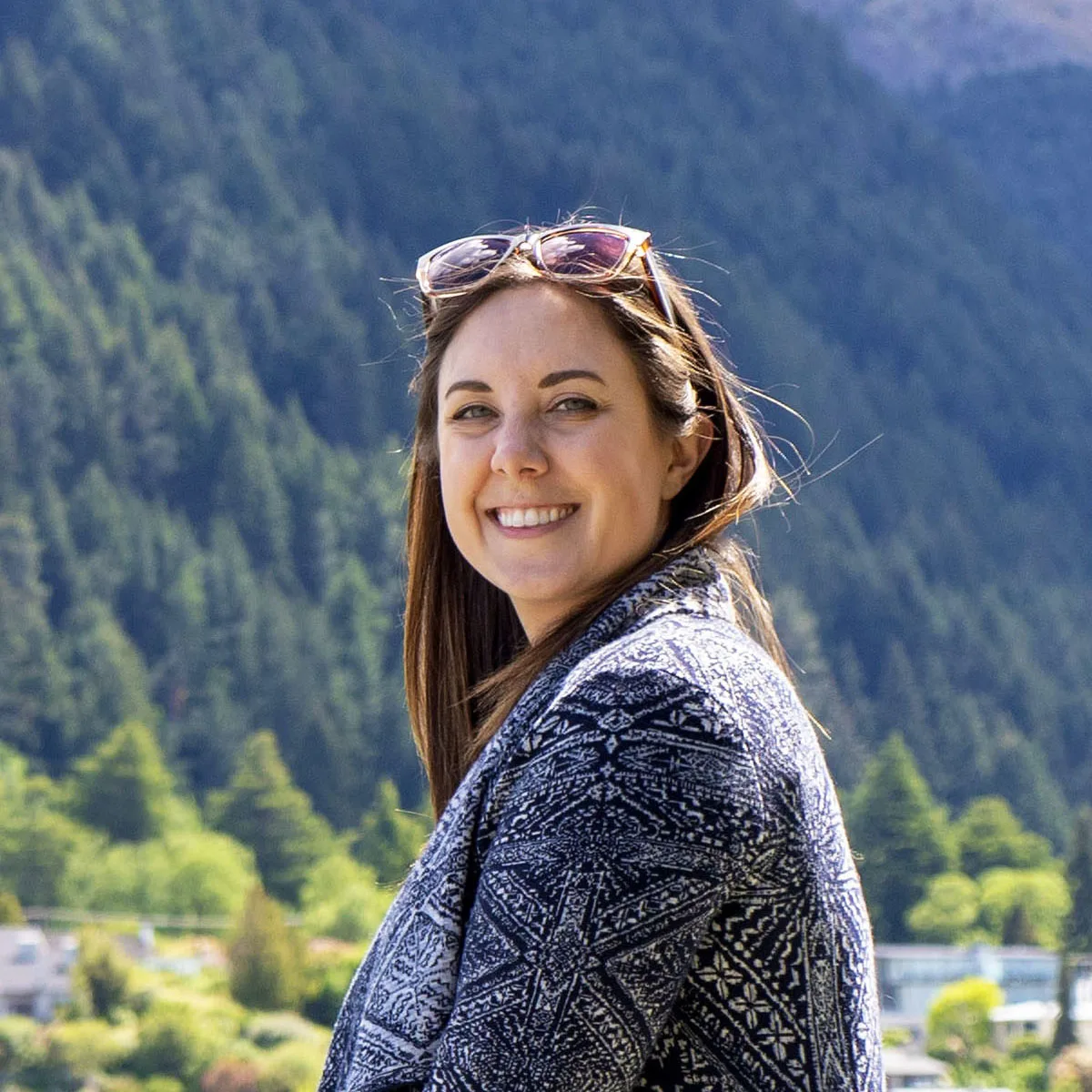 Lauren is the full-time travel blogger and content creator behind Justin Plus Lauren. She started Justin Plus Lauren in 2013 and has travelled to 50+ countries around the world. Lauren is an expert on vegan travel as one of the very first vegan travel bloggers. She also focuses on outdoor adventure travel, eco and sustainable travel, and creating amazing travel itineraries for cities and small towns.