Christmas markets in Ontario have grown in popularity over the years, and it seems as though every city and small town in Ontario has some kind of Christmas celebration. There are a number of traditional Christmas markets in Ontario that have many aspects in common: vendors selling locally made wares (many of these in traditional wooden booths), delicious food and drink (including mulled wine), festive music and more.
I've compiled a list of the best Ontario Christmas markets from across the province. From Toronto to Niagara Falls and Windsor to Ottawa, these are the best places to celebrate Christmas in Ontario. You should definitely check out the Christmas markets nearest you, but some of these are worth a weekend road trip. Looking to see more Christmas lights? Here are the 20 best Christmas trails in Ontario and the 20 best places to see Christmas lights in Toronto.
Posts may be sponsored. Post contains affiliate links. I may be compensated if you make a purchase using my link.
While Christmas markets originated in Germany, the Toronto Christmas Market is the first one I ever attended. It takes place every year at the historic Distillery District. The cobblestone streets of this pedestrian area is the perfect backdrop for a Christmas market. If you're looking to celebrate Christmas in Toronto, the Toronto Christmas Market will surely top your list of festivities.
Last year, the Toronto Christmas Market rebranded as the Distillery Winter Village. It was a scaled down version of the Toronto Christmas Market last year, but it felt exactly the same as the original Toronto Christmas Market to me. There's winter displays, music, outdoor shopping cabins, food vendors, and all of your favourite Distillery shops and restaurants to visit.
As the Toronto Christmas Market is one of the busiest holiday events in Toronto, it can be quite crowded on Friday nights and weekends. I recommend going on a weekday if you can manage it. It's free on weekdays and it won't be nearly as busy.
It is free from Monday to Thursday and during the day on Friday, Saturday and Sunday. After 4pm on Friday, Saturday and Sunday, you must purchase a timed ticket online ahead of time. You must arrive during your designated time slot, but you can stay as long as you like. This Toronto Christmas Market runs until December 31st.
Holiday Fair in the Square is back at Nathan Phillips Square for this upcoming holiday season in Toronto. The original Toronto Christmas Market was so popular that Toronto received a second Christmas Market. Holiday Fair in the Square is back from December 2nd to 23rd.
It combines the charming traditional Christmas market with a bustling winter carnival, vendor booths and artisan market, a midway with rides and games, food trucks, performances, a bar with mulled wine, and more. You're also welcome to lace up your ice skates and glide around the skating rink on site, too.
The Festival of Trees in Mississauga is back for another year! The Mississauga Festival of Trees is a multi-day winter holiday event at the Small Arms Inspection Building in Mississauga (Dixie & Lakeshore). There's an artisan and culinary market taking place across about 10 days in December. You can also enjoy live entertainment as you visit this Mississauga Christmas market.
In addition to the marketplace, there are lighting, tree, and woodpile art installations throughout the festival space. Many are artful interpretations of trees with different intriguing ideas and messaging behind them. There are also workshops and nature walks associated with the festival. This year, the Mississauga Festival of Trees takes place from December 2nd to 11th.
Christmas Market at WinterFest, Canada's Wonderland
Where: Canada's Wonderland, Vaughan
When: November to December, select dates
Admission: $19.99
If you're looking to create brand new Canadian Christmas traditions, one of the top theme parks in the country has an exciting new winter event. Canada's Wonderland, a thrilling theme park in the Greater Toronto Area is hosting WinterFest on select nights until the end of December.
While many of the rides are closed for the season, Canada's Wonderland will magically transform into a winter wonderland. You'll be enchanted by Christmas lights and decorations, magical performances, a skating rink, a nightly tree lighting celebration, and activities like cookie decorating and making crafts.
Some family rides for the kiddos will be open for WinterFest. For the adults, you can treat yourself to craft beer and Ontario wine. WinterFest is one of the best ways to celebrate Christmas in Ontario, and it's truly wonderful that this beloved amusement park of the GTA has extended its operational days into December.
Aurora Christmas Market
Where: Aurora Town Park (entrance from Larmont Street)
When: December 2 to 4, December 9 to 11
Admission: Free, no registration required
The Aurora Christmas Market is one of the top 100 festivals and events in Ontario. It's one of the best Christmas markets in Ontario that you need to check out this year. Taking place at the Aurora Town Park in Aurora, Ontario, there are loads of seasonal vendors, hands-on workshops and activities, and holiday cheer.
Niemi Family Farm Christmas Market (Mount Albert)
Where: Niemi Family Farm
When: From November 18th, Fridays and Saturdays, Tues-Thurs before Christmas
Admission: Free for the market area, $ for other experiences
The Christmas Market at the Niemi Family Farm is one of the most magical experiences this holiday season. Take a stroll around the outdoor Scandinavian holiday market that features up to 50 vendors. The market area does not have a fee to visit, though there is a fee for the other experiences at the site (you can book these in advance on the website).
At the market area, there's food and drink, handmade wares, Christmas ornaments, food trucks, gift baskets, and so much more. It's a great opportunity to shop local this holiday season. A ride on the Polar Express will take you around the farm to see farm animals, experience Christmas light tunnels, and will allow you to visit Santa himself.
Ottawa Christmas Market: Marche de Noel Ottawa
Where: Aberdeen Square, Ottawa
When: November 25th to December 23rd, Friday to Sunday; Tues-Fri the week of Christmas
Admission: Free
The Ottawa Christmas Market has got it all: thousands of twinkling Christmas lights, local vendors selling their wares in wooden booths, holiday entertainment, live music, and Christmas-y flavours. Located in Aberdeen Square, there are 16 days of programmed events across five weekends in November and December (Friday through Sunday, and more dates the week leading up to Christmas).
There are 35+ vendors selling holiday gifts, unique food and beverage items, and handmade wares. Of course, you'll have the chance to meet Santa as well! This is one of the best Christmas markets in Ontario for the sheer amount of holiday events and size of the festival itself.
There are also workshops (including online workshops), kids activities, and screenings of Christmas movies. This is one of the top Christmas markets in Canada, and it happens across four weekends leading up to Christmas. It's one of the most amazing things to do in Ottawa in the winter.
Christmas Market at the Canadian Museum of History
Where: Grand Hall, Canadian Museum of History, Ottawa
When: November 24th-27th, 2022
Admission: Free
Located in the majestic Grand Hall of the Canadian Museum of History, this Christmas Market is one of the best Christmas markets in Ontario. It's one of the best places to go Christmas shopping in Ontario with over 80 local vendors and free admission.
There are many booths with unique handmade gifts and delicious treats, such as Christmas decorations, woodcraft, glass items, gourmet foods, artisanal spirits, handcrafted jewelry, and beautiful fashion accessories. The museum's Christmas Market is an absolute must for those living in Ottawa. If you're travelling to Ottawa, why not hit up this holiday market and the Ottawa Christmas Market for a festive road trip?
Once Upon a Christmas in Perth
Where: Downtown Perth
When: Saturday November 26th, 10am – 5pm
Admission: Free
Although the picturesque town of Perth has many Christmas festivals and events, I highly recommend that you check out the Once Upon a Christmas event. Hosted by the Downtown Heritage Perth BIA, the downtown core comes alive with its own small town holiday magic.
Enjoy one of the prettiest Christmas markets in Ontario, as though it's a Hallmark movie before your eyes. The downtown streets become filled with Christmas carolers, fire pits, and Santa and his elves. There are Christmas trees all lit up inside the Crystal Palace. Go for a stroll with a cup of hot chocolate in your hand. Wander around the historic streets to the quaint shops inside heritage buildings.
Kingston Holiday Market
Where: Tett Centre for Creativity and Learning
When: December 3rd, 4th, 11th, 17th, 18th
Admission: Free
Kingston is one of our favourite cities in Ontario, and there also happens to be one of the best holiday markets there, too. Located in-person at the Tett Centre, you'll find an assortment of handmade wares from talented artists and artisans. There are new vendors each weekend, so you may want to visit all three weekends in a row. The Kingston Holiday Market also has a virtual online version, starting November 17th.
Holiday Market at Mackinnon Brothers Brewing (Bath)
Where: Mackinnon Brothers Brewing in Bath, Ontario
When: November 26-27, December 3-4
Admission: $10
The Mackinnon Brothers Brewing Holiday Market is fun for the whole family. Taking place at the brewery, there are dozens of vendors in two locations, the marquee tent and the old barn. There are different vendors in November and December, so it's a good excuse to attend twice.
Santa is stopping by the brewery for photos, there's Christmas cookie decorating, outdoor games, and fire pits. Enjoy food from Old Style BBQ, Soup Chef, Knifey Spooney, and Las Churras de los Churros. Guests are asked to bring a non-perishable food item for the local food drive, and any cash donations will be donated to Sandy Pines Wildlife Centre.
Orangeville Christmas Market
Where: Orangeville Fair Grounds
When: November 19th
Admission: Canned good donation
The Orangeville Christmas Market is an annual event since 2017, now held at the Orangeville Agricultural Society (Orangeville Fair Grounds). It's a massive holiday market featuring 50,000 square feet of indoor space for vendor booths, family friendly activities and more. Each adult shopper should bring a canned good to donate to the Orangeville Food Bank as charity is at the heart of this Christmas market. Check out the best things to do in Orangeville if you're planning your trip there.
Christkindlmarkt: A Christmas Market in Erin
Where: Erin Fairgrounds
When: November 19th & 20th, 2022
Admission: $15 in advance, $17 at the gate
Christkindlmarkt: A Christmas Market is presented by the Erin Agricultural Society. This Christmas market in Erin, Ontario, takes place at the Erin Fairgrounds. There's a traditional Christmas market with 48 craft vendors and food trucks, two stages with performances and activities, a fire pit, pictures with Santa, strolling carolers, roaming characters from Frozen, Christmas crafts for kids, and more.
Burlington Holiday Market
Where: Downtown Burlington, Ontario
When: December 8th – 11th, 2022
Admission: Free
The Burlington Holiday Market is one of the top Christmas markets in Ontario. Go for a stroll around the downtown core of Burlington to enjoy a Christmas wonderland. There will be holiday exhibitors, beautiful holiday lights, live music and more.
The Burlington Holiday Market takes its inspiration from the traditional European Christmas markets and adds its own Canadian flair. There are many opportunities for photos, delicious food and drink to enjoy, and memories to share with your family and friends.
Christmas in the City Market (Hamilton)
Where: McMaster Innovation Park
When: November 19th – 20th
Admission: $5
The 43rd annual Christmas in the City Market takes place at the McMaster Innovation Park in Hamilton on November 19th and 20th. There is a $5 admission fee, and the event is in support of the medically challenged, medical crisis, isolated & palliative care patients at St. Joseph's Hospital. There are 40+ vendors, food trucks, gift shops, games, pictures with Santa, and raffle prizes to win.
Cambridge Christmas Market
Where: Cambridge Centre for the Arts and Civic Square
When: December 10th – 11th, 2022
Admission: Free
The Cambridge Christmas Market started back in 2012 and has grown so much since its early beginnings. It runs all weekend long at the Cambridge Centre for the Arts in downtown Cambridge. There's plenty of free parking nearby so you can enjoy the festivities, and the event is free to attend. There are 60+ local vendors with unique gifts and seasonal treats.
It's no wonder that you'll find an authentic German Christmas market in Kitchener, Ontario. Kitchener has Canada's highest German population. It only makes sense that one of the best Christmas markets in Canada is located in the city of Kitchener.
This is one of the best Christmas markets in Ontario that's held across an extended long weekend in December. This year, it takes place on the first weekend of December, Thursday through Sunday. Christmas spirit is bursting at the seams in the form of treats, handmade wares, and naturally, the mulled wine.
What sets Christkindl Market apart from other Christmas markets I've visited is that there are indoor and outdoor components. Yes, you can wander by the cute wooden stalls with all kinds of goodies for sale. But, you can also warm up indoors with an entire inside portion with food and locally made products.
In total, there are almost 100 vendors so it's a great opportunity to get some Christmas shopping done. To round out the Christmas and winter celebrations, there's an outdoor skating rink, live music, and a giant Christmas tree with thousands of twinkling lights.
St. Jacobs is one of the cutest small towns in Ontario, so it only makes sense that they offer a magical holiday market. St. Jacobs Sparkles takes place across two weekends in November. It's an annual shopping event with twinkling lights throughout the village for a festive holiday experience.
You'll be able to shop into the evening at many artisan shops in the village. Other festivities include historic walking tours, a Christmas tree lighting ceremony, wine tasting events, a Gluhwein Gathering (mulled wine), Christmas caroler performances, visits by Santa, and so much more.
Christmas Night Market in Dresden
Where: Downtown Dresden
When: Saturday, November 26th, 2022
Admission: Free
Watch downtown Dresden transform into a Christmas wonderland! The Dresden Night Market takes place on a quaint downtown main street with beautiful decorations and twinkling lights all around. Downtown shops and restaurants will be open, and dozens of local vendors from Chatham-Kent line the city streets.
In addition, enjoy surprise entertainers throughout the streets, Christmas carolers, a pop-up bar, and delicious food and drink. The Dresden Night Market started in 2017 with a group of friends who wanted to bring a new and exciting event to the town, and now it's an annual tradition. It's one of the best Christmas celebrations in southwestern Ontario that I know you'll love.
Merry Market in London
Where: 100 Kellogg Lane, London
When: December 1-4, 8-11, 15-18, 2022
Admission: $8
Have you ever attended a Christmas market inside an old cereal factory? The Merry Market in London is a one-of-a-kind annual holiday celebration in the city. This memorable Christmas event takes place in their outdoor Winter Village and indoor Twinkle Town.
There's a 35 foot Christmas tree (the tree lighting takes place at 4:50pm on December 1st to kick off the festivities) with Kellogg cereal-inspired ornaments. While this sets the perfect backdrop for photos with your family and friends, you can also take pictures by the ice sculpture or the red phone booth.
Kids can write letters to Santa and post them into Santa's mailbox on site. There are local vendors in traditional wooden booths that you find at European Christmas markets. Find the perfect holiday gift or taste some delicious festive eats.
CTMHV Christmas Market
Where: Canadian Transportation Museum and Heritage Village
When: December 3rd and 4th, 2022
Admission: $5
The Canadian Transportation Museum & Heritage Village in Kingsville (near Windsor) hosts an annual Christmas Market, just in time for the holiday season. This is an indoor event held in the lobby, event hall, and inside the Canadian Transportation Museum itself. There are 70 vendors in total, so you're certain to find the best holiday gifts for your loved ones.
Niagara Falls Christmas Market
Where: Downtown Niagara Falls
When: November 12 to December 18 on Friday, Saturday and Sunday
Admission: Free
The Niagara Falls Christmas Market is located in downtown Niagara Falls, Ontario. It's the largest Christmas market in the Niagara region. You'll find 50 vendors specializing in handmade goods. They operate out of the traditional Christmas cabins we all love to see at Christmas markets in Canada.
There are also over 30 Christmas light displays, including interactive exhibits. The Niagara Santa Claus Parade kicks off the event in mid-November. Then, you can visit the market every Friday, Saturday, and Sunday throughout the middle of November to December.
Collingwood Christmas Market
Where: Downtown Collingwood
When: December 2nd, 9th, 16th, 2022
Admission: Free
The Collingwood Christmas Market, brought to you by the Collingwood Downtown BIA, is one of the best Christmas markets in Ontario. From 5pm-8pm, Hurontario Street will be lit up with incredible light installations. The businesses downtown will have extended store hours, and there will be additional local vendors for your holiday shopping.
Enjoy strolling entertainment like hula hoopers, jugglers, and stilt walkers. Dancers from the Fleetwood Dancentre will perform in the store windows. And of course, you don't want to miss a meeting with Santa himself.
Christmas on the Bay in Meaford
Where: 12 Nelson St East, Meaford
When: December 1st – 4th, 2022
Admission: Free
Christmas on the Bay is Georgian Bay's largest outdoor Christmas market in the heart of charming historic Meaford, Ontario. It's a beautiful traditional Christmas market with idyllic wooden stalls, holiday lights all around, Christmas trees, multiple fire pits, a Santa Claus parade, dancing windows, and an entertainment stage for live music and performances.
Sip on cider made from locally grown apples as you wander around this European-style Christmas market. Taste locally made foods and browse artisanal products and hand crafted gifts. Meet Santa and the Christmas Gnome Georgie, who will be making regular appearances with its black service doggie, Joe. Yes, this is a dog-friendly event, too!
Village Noel Temiskaming
Where: Fall Fairgrounds, New Liskeard
When: November 24th-26th, 2022
Admission: Free
Village Noel Temiskaming is described as a New France Christmas, and it's the best Christmas event in northern Ontario. This Christmas market in Ontario is unlike any of the others on this list. Activities include log sawing, the Crazy Dance Troupe, Pura Vida Crafts and more. There are food vendors and food trucks, an impressive list of exhibitors, and a farmers market.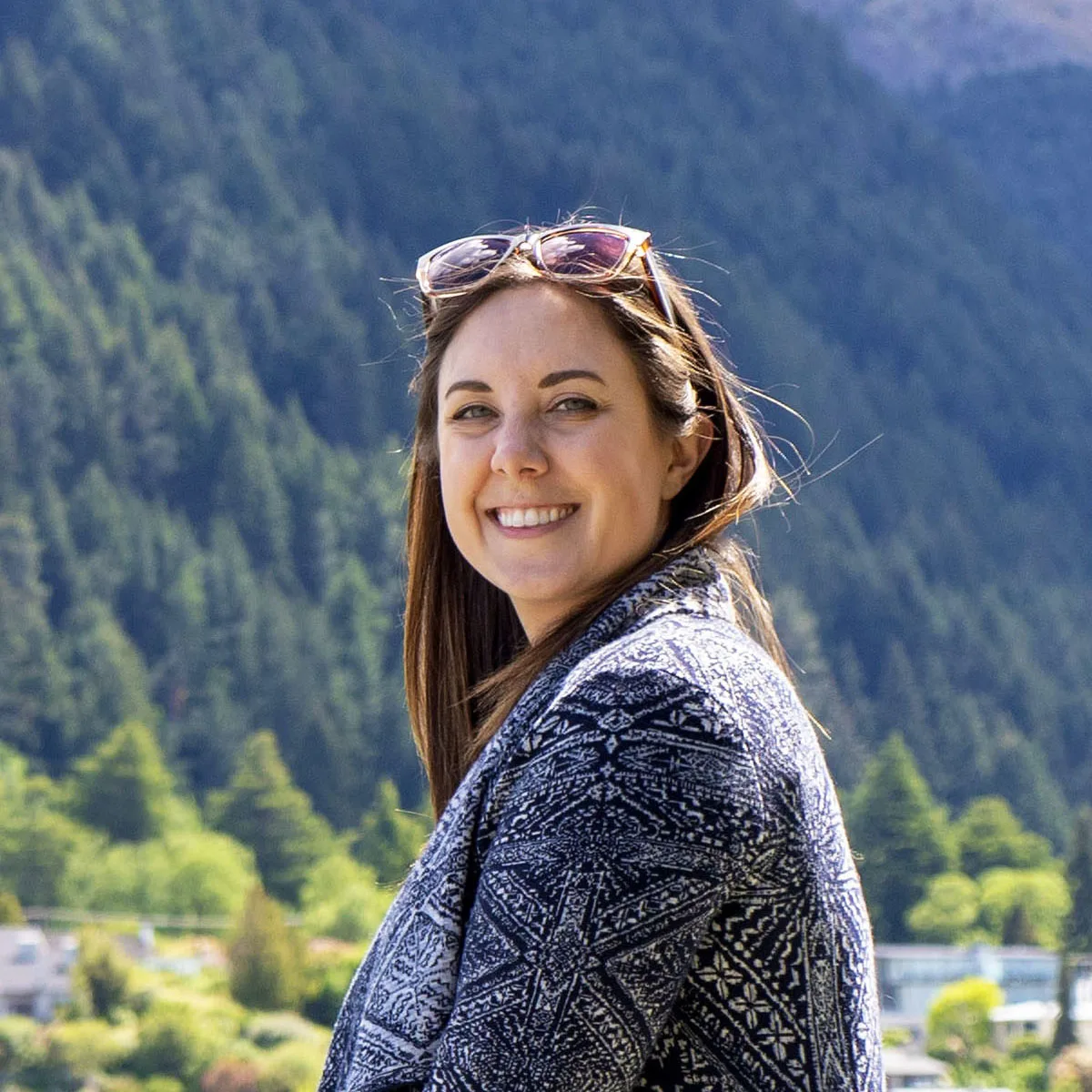 Lauren is the full-time travel blogger and content creator behind Justin Plus Lauren. She started Justin Plus Lauren in 2013 and has travelled to 50+ countries around the world. Lauren is an expert on vegan travel as one of the very first vegan travel bloggers. She also focuses on outdoor adventure travel, eco and sustainable travel, and creating amazing travel itineraries for cities and small towns.