Back when I wrote this guide in 2014, there weren't any strictly vegan restaurants in Bermuda. As the plant-based diet, vegetarianism, and veganism grows in popularity worldwide, the amount of vegan establishments increase along with it. I'm happy to report that since writing this guide six years ago that there are many more options to add to this vegan Bermuda guide.
Traditionally, Bermudian cuisine takes influences from English and Portuguese dishes, while taking advantage of the abundance of local seafood. Since many ingredients on the island have to be imported anyway, you'll find a wide variety of internationally themed restaurants in Bermuda paying tribute to many dishes from around the globe.
Posts may be sponsored. Post contains affiliate links. I may be compensated if you make a purchase using my link.
Many restaurants will list at least one vegan meal, if not several vegan and vegetarian options. Sometimes you'll need to make a couple of special requests to veganize the menu item. Several years ago, we had no issues finding vegan food in Bermuda. All of the servers and chefs prepared delicious food for us without any animal products. We could really tell that plenty of care and love was put into the preparation of our food, and we were truly grateful for that. Justin and I ate so many yummy meals during our four days in Bermuda.
I'll mention all of the places we visited from our original vegan Bermuda restaurant guide, as well as some new ones that we'd love to try on a return trip. As you can imagine, some of the restaurants have changed menus or changed ownership. Please note that some of the vegan meals you see here could be from an old menu and might no longer be available (and new vegan menu items will be in the place of these ones).
Cafe Eden
Cafe Eden is a smoothie bar and cafe nestled inside a small health food store, attached to the Seventh-Day Adventist Church book store. They serve breakfast and lunch, and conveniently update their menu daily on their Facebook page. When we arrived, it was lunch time. We each ordered a veggie burger and a tropical smoothie with banana, mango, coconut milk, agave, and vanilla.
First of all, it was one of the most delicious smoothies ever. One sip of that smoothie instantly reminded me that I was on vacation! The veggie burger was quite satisfying, too. We were pretty hungry after such an early morning flight and these gave us the energy that we needed to get us straight through until dinner time.
When we visited Bermuda, Cafe Eden was the only 100% vegetarian spot on the island. Now, there's an additional 100% vegan juice bar called OM Juicery. It looks like there are lots of vegan restaurants in Hamilton with additional vegan-friendly establishments in the city, too. I recommend stopping by Cafe Eden on your stroll around Front Street in Hamilton.
1609 Restaurant
1609 Restaurant is part of the hotel property at the Hamilton Princess & Beach Club where we stayed. It offers an open-air dining concept with calming views of the Hamilton Harbor. Back when we visited a few years back, there were zero vegan offerings on the menu. The chef came to our table and helped us decide what we wanted to eat.
I decided to order the vegetable curry with rice, and Justin ordered the rigatoni pasta made with fresh homemade tomato sauce. We both got salads to start that had fresh mango and beets. We were completely surprised by the bowls of fresh berries and pineapple for dessert. And of course, we both had to try our first Bermudian beverage here, the Rum Swizzle!
Nowadays, 1609 restaurant is one of the top vegan Bermuda restaurants! Talk about a total change: from no vegan options to several. In fact, about half of the menu is vegetarian and vegan. There are vegan tacos, Beyond Burgers, and even a Beyond Meat kebab.
Even if you don't stay at this hotel, visitors from outside the hotel are welcome to dine there, too. Smart casual attire is recommended, and I also suggest that you call the hotel for dining reservations. Justin and I thoroughly enjoyed 1609 Restaurant and also highly recommend staying at the Hamilton Princess as its a beautiful five star hotel.
Jasmine Lounge
The Jasmine Lounge is another hotel restaurant, this time at the other Fairmont-owned hotel on the island, the Fairmont Southampton. There are a few vegetarian options on the menu, and we each decided to order a veggie pizza without cheese. Our server was very accommodating and allowed us to order the pizza with whatever veggie toppings we would like. The pizza was served on a long wooden cutting board. I would describe it more like a pizza/flatbread and it was really yummy. If you get a table by the window, you'll be able to enjoy soothing views of the ocean off in the distance.
I looked at the current menu at the Jasmine Lounge and noticed a couple of other vegetarian and vegan-friendly selections on the menu. You can order guacamole and chips, a Bermuda pumpkin soup, a harvest salad, and a vegetable taquito dish (ask for no cheese). I'm also absolutely delighted that the restaurant has added a dairy-free vegetarian pizza permanently to their menu! I'm secretly hoping that this blog post somehow influenced that decision. You never know!
The Terrace (Formerly Red Steakhouse and Bar)
Back when we visited Bermuda in 2014, we were surprised and delighted by our dinner at a local steakhouse called Red Steakhouse and Bar. The chef prepared one of the tastiest vegan meals for us, completely off menu and using his own imagination. We thought at the time that he should open his own vegan restaurant in Bermuda.
Flash forward to today, and Red Steakhouse and Bar is no longer open. However, the owners opened a new restaurant in its place called The Terrace. I checked out their menu and they've got a few vegan offerings: Jay's Curry (veggies and chickpeas with a coconut curry sauce), vegetable risotto, beet salad, garden salad, and pizza. The vegan items are clearly marked on the menu.
I'll post our original meal here from Red Steakhouse as it was just so good: an amuse-bouche of pear, arugula, and other tasty morsels. Next, we had specially prepared for us a fresh spring roll stuffed with cauliflower and other veggies, with a spicy dipping sauce. To cleanse our palates, we ate a pineapple/grapefruit/Grey Goose vodka granita that I easily could have eaten all day for the rest of my life. Our main course was a chickpea and potato croquette with mango salsa and fresh vegetables. To drink, Justin had a beer and I had a lychee martini that even came with a piece of lychee in the bottom of the glass.
Frog & Onion Pub
We stumbled upon the Frog & Onion Pub while we were walking around the Royal Naval Dockyard before going to the best mini golf course in the world. We ended up feeling starving after our surfing lesson and needed to grab a bite to eat.
Even though Frog & Onion isn't terribly vegan-friendly, our server was so helpful and friendly. She totally understood our requests for vegan food. We were able to order onion rings to start and a chickpea burger as the main course, without the yogurt topping. Our server even brought us some spicy ketchup as a dip for the onion rings (replacing a creamy dressing, I believe) without us having to ask.
I don't see the chickpea burger on their menu anymore. I'd call ahead to ask if they still have it available before venturing out, just in case. It was really yummy, so I hope you're able to order it.
Vegan Bermuda: Honorable Mentions
Here are the restaurants in Bermuda with vegetarian and vegan options that we didn't get to visit. For a place lacking vegetarian and vegan restaurants, it really wasn't that difficult to find a vegan meal. The place with the most vegetarian cafes was definitely downtown Hamilton, where there were several juice bars and bistros serving veggie meals. However, you'll find options no matter where you are in Bermuda.
Marcus'
When we dined at the Hamilton Princess & Beach Club, we went to Intermission Restaurant inside the hotel. Nowadays, Marcus is open (by world class chef, Marcus Samuelsson) so we recommend that you dine there. While the menu is always changing, the vegan options on the menu include a BBQ Butternut Squash Bowl, the Beyond Burger, and a few salad options.
Henry VIII
Henry VIII is a restaurant in Southampton that has something for everyone. While they serve up pub fare, they also provide a full menu of sushi. You can go with some veggie sushi options, or choose some veggie pasta. There's a vegetable hot pot with red lentils and root veggies, and every vegetarian item on the menu is clearly marked (inquire about what's vegan).
Swizzle Inn
The Swizzle Inn is a famous bar and restaurant known for their Rum Swizzles! You can also find a veggie lentil burger, a veggie masala, and nachos with vegan cheese. As there's vegan cheese on hand, I bet you could ask them to make you a vegan pizza, too!
House of India
The House of India has an entirely vegetarian section of their menu, and the items that are dairy-free are clearly marked (meaning that they are also vegan). There's a big menu with loads of variety, so you can't go wrong. I'd love to dine here on a return visit to Bermuda.
L'Oriental
L'Oriental is an Asian fusion restaurant serving up vegan and vegetarian tofu dishes, miso soup, seaweed salad, vegetable spring roll, and edamame. Make sure you let them know that you're vegan and to ask for no fish or oyster sauce.
La Trattoria
La Trattoria is an Italian restaurant that has several vegetarian options that can easily be made vegan.
Beluga Bar
Beluga Bar is an Asian / sushi restaurant inside the Washington Mall. They have a vegan roll, seaweed salad, edamame, and edamame soup.
Four Star
Four Star has several vegetarian/vegan options, including pizza, Indian food, a stir fry, and pasta. They have four locations, please check out their website for more details on hours and directions.
Vegan Cafes in Bermuda
Green Lite Cafe
I wish I had known about this place before we went, but some kind folks at the Vegetarian Society in Bermuda told me about it, and I will have to go there next time. The Green Lite Cafe & Eatery is a mostly vegetarian/vegan restaurant, and their daily meals are posted on their Facebook page. You can find everything from smothered bean curds to vegetable soup, and even vegan steaks. Sounds delicious!
Juice & Beans
Juice & Beans was once on Front Street and closed down, but it's back at a location on Court Street in Hamilton (for years now!). The cafe and juice bar appears to those seeking a plant-based diet, offering smoothies, meatless chicken sandwiches, and fishless fish fillets. There are also meals with an Indian influence, like chickpea dishes, roti, and samosas. You'll also find coffee with plant-based milk options.
OM Juicery
OM Juicery is a 100% vegan cafe in Bermuda, serving up a variety of juices, smoothies, and infused waters. They also have smoothie bowls, vegan burgers, salads, soups, and vegan desserts.
Cafe 4
Cafe 4 has make your own salads, soups, Beyond Meat burger, vegan sushi rolls, and a make your own pasta bar. It's super vegan friendly!
Rock Island Cafe
Rock Island Cafe is a coffee shop that prepares drinks using soy milk if you request it! They roast their own coffee beans here. They also have a wide variety of tea.
Bailey's Ice Cream
Bailey's Bay has a few flavors of sorbet, including a Rum Swizzle sorbet. It's right near the Crystal Caves. We really wanted to go here, but unfortunately it wasn't open when we visited. Justin and I traveled to Bermuda following a big hurricane that passed through the island. They make all of their ice creams and sorbets from scratch and hadn't reopened yet when we were there. Next time, we'll go there for sure. Be sure to enjoy some sorbet for us!
Health Stores and Markets
It's Only Natural
It's Only Natural health food store had a vegan lunch menu on Wednesday and Friday when we last checked. Unfortunately, their page hasn't been updated in a little while. We'd love an update on this one if you have it!
Miles Market
The Miles Market deli has some vegetarian and vegan options, including a seitan wrap and a hummus wrap.
The extremely kind and friendly folks at the Vegetarian Society of Bermuda have provided me with even more places to eat veggie food than I had heard of before! I've added them all to this page. Thank you so much!
Map of Bermuda Vegan Restaurants
Here are all of the mentioned restaurants in Bermuda placed on a map so you can plan your trip accordingly.
Have you dined at any of these restaurants? Where would you head first?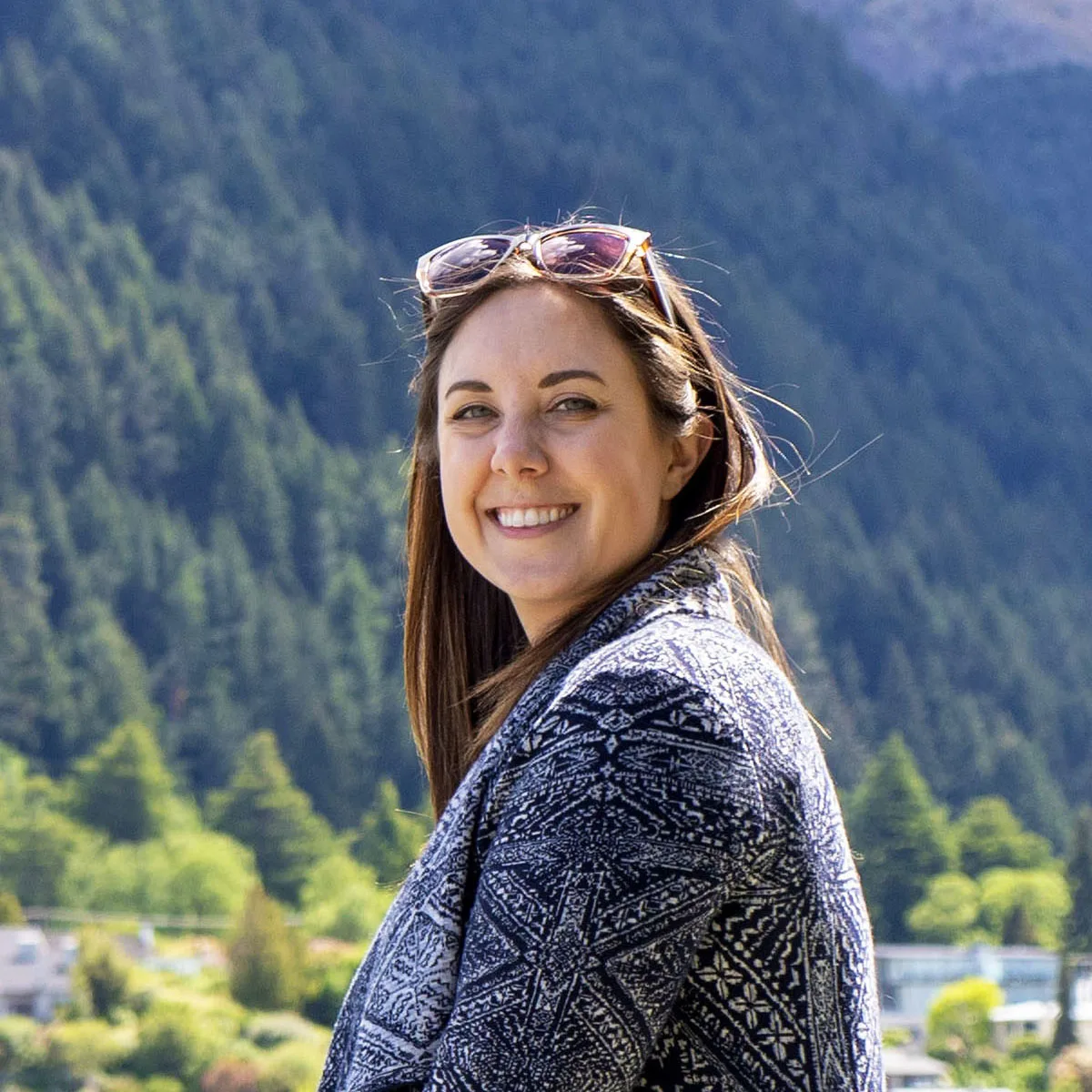 Lauren is the full-time travel blogger and content creator behind Justin Plus Lauren. She started Justin Plus Lauren in 2013 and has travelled to 45+ countries around the world. Lauren is an expert on vegan travel as one of the very first vegan travel bloggers. She also focuses on outdoor adventure travel, eco and sustainable travel, and creating amazing travel itineraries for cities and small towns.