The two of us spent a wonderful four days in Bermuda, and it was the perfect amount of time to explore the island. Like most holidays, we could have easily extended our stay, exploring the country or simply soaking up the sun. We had a great first impression for our first time visiting the island of Bermuda, discovering so many things about the landscape, the country, and the people. Here are 10 Bermuda facts that you should know before you travel there.
The people are extremely friendly.
I'm not sure we've ever visited a place and immediately noticed just how nicely everyone treated each other…and us! Maybe living in such a gorgeous setting puts you in a permanently good mood. Or perhaps everyone has great manners. Whatever the reason, we the locals are extremely friendly and helpful.
For instance, if you need help with directions and you're looking at a map, someone will likely come to your assistance and point you in the right direction. Justin and I were on scooters stopped at a red light, and were confused about which way we should turn to get back to our hotel, the Hamilton Princess. A Bermudian, sitting on their front porch, must have heard our conversation. He yelled over to us, "Where are you looking to go?" and perfectly guided us to our destination.
On another occasion, we were using a GoPro to shoot video of some artwork along Front Street in Hamilton. A man approached us asking if we were interested in art, and we got into an in-depth conversation about the sculptures around town. We learned lots of Bermuda facts about the art and sculptures that we wouldn't have known otherwise. It was very refreshing to easily chat with the locals, even in random occasions on the street. It really helped us to learn more about the culture and daily life on the island.
Bermuda information: you must say hello to everyone.
Here's one of the most valuable Bermuda facts: be mindful of your manners. I'm not kidding! Whether you're walking down the street, getting on the bus, or passing someone in a hallway, you must greet them and even ask how they are doing. If you don't say hello, good morning, good afternoon, or so on, it is considered to be highly rude and you'll get a bad reputation there.
Even as a tourist, I try to follow the local traditions as much as possible when I visit a place. I happily greeted everyone wherever I went. And if I am perfectly honest, I really enjoyed it, and quickly got used to it. I really wish it was like this everywhere. Not to say that Canadians are rude or cold, but I feel as though if I walked down the street in Toronto and said hello to everyone, people would either give me a dirty look or assume I was crazy. So, one of the best pieces of Bermuda information to know before you go: be friendly and greet everyone.
Bermuda has close ties with Toronto.
I had no idea that Bermudians are so connected to people from the Toronto area or Canadians. Being surrounded by so many people with ties to Toronto, it felt like a tropical extension of home. After asking where we were from, nearly early everyone replied, "Oh, I was just in Toronto a couple of weeks ago!", "I lived in Toronto for a short while", "I have family in the Toronto area", "My wife is from Toronto", or "I studied at a university in Ontario".
Here are more Bermuda interesting facts: many Bermudians study at college or university in Ontario and have everlasting friendships or relationships with people from Toronto. On our flight to Bermuda, we noticed that the amount of Bermudians on the flight outnumbered the visitors. Toronto is actually one of the only cities in the world that has two flights daily to Bermuda (Air Canada and WestJet), so it's really easy to travel there. New York City also has multiple flights daily. It's a really short flight, too: only two and a half hours from Toronto, and just under two hours from New York City. Bermuda is the perfect weekend getaway for those living in the Toronto or New York.
Bermuda is expensive.
So, this item on my list of Bermuda facts might not come as a surprise. Bermuda is expensive. Well, it's even more expensive than we first anticipated. On the island of Bermuda, things are way more expensive than what we would pay at home. It does make sense that it's more expensive as Bermuda is pretty remote and has to ship in many products. Therefore, you'll find food, beverages, groceries, and other daily items for a way higher price than at home.
The average home in Bermuda costs over one million dollars, and you can purchase attached townhouses for $750,000. The standard amount for rent in a small apartment can cost $1500 a month and up. After all, the island of Bermuda is one of the most affluent places in the world, and we saw no shortage of fancy yachts and mansions overlooking the ocean. For some people, it is necessary to work two different jobs to afford the cost of living. Note: I originally wrote this in 2014, so the prices are likely even higher now.
Bermuda has an abundance of wildlife.
Before visiting Bermuda, we had no idea that there was so much wildlife. The animals on the island of Bermuda like to make themselves quite visible (or they're loud and you can hear them). For such a small island, it's one of those Bermuda facts that people probably don't realize…and the types of animals that live there are pretty interesting.
What won't you find on the island of Bermuda? There are no snakes. You won't have to worry about one slithering across your path when you go hiking. There are also no ticks on the island, and there are rarely mosquitoes.
So, what animals will you find on the island of Bermuda? Instead of snakes, you will find many lizards, though you'll often have to search them out on the sides of tree trunks or hidden in the foliage. What you will see all over the island are wild chickens and feral cats. You can hear roosters crowing and see large groups of chickens walking around one after the other. You'll also see many feral cats that roam around Bermuda, some being much friendlier than others. Many of the cats approached us and enjoyed some scratches behind the ear.
There is a yellow-breasted bird that lives in Bermuda called the Kiskadee. You can recognize its call because it chirps its own name, "Kiss-ka-deeee!" At night, I loved hearing the raucous trills of the tree frogs. Now that I'm back at home, I miss hearing their echoing calls. And of course, I must mention the abundance of fish that live around the beaches surrounding Bermuda. We saw some enormous parrotfish when we went snorkeling, as well as many other species of fish. So, the wildlife that lives on the island (and the animals that don't) is one of the top Bermuda facts you probably didn't realize.
Bermuda facts: the buildings are very unique.
This is one of the Bermuda facts that will be obvious if you've seen pictures of the island of Bermuda. The homes and buildings in Bermuda are painted in bright colors. There are many pastel colored buildings, as well as some brighter ones in more blinding neon shades. It is up to the discretion of the homeowner to paint their house any color they'd like. Homes are usually painted every 4-5 years.
Pastel pink is a very popular color as it is reminiscent of the island's pink sand beaches. However, the most interesting part of the home is actually the roof. All of the roofs in Bermuda are white and terraced. There is no public water system in Bermuda, and each resident is responsible for collecting their own water. It is collected from the roofs of their houses and stored in water tanks for future use. The roofs are painted white because the white cement wash compound sanitizes the rainwater as it runs off into the storage tanks. Also, any debris on the white roof can be easily spotted and cleared away.
Bermuda interesting facts: the modes of transportation for tourists and locals
When you visit the island of Bermuda, you will not be able to rent a car. Driving a car is limited to residents only, and there is a limit of one car per household. Is it necessary to rent a vehicle, and how big is Bermuda? Bermuda is the fifth smallest country in the world and the third most densely populated place on earth. Limiting the amount of cars on the roads is definitely a wise choice as there simply isn't enough room for a ton of them.
However, there are many ways to get around the island without needing a car. One popular choice is to rent a scooter. Bermudians are allowed to drive scooters when they turn 16, and aren't permitted to learn how to drive a car until they turn 18. You'll see plenty of fearless scooter riders weaving in and out of traffic, putting themselves into sketchy situations.
Driving a scooter around Bermuda isn't for the faint of heart; in fact, it can be quite dangerous. You have to remember to drive on the left side of the road, and navigating the abundance of roundabouts can be quite nerve-wracking for the inexperienced (ahem…me!). If the weather is rainy or windy, don't put yourself into a dangerous situation if you aren't familiar with riding a scooter.
Looking for an amazing alternative to scooters? You can take the public buses around the island. There are buses that travel to every area of Bermuda, and they're very easy to figure out. I highly recommend purchasing a bus pass and taking them wherever you need to go. You can also take the ferry to several spots around Bermuda. Pay close attention to the ferry schedule as they tend to operate on limited hours during the weekend and in the off-season (November – April). Finally, you can take a taxi around the island, though this is a very expensive option. You've been warned!
What is Bermuda known for? Its official beverages!
If you enjoy having a drink now and again, one of the most important Bermuda facts is that you must try the island's official drinks. There are not one, but two official beverages of Bermuda – the Rum Swizzle and the Dark n' Stormy. The Rum Swizzle is said to have originated at a famous restaurant and bar in town called the Swizzle Inn. It is a rum cocktail consisting of amber rum, dark rum, and a blend of tropical juices.
The Dark n Stormy has Gosling's Black Seal (a brand of dark rum produced on the island) and the island's soda beverage, ginger beer. If you're not into mixed drinks or alcohol, try the ginger beer on its own. It is pretty sweet, but quite refreshing!
Unique things to do in Bermuda: Explore caves.
Though there are two famous public caves, Crystal Caves and Fantasy Caves, there are literally hundreds of caves all over Bermuda. In Hamilton Parish, there are over a hundred caves alone that are beneath almost every step you take. You can explore the commercial caves on a tour, or take a caving tour to discover those off the beaten path places that only the locals know about. And you can even swim inside some of the caves.
You can't forget the beautiful Bermuda beaches.
I wouldn't dare write a Bermuda facts blog post without mentioning the beaches. The pink sand beaches attract so many tourists to the island, and they're breathtaking. These peachy sand beaches and turquoise waters are some of the most beautiful I've ever witnessed. We visited the popular Horseshoe Bay Beach to go surfing and Long Beach at the Cooper's Island Nature Reserve. There are a ton of beaches in Bermuda, and you really can't go wrong with any of them.
It's easy to see why I fell in love with Bermuda after my first visit. We want to return again in the future to explore even more of the island of Bermuda. We hope you enjoyed this list of Bermuda facts that will help you make the most of your trip.
Do you know any more Bermuda interesting facts to share?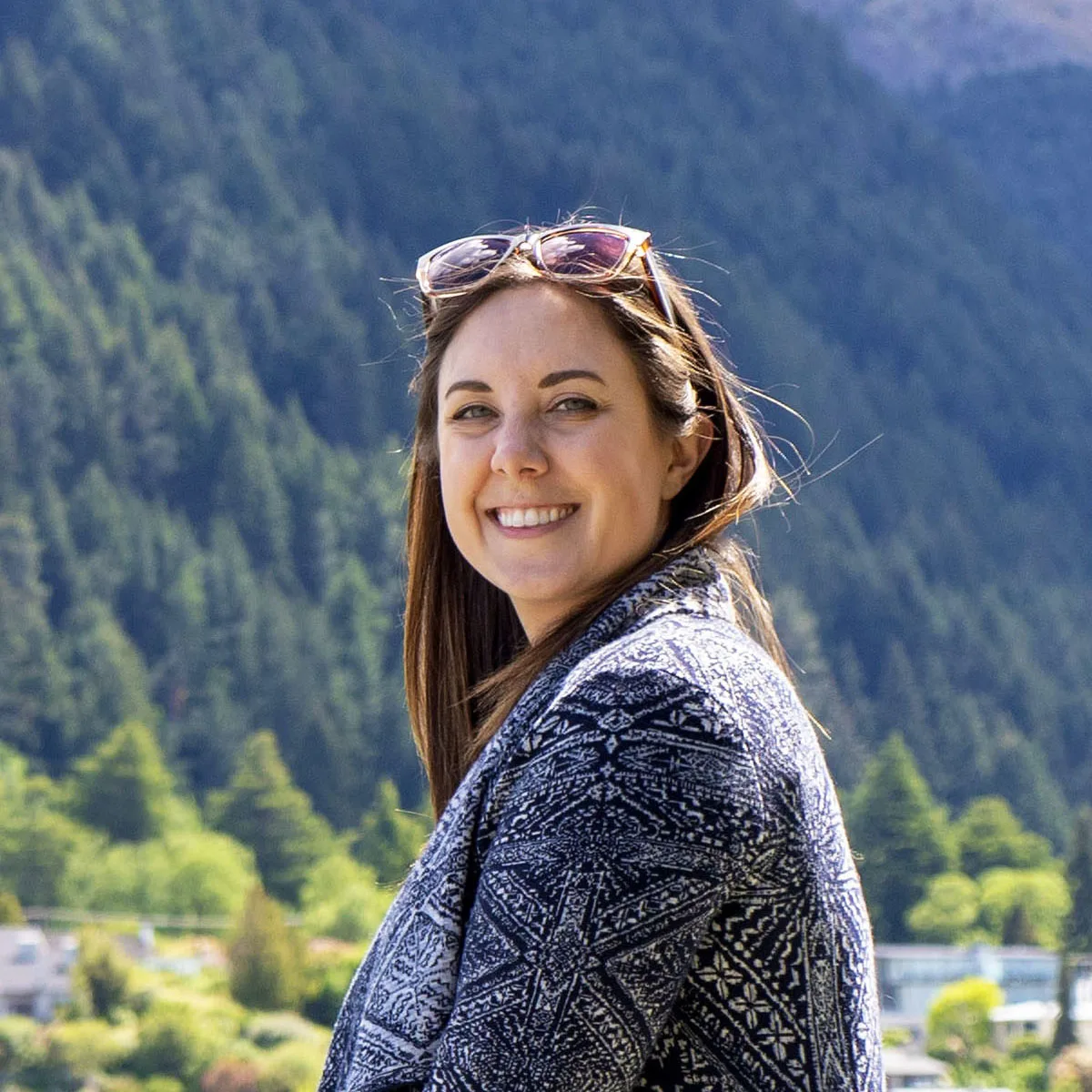 Lauren is the full-time travel blogger and content creator behind Justin Plus Lauren. She started Justin Plus Lauren in 2013 and has travelled to 50+ countries around the world. Lauren is an expert on vegan travel as one of the very first vegan travel bloggers. She also focuses on outdoor adventure travel, eco and sustainable travel, and creating amazing travel itineraries for cities and small towns.