When it comes to visiting the best Mayan ruins in Mexico, you're truly spoiled for choice. There are 4400 ancient Mayan ruins in Central America and you'll find many of them throughout Mexico. No matter where you travel in the country, there's a good chance that you can incorporate a trip to see some ancient ruins in Mexico.
I'm going to show you the top 50 Mexican ruins to visit, organized by state. This will group them by region so you can easily see which ones are closest to your holiday destination. Conversely, you may wish to base your trip around exploring these Mayan temples in Mexico. I definitely wouldn't blame you there. When I travel to Central America, I try my best to check out at least some ancient Mayan ruins whenever possible.
Posts may be sponsored. Post contains affiliate links. I may be compensated if you make a purchase using my link.
Please note that I'm including many ancient archaeological sites from Mexico in this article. Many of these may be Mayan ruins, but there are also pyramids, temples, and ceremonial sites relating to other Mesoamerican cultures. Some of these might even be Aztec ruins in Mexico, not quite as old as some of the ancient Mayan sites.
I've also recommended tour options for each ruin in Mexico where they are available. Some of these Mayan ruins don't have tour options that include transportation. For this reason, you may need to take public transportation or rent a car. Renting a car gives you the freedom to explore these ruins at your leisure, including some that aren't visited as often. You can compare prices and find the best rates between car rental companies at Discover Cars.
Best Mayan Ruins in Mexico Map
Here is a map of the best Mayan ruins in Mexico so you can see them clearly represented visually. As you can see, these Mexican ruins are spread out right across the country. There are so many amazing Maya ruins in Mexico, Belize, Guatemala, and all over Central America. Definitely seek them out as you travel this region.
Do you want to save this map for future reference? If you click the star beside the map title, it will be saved to your Google Maps account. Then, you can access it while hiking from your own Google Maps app (it will be listed under "your places" and then "maps").
---
Best Mayan Ruins in Mexico: Quintana Roo
Quintana Roo is home to some of the earliest and largest Mayan ruins. The Mayans began as hunter gatherers as early as 2500 BC, but they settled into the region from 500 BC to 250 AD. From there, they began establishing great cities and religious centers for worship.
If you're visiting the state of Quintana Roo, you'll be spoiled for choice when it comes to the best Mayan ruins in Mexico. There are many Mayan ruins near Cancun, Playa del Carmen, Tulum, and more. Quintana Roo is known as the gateway to the Mayan world.
You'll be able to easily uncover these fascinating Mayan sites in Mexico on your next beach vacation. It's even possible to visit the ruins of Mexico if you're traveling from a cruise ship as your excursion for the day. These are the best ancient ruins in Quintana Roo, including Tulum, Coba, Chacchoben, and many more.
Tulum Ruins
The ruins of Tulum are among the best Mayan ruins in Mexico. There are dozens of structures and they are very well preserved. Plus, Tulum is right on the coastline of the Caribbean Sea, perched on 39 foot high cliffs. Down below, there's a beautiful white sandy beach. It once served as a major port and was a center for trade.
There are many buildings to discover, including the central large pyramid, El Castillo, the Temple of the Frescoes, and the Temple of the Descending God. Tulum was protected on one side by steep natural cliffs and by a massive wall on land. It's one of the most well fortified Mexican Mayan ruins. The Mayans also likely chose this site because it could be well defended.
As the Tulum ruins are quite popular and can get rather busy, go there as early in the morning as possible. Visiting earlier will be more comfortable as you can feel overheated wandering around Tulum. It's a wide open space without much shade. Even with lots of people, I didn't find Tulum to be very crowded as it's a large property with many structures. Also, remember to bring your bathing suit if you'd like to go for a swim at the beach!
---
Coba
Coba is located about 44km northwest of Tulum in the Mexican state of Quintana Roo. It's one of the best Mayan ruins near Cancun and Riviera Maya. Coba was first settled between 50 BC and 100 AD, and it became one of the most powerful Maya city states in the Yucatan region.
Coba has the largest network of stone causeways of all the ancient Mayan ruins. There are many engravings dedicated to ceremonies and important events during the Late Classic period (AD 600–900) of Mesoamerican civilization.
It also happens to be one of the best Mexican Mayan ruins because you can still climb to the top of the pyramid. There are several Mayan temples to explore on site, and Coba's Ixmoja Pyramid is the tallest on the Yucatán peninsula.
---
El Rey
El Rey is the most important collection of Mayan ruins in Cancun and among the best Mayan ruins in Mexico. You'll find it on the outskirts of the city center, so it is very easy to access from Cancun. This site was called El Rey by two English travelers back in 1909. They found a sculpture resembling a noble person, and "El Rey" means "king". The site's original name is not known.
There are 47 structures at El Rey, and this ancient Mayan site likely reached its peak population between 250 and 600 AD. El Rey was a coastal port within the Mayan commercial trade network, along with Tulum, Muyil, and others.
In 1975, archaeologists uncovered an amazing discovery at one of El Rey's Mayan temples. It was a burial site of a high ranking member of society, along with a copper axe, a bracelet, and several ornaments.
---
Chacchoben
Chacchoben is a Mayan ruin that's about an hour from Costa Maya (Mahahual) or two hours away from Tulum. Its name is Mayan for "the place of red corn". Chacchoben was first settled around 200 BC, and its buildings date to 700 AD.
While these ancient Mayan ruins were briefly detailed in a letter in 1962, it wasn't until 1972 that they were reported to the Mexican government. Between 1994 and 2002, the site was closed to the public as it was being restored. You can visit three excavated pyramids, and there's a large stela (stone slab) at the base of the largest pyramid with Mayan hieroglyphic inscriptions.
Most of Chacchoben continues to be excavated to this date and these areas are off limits to the public. The Mayan ruins at Chacchoben are surrounded by wild jungle. You may be able to spot some animals, like the peccary, armadillo, howler monkey, spider monkey, and even jaguar and puma deeper in the jungle.
---
Muyil (Chunyaxche)
The Mayan ruins of Muyil, also known as Chunyaxché, are one of the earliest and longest inhabited Maya sites in Quintana Roo. Researchers have discovered artifacts from 350 BC up until 1500 AD.
The structures at Muyil are reminiscent to those found at Tikal in Guatemala, including steep walled pyramids. This Mayan site in Mexico was right along a trade route, connected to other ancient cities like Coba.
Muyil is located on the Sian Ka'an lagoon, so it's easy to combine a trip to Muyil with one to the Sian Ka'an Biosphere Reserve. The Sian Ka'an Biosphere Reserve is a UNESCO World Heritage Site, designated as such due to its remarkable biodiversity.
---
Kohunlich
Kohunlich is a large archaeological site of Mexican ancient ruins that was originally settled around 200 BC. Many of the structures were built between 200 and 600 AD and many of them remain unexcavated. There are 200 mounds, still covered with thick vegetation, waiting to be unearthed.
The ancient city of Kohunlich is quite elaborate with pyramids, citadels, raised platforms, plazas, and an engineered system of cisterns and reservoir to collect rainwater. It's possible that Kohunlich was a regional center and a stop over on the trade route.
The most famous structure at Kohunlich is the Temple of the Masks, one of the oldest buildings dating to 500 AD. The central stairway of this pyramid is decorated with giant masks that are very well preserved.
---
Dzibanche
Dzibanche was an important Maya city, and it was possibly the early capital city of the Kan Dynasty (later, the capital was Calakmul). The earliest known use of the Kaan dynasty emblem glyph was found at Dzibanche on a hieroglyphic stairway.
The ancient ruins of Dzibanche are near the Bacalar Lagoon, surrounded by swampland on a raised area. The soils of this area are especially fertile. Some important structures to visit at Dzibanche include the Cormoranes Pyramid (the largest pyramid), the K'inichna' Pyramid, the Temple of the Captives, the Temple of the Lintels and the Temple of the Owl.
---
San Gervasio
San Gervasio is an interesting Mayan site on the island of Cozumel, just off the coast of the Yucatan Peninsula. It's easy to take a day trip by ferry to Cozumel from Playa del Carmen or you can stay in Cozumel. These ruins were once a center of worship for the Mayan goddess Ix Chel, and women would try to make a pilgrimage to this site at least once in their lives.
There are several structures to visit, including a pyramid, some houses, and a reconstructed archway. San Gervasio is in the middle of a state park that's also a wildlife refuge. You might be able to spot some friendly iguanas (highly likely), peccaries and coatis.
---
Best Mayan Ruins in Mexico: Yucatan
The Yucatan Peninsula has so many amazing Mayan sites in Mexico, spreading right across Yucatan state. Some of the most famous Mexican Mayan ruins are here, including Chichen Itza and Ek' Balam.
The Mayans started as hunter gatherers and grew into one of most advanced ancient civilizations, first appearing on the Yucatan peninsula. Between 300 and 900 AD, the Mayans established some of the greatest cities in Yucatan, like Chichen Itza and Uxmal.
In 987, the Toltec people moved into the region, believing that they were following their god, Quetzalcóatl. Gradually, the Toltecs integrated with the Mayans, but they greatly altered Mayan culture with their influence. Not only did the newer architectural styles change with the arrival of the Toltecs, but they also introduced mass human sacrifice rituals.
Chichen Itza
Chichen Itza is one of the most visited archaeological sites in Mexico with over 2.6 million tourists stopping by each year. It's a UNESCO World Heritage Site as it was one of the largest pre-Columbian Mayan cities with numerous architectural styles. In 2007, after a worldwide vote, Chichen Itza's El Castillo was named as one of the New 7 Wonders of the World.
This is one of the best collections of Mayan temples in Mexico as Chichen Itza was an important city across the centuries. From the Late Classic period (600-900 AD), Terminal Classic period (800-900 AD), and Postclassic period (900-1200 AD), you'll witness architecture from the Puuc and Chenes styles, as well as those representing ones found in central Mexico.
The El Castillo pyramid (Temple of Kukulcán) is the most iconic site at Chichen Itza. But, you should wander around and explore the entire property to see many impressive landmarks. Walk past the columns of the Temple of a Thousand Warriors, check out the Great Ball Court, and examine all of the detailed carved sculptures.
---
Uxmal
Uxmal is considered to be one of the most archaeological significant sites of Mayan culture. The buildings are known for their immense size and elaborate decorations. Uxmal is thought to be in better condition than most other Mayan sites, and we can more easily perceive how the site may have looked in ancient times. It is also a UNESCO World Heritage Site.
Uxmal is one of the best Mayan ruins in Mexico, especially as an example of the Puuc style of architecture. Unlike some other Mexican ruins, its buildings have low, smooth walls and upper ornate stone mosaics. Sacbes (ancient roads) connect the buildings and other ancient cities, like Chichen Itza, Xunantunich (in Belize) and Tikal (in Guatemala).
Some of the most notable structures at Uxmal include the Pyramid of the Magician (a tall building with five levels), the Governor's Palace (sprawling across 1200 square meters), the House of the Birds, and the House of the Turtles.
---
Ek Balam
Ek' Balam is a very well preserved collection of Mexican Mayan ruins that have helped us to understand the Mayan culture and language. As many other northern Mayan cities aren't well preserved, Ek Balam has provided lots of key details to help decipher facts about other sites like Coba, Ednza and Izamal.
While Ek Balam was rediscovered in the 1880s, it wasn't excavated until the 1980s and 1990s. Only one central square kilometer of Ek' Balam was excavated, and the site is about 12 kilometers squared in total. While Ek' Balam was a major city for over 1000 years (from the PreClassic period through to the PostClassic period), it was almost entirely abandoned in later years.
When you visit Ek Balam, you can check out 45 structures. These include the city's defensive walls, the Acropolis, the Oval Palace, the BallCourt, and the Steam Bath. The Acropolis is the largest buildling at Ek' Balam, and it is also thought to contain the tomb of Ukit Kan Le'k Tok', an important leader at Ek' Balam.
---
Labna
Labna is an amazing Mayan site in Mexico in the Puuc Hills region of Yucatan. It's one of the best ruins to check out the regional Mayan architectural style known as Puuc. There are many interesting designs and motifs where cut stones form patterns and mosaics. At Labna, one of these designs showcases masks of the rain god, Chaac, known for his long nose.
The ancient Mayan city of Labna is relatively small and compact, but it's still worth a trip. El Archo is a famous archway with preserved relief sculptures. This arch served as an entrance way between public areas within the city, and not as an entranceway to the city itself.
El Palacio is another notable structure. It is a two story palace that is one of the longest buildings in the region, measuring 120 meters (nearly 400 feet). El Mirador is a pyramid by El Archo that has a temple at the top.
---
Izamal
Izamal is known as the "Yellow City" as most of its buildings are painted yellow. It was continuously occupied throughout the history of Mayan civilization and people still live there to this date. As of the year 2005, approximately 15,000 people live in Izamal.
Izamal is one of the most important and best Mayan cities in Mexico, and it covered an area of at least 53 square kilometers. While you'll certainly want to explore the more modern buildings, like the yellow Convento de San Antonio de Padua (completed by the Spanish in 1561), there are lots of Mayan ruins to see, too. Interesting fact: the stones that were used to construct the convent came from a demolished Mayan pyramid that was destroyed during a battle.
The Kinich Kak-Mo ruins site contains a small pyramid and it's right in the middle of town. This one is easily accessible if you're visiting Izamal for the day, and you're able to climb the pyramid. There are several other pyramids and temples within Izamal that you can also climb, including Kabul, Itzamatul, Habuk, and El Conejo.
---
Dzibilchaltun
Dzibilchaltun is a notable Mayan site near Merida, and it was occupied for thousands of years, beginning in 500 BC. One of the most famous structures at Dzibilchaltun is the Temple of the Seven Dolls, named after seven effigies found at the site of the temple. You can also visit the ruins of a 16th century Spanish church that was constructed after the conquest.
At the center of the Dzibilchaltun Mayan ruins, you'll find the city's cenote, Cenote Xlakah. One reason why this location was chosen for the city was access to clean drinking water at the cenote. It's possible to take a dip in this swimming hole as you view ancient Mayan ruins. For this reason, Dzibilchaltún remains a popular spot for residents and visitors alike.
---
Oxkintok
Oxkintok was once a major Mayan city from the Middle Classic period, and the site is dated by the vast amount of pottery shards collected there. There are various types of pottery throughout the history of the Mayans. About 70,000 pieces of pottery and 38 complete vessels were discovered at Oxkintok. Based on these fragments of ceramics, there were people living in the area of Oxkintok from 600 BCE until 1500 AD.
As for the actual buildings you can visit at Oxkintok, these are a blend of Early, Late, and Terminal Classic architectural styles. The most famous structure at Oxkintok is Satunsat, also known as tzat tun tzat and The Labyrinth. It is a single maze building, constructed to resemble a cave complex.
There are also many anthropomorphic columns at Oxkintok that represented warriors and deities. As for the tombs at Oxkintok, unfortunately many of them were looted, limiting the amount of research that can be done. With that said, many bones of human remains were found at Oxkintok that weren't involved in burials, which may have been used for offerings.
---
Mayan Ruins in Mexico: Campeche
While in modern times, Campeche is one of the least populated states in Mexico, it was once home to a prosperous Mayan civilization. In the 6th and 7th centuries, over 50,000 people lived in the city of Calakmul, which had over 6000 buildings.
Some of the Mayan tribes in Campache included the Quejaches, Yucatecos, and Chontales. They shared a culture but had distinct language dialects, as well as unique architectural and artistic styles.
Calakmul
Calakmul are Mayan ruins in Mexico deep in the jungle, close to the Guatemala border. It was one of the most powerful and important Mesoamerican cities, and it remains one of the best ancient Mayan cities in Mexico. Calakmul is also a UNESCO World Heritage Site.
At one time, Calakmul had a population of 50,000 and had governance over a large region, at times over 150 kilometers away. During the Classic Period, Calakmul was known as the Snake Kingdom, named for their emblem glyph of a snake head. There are 6,750 ancient structures at Calakmul, including one of the tallest Maya pyramids containing four tombs.
Calakmul was one of the Mayan super powers, at times struggling against their rivals to the south in modern day Guatemala, the ancient city of Tikal. Thankfully, we have lots of information and archaeological records about Calakmul, including known rulers, wars and rebellions, and its rise and collapse. You'll need to visit Calakmul in person to learn more!
---
Edzna
Edzna is another impressive ancient Mayan city in Mexico that was inhabited as early as 600BC. It wasn't established as a major city until 200 AD. While many of the structures are designed in the Puuc style, it isn't located near the Puuc hills. Not much is known about the decline and abandonment of Edzna.
One of the top buildings to witness at Edzna is the main temple, and there's an amazing panoramic view of the entire plaza from the top. It is a five story building that dates to 652 AD. The ball court is another significant spot to check out, which has two parallel structures. The small acropolis dates back to 200 BC, and some of the oldest things from Edzna were found here: a large stucco mask, sculptures, and ceramics that date between 250 and 400 BC.
---
Chicanna
The Maya town of Chicanna was inhabited between 300 BC and 1100 AD, but rose to its peak between 300 BC and 250 AD. The town is positioned at a naturally higher elevation, which was important for ceremonies and rituals to be close to the gods. While this is a smaller site, it's still very much worth visiting and you might be able to cross a few Mayan ruins off your list in the same day.
Chicanna translates to mean "House of the Serpent Mouth" and it was named for the relief sculpture of the serpent at Structure II. This building also has eight rooms with the plaster walls of each featuring images of monsters, animals, and more. While there aren't any large Mayan pyramids at Chicanna, there are still lots of intriguing architectural features and styles.
The history of Chicanna is closely connected to the nearby ancient Mayan city of Becan. Chicanna was much smaller than Becan and it was reliant on this larger city, which was the political, social, and economic center of the region. However, it's thought that Chicanna is where the elite, ruling class lived, which could explain why the buildings were so elaborately decorated.
---
Becan
Becan was a major social, political, and economic center in Maya civilization. The city was founded around 550 BC and was eventually abandoned by 1200 AD. One of the most interesting features of Becan is the large ditch and ramparts around the city. This ditch completely encircles Becan, covering about 25 hectares of land.
The city was named Becan by archaeologists after this ditch as its original name is not known. The name, Becan, means "ravine or canyon formed by water" in Yukatek Maya, a Mayan language spoken in the Yucatan peninsula.
---
Mexican Ruins in Tabasco
From 1500 BC to 500 BC, the Olmec civilization dominated the Tabasco state of Mexico. La Venta was the largest Olmec city with a population of 18,000 at its peak between 800 and 500 BC. The Mayans moved into this region between 100 and 1000 AD and became the new dominant culture. Later, the Toltecs established themselves in the 13th century.
Comalcalco
Camalcalco reached its peak in 500 AD, though the site was inhabited for a long time prior. The vast majority of ancient Mexican Mayan cities had buildings made of quarried limestone, and the structures of Camalcalco used fired clay bricks instead. The bricks are irregular sizes and have many inscriptions and designs carved into them.
So far, there are 432 structures at Camalcalco. Like so many Mayan temples in Mexico and Central America, their excavations are an ongoing process. Many buildings identified at the site include temples, elite dwellings, a sweat bath, a council chamber, and residential complexes.
---
Best Mayan Ruins in Mexico: Chiapas
Chiapas state might be known for its production of cacao and coffee, but it's also home to some of the best Mayan ruins in Mexico. The large Mayan city of Palenque formed around 600 AD. However, the Mayans that once established great cities like Palenque and Bonampak fell to the Chiapa Indians. Even the Aztecs, arriving on the scene in the 15th century, could not dominate the Chiapa tribe.
Palenque
Palenque is a medium-sized ancient Mayan site, much smaller than Tulum or Chichen Itza. However, Palenque contains some of the best architecture, sculptures, and carvings that the Mayas created. Palenque is a UNESCO World Heritage Site.
Although much of Palenque is undiscovered as it was absorbed by the jungle after its collapse, there are plenty of buildings to explore. These include the Temple of the Cross and the Temple of the Inscriptions, where Pacal the Great's tomb was excavated (the most famous ruler of Palenque). The ruins date from 226 BC to 799 AD.
Even though the discovered areas of Palenque are a vast 2.5km squared, it is thought that archaeologists have uncovered only 10% of Palenque. It's possible that over 1000 structures continue to be buried by the jungle. Hopefully, we'll get to see more and more of Palenque as the years go by!
---
Yaxchilan
Yaxchilan was once a large and powerful Maya city that rivaled Piedras Negras, Tikal, and even went to war with Palenque. It's best known for its ornate stone blocks (lintels) above doorways, carved stones (stelae), and other sculptures that contain hieroglyphic texts describing the history of the city. There are many spectacular temples, palaces, and monuments at Yaxhilan. Due to the extensive carvings and hieroglyphics, we know a lot about the past rulers and history.
Even though Yaxchilan is very important and offers some of the best Mayan ruins in Mexico, it is not easy to reach. You can only get so far on the mainland due to its location. You'll need to take an hour long boat ride from Frontera Corozal down the Usumacinta River.
---
Bonampak
Bonampak is a smaller Maya site near the larger city of Yaxchilan, so that does make it easy to visit both Bonampak and Yaxchilan in the same day. Even though Bonampak might not be the most famous or impressive of all the Mayan sites in Mexico, it's still worth a trip. Most of the structures were built between 580 and 800 AD, and Bonampak fell along with Yaxchilan in 900 AD.
Bonampak is most known for the murals in the three rooms of Structure I. The murals depict war and sacrifice, and debunked any early theories that the Maya were a peaceful culture and civilization.
---
Mexico Ruins: Oaxaca
While there are 16 official indigenous groups in Oaxaca, there are hundreds of unique subgroups that have their own dialects, traditions, and roots. The Zapotecas and Mixtecas were the largest and most sophisticated societies. Back in 1300 BC, the Zapotecas constructed Mexico's oldest defense barrier. They also established irrigation techniques as far back as 500 BC.
Monte Alban
Monte Alban is positioned on a low mountainous ridge in an easily defendable location. It was one of the earliest cities in Mesoamerica, and it was an important political, social, and economic center for the Zapotec civilization for over 1000 years. Monte Alban was also a vital center for the Olmec and Mixtec peoples over the years, too. Nowadays, it is a UNESCO World Heritage Site.
There are incredible ancient Mexican ruins like pyramids, terraces, tombs, and canals across 6.5 square kilometers, including many structures around the main plaza. Monte Alban was never just a ceremonial or religious site as it was always a fully functioning city. As such, the inhabitants depended greatly on the rich agricultural lands surrounding the mountains. At its peak, Monte Alban had about 35,000 residents.
Some of the most intriguing features at Monte Alban are the petroglyphs at the square, Plaza de los Danzantes (Plaza of the Dancers). These stones depict naked men participating in a form of ritual dance. A recent interpretation of the stelae is that the figures illustrate captured rulers who were sacrificed.
---
Mitla
Mitla is a Mesoamerican archaeological site that might be less prestigious than Monte Alban, but the most important site of the Zapotec culture. Mitla was operated entirely by priests because it was a religious center. They spent the majority of their time with human sacrifices. The priests would remove a living heart from a person and throw it into a pit of fire as an offering to the gods. Mitla was perceived as a gateway between the world of the living and the world of the dead.
Out of all the ruins of Mexico, Mitla has the most decorative mosaic works. These intricate, geometric designs cover entire tombs, panels, and even walls of the complex. They are finely cut and fitted together without the use of mortar. Mitla is a UNESCO World Heritage Site.
In contrast to Monte Alban with its pyramids high on a ridge, Mitla's structures are low on the valley floor. The buildings are designed with the comfort of the residents in mind rather than for show. The architectural style of the buildings has both Zapotec and Mixtec origins. Around 1000 AD, the Mixtec took control of the region, although many Zapotec peoples still lived there.
---
The Ruins of Mexico: Veracruz
The land mass that is modern day Veracruz state was once occupied by four indigenous cultures: the Huastecos, the Otomíes, the Totonacas, and the Olmecs. The Olmecs, one of the oldest cultures in the Americas, developed several complex sites along rivers between 1300 BC and 400 AD.
However, Olmec culture began to disappear as the Mayan civilization swept across Mexico later on. Later, the Aztecs moved into Veracruz and dominated the culture by the 1400s.
The indigenous Huastec people spoke a Mayan dialect but were isolated from the rest of the Mayans, so their culture developed differently. There are presently about 80,000 Huastec in Veracruz and San Luis Potosí that preserve their traditional language and culture.
Cempoala
Cempoala, or "Place of Twenty Waters" is a significant Mesoamerican site once inhabited by Totonacs, Zapotecs, and Chinantecas. It was an extremely important Totonac city and became the capital of their kingdom. The city is only one kilometer from the shores of the Actopan River, and it was built on mounds to protect it from floods.
The Cempoala complex has many fortified buildings and public spaces. Some of the most famous structures include the Templo del Sol or Great Pyramid, Templo Mayor, Templo de las Chimeneas (chimney temple), and El Pimiento. The complex was surrounded by aqueducts that provided water to the city center, residences, and nearby farms.
---
Ancient Ruins in Mexico: Puebla
The city of Cholula was the most important settlement in Puebla, and home to spectacular ancient Mexican ruins nowadays. Established by the Olmecs, it's thought to be the oldest continually inhabited city in Mexico. Cholula was abandoned in the 8th century and taken over by the Putún Maya (also known as Olmeca-Xicalanca) in the 10th century.
Cholula
Cholula is one of ancient Mexico's main religious centers, and it was a significant city of pre-Columbian Mesoamerica. While the ancient city of Cholula was founded around the 2nd century BC, people settled in the region at least 1000 years prior. Cholula served another important function as a trading outpost.
The Grand Pyramid of Cholula is the largest prehispanic structure in the world by volume. There were newer pyramids built over the old ones throughout history, and it expanded to its current size over the years. After the Spanish conquest of Mexico, the Spanish built a church at the top of the pyramid.
Today, Cholula remains an important pilgrimage site in Mexico. Approximately 350,000 people attend an annual festival at the top of the Great Pyramid. As there is a Spanish church at the top of the Great Pyramid, it is the oldest continuously occupied building in North America.
---
Cantona
Cantona is a fortified ancient city in Mexico with a high level of urbanization, founded by Olmec-Xicalanca groups. It was a prominent Mesoamerican city between 600 and 1000 AD, and it was abandoned after 1050 AD. Not much is known about Cantona compared other ancient sites, and only between 1 and 10% of Cantona has been excavated.
Notably, 27 ballcourts were discovered, more than at any other Mesoamerican site. There is a road network with over 500 causeways, more than 3000 patios, and an elaborate acropolis with many pyramids and temples. Many farmers and traders lived there, and it is estimated that 80,000 people once lived in Cantona.
---
Mexican Ruins in Guerrero
The first evidence of humans living in the Guerrero region dates back to the Olmecs in 300 B.C. They primarily lived in the areas of modern day Tabasco and Veracruz, but their populations also extended into Guerrero. In the 10th century, Teotihuacán groups started building pyramids and other structures.
The Aztecs later conquered central Mexico and divided the modern region of Guerrero into seven areas. The Azteca government began collecting taxes and influencing everyone living in the region.
Ixcateopan
Ixcateopan is an old archaeological site that functioned as a ceremonial center in the isolated and rugged mountains of Guerrero. Ixcateopan was inhabited by various groups over the years, including the Cohuixcas, the Chontales, and the Aztecs. It's one of the best places to see ancient Aztec ruins in Mexico.
It was thought to be the burial place of Cuauhtémoc, the final Aztec Tlatoani (king). A team of archaeologists found his remains under the altar of the Santa María de la Asunción church at Ixcateopan. Unfortunately, they weren't actually his remains, but the bones of several women. Nowadays, the church was turned into a museum with ancient artifacts, the bones, and tributes to Cuauhtémoc.
---
Tehuacalco
Tehuacalco is the first excavated Mexican site associated with the Yope people. It was inhabited from about 400 to 1100 AD as a ceremonial site. It's a newly discovered and researched site with its excavations beginning in the 2000s. So far, researched have uncovered 19 structures, and I'm sure that there will be more to come.
The Yopes of Tehuacalco had various classes of people in their society, from the rulers and priests at the top to warriors, merchants, and farmers. When you visit Tehuacalco, you can wander around the ceremonial plaza at the center, four large pyramids, and a ballcourt. The buildings have a distinct construction style that allows them to withstand earthquakes.
---
Ancient Ruins in Mexico City
There are many Mexican ruins right in Mexico City and in close proximity, only a short drive away. You'll find some of the best ruins in Mexico, whether they are Teotihuacan ruins or Aztec ruins. Templo Mayor is right in the heart of Mexico City, and excavations are still happening on site to this date.
Thinking of staying in Mexico City to explore the best Mexico ruins? Here's a handy booking tool where you can see all of the accommodations in one place. It's easy to compare prices and find the best rate for your Mexico City vacation.
Templo Mayor
Templo Mayor was the main Atztec temple in their capital city of Tenochtitlan, which is now modern day Mexico City. This temple was dedicated to both Huitzilopochtli (god of war) and Tlaloc (god of rain and agriculture). There were separate staircases leading to separate shrines for both at the top of the pyramid.
After the Spanish conquest, parts of Templo Mayor were taken apart and distributed to build other buildings around Mexico City. Later, scholars began to excavate the area around the Mexico City Metropolitan Cathedral because they suspected that the temple was beneath the church.
They were correct; many buildings constructed in the 19th and 20th centuries were demolished to find Templo Mayor. It was worth it. Researchers found over 7000 ancient objects, as well as the remains of the temple itself. You can view many of these objects at the Templo Mayor Museum.
---
Cuauhtinchan (Malinalco)
Malinalco, also known as Cuauhtinchan, are among the best Aztec ruins in Mexico. It's one of the most important Aztec sites because there are various structures built into a hill (called Cerro de los Idolos). Then, there are more buildings at the top of the hill. While the site relates to the Aztecs, it's possible that it was a ceremonial center earlier on.
The Cuauhcalli is the main building, which looks like a shortened pyramid shaped into the hill. There are also many carved sculptures around Malinalco, including felines, serpents, and eagles. Researchers found a large wooden huéhuetl (ceremonial war drum) there, and it's now safely on display at the Museum of Anthropology and History in Toluca.
---
Teotihuacan
Teotihuacan is a truly fascinating and architecturally significant site. It was once the largest city in the pre-Columbian Americas with a population of 125,000. A multitude of cultures inhabitated this ancient city, including the Maya, Nahua, Otomi, and Totonac groups. However, Teotihuacan is most renowned as the greatest Aztec ruins in Mexico.
Teotihuacan is a UNESCO World Heritage Site and receives the most visitors out of any Mexican archaeological site, generally receiving over 4 million visitors a year. While there are many structures and areas to explore at Teotihuacan, the most notable temples are the Pirámide del Sol (Pyramid of the Sun) and the Pirámide de la Luna (Pyramid of the Moon).
---
Mexican Ruins in Morelos
There is evidence of human settlements in modern day Morelos dating back to the Toltec peoples in 2000 BC. The Toltec empire began to sweep across Mexico, influencing the Mayans heavily in some cases. The Toltecs fell in the 12th century as other groups moved into the region, eventually including the Tlahuicas and the Aztecs.
Xochicalco
Xochicalco is an ancient urban center that dates to 200 BC, but grew to its prime between 700 and 900 AD. The architecture at Xochicalco indicates ties with several groups, including the Maya, Teotihuacan, and Matlatzinca culture. At one point in time, over 20,000 people lived at Xochicalco. Today, it's a UNESCO World Heritage Site.
The primary center of Xochicalco is a manmade flat hill across long terraces. There are many step pyramids, temples, palaces, and ballcourts. The Temple of the Feathered Serpent has unique carvings that relate to Teotihuacan and Maya art. There's also an astronomical observatory on site that allowed them to study the movement of the sun. It's one of the best Mayan ruins in Mexico that connects Maya influence to several other cultures.
---
Tepozteco
Tepozteco is an Aztec archaeological site, devoted to Tepoztēcatl, the Aztec god of the alcoholic beverage called pulque. The temple was very important to the local cult of Tepoztecatl, though it attracted pilgrims from faraway places like modern day Guatemala.
---
Ancient Mexican Sites in Hidalgo
The Hildalgo region was mainly influenced by the Teotihuacán culture until the 8th or 9th centuries. Then, it became the capital of the Toltec Empire. The Toltec chief, Mixcóatl, led his followers into Hidalgo. His son, Topiltzin, founded Tula around 950 AD. Tula collapsed by the 12th century, and it was eventually incorporated into the Aztec Empire in the 15th century.
Tula
Tula was an important regional center and it was once the capital city of the Toltecs. The main attraction at Tula is the Pyramid of Quetzalcoatl, topped by four meter high basalt columns in the shape of Toltec warriors. There are also several pyramids, two ballcourts, and a central plaza with space for 100,000 people. This architectural style change demonstrates that big crowds gathered to watch these rituals, which were once only viewed by a small amount of people.
Unfortunately, after its citizens abandoned Tula in 1150 AD, the Aztecs looted and burned its buildings. Izcoatl, the first emperor of the Aztec Empire, destroyed the records of the Toltecs. However, some Aztec city state rulers modeled their urban centers after Tula.
There are also many questions regarding the relationship between Tula and Chichen Itza. There are potential influences by Tula at Chichen Itza in both art and architectural styles. It's not clear if there was any relationship at all, though both sites were possibly connected through trade networks.
---
Xihuingo
Xihuingo is an ancient Mexican archaeological site at the base of Xihuingo hill. It was once a small town within the Teotihuacan cultural area. The pyramid, El Tecolote, is one of the main attractions. Archaeologists discovered the sculpture of an animal inside of it. One side of the building still retains its original red coloring from a mixture known as Teotihuacan pavement. It's very rare to see the red color of the stucco mixture preserved at all, let alone this well.
We don't know much about Xihuingo, except for the fact that it was along an important commercial trade route from Teotihuacan. There's also the possibility that this may have once been a walled city.
---
Pahnu
Pahnu is a fascinating archaeological site in Mexico, which was an Otomi settlement of Xajay culture. It formed between 300 and 1100 AD. The site is sacred to Otontecutli, the God of Old Fire. This is a relatively newly excavated site where research only began in 2007. Pañhú opened to the public in 2015.
---
Mexican Temples in Queretaro
Querétaro is one of Mexico's smallest states and the first place where Mexicans declared their independence. Between the 3rd and 9th centuries AD, this region was ruled by the Otomi, Tarascan and Chichimeca tribes, though the Otomi were the most predominant. In the mid-13th century, modern day Queretaro was conquered by the Aztecs.
Las Ranas
Ranas was once a great Mesoamerican city in modern day Queretaro, and it likely thrived between the 7th and 11th centuries. It was established to the southwest of the Sierra Gorda and was probably associated with the mining of cinnabar, a valuable pigment in great demand. Ranas was a city mainly political and administrative activities rather than religious ones. Also, there are many temples and three large ballcourts as part of the complex.
---
Toluquilla
Where Ranas acted as a political and administrative city center, Toluquilla acted as a religious center. It functioned as a regional sanctuary in ancient times. The town survived two eras: the first was between 300 BC and 500 AD, and the second was between 600 and 1350 AD and resulted in the greatest number of buildings. Primarily, priests and higher members of the cult lived in Toluquilla, and the rest of the people lived in the surrounding areas.
---
Michoacan Archaeological Sites
Numerous indigenous groups once called modern day Michoacán home. These included the Purhépechans, Nahuas, Otomies and Matlazincas. The ancient Purhépecha tribe settled in Michoacán around the 11th century AD. It's possible that the Purhépechas were related to the Incas and originally came from Peru because their languages are similar.
Tzintzuntzan
Tzintzuntzan translates to mean "place of the hummingbirds" and it was the ceremonial center of the Purépecha Empire. The empire held off attacks by the neighboring Aztecs until the Spanish arrived. The Purepecha Empire surrendered to the Spanish as they did not want to suffer a similar devastating destruction as Tenochtitlan did. Unfortunately, much of the site was eventually destroyed.
The largest structures are the five distinctly rounded yácata pyramids, uncovered during excavation. To this date, the annual Festival Cultural de Fin de Año is held at Tzintzuntzan where indigenous communities gather to celebrate with song and dance.
---
Ihuatzio
Ihuatzio is an ancient archaeological site that was home to two ancient settlement groups. The first were members of Nahuatl language groups between 900 and 1200 AD, and the second were members of the Purepecha culture between 1200 and 1530 AD.
It is one of the most complex and gigantic sites in the Mexican state of Michoacán across an area of 50 hectares. Unfortunately, most of it isn't currently excavated, and only the sector known as Plaza de Armas is open to the public. There is a huge rectangular plaza, pyramids, and defensive walls.
---
Tres Cerritos
Tres Cerritos is an archaeological site where the name translates to mean "three small hills". The site is relatively small and its origins are unknown. However, there are many important excavations happening at Tres Cerritos that provides vital information about the history of the region. Researchers have found 175 petroglyphs and the remains of 23 people so far.
---
Mexico Ruins: Guanajuato
The first known people to live in Guanajuato established themselves near Chupicuaro between 500 and 200 BC. Their society was primarily agrarian and they grew many crops, such as maize. In later years, various groups lived in the area and came into power, including the Toltecs, Chichimecs, and Gauchichiles.
Plazuelas
The Plazuelas archaeological site is a fascinating ancient city, even though it's not known exactly who founded it. It's possible that many different cultures lived here and influenced the city. These societies were likely nomadic and semi-nomadic hunter-gatherer and fishing groups belonging to Chichimec cultures.
Plazuelas was built on an artificially leveled plateau over three hill sides, overlooking a large valley. It's surrounded by natural ravines, and the eastern ravine was likely the main water source. Plazuelas has a large plaza, several pyramids, and a massive ballcourt. There's also a field of boulders with glyphs carved into them. Plazuelas has a small museum on site with many old objects from the area.
---
Colima
Not very much is known about the early inhabitants of modern day Colima. We know that many cultures flourished in the region between 2000 BC and 1000 AD, including the Otomi, Nahuatl, Tolteca, Chichimeca and Tarasca.
La Campana
La Campana is an ancient Mexican city that once had the largest population in western Mexico. It belonged to the Capacha culture group, a settlement of sedentary peoples devoted to agriculture and ceramic production. Their ceramics, dating as far back as 1500 BC, were found at La Campana.
This archaeological site is massive, extending over 134 hectares. So far, historians have only explored a mere 1% of the region. They've discovered numerous buildings, a ceremonial center with a storm drainage system, stepped pyramids, and petroglyphs. Many burial plots with new details about funeral customs and rites were also noted at La Campana.
---
El Chanal
The El Chanal archaeological site was possibly established as early as 1300 BC, but was at its height between 1100 and 1400 AD. However, it's not really known who lived here and its origins. Some of its inhabitants knew metallurgical techniques, which could suggest that it was related in some way to Tula.
El Chanal has six important ceremonial centers, including the Altars Plaza, the ballgame court, Plaza del Día y la Noche (Day and Night Plaza), Plaza del Tiempo (Time Plaza), Plaza del Agua (Water Plaza), among others.
---
Jalisco
In modern day Jalisco, there is evidence of nomadic tribes sweeping across the region as early as 10,000 to 20,000 years ago. Small settlements emerged along lakes and rivers. The earliest ancient city in Jalisco is Ixtépete, which developed between the 7th and 10th centuries AD.
Between the 10th and 16th centuries, various tribes lived in various parts of the region. These included the Cuyuteco Indians, the Coca, the Tecuexes, the Guamare, and the Caxcane.
El Ixtepete
Iextepete was once a hub for commercial activity and trade, and this ancient city has many Mesoamerican architectural features like temples, pyramids, and ballcourts. Its first settlers shared the western Mexican tradition of shaft tombs. Later, stylized representations of Quetzalcóatl and the Teotihuacán II figurines, as well as ring-based vessel ceramics are part of the material culture of Iextepete.
The city of Iextepete thrived between 400 and 900 AD. By 1100, the Toltecs dominated the region. Later, the Chichimecas and then the Purépecha would rise to power.
---
Guachimontones
Guachimontones is a Teuchitlán culture site that dates from 300 BC to 500 AD. The structures known as guachimontones are bullseye shaped ceremonial buildings. These circular step pyramids are covered in grass. Archaeologists found shaft tombs beneath the guachimontones, but it is not clear if the shaft tombs came first or not.
The Teuchitlans also performed elaborate pole ceremonies where a pole was placed at the center altar. A community leader would climb the pole to demonstrate devotion to their god. There's an interpretive center at the site of the guachimontones that delves into the history of the Teuchitlans and their rituals.
---
Nayarit
While people may have lived in the region now known as Nayarit as early as 5000 BC, the first known civilization called Cora was established in 400 AD. The Cora depended on agriculture and grew corn, beans, and amaranth on their farms. Gradually, other tribes migrated into Nayarit, including the Tepehuano, Totorano and Huichole.
Ixtlán del Rio (Los Toriles)
Los Toriles, also known as Ixtlán del Rio, is the main site of Mesoamerican ruins in the northwest of Mexico. The ruins of this once thriving city are from the Aztatlán tradition. Out of the estimated 85 buildings in the city, only 15 can be viewed currently. One of the most popular structures is a unique round temple, believed to be dedicated to the god, Quetzalcoatl.
The tombs at Los Toriles were also uniquely shaped Shaft Tombs where the deceased were buried in deep vertical shafts. The dead were buried with ceramic vessels containing funerary offerings, as well as sculptures of humans and animals. When you visit Ixtlan del Rio, you can also take a peek inside the museum to see some of these unearthed artifacts.
---
Zacatecas
The tribes of Zacateco, Caxcán and Guachichile once inhabited this region. Not much is known about their first settlements or their history in the area. La Quemada is the state's largest pre-Columbian settlement, and it was built within a hilltop fortress.
La Quemada
La Quemada is a fascinating ancient site, although historians are not sure exactly who lived there and its purpose. Some theories state that it's Chicomostoc, the legendary origin place for the Aztecs (Mexicas). The Caxcan or the Purepecha may have lived there. Another possibility is that La Quemada was a Teotihuacán fortress, a Toltec trading post, or perhaps a place where several native groups lived.
There are several notable buildings and structures: the Salón de las Columnas (columns hall), the ballgame court, the remains of the Votive Pyramid, and the Pirámide de los Sacrificios (sacrifices pyramid). There's also a museum at La Quemada that offers more information, displays, and videos.
---
Need a Rental Car?
Many of these archaeological sites in Mexico are a little off the beaten path, and there aren't any tour companies to take you there. I suggest renting a car to see them!
More Ancient Mayan Ruins
There are many more Maya ruins all over Central America throughout Mexico, Guatemala, Belize, and more. If you'd like to gather more ideas and tips for visiting these wondrous sites, check out these blog posts:
Read More Mexico Travel Tips
I hope you enjoyed this article about the best Mayan ruins in Mexico. Looking for more blog posts about Mexico travel? Here are some inspiring tips about visiting Mexico:
Looking for the Best Travel Insurance?
You should never leave home without travel insurance! We recommend the trip insurance packages from Safety Wing.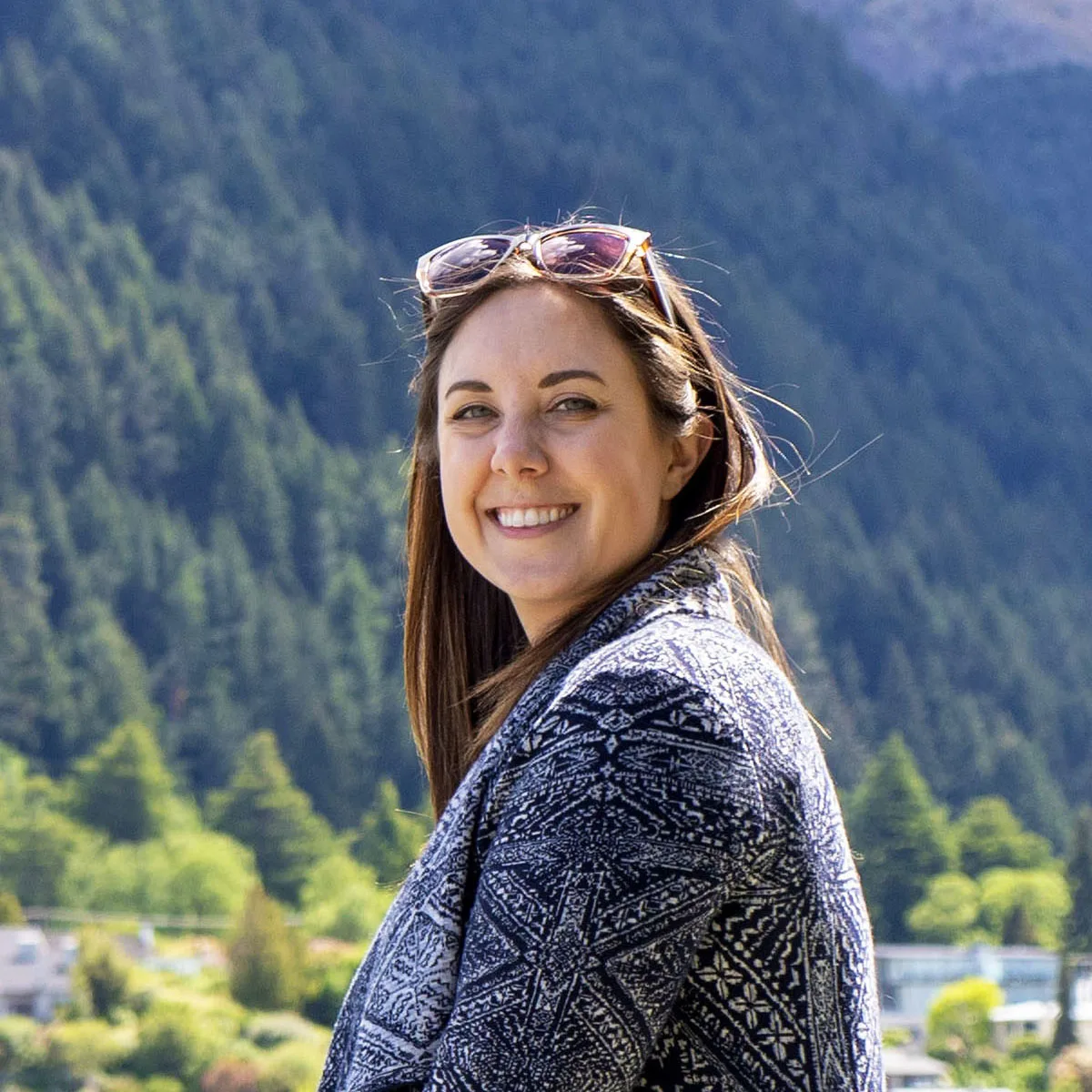 Lauren is the full-time travel blogger and content creator behind Justin Plus Lauren. She started Justin Plus Lauren in 2013 and has travelled to 50+ countries around the world. Lauren is an expert on vegan travel as one of the very first vegan travel bloggers. She also focuses on outdoor adventure travel, eco and sustainable travel, and creating amazing travel itineraries for cities and small towns.