Did you know that Sedona has an amazing vegan scene, including vegan-friendly restaurants and accommodations? This Sedona vegan guide will show you how to plan your vegan vacation there. I'll showcase the best things to do in Sedona, where you need to stay, and the top vegan dining options in the city.
How can you not immediately fall in love with Sedona? The landscapes are out of this world. There are red rock buttes, dramatic canyons, and pine forests across this unique terrain. At the same time, there's an eclectic arts scene with numerous galleries and boutiques. On top of the amazing hiking trails and outdoor adventures, there's also many opportunities for self-care and wellness, yoga, and spa excursions.
Posts may be sponsored. Post contains affiliate links. I may be compensated if you make a purchase using my link.
Where to Stay: A Sedona Vegan-Friendly Accommodation
If you're looking for the best place to stay in Sedona, you must check out the Vista Vacation House. It's an absolute dream if you're considering a working holiday or a long term stay in Sedona. The home is designed with three dedicated spaces for remote work. You and your partner can utilize the home's work spaces while relaxing in a luxurious setting with spectacular views
The owners of the home, Kristen and Mike, are vegans themselves and have ensured that the property is vegan-friendly. Kristen is also an architect and interior designer, so there's an incredible amount of attention paid to every detail in this property's decor and design. Let's take a tour of the Vista Vacation House so you can view this delightful escape.
Modern Amenities and Inclusions
This stunning home has so many amenities that rival the best Airbnb properties in the world. The house is suitable for up to four people with two bedrooms and two bathrooms. Here's just a short list of what's included in your stay:
Two bedrooms with incredible views, a walk-in closet, bathrobes, luxurious bathrooms with vegan toiletries, lamps with USB ports
Living room with exposed beam ceilings, an electric fireplace, and more amazing views
A mix of beautiful antique furniture and modern pieces
Smart TVs in living room and master bedroom
Lightning fast Wi-Fi
Water filtration system throughout the house
A bi-weekly cleaning service is included
Patio and Outdoors
Vista Vacation House has an enclosed backyard that's perfect for dining and entertaining. Can you imagine yourself sipping cocktails on the patio or perhaps cooking up some veggie burgers on the barbecue grill?
From the front patio, you can soak up the amazing scenery of Thunder Mountain, Chimney Rock, and Coffee Pot. There's a hanging chair and other lounge furniture to relax with a cup of coffee and thoroughly enjoy your surroundings.
The back patio has a shaded dining area with a barbecue grill, as well as a fenced in yard. The backyard also has two hammocks where you can sway, read a book, or enjoy an afternoon nap.
As Sedona has plenty of wildlife, you may have the chance to see some of it right from the house! It's possible to see deer, javalina, quail, rabbits, coyote, and snakes. Please don't feed the wildlife – simply admire the animals from afar.
As Sedona is a wonderful destination for night sky viewing, the owners ask that you keep the exterior lights off at night. You and your neighbors will have the great chances to go stargazing right from your own backyard.
Special Things You Won't Find Anywhere Else
Kristen and Mike have truly thought about every detail in making this an extremely memorable getaway home. They're world travelers themselves and have experienced their share of Airbnbs and vacation rentals. From amenities to decor, they've really thought about everything it takes to create the best vacation property experience.
For instance, there's a rare set of Mid Century Modern Japanese China from the 1950s that you're welcome to use. It's perfect for special occasions, small gatherings and celebrations.
The fully finished garage has a carpeted and mirrored exercise area for working out and stretching. You'll find yoga mats, a foam roller, Ballet Barre, Total Gym, exercise bands and stretching bands. You can also store bikes or other exercise equipment in the garage. The owners can lend you bikes as well.
The kitchen is fully equipped with all kinds of kitchen gadgets, ideal for preparing the best vegan meals. There are brand new appliances, high quality cookware, and an array of other kitchen appliances. There's a toaster, blender, immersion blender, food processor, Instant Pot, air fryer, bread maker, French press, Spiralizer, electric kettle, Keurig coffee maker, built-in microwave, baking pans and sheets, chopsticks, reusable straws, and many beautiful serving dishes.
Love playing bartender? Mix up your own cocktails or sip wine with ease. There's an assortment of different glasses, pitchers, a wine decanter, tiki mugs and more. With all of these special additions to the home, you'll soon see why the Vista Vacation House is such an enchanting place to call home when you're visiting Sedona.
Sedona Vegan Restaurants (Vegan and Veg-Friendly Establishments)
Now that you've found a great vegan-friendly place to stay, it's time to talk about the food. While you can easily cook up your own delicious meals in that amazing kitchen, dining out can be a great experience and a break from cooking. Treat yourself to a yummy meal at one of these Sedona vegan restaurants.
Conscious Meals
Conscious Meals in a vegan Sedona restaurant that makes all of their dishes from scratch. This includes their own plant-based milks, sauces, cheese, yogurts and more. Everything at Conscious Meals is vegan, organic, gluten-free, and even soy-free, making it a great choice for those with food allergies.
In addition to freshly prepared vegan food, Conscious Meals offers cold press juice, smoothies, desserts, and an espresso bar with your favorite coffee drinks. When you dine here, you'll be able to enjoy something that's not only tasty, but really healthy, too.
Local Juicery
Here's another great Sedona vegan spot that I'm sure you'll love! Local Juicery has multiple locations throughout Arizona, and they've got an establishment right here in Sedona. And don't let the name fool you, there's more to the Local Juicery than only juices.
There's also a vast plant-based menu. There are breakfast bowls, toasties, and waffles. There are also salads and entrees like rawlicious tacos, a raw lasagna, and a pesto quinoa bowl. Of course, there's a massive selection of smoothies, juices, tonics, and shots.
Sedona Beer Company
I love visiting breweries when I travel. It's even better when those breweries have vegan food options, too. Add Sedona Beer Company to your list of Sedona vegan establishments that you need to check out. The vegan options are all marked on the menu with a V.
The menu rotates weekly and seasonally, so you'll find new dishes every time you visit. Right now, there's a vegan burger on the menu, tacos with vegan chorizo, and fries. Many of their sauces are vegan, too.
ChocolaTree Organic Oasis
ChocolaTree is a vegetarian Sedona eatery with lots of vegan and raw options. Their food uses fresh, seasonal produce, and it's also organic and gluten-free. Almost all of the vegetarian dishes can be made vegan by request. When you visit, you need to try their artisan chocolates, too!
Secret Garden Cafe
The Secret Garden Cafe is a longtime favorite establishment among the residents of Sedona, and you'll find the eatery at Tlaquepaque. While it's not a strictly Sedona vegan restaurant, there are lots of veg choices on the menu. Try the hummus, the breakfast burrito, or the vegan Ruben. There is also an espresso bar and lots of craft beer selections.
Dellepiane Sedona
Dellepiane Sedona is a small burger restaurant that's veg-friendly, offering many vegan selections. There's a beet burger, faux chicken burger, a mushroom burger, vegan empanadas, vegan BBQ nuggets, vegan flatbread, and even vegan egg. Even though it's not a strictly vegan restaurant, there are so many great plant-based choices on the menu.
Picazzo's Organic Italian Kitchen
Picazzo's has several locations across Arizona, including one in Sedona. This Italian restaurant focuses on healthy, clean whole foods, and there are many vegan items on the menu. There are many gluten-free choices, and this restaurant is great for those with food allergies. Check out their separate expansive vegan menu for starters, soups, salads, pasta, pizza, and comfort food.
Tamaliza
Tamaliza is a Mexican restaurant specializing in tamales. It's one of the best Sedona vegan spots because they have plenty of plant-based options. Try the vegan tamales, tacos, enchiladas, burritos and more. It's authentic Mexican cuisine in Sedona!
Mago Cafe
While Mago Cafe doesn't focus on serving food, you will find local kombucha and butterfly pea flower healing teas here. There's a great selection of books at this wellness cafe, as well as many unique gifts.
Best Things to Do in Sedona
Here are some of the top things to do in Sedona, Arizona. I love that there's an amazing combination of outdoor adventures and beautiful nature, exciting tours, arts and boutiques, local markets, and things that are entirely unique to Sedona. These are my recommended choices of places to visit in Sedona.
Red Rock State Park
Red Rock State Park is one of the best places to visit in Sedona. It features a red rock canyon to explore and stunning scenery no matter where you look. It's a 286 acre nature preserve featuring native vegetation, red rock formations, and a meandering creek. You can hike the trails and view wildlife, and it's an ideal place for outdoor enthusiasts to spend the day.
Cathedral Rock: Admire the Scenery or Hike the Cathedral Rock Trail
Cathedral Rock is one of the most amazing natural sights in Sedona. While you can admire it from afar, I suggest hiking to Cathedral Rock for the best experience. While there is a bit of climbing involved, hiking Cathedral Rock is one of the best things to do in Sedona if you love a bit of adventure.
You can find many trails near Sedona using the AllTrails app. Haven't heard of Alltrails or want to learn more? Check out my AllTrails review!
Hike to the Devils Bridge
One of the most popular hiking trails in Sedona is the one that leads to Devils Bridge. Devils Bridge is a natural arch, and you can only reach it by foot. The hiking trail is anywhere between two and four miles, depending on where you leave your car. It's one of the most beautiful spots in Sedona, and makes for incredible photo opportunities.
Tlaquepaque Arts and Crafts Village
The Tlaquepaque Arts and Crafts Village is authentically modeled after a village in Mexico. It also offers some of the best shopping in Sedona, and you can even find Sedona vegan food at some of its dining spots (the Secret Garden Cafe, as mentioned above). Wander around the cobblestone streets and walk through enchanting archways.
It's also the home of the Sedona Community Farmers Market, which happens every Friday morning between June and October. Aside from specialty shops, galleries, and restaurants, there are always special events happening at Tlaquepaque, too.
Chapel of the Holy Cross
The Chapel of the Holy Cross is a famous building in Sedona. It's a Roman Catholic church built right into the red rocks. You can visit the chapel for free from 9:00am to 5:00pm, seven days a week (except for Christmas and Easter). This chapel is one of the seven man-made wonders of Arizona, and it's not to be missed.
Red Rock Scenic Byway
The Red Rock Scenic Byway is a road trip to remember! Go for a scenic drive and see many red rock formations on the way. Stop along the way for hiking and biking trips, and there are plenty of roadside attractions too (both natural and manmade!). Here's a great place to compare car rental rates to find the best rental car for your Arizona vacation.
Pink Jeep Tours
When you're visiting Sedona, taking a famous Pink Jeep Tour is an absolute must! You'll cross magnificent terrains and witness the beauty of majestic red rock formations. This rugged territory is easily navigated by way of the pink jeeps! Your guide will point out all of the best sights and you'll stop to admire the steep valleys and impressive hills.
Stargazing and UFO Tour
Did you know that Sedona is an International Dark Sky community? It's easy to go stargazing and night sky viewing once you get away from the city lights. I suggest booking this stargazing and UFO tour in Sedona. You'll look at the stars in ways that you never have before! A UFO guide will allow you to discover UFO and other unexplained phenomenon using night vision goggles.
Looking for More Vegan Guides in the USA?
I try to write vegan guides to every city that I visit around the world. As I've traveled to many cities in the US, I've compiled several vegan guides so far. Here's a list of our vegan restaurant and city guides: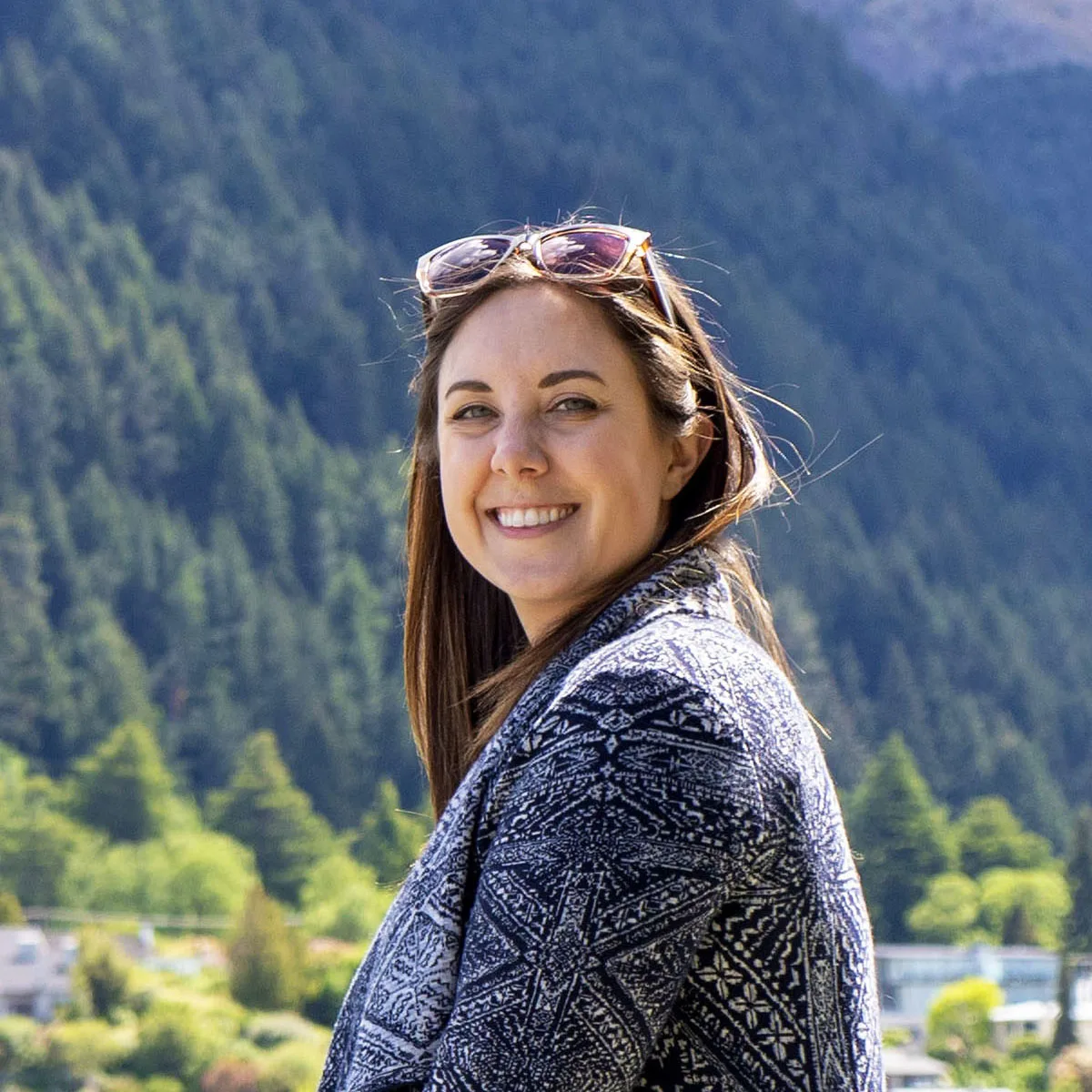 Lauren is the full-time travel blogger and content creator behind Justin Plus Lauren. She started Justin Plus Lauren in 2013 and has travelled to 45+ countries around the world. Lauren is an expert on vegan travel as one of the very first vegan travel bloggers. She also focuses on outdoor adventure travel, eco and sustainable travel, and creating amazing travel itineraries for cities and small towns.