Here is the ultimate one day in Frankfurt itinerary. Even if you have only 1 day in Frankfurt, it's definitely worth visiting. Many flights to Germany and Europe travel through Frankfurt, whether as a stopover or as a final destination to make your way around the country. Do yourself a favor and spend at least a day in Frankfurt to experience this wonderful city that's not on many travelers' radars.
During this trip to Europe, Justin and I embarked on a train trip around Germany, France, and Switzerland. Rather than leave right away for another city, we decided to spend one day in Frankfurt. I'm so glad we did. There are lots of interesting things to do in Frankfurt for a day. We're going to help you discover the city with this 1 day in Frankfurt itinerary.
Posts may be sponsored. Post contains affiliate links. I may be compensated if you make a purchase using my link.
Would you rather listen to this blog post than read it? Press play on my narrated audio version below!
Is it Possible to See Frankfurt in One Day?
Is it possible to see Frankfurt in a day? I always recommend that you spend as long as possible in each country, city, or town. A day is never enough. But, it isn't always possible to stay longer. One day is better than nothing! Sometimes you can cover a lot of ground, even just in a few hours. In our case, we only had two weeks in Europe and a whole bunch of places we wanted to visit.
To start, I really didn't know much about Frankfurt in comparison to popular destinations like Berlin or Munich. With that said, I'm really glad that our flight brought us to Frankfurt. Not only did we check out a brand new city, but we totally loved our time there and feel that we need to come back to see more. Here are some of the best things to do in Frankfurt for a day, whether you're spending the night or you have a lengthy layover at the Frankfurt am Main airport.
Getting to Frankfurt, Germany
When Justin and I planned our trip to Europe this time around, we managed to find cheap flights to Frankfurt from Toronto. This may be the case if you plan to visit Germany, France and Switzerland, like we did. Frankfurt may be the best option for an airport to fly into, so be sure to take a look at Skyscanner to find the best flight prices.
From the Frankfurt airport (FRA), it was easy to get into town. Purchase a train ticket at the airport to Frankfurt Hauptbahnhof (Main) station. The ride takes about 15 minutes. If you're traveling to Frankfurt from any other European city, you can easily buy train tickets to Frankfurt online in advance.
In our case, the hotel was a little too far to walk with a bunch of luggage in tow, so we took a cab to our accommodation. You can also take Uber from the Frankfurt airport into town, which was not an option when we visited Frankfurt a few years ago.
You can also rent a car in Frankfurt. Pick up your rental car and use it to travel all over Germany and Europe. Renting a car is a great option to visit those cute little villages that are more difficult to reach by train. I recommend comparing car rental prices at Discover Cars to find the best rates. Booking your rental car with them is a convenient and reliable choice.
Where to Stay in Frankfurt
Looking for where to stay in Frankfurt? Justin and I spent the night at the artsy 25Hours Hotel The Goldman in the Ostend neighborhood. This is a great hotel to call home if you're spending one day in Frankfurt or longer.
This one-of-a-kind hotel reflects the creative nature of the Ostend. Splashes of color and intriguing art covers nearly every inch of the walls. Staying at this hotel was like staying at a modern art museum. I adored walking its hallways and public spaces to discover and read the messages on every framed print.
To get to the center of town, you can take the subway from the station Ostbahnhof/Honsellstraße, about a ten minute walk away. We also walked from the hotel to the historic city center, which took about 30 minutes. Justin and I really enjoyed staying at 25hours Hotel The Goldman in Frankfurt, and we recommend staying there.
More Places to Stay in Frankfurt
If you'd like to stay somewhere close to the main train station, we recommend that you check out the 25Hours Hotel The Trip as it is around the corner from Frankfurt Main (read reviews of this property). You can also use the handy map below to compare the locations and amenities of hotels in Frankfurt. Enter your travel dates for more precise information and click each property to learn more (and book!).
One Day in Frankfurt: Visit Romerberg
The first spot to check out on our list of things to do in Frankfurt for a day was the public square, Römerberg. The square faces the medieval building, Römer, the home of Frankfurt's city hall for over 600 years. Römerberg is the heart of Frankfurt's old town and shouldn't be missed.
I'm in love with half-timbered structures, and you'll find a whole row of them here. They were reconstructed after WWII to appear as they did back in the medieval time period. If you're here over Christmastime, Römerberg is where you'll find Frankfurt's Christmas market.
Things to Do in Frankfurt in a Day: Cross the Eiserner Steg
Seeking what to do in Frankfurt after exploring its old town? The Eiserner Steg (Iron Bridge) is a footbridge across the river Main. Admiring the views from the Eiserner Steg is one of the best things to do in Frankfurt for a day. Be sure to snap a few selfies, whether it's with the river and the church in the background or the row of skyscrapers on the opposite side, affectionately known as "Mainhatten."
There are also thousands of love locks attached all over the bridge. Whether you're a fan of these declarations of love or not, it brings a splash of color to the stark, iron structure.
Stroll by the River Main
Now that you're across the bridge, go for a walk along the river. There's a lovely path lined with trees that runs right beside it. It is a really peaceful place to explore in Frankfurt, and we didn't encounter many other tourists.
We walked a big loop from one side of the river to the other, taking in the pretty waterfront views. Mainufer Frankfurt is a popular green space and park promenade on the waterfront with striking city skyline scenery.
One Day in Frankfurt: Stop for a Coffee
If you've just flown a number of hours overseas or you're taking in the sights on a layover, chances are you might need a pick me up. That's what caffeine is for, right? There are a number of quaint cafes in Frankfurt serving up rich and flavorful brews.
We stopped at The Holy Cross Brewing Society because they had a little patio of picnic tables out front, perfect for people watching. They're right in Old Town, too. And their coffee was just what I needed. When you're looking for what to do in Frankfurt, be sure to incorporate coffee into your travel plans (if you drink coffee, naturally!).
Take a Boat Cruise of Frankfurt
Looking for another one of the top things to do in Frankfurt in a day? Take a boat cruise on the River Main. This scenic one or two hour tour will provide some stunning scenery of the city, and you might learn a thing or two, too! Choose between a shorter or a longer trip depending on how much time you have in the city.
Hop-On Hop-Off Bus
Even though they might appear a little touristy on the surface, a Hop-On Hop-Off bus is an easy way to see major attractions all over the city at a low price. Board a comfortable double-decker bus to visit notable spots all over town with insightful commentary.
Hop off the bus wherever you'd like to get a closer look. It's one of the top additions to your Frankfurt one day itinerary, and one of the most convenient things to do in Frankfurt for a day.
Get the Frankfurt Card
The Frankfurt Card is an excellent way to make the most of your time in the city and save some money. The card offers free public transportation, even from the airport. You also receive discounts at major attractions, museums, tours, restaurants, shopping, and more. You get up to 50% off at more than 20 museums.
The Frankfurt Card is available as a one or two day ticket, depending on how long you'll spend in the city. We highly recommend the Frankfurt Card, especially if you plan to use public transit, check out any museums, or take any sightseeing tours. Please note that the Frankfurt Card offers a 20% discount off the Hop-On Hop-Off tour, too. Get your hands on a Frankfurt Card if you're spending one day in Frankfurt.
2 Days in Frankfurt or 3 Days in Frankfurt
Looking for even more of the best things to do in Frankfurt for a day or more? Maybe you have two days in Frankfurt or three days in Frankfurt. Here are some more ideas for what to do in Frankfurt if you're there for 2 days or 3 days. You can also use some of these ideas to help build your one day in Frankfurt itinerary.
Take a 3 hour bike tour of Frankfurt where you'll discover landmarks around the city and learn interesting facts and history from your guide.
For another unique mode of transportation, take a 2 hour segway tour of Frankfurt. You'll discover the green spaces of Frankfurt that will get you outside of the city center.
Love walking tours? Take a guided walking tour in Frankfurt's old town to acquaint yourself with the city while learning intriguing insights. This would be a great first activity to do upon your arrival.
Dinner at Vevay Vegetarian Restaurant
We highly recommend dining at Vevay, a vegetarian and vegan restaurant right in Old Town. There are a variety of healthy and tasty selections on the menu, and they're clearly marked as vegan or vegetarian.
Justin ordered the Udon noodles (fresh vegetables, enoki mushrooms, ginger and lemongrass soy sauce) and I got the Lukewarm Rice Noodle Salad with Tofu. They both tasted so yummy. My dish caught the eye of the couple dining next to us. She immediately asked what we ordered and then proceeded to also order the rice noodle dish.
We both thought it was a good idea to order fruit smoothies to get an extra dose of vitamins after a lack of sleep. And it was my birthday so I had to order a slice of their vegan hazelnut cake! Everything here tasted so fresh and delicious, and I feel like you can't go wrong ordering any of the meals at Vevay.
Want to see more photos of Frankfurt?
View all of our travel photography in one place! You can browse and buy any of our pictures in the form of canvas prints, things for the home, and more!
One Day in Frankfurt Travel Map
Do you like planning your Frankfurt travel itinerary in a visual manner? Feel free to use our Frankfurt travel map. It has all of the attractions, restaurants, cafes and hotels that I've mentioned in this blog post. All of the things to do in Frankfurt for a day are mapped out.
Love Germany? Feel free to check out our travel itineraries and city guides to the following German cities and towns: Heidelberg, Bamberg, Tubingen, and our neighborhood guide to Berlin. Even when you're at home and dreaming about traveling back to Germany, we've got a collection of vegan German recipes that you can make in your own kitchen.
What I loved most about Frankfurt was the history, the walkability, and the laid back environment. There are so many things to do in Frankfurt for a day. It's easy to relax near the river to take in the views or sit at a quiet cafe with a book.
There's a good selection of vegan restaurants, including one right in town. Frankfurt is a city with history, art, and culture. Get out there and see as much of this great metropolis as you can, even if you only visit for a day.
Need Travel Insurance?
You should never leave home without travel insurance! Check out the best rates to make sure you're covered in case of an emergency or accident.
More Things to Do in Germany
Justin and I LOVE visiting Germany and we always have a fantastic time exploring this beautiful country. Here are some other articles about our trips to various cities and towns in Germany that will help you plan your holidays.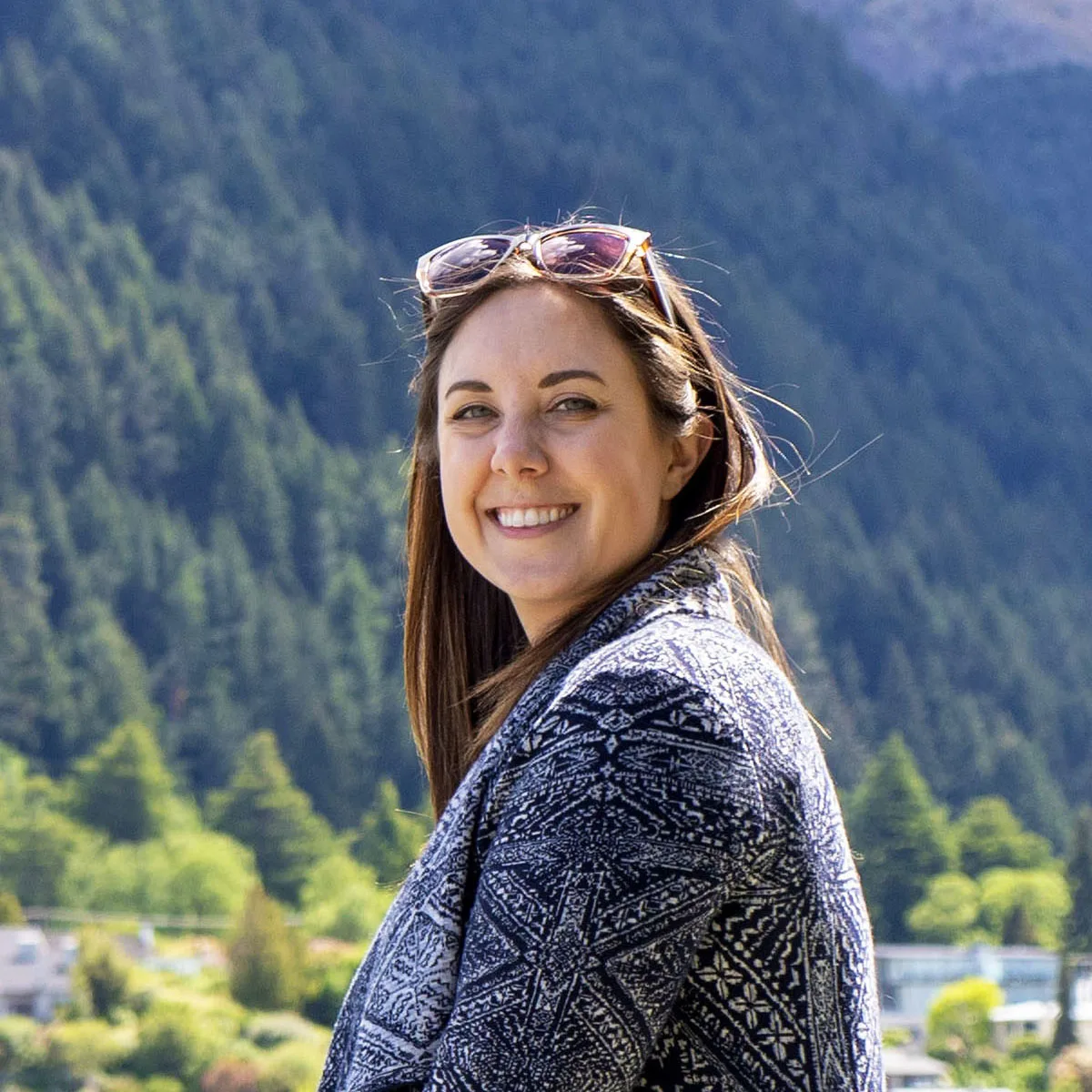 Lauren is the full-time travel blogger and content creator behind Justin Plus Lauren. She started Justin Plus Lauren in 2013 and has travelled to 45+ countries around the world. Lauren is an expert on vegan travel as one of the very first vegan travel bloggers. She also focuses on outdoor adventure travel, eco and sustainable travel, and creating amazing travel itineraries for cities and small towns.