Watkins Glen is the perfect place for hiking and outdoor adventures.
I was about six or seven years old when I first visited Watkins Glen. I don't have too many memories of this family vacation, except for the gorge. While I'm sure we did a little bit of hiking at Watkins Glen State Park, I only remember going there after dark. Back in the day, there was a laser lights show projected on the side of the canyon. As a kid, I was totally fascinated by it. When I got older, I returned to Watkins Glen and discovered that it's a quaint town that will truly surprise you with its beautiful natural features and unique attractions.
Posts may be sponsored. Post contains affiliate links. I may be compensated if you make a purchase using my link.
Even though it's only a few hours from southern Ontario, many Canadians haven't discovered the Finger Lakes region yet. I'm always excited to tell everyone about this magical place. Here is how to spend 1 day in Watkins Glen NY if you love hiking, the outdoors, animals, and eco-friendly experiences.
Watkins Glen State Park
One of the main attractions in Watkins Glen is the Watkins Glen State Park, famous for its gorge. It's hard to miss; its parking lot is right off the main street in downtown Watkins Glen. The hiking trails are easy to access and you don't need to be a skilled hiker to visit. Just make sure that you wear proper shoes and it's a simple and scenic trek for people of all ages and athletic abilities. The trail is approximately 800 steps from bottom to top on a gradual incline. This is a trip you'll want to savor as the scenery is outstanding. Bring your camera!
The dramatic landscape at Watkins Glen is very structurally unique, as you can see each layer of rock jetting out unevenly. This area was completely shaped by water and ice over the past 10,000 years. The most recent glacier in this region moved through shallow river valleys creating deep troughs. When the glacier receded north, water poured into these newly created troughs creating the 11 Finger Lakes (including Seneca Lake, by Watkins Glen). The water of Glen Creek continues to flow down the steep cliffs at the gorge towards Seneca Lake, creating many spectacular waterfalls and gradually carving the rocks in its path. This slow, on-going process of flowing water has formed the rugged terrain at Watkins Glen State Park.
Hiking the main Gorge Trail allows access to 19 waterfalls, Glen Creek, and the spectacular gorge itself. On the way back, you can retrace your steps or take a neighboring route, such as the Indian Trail or South Rim Trail. Click here to read more about the last time Justin and I visited Watkins Glen State Park.
Finger Lakes National Forest
With Watkins Glen State Park down the road, the Finger Lakes National Forest gets overlooked. However, this area of lush woodlands spans over 30 miles with several trails through pastures, ravines, and gorges. I highly recommend checking it out, even if you only have 1 day in Watkins Glen. Between Seneca and Cayuga Lakes, it's New York State's only national forest with native trees and diverse wildlife. Many species of birds live there, as well as deer, wood ducks, wild turkey, foxes, beavers, and bobcats.
Head to the Hector Ranger Station of the Finger Lakes National Forest to pick up a trail map. After we picked up our map, we drove to a nearby parking area, which was very limited to only a few vehicles at the side of the road. You'll see trail markers and a small trail leading into the bush. Enjoy your hiking experience through the Finger Lakes National Forest for peace and quiet, away from the crowds.
Not sure what to bring on your hike? Here are 10 essential items you need to bring on every day hike!
Farm Sanctuary
Animal lovers, don't visit Watkins Glen without paying a trip to Farm Sanctuary! Farm Sanctuary is the largest farm animal rescue group and non-profit protection organization in the United States. They have three animal sanctuaries: one in Watkins Glen, NY (their first sanctuary), one in Northern California, and one in Los Angeles. These sanctuaries are home to thousands of rescued animals. Farm Sanctuary is open to the public and you're welcome to stop by for a tour to see the animals.
For those of us who don't normally get to interact with cows, pigs, sheep, goats, and more (which is most of the population), it's an incredibly rewarding experience. I had a baby cow lick my leg, petted a sleeping pig, fed blades of grass to a chicken, and hugged sheep. Or rather, the sheep were hugging me! The sheep leaned in to the side of my body as if to hug, and of course I'm going to hug right back. One sheep decided that he didn't want to let me pay attention to any other sheep and kept leaning in for more hugs!
You can read all about our trip to Farm Sanctuary here. If you have a night or two in town, look into spending the night at the Farm Sanctuary B&B. They have the most adorable cabins right on the property, so you can spend the night near the barns. Watch the stars twinkle in the night sky as you're far away from most light pollution in the country. Since we stayed on site, we enjoyed breakfast there in the morning and got a private tour of the property. Overnight stays at Farm Sanctuary book up pretty quickly, so plan your stay early in the season. Even if you only have 1 day in Watkins Glen, plan a tour of Farm Sanctuary whether you can stay the night or not.
Downtown Watkins Glen
When you have 1 day in Watkins Glen, take a stroll around the quaint downtown village. There are many shops, boutiques, cafes, and restaurants to check out on North Franklin Street. Stop for ice cream (vegan ice cream is available at several places!) and walk down by the pier at Seneca Lake. After all that hiking, you earned a tasty treat.
Where to Eat & Drink
Graft Wine and Cider Bar
Graft Wine and Cider Bar specializes in local and handcrafted ciders and wines, available by the glass or the bottle. You can also snack on seasonal small bites, sandwiches, and salads. Open Wednesday through Saturday evenings, pop by for an "apertivo" before dinner or a glass of wine to round out your night.
Looking for more wine in the Finger Lakes? Check out my vegan wineries tour around Seneca Lake.
Stonecat Cafe
Nestled to the east of Seneca Lake in wine country, Stonecat Cafe focus on organic and regional cuisine, rotating with the seasons. At the bottom of the menu, there's a list of every farm where each ingredient comes from. It's wonderful that every meal uses local ingredients, many of which come from organic farms. Eating vegetarian or vegan dishes isn't a problem here. I ordered roasted garlic with fresh baguette as a starter, and a mushroom barley risotto as my main course (prepared vegan).
Rooster Fish Brewing
Did you know that Watkins Glen has its own microbrewery? You can order beer at Rooster Fish Brewing. Taste some of their delicious brews, paired with a burger and fries. There's a plant-based burger and seitan tacos as the vegan options. The burgers are listed with beer pairings on the menu. I tried the Hefeweizen, which had a distinct banana flavor that I adored. With 1 day in Watkins Glen, it's important to taste the local specialties, which includes beer and wine. Check out my full review of the dining experience.
Interested in more breweries? Check out the Finger Lakes Beer Trail for a massive selection of craft breweries!
Glen Mountain Market
Glen Mountain Market is the perfect lunch place to grab a sandwich before you head out hiking. There's a huge menu of breakfast items, sandwiches, soups, salads, and desserts. Order at the counter and you can dine at a few tables inside the market. There's also a coffee bar in case you'd like a dose of caffeine before your hike. There are four vegan sandwiches on the menu, as well as one vegan hoagie. The "Sanctuary Special" (seitan with spicy mustard) is delicious! Here's my entire review of Glen Mountain Market.
Great Escape Ice Cream Bar
Got a sweet tooth? Head directly to Great Escape Ice Cream Store. It's a family owned and operated business for the past 30 years that serves dairy ice cream and a huge selection for vegans. There are 29 flavors of vegan soft serve ice cream, vegan chocolate chip and peanut butter ice cream sandwiches, and vegan ice cream cakes. There's also Italian gelato and sorbet, too. Read all about our tasty treats in more detail!
The Colonial Pottery & Creamery
Looking for even more ice cream? There's another wonderful shop down the street, the Colonial Pottery & Creamery. It's a lovely gift shop and ice cream shop inside a historic inn. They have eight flavors of vegan ice cream, including Oreo and Mint Chip. Treat yourself! Even with only 1 day in Watkins Glen, you can make room for two servings of ice cream, right?
Where to Stay
Even if you only have 1 day in Watkins Glen, you should definitely spend the night. Then, continue your adventures around the Finger Lakes region the next day. We went glamping in Watkins Glen at Seneca Sol, located near the wineries and the Finger Lakes National Forest. Tucked away in the forest, enjoy a taste of the wilderness inside luxurious safari tents. Each glamping tent has a comfortable bed (ours was made into two singles as I was staying with my sister, but it can also be made up as a queen bed), a desk, a lamp which can also charge small devices using USB, and a private wooden deck.
There's a separate bath house with toilets and showers, a complimentary breakfast with an outdoor kitchen, and a nightly campfire. For a truly unique experience to stay comfortable and cozy close to nature, be sure to book your stay at the spacious Seneca Sol glamping tents. It's a fantastic alternative to a typical hotel room for a long lasting memorable experience. Check out reviews written by fellow travelers.
Even if you only have 1 day in Watkins Glen, there's so many outdoor adventures to be had! From hiking through the forest and gorge to a luxurious glamping overnight stay, definitely plan your trip to Watkins Glen if you love being in nature. Pair your trip with a journey through the Finger Lakes to chase waterfalls, taste local beer and wine, and so much more!

PIN this image to Pinterest for future reference. Click the top left corner.
Have you ever visited Watkins Glen, New York before?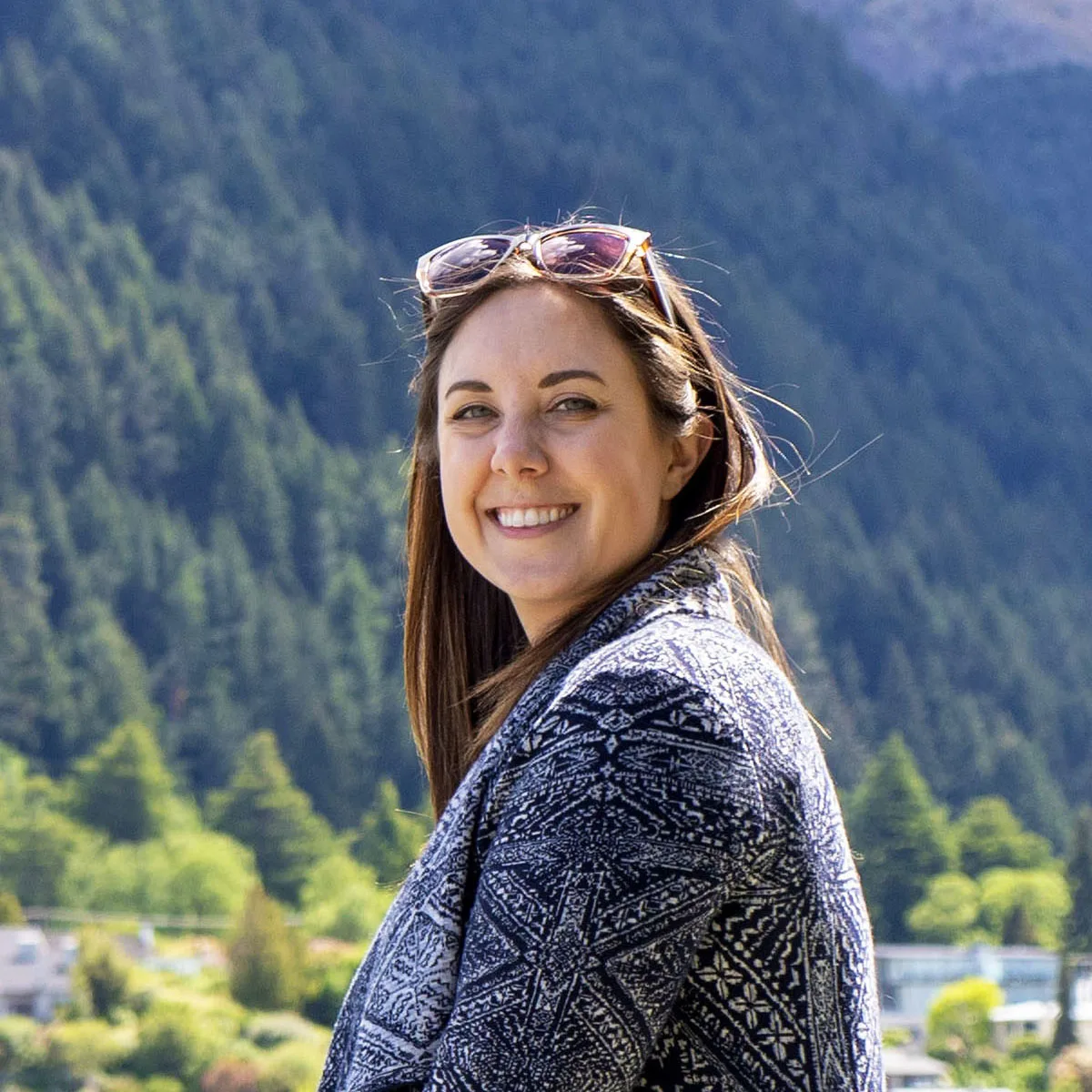 Lauren is the full-time travel blogger and content creator behind Justin Plus Lauren. She started Justin Plus Lauren in 2013 and has travelled to 50+ countries around the world. Lauren is an expert on vegan travel as one of the very first vegan travel bloggers. She also focuses on outdoor adventure travel, eco and sustainable travel, and creating amazing travel itineraries for cities and small towns.