Seydisfjordur Iceland is one of the sweetest little towns. You won't want to miss it. It's worthy of a place on your Iceland travel itinerary, especially if you're planning a 2 week trip to Iceland like we did. While it's a little bit of a detour in east Iceland to venture there, it's well worth the trip.
Lonely Planet calls it, "the most historically and architecturally interesting town in East Iceland." Less than 700 people live in Seydisfjordur. As for the pronunciation, it's something like, "say-this-fjur-ther". Icelandic can be such a tricky language.
Posts may be sponsored. Post contains affiliate links. I may be compensated if you make a purchase using my link.
Seydisfjordur Iceland is a picturesque valley town at the edge of its namesake fjord. I learned that the local residents are welcoming and friendly, and there's also a flourishing arts scene. Otherwise, Justin and I ventured off the Ring Road at the town of Egilsstaðir, not knowing what to expect.
Getting to Seydisfjordur Iceland
It takes about a half hour to reach Seydisfjordur by car from Egilsstadir. You'll definitely want to rent a car in Iceland to drive around the country at your own pace. You'll have the most freedom and can go anywhere you like.
As it never really got dark outside when we visited in June, we could extend our road trip until late at night and keep enjoying the daylight! That really made driving for longer hours much easier. You can compare car rental rates for an Iceland road trip to get the best deal.
If you aren't able to drive but find yourself in Egilsstadir, there is a bus route between Seydisfjordur and Egilsstadir. It's worth sorting out the bus route in order to spend at least a couple of hours in this adorable town. Please note that the bus route only operates in the summer.
Driving From Egilsstadir to Seydisfjordur
The East Fjords of Iceland is so underrated for its incredible beauty. While you hear so much about the South of Iceland, I highly recommend that you continue around the Ring Road and beyond in East Iceland. It's crazy beautiful.
As we drove closer to Seydisfjordur Iceland, we climbed a high mountain pass. It was so quiet and remote, even just moments away from the town of Egilsstadir. The landscape was monotone, except for the clear, blue sky. The black tarmac meandered through massive, snowcapped mountains.
It was the beginning of June and we hadn't really seen much snow anywhere else. Now, there was snow all around the road, from the tops of the mountains down to the ground. It's amazing how quickly the scenery can change from one moment to the next in Iceland.
The Lookout Before You Reach Seydisfjordur
Finally, there was a clearing. We pulled over and parked the car at a small lot at the side of the road. We immediately noticed a large stone monument standing tall. The monument represents the link between the two towns, Egilsstadir and Seydisfjordur.
The massive mountains encircle Seydisfjordur, this small town nestled down in the valley. You can enjoy beautiful views of this little valley town down below from this lookout point.
The river, Fjarðará, flows past the mountain's edge. After rushing down cliffs to form a stunning waterfall, the river eventually connects with a 17-kilometer fjord. There's a quaint bridge for an alternate view over the river itself. This majestic scenery was a warm welcome to the town. I felt so spoiled to witness such beauty.
Visiting the Quaint Town of Seydisfjordur Iceland
Driving into the valley itself, the gorgeous natural scenes are endless. Traditional houses line the base of the towering mountains. These are seemingly more lush and green than before.
We parked the car at the Lon (the lagoon) at the head of the fjord. This is where you'll enjoy the best sights of the colorful homes across the lagoon. The main road leads straight to the parking lot. Feel free to leave your car there while you explore this cute town.
In the summer, a ferry regularly travels from the port in Seydisfjordur to Denmark and the Faroe Islands. It's possible to reach Iceland by boat. This charming valley town would be the perfect introduction to this magnificent nation.
Things to Do in Seydisfjordur Iceland
What are the best things to see and do in Seydisfjordur? We really didn't have many plans in mind when we visited, other than wandering around town and soaking up the sights.
Often times when I travel, I love simply walking new places. It's great to see the streets and buildings, stop at a local cafe, and maybe do a little shopping.
It won't take long for you to walk around Seydisfjordur. It isn't that big of a place. Make sure you stop to absorb the beautiful views across the water. There are little houses lining the idyllic waterfront and mountainous landscape.
Wander Around Town to Shops and Cafes
So, what did we do here? One of the best things to do in Seydisfjordur Iceland is wander around, take photos, and check out the local shops. Along the main street in town, there are many little stores selling handmade goods by local artists and craftspeople. It's a great place to find a unique souvenir.
With no plans in mind, we wandered around and snapped photographs. Walking along the main street in town, we encountered some shops with handmade goods by local artists and craftspeople. I stopped at a local bistro for a cup of coffee. There are a number of cafes and restaurants in town, so you can also stop for a bite if you're hungry.
Visit the Iconic Blue Church
The pretty Blue Church (also known as Seyðisfjarðarkirkja) is an iconic sight. If you've seen any photos of Seydisfjordur, Iceland, chances are it's a picture of the Blue Church.
Nowadays when you visit, there's even a rainbow path painted on the ground. Regnboga Vegur, or Rainbow Road, is a rainbow brick path that shows love for its LBGTQ residents. It leads straight to the church through town. When we visited, there wasn't a rainbow path on the ground. Seeing photos of it makes the imagery of the church even more wonderful.
If you're lucky, there's a summer concert series called Blaa Kirkjan held at the church. You can listen to many talented local musicians perform live. This summer concert series is one of the biggest musical and cultural festivals in East Iceland. It typically takes place on Wednesday evenings in July and August.
Attend a Local Arts Festival
In addition to the summer concert series at the Blue Church, there are several other arts festivals in Seydisfjordur. This Bohemian town is best known for their love for the arts. It's no surprise that there are so many festivals to celebrate the arts, too.
There's an event in July called the LungA Art Festival. Unfortunately, we visited in June so we didn't get to attend, though it looks really interesting. There are art exhibitions and live concerts that attract visitors from all over the world.
There's the annual Pride Parade in Seydisfjordur. Although the largest Pride festival in Iceland takes place in Reykjavik, this celebration started when one local resident wasn't able to make the trip to Reykjavik. Snorri Emilsson, along with some friends, decided to walk up and down Norðurgata to show their support for LGBTQ rights. That was the beginning of a great event that is now the Seydisfjordur Pride Parade, which has over 200 participants annually.
If you plan to visit in the winter, there's a very special lights festival in February. List í Ljósi (Art in the Light) is a festival that celebrates the return of the sunshine after a long winter. During the last two days of darkness, Seyðisfjörður turns off all of their lights. Then, artists from Iceland and around the world illuminate the landscape with contemporary art on a massive scale.
Outdoor Activities in Seydisfjordur
Though we didn't spend more than an afternoon here, I recommend taking a couple of days if you have the time. There are lots of outdoor activities in Seydisfjordur Iceland. Hiking is the main activity and the easiest to do. For the easier treks, all you'll need is a good pair of hiking shoes. Also, don't forget to dress in layers and always have a rain jacket handy.
You can rent a kayak or a bicycle and explore a little further by land and sea. The most recommended kayak adventure across the board seems to be one offered by Hlynur Oddsson, a local experienced kayaker and sailor. You'll need to send him an email to arrange your trip.
Hike to the Tvisongur Sound Sculpture
If you have a little bit of extra time for a hike, take a steep walk for approximately 1km to the Tvisongur Sound Sculpture. These brutalist, concrete sculptures are a stark contrast to the natural environment. They are perched on the hill, overlooking the village down below.
Each structure represents one musical tone in Iceland's tradition of five-tone harmony. As the wind blows off the cliffs and passes through the sculptures, each structure resonates with different tones and harmonies.
More Hiking in Seydisfjordur Iceland
There are many more hiking trips to take from Seydisfjordur Iceland. For instance, you can hike to Skalanes and the Skalanesbjarg bird cliffs. There's another waterfall (aside from Gufufoss, the one we visited) called Búðaráfoss, and it's possible to hike there. In total, there are 25 waterfalls that surround the town, which are possible even more plentiful after a rainfall.
For the adventurous who plan to stay in Seydisfjordur longer than a couple of hours, you can hike the seven peaks surrounding the town. At the information center, you can obtain a special map with the seven mountain peaks. Bring this map with you.
When you reach the summit of each peak, you'll use a special hole puncher to mark the map. If you hike all seven, return to the tourist center to receive the title of Seyðisfjörður Mountain Viking.
Marvel at Gufufoss, Seydisfjordur's Waterfall
When we left the town, we were greeted by a surprise waterfall, Gufufoss. If we had turned our heads when driving down the mountain, we would have likely spotted Gufufoss right away! Translated, "Gufa" means vapor or steam, so you have the aptly named, vapor or steam waterfall.
It's rather fitting as there was a lot of water vapor around the waterfall. There's a place to park your car at the side of the road so you can admire Gufufoss up close. This is a really easy waterfall to visit as it's right on the way out of town. Gufufoss is such a treat to see, and you might even have it all to yourself like we did!
Want to see more photos of Seydisfjorur?
View all of our travel photography in one place! You can browse and buy any of our pictures in the form of canvas prints, things for the home, and more!
Where to Stay in Seydisfjordur
Thinking about staying at one of the Seydisfjordur hotels? There are lots of places to stay right in town for every budget. Our top choice is the Hotel Aldan – there are two buildings owned by Hotel Aldan in town, and both are top rated properties. The Hafaldan HI Hostel is an awesome budget choice. Then, I'll show you where we ended up staying near Egilsstadir.
Hotel Aldan
Hotel Aldan is a top choice for hotels in Seydisfjordur. It's set inside two historic homes in Seydisfjordur village, and within perfect walking distance of everything in town. The rooms are decorated with charming antiques, though there are many modern amenities.
There's an in-house restaurant, and the staff can help arrange kayaking and sailing trips. The Seydisfjordur Public Swimming Pool is only a two minute walk from Hotel Aldan. Plus, there's free parking at the hotel.
BOOK YOUR STAY | READ MORE REVIEWS
Hafaldan HI Hostel
For a budget-friendly place to stay, choose the Hafaldan HI Hostel. It's clean, comfortable, and comes with free Wi-Fi and free parking. You can enjoy beautiful views of the sea or the mountains from the hostel.
There are shared bathroom facilities, as well as a shared kitchen. It's easy to prepare all of your own meals, which I highly recommend that you do in Iceland to save money. I love that it's possible to book private rooms here. It's perfect for couples travel where you don't mind sharing a bathroom with other travelers.
Where We Stayed in East Iceland
As we only visited Seydisfjordur for a portion of the day, we continued on our road trip of East Iceland. Eventually, we stopped at the Hengifoss Guesthouse for the night (formerly known as Fljótsdalsgrund Guesthouse). We loved staying here. It's truly a hidden gem of a hotel that's perfect for the East Iceland portion of your road trip.
Our room had everything we needed: a private bathroom, a full kitchenette, a large bed, a couch, and free parking. We cooked our dinner here and relaxed for the rest of the evening very comfortably. The kitchenette had a fridge, a stove top, a coffee maker, a microwave, dishes, cutlery, pots and pans.
There was also one gigantic main room with couches and a dining space. When we stayed at Hengifoss Guesthouse, we were actually the only guests (even though there are so many rooms here!). We felt so lucky to have the entire place to ourselves. It was so nice, quiet, and peaceful.
Need Travel Insurance?
You should never leave home without travel insurance! Check out the best rates to make sure you're covered in case of an emergency or accident.
If you're looking for a place to unwind and forget your worries, Seydisfjordur is for you. If you'd like to connect with friendly Icelanders in a peaceful village setting, travel to Seydisfjordur. It's an artsy town with a hip vibe, and you're bombarded with beautiful views no matter where you look.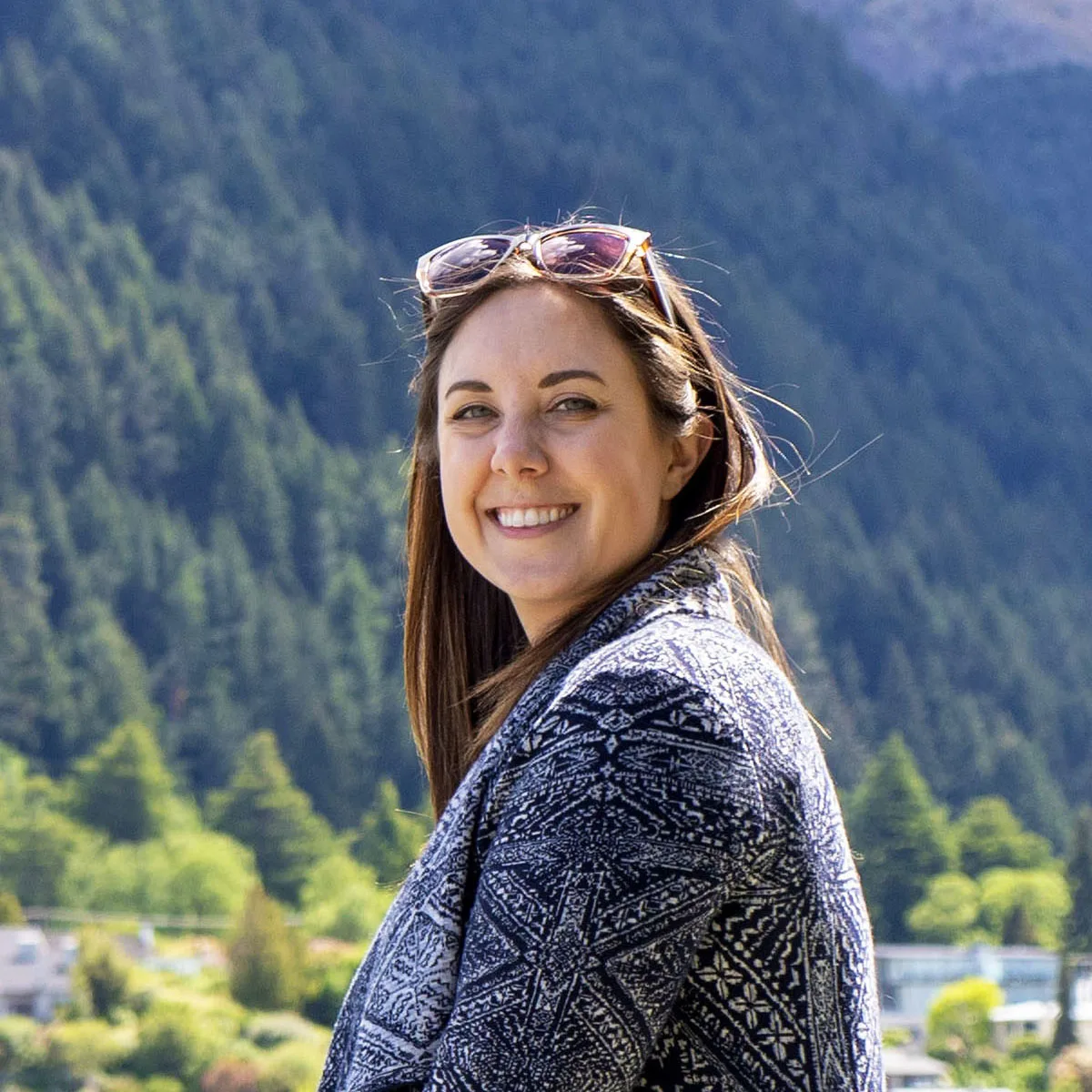 Lauren is the full-time travel blogger and content creator behind Justin Plus Lauren. She started Justin Plus Lauren in 2013 and has travelled to 45+ countries around the world. Lauren is an expert on vegan travel as one of the very first vegan travel bloggers. She also focuses on outdoor adventure travel, eco and sustainable travel, and creating amazing travel itineraries for cities and small towns.