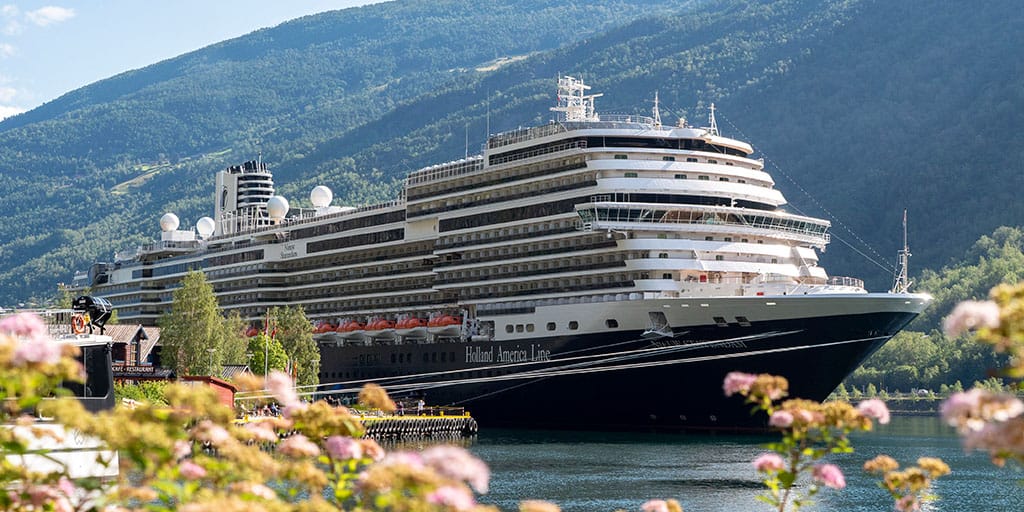 Have you sailed on any Holland America Line cruises? This was a trip of many firsts for us: it was our first time sailing with HAL, our first trip and cruise to Norway, and our first time on board the Nieuw Statendam cruise ship. Justin and I had such a fabulous seven days sailing the seas with Holland America on its newest cruise ship.
While we had an amazing time in the ports of Oslo, Kristiansand, Stavanger, and Flam, half of the fun of cruising is spending time on the ship itself. If you're wondering what taking a trip on the Nieuw Statendam cruise ship is like, hopefully we'll provide a glimpse into ship life on this Pinnacle Class ship.
Facts about HAL Nieuw Statendam
Let's start with a few interesting facts about the Nieuw Statendam cruise ship. These statistics, figures, and facts might surprise you!
Nieuw Statendam cruise ship will visit 75 ports in her first year and sail over 92,723 nautical miles (which is four times around the globe!)
This cruise ship is as long as 12 blue whales (975 feet in length)
Holland America Line's first cruise ship called Statendam sailed in 1898; this is the 6th ship to be called "Statendam" with the Dutch word for "new" affixed to it
The ship's crew members come from 33 countries around the world
The Music Walk features over 70 performers every year
Nieuw Statendam is a sister ship to Koningsdam, the first Pinnacle Class Ship. A third Pinnacle Class ship will start sailing in 2021
During a 7-day cruise, Canaletto (Italian specialty restaurant) will serve 200 pounds of pasta, passengers will drink 4200 cups of coffee (probably more when I am on board, hah!), 5600 personalized freshly made salads are served at the Lido Market, and the Grand Dutch Cafe alone will serve 1250 beers
Nieuw Statendam Cruise Ship: Verandah Stateroom
Let's start our photo tour with a visit to our stateroom. Justin and I stayed in a Verandah Spa Stateroom on the Nieuw Statendam, cabin #10035 (category VQ). This balcony cabin has one queen sized bed that can be made up into two twin beds. There's also a couch (small living space), a private verandah and floor-to-ceiling windows. Since our stateroom was on deck 10, the Panorama Deck, we enjoyed amazing views from high up on the ship.
You'll notice the light and modern style and colors in the room. It felt airy, open, and spacious. The lighter colored wooden furnishings and the shades of turquoise and lime throughout the room had a breezy vacation vibe. I highly recommend choosing a verandah room on the Nieuw Statendam cruise ship. Watch the beautiful sea views any time of day from your own private room. For breakfast, you can even order room service daily for no extra charge. You don't even have to leave your cabin first thing in the morning to dine and enjoy the brilliant scenery.
There are many modern amenities throughout the stateroom. First, we loved the big flat screen TV across from the bed and the video on-demand service. On other cruise ships, we've seen smaller TVs and a few channels that don't even compare to what's offered here. It's like having a mini Netflix, right in the room. If you have some downtime or want to unwind a bit, feel free to curl up in your cabin and catch up on some movies.
There are also plenty of outlets in the cabin, both North American and European. You'll find USB ports above both bedside tables for your phones. We also found that the Wi-Fi was quite speedy from inside our cabin, more so than other public areas on the ship.
We were also super comfortable in our cabin each day and night. The signature Mariner's Dream bed was the perfect place to drift off into sleep and allowed us to feel well rested upon waking each day. There's also an in-room safe, a mini fridge, ice service, complimentary fresh fruit on request, a magnifying make-up mirror, a blow dryer, 100% Egyptian cotton towels, and a premium massage shower head. There were an adequate amount of shelves in the bathroom to store our belongings.
Cruise Ship Towel Animals Photo Gallery
Every evening when we went back to our cabin, our room steward left a folded origami towel animal for us to find. It was always such a nice surprise and we loved this thoughtful added touch. I'm so happy to see that Holland America Line hasn't done away with cruise ship towel animals like some other cruise lines. In fact, the staff makes almost 10,000 towel animals for guests on board every week! Here's our collection of towel animals from our week long sailing on Nieuw Statendam.
Nieuw Statendam Cruise Ship: Public Spaces
The layout of the public spaces on Nieuw Statendam allow thousands of passengers to move freely around the ship without feeling congested. The only time the cruise ship felt crowded was in the Lido Market on a morning before a port. As everyone on the ship is scrambling to get breakfast, that's only natural. We avoided the morning rush by getting breakfast delivered to our stateroom each day via room service. Otherwise, it was always a relaxing and enjoyable experience wandering around the Nieuw Statendam cruise ship.
Amazing Art Around the Ship
The Nieuw Statendam cruise ship is a floating art gallery featuring works of art by artists from 150 countries worldwide. There's a small art gallery on board, but you'll see most of the art all over the ship: on staircases, by the elevators, in the restaurants, and more. There are 1920 works of art in total on board.
Club Orange: Access to Exclusive Dining Options
Would you like to add a luxurious flair to your sailing? Club Orange is Holland America's new exclusive program that offers an enhanced experience to your cruise. It's a wonderful way to receive priority access, exclusive amenities, and escape the crowds during peak dining times.
Club Orange members can dine in the exclusive Club Orange dining room for breakfast and dinner. While it will feature the same menu as the dining room for dinner and the Pinnacle Grill for breakfast, there are some additional daily dishes added to the menu that you won't find anywhere else.
Access to Club Orange also includes one of my favorite perks, priority check-in and disembarkation, as well as priority tender service (if your cruise uses tenders at the ports – ours did not). It's a great feeling to skip the check-in line when you reach the cruise terminal. This really sped up the embarkation process and we were on the ship before we knew it. There are also lovely additional perks like a welcome glass of sparkling wine, premium bathrobes to use in the cabin, and a Club Orange tote bag.
Don't Know What Day it is? Check the Elevator Floor!
It's easy to forget what day it is when you're on vacation. I loved this little quirk on the Nieuw Statendam cruise ship, and all Holland America Line vessels. Step into the elevator and look on the ground. Guess what, it's Friday! It's a nice little reminder. Our days on board the Nieuw Statendam cruise ship felt more like an "Oslo day" than a "Monday". We often kept track of the days according to the ports, more than the days of the week. So, it was nice to know what day it actually was, thanks to the elevator!
Nieuw Statendam Deck 1: Main
We didn't really spend any time on deck 1 of the HAL Nieuw Statendam cruise ship. By taking a look at the Nieuw Statendam deck plan, there are quite a few staterooms on deck 1, as well as some meeting rooms.
Nieuw Statendam Deck 2: Plaza
Venturing up a flight to deck 2, the Plaza deck, you'll find a lot of action. This is where you'll find the ship's Music Walk, a collection of stages and spaces for live music. There's non-stop live music all night long.
The Music Walk
In one space, there's the Billboard Onboard bar and the Rolling Stone Rock Room. There's a rock band that performs in the Rolling Stone bar, and there are a pair of dueling piano performers at Billboard. Each plays a set for about 45 minutes. When the band finishes playing at Rolling Stone, the music immediately starts up across the way at Billboard. When the pianists wrap up their set, the live music starts again at Rolling Stone.
And then there's the band at B.B. King's down the hallway. The musical act at B.B. Kings plays lots of pop hits, R&B, and blues music. In the band, there are vocalists, musicians on guitar, keys, drums, saxophone, and one of the most talented bassists we've ever seen. There's a massive dance floor at B.B. King's so you can shake what you've got.
In addition, the World Stage is on decks 2 and 3. This is where you'll find more stage performances, comedy acts, and live shows. You'll also meet at the World Stage before embarking on many of your excursions in port.
Dining on Deck 2
There are lots of dining options on deck 2 for breakfast, lunch, and dinner. The main dining room spans deck 2 and 3. There are also a couple of specialty dining restaurants (Pinnacle Grill and Rudy's Sel de Mer), the Ocean Bar, and Club Orange.
BLEND is the first specific venue for wine blending at sea. Every month, passengers will blend over 150 bottles of red wine in this unique experience. While Justin and I decided to partake in a beer tasting instead, we'd love to try blending our own wine on our next cruise.
Notes is another little bar on board and it's for the whiskey lovers out there. The Notes bar has over 120 different kinds of whiskey, including some rare selections. There's an interactive menu board and multiple options for every taste and preference.
There are also lots of shops on decks 2 and 3 to buy souvenirs, duty free goods, jewelry, necessities that you forgot from home, or whatever you'd like to get a little bit of retail therapy.
Nieuw Statendam Deck 3: Promenade
A few spaces from deck 2 span two levels to deck 3: the World Stage and the Dining Room. You'll also find plenty of shops, a casino, the photo shop, guest services, the art gallery, and my favorite place on deck 3: the Grand Dutch Cafe.
The Grand Dutch Cafe is right near the central atrium on the Promenade deck. I really loved getting a freshly brewed coffee here, prepared from the ship's Rotterdam 1873 coffee beans. You can even buy their roasted coffee beans to bring home with you. They offer Dutch specialty treats, 16 Belgian and Dutch beers (four beers on tap), and other traditional Dutch light bites and snacks.
Nieuw Statendam Deck 4/5/6: Beethoven/Gershwin/Mozart
These three decks have lots of staterooms that you may call home for your cruise.
Nieuw Statendam Deck 7: Schubert
Deck 7 (Schubert) also had mostly cabins, though there is one small difference. The Neptune Lounge is on the Schubert deck. It's an exclusive place to relax, socialize, and take advantage of a personal concierge. There are complimentary beverages, cookies, pastries, and even champagne. The Neptune Lounge is available to suite guests. We haven't lived that "suite" life just yet, so we haven't personally seen the Neptune Lounge ourselves. Maybe one day we'll treat ourselves to it!
Nieuw Statendam Deck 8: Navigation
The Navigation deck on the Nieuw Statendam cruise ship has primarily staterooms, but this is also where you'll find the Bridge.
Nieuw Statendam Deck 9: Lido
On the Lido deck of the Nieuw Statendam deck plan, you'll discover all sorts of delicious food at the Lido Market, and then you'll have opportunities to work off the food you ate.
Dining Options on Deck 9
The Lido Market is Holland America's take on the buffet, only it's better. You don't need to worry about picking through stale food, food that's been manhandled by other passengers, or food that's not at a good temperature any longer. The Lido Market has several individual stations where you'll find freshly prepared food for many different tastes. The food is all scooped and served onto plates by staff members behind the glass. This prevents cross contamination and improper food handling that can often lead to outbreaks of illnesses on board.
The Italian specialty restaurant, Canaletto, serves up delicious meals at night near the Lido Market. We dined here on one occasion and had delicious and artfully prepared vegan meals. Check out all of the vegan food on Nieuw Statendam in our guide.
Craving something a little more sinful? Dive In has lots of fast food options, including burgers, hot dogs, and fries. There's always a veggie burger on the menu, too. We dove right in to burgers and fries on more than one occasion!
Right beside the Dive In, there's an authentic gelato bar. Gelato does come at an extra cost, but it's inexpensive and definitely worth it. There was only one vegan gelato option on the menu, which was a banana gelato. Oh my goodness, it was so yummy!
Swimming Pools, Fitness Center, and Spa
Located mid-ship, take a dip in the large Lido pool and savor a drink from the Lido bar. There are many loungers to relax in the sunshine. On both deck 9 and 10, there are places situated around the pool where you can dine, lay on a comfortable chair or couch, or curl up with a good book. The pool area has a retractable roof so you can enjoy it, no matter the weather. On warm and sunny days, they'll open up the roof above the pool.
On one end of deck 9, there's a state of the art fitness center, rooms for fitness classes, and the Greenhouse spa and salon. As we were sailing during our anniversary, Justin and I got hot stone massages at the spa and they were heavenly.
At the other side of the Lido deck, there's the smaller Sea View pool with incredible views facing the back of the ship. There are plenty of chairs and loungers here where you could easily spend all day soaking up the sunshine.
Nieuw Statendam Deck 10: Panorama
Deck 10 has more dining options, like the specialty restaurants, Tamarind and Nama Sushi. There's also the New York Deli & Pizza, another one of our favorite places to eat on the Nieuw Statendam cruise ship. You can customize your pizza however you like it. I always ordered a pizza without cheese (there isn't any vegan cheese on the ship) and with lots of vegetables. You can also get bagels in the morning and snacks at night, like kettle chips and popcorn.
Nieuw Statendam Deck 11: Sun
The Sun Deck has lots of room for exercise and outdoor activities. You'll find the ship's jogging track and outdoor fitness machines on deck 11. There's nothing like running or walking laps with amazing views of the ocean. The Sport Court has two basketball nets and soccer balls for an opportunity to get competitive with your friends.
Other fun games around the ship include ping pong and shuffleboard. Justin and I had some competitive matches for both games during our seven days on board.
Nieuw Statendam Deck 12: Observation
The Observation Deck is a small space on the ship, but there are a couple of key spaces on this highest deck. First, the Explorations Central & Cafe at the Crow's Nest offers another wonderful coffee experience. You can also order Americanos and lattes here, as well as iced coffees, frappuccinos, and other frozen concoctions.
Enjoy your coffee in this room with a view at the top and front of the ship. The Shore Excursions desk is inside the Crow's Nest, and there's also a meeting room, books to read, and even a communal puzzle to put together.
The Retreat is a quiet place on board to rest and rejuvenate in peace. There are private cabanas, sun beds, lounge chairs, and a private bar service. The Retreat also ensures that you have a place to lounge, no matter what time of day. You need to book the Retreat in advance to ensure your spot and it comes at an extra cost. We haven't personally tried The Retreat, but it looks super luxurious!
Entertainment and Events on Board
On sea days, check the "When & Where" guide for daily activities. There are dance classes, ping pong tournaments, talks about history and nature, trivia and board games, and so much more. You'll also find activities on board during port days for those who like staying on the ship, as well as entertainment options at night. There are movies playing nightly on the big screen by the pool with popcorn always available, of course.
Nieuw Statendam Photos: Tour of the Galley
We took a tour of the galley one morning to gain insights into the behind-the-scenes operations in preparing the food on the cruise. Did you know that the average weekly consumption of melon on board totals a whopping 4000 lbs? And the total amount of fresh vegetables for the passengers on board for the week is 18,000 lbs? There are a lot of mouths to feed, and the kitchen staff runs a "tight ship" (pardon the pun!). There's a huge focus on cleanliness, being quick and efficient, and following a set of protocols that even includes official guidelines on plating meals.
Where Does Nieuw Statendam Sail?
Currently, the Nieuw Statendam cruise ship sails around Europe in the summer and the Caribbean in the winter, making two trans-Atlantic crossing (repositioning cruises). We went on our Holland America cruise to Norway round trip from Amsterdam. In our situation, the flights aren't too long from Toronto to Amsterdam.
Amsterdam is a pretty accessible location for those living in Europe, too. There's also the option of extending your stay by booking a hotel in Amsterdam and exploring Amsterdam for a while longer. The Caribbean is also an extremely popular destination in the winter, especially for Canadians like us!
We hope you enjoyed this virtual tour around Holland America Line's Nieuw Statendam cruise ship. It was such a treat to sail on this new and shiny vessel that will be the home of many delightful memories for many years to come.
Have you sailed on any of Holland America Line's cruise ships?