If you're looking for vegan Greek recipes to make at home, you're in luck. Greek food has so many tantalizing flavors that tempt the taste buds. While traditional Greek food has lots of meat and dairy, there are a few authentic choices when it comes to vegetarian Greek food.
But, if you think that following a vegan or plant-based diet means missing out on your favorite dishes from Greece, you're wrong! Here are 25 vegan Greek recipes that brings a taste of Greece to your home kitchen. They're among some of the best vegan recipes from around the world.
Posts may be sponsored. Post contains affiliate links. I may be compensated if you make a purchase using my link.
Vegan Greek Recipes: Starting with the Basics
Now, there are a few ingredients that are typically used in Greek cuisine that aren't vegan, like feta cheese and tzatziki sauce. Thankfully, some talented vegan food bloggers have whipped up healthy, plant-based versions to create vegan Greek food. Use these to easily create your own vegan Greek recipes or combine them with some of the meals listed below.
Vegan Feta Cheese
Feta cheese was one of my favorite Greek ingredients before going vegan. Now, you don't need to give up that food you once loved even if you're following a plant-based diet. Make multiple batches of this vegan feta cheese recipe by A Virtual Vegan to get your fix, and use it in several of the recipes listed below. It crumbles just like real feta!
Vegan Tzatziki Sauce
I remember giving up tzatziki sauce when I first went vegan many years ago. While I was sad to not eat it anymore, I also had such terrible stomach pains from dairy and yogurt. In the end, it was easy to not eat it anymore. I'm glad that I've found this vegan version of tzatziki sauce so I can enjoy it again as a vegan without any regrets or pains. Yum Vegan Food has the perfect tzatziki recipe for the veggies in the crowd (or anyone wanting to go dairy-free or eat a little healthier!).
Pita Bread from Scratch
It's easy to buy pita bread at the grocery store, but it certainly won't taste as good as the kind made fresh at home. With this pita bread recipe by Son Shine Kitchen, you can make your own pita pockets using just a few simple ingredients. Pita bread is featured in several vegan Greek recipes in this article, so feel free to try it out with any of them.
Greek Seasoning
Who doesn't love a good DIY spice blend? You can use this Greek seasoning in just about any Greek dish or tons of other recipes to add a Greek flair. This easy Greek seasoning by Recipes From a Pantry takes only five minutes to prepare, and you can add Mediterranean flavors to any dish. Put this spice mix into a pretty package for a lovely gift, too.
Greek Salads and Soup
I've got an excellent recipe for a Greek inspired soup, as well as multiple vegan Greek recipes for various salads, too. These can be served as a side dish, a starter, or as the main course if you prepare a larger meal of it. It's a great way to get your veggies in for the day.
Greek Lentil Soup
In many Greek restaurants, you'll find "fakes soupa" on the menu, or lentil soup. This is an easy Greek lentil soup by Supergolden Bakes that you can make on the stove or inside a slow cooker or instant pot. It features low cost ingredients, you can make large batches of it, and it's vegan / gluten-free / healthy.
Tabbouleh Salad
Tabbouleh salad is an eastern Mediterranean dish that's naturally vegan friendly, made with parsley, bulgur, cucumber and tomatoes. This easy tabbouleh salad by Live Eat Learn is a bright and flavorful dish that's quick to whip up and super refreshing. Serve it alongside any of the main courses listed below.
Dolmas Salad with Roasted Cauliflower Rice
This is an interesting take on traditional Greek cuisine! It's a Dolmas Salad with Roasted Cauliflower Rice by The Spice Train. Many ingredients found in dolmas are prepared in a salad with cauliflower rice. You can serve it with hummus, falafel, and pita bread.
Easy Greek Salad
Greek Salad is classic vegetarian Greek food, but it usually has big blocks of feta cheese in there. Thankfully, we can replace feta cheese with vegan feta and enjoy Greek salad once again! This easy vegan Greek salad recipe comes from the Yum Vegan Food blog, and you might just want to serve it as a starter to every meal listed here.
Greek Chickpea Salad
Here's a refreshing and summery Greek chickpea salad by Occasionally Eggs with lots of fresh vegetables and a light lemon vinaigrette. There are many components of a Greek salad here with chickpeas taking the place of the feta cheese. The lemon vinaigrette has lots of Greek spices and bright, lemony notes.
Mediterranean Quinoa Salad
This Mediterranean Quinoa Salad by Real + Vibrant is a quick and easy salad to whip up, packed with veggies, protein, and healthy fats. You'll prepare a lemon mint vinaigrette from scratch, but it's a total breeze to make. So much delicious Greek flavors come together in one bowl: red onion, cherry tomatoes, kalamata olives, and many more.
Vegan Greek Appetizers & Sides
These vegan Greek recipes are the side dishes, appetizers, and snacks that you need to have in your life. Inspired by actual traditional Greek dishes or transforming authentic flavors into new vegan Greek meals, you're sure to love these tasty bites.
Melitzanosalata
Have you heard of Melitzanosalata before? Neither had I until now. It's a Greek dip using eggplant that's similar to Baba Ghanoush from the Middle East. Simply put, you've gotta try this Melitzanosalata recipe by Greedy Gourmet. You'll combine eggplant puree with garlic, lemon, olive oil, and a variety of flavors. Scoop it onto flatbread or breadsticks for a tasty snack or starter.
Ultimate Greek Nachos
Did someone say nachos? I'm a little bit obsessed with nachos, but it's usually the traditional Mexican variety. With that said, I'm dying to try this Greek take on nachos. The Ultimate Greek Nachos by Plant-Based Cooking uses pita triangles as a base. There are typical veggies used in Greek cooking placed on top. Then, the concoction is topped with vegan feta, tzatziki, and tahini dressing. Enjoy it as a snack, an appetizer, or maybe even the main course!
Greek Dolmathas
Here's one of the more traditional vegan Greek recipes for Greek Dolmathas by Hilda's Kitchen Blog. You'll wrap up a mixture of rice, dill, onion, lemon, and other Greek flavors into grape leaves and bake it all together in the oven. Even though there's a bit of preparation involved and a lengthy cook time, it's totally worth making this authentic vegan Greek food.
Fasolakia (Greek Green Beans)
Greek green beans, or Fasolakia, are a traditional vegetarian Greek dish where the beans are cooked in a tomato and garlic sauce. Then, they're topped with olive oil, lemon juice, and dill for the perfectly Mediterranean meal. Try this Fasolakia (Greek green beans) dish by Bowl of Delicious as a main course or a side dish.
Greek Asparagus
I love the name of this recipe: My Big Fat Greek Asparagus by The Vegan Atlas. Asparagus spears are topped with a yummy combination of sundried tomatoes, kalamata olives, and fresh dill. It's perfect for when asparagus is in season and makes for a delicious side dish anytime!
Best Roasted Greek Potatoes
Mmm…pass the potatoes, please! A fair amount of potatoes goes into a Greek or Mediterranean diet, and this might be one reason why it's so healthy. Potatoes and delicious and good for you. Fill up on your share of potatoes with this Roasted Greek Potatoes recipe by Whisk Affair. There's garlic, lemon juice, oregano, and fresh parsley on top for a delectable dish. It's one of the yummiest authentic vegan Greek meals.
Cretan Gigantes Beans
I love how beans are used frequently in traditional Greek cuisine, especially larger fava beans or these gigantes beans (gigantic beans!). In this Cretan Gigante Beans recipe by Sharon Palmer, she recreates one of her favorite bean dishes that she enjoyed in Crete. It's vegan, gluten-free, and super hearty and healthy.
Vegan Greek Main Courses
Here are a collection of vegan Greek recipes to serve as the main meal at lunch or dinner time. Pair them with an appetizer, side dish, or salad. I am certain that they're filling enough to enjoy on their own, too. This is the vegan and vegetarian Greek food that you absolutely need on your plate right now.
Vegan Moussaka
Moussaka is an authentic dish originating in the Mediterranean and the Middle East, and it's on the majority of restaurant menus throughout Greece. While moussaka typically uses meat and dairy products, here is a vegan moussaka recipe by Delicious Everyday that you'll love. It featured ingredients like eggplant, lentils, potatoes, and a vegan Bechemal sauce. This recipe sticks true to the original one, swapping out animal products for plant-based ingredients.
BBQ Vegan Souvlaki
Here's a recipe for vegan souvlaki by Yum Vegan Food that uses tofu in place of the meat. These marinated and grilled souvlaki skewers can be served alongside any Mediterranean dishes. They're traditionally matched with Greek salad, tzatziki, and warm pita bread. Guess what – you'll find vegan versions of all of those right here in this article!
Vegan Spanakopita
If you've ever had a traditional spanakopita, you might be wondering…how can that possibly be vegan? Well, here's a savory recipe for a Vegan Spanakopita by A Virtual Vegan that has a crispy phyllo pastry and a salty, creamy spinach feta filling. However, there aren't any animal products anywhere in sight. It's a delicious vegetarian Greek pie gone totally vegan, and one of the tastiest Greek vegan dishes around.
Greek Veggie Balls
These Greek veggie balls by Sharon Palmer are similar to meat balls…without the meat! These tantalizing little bites are made of beans, lentils, whole grains, veggies, and of course, Greek flavors. This dish is inspired by keftedes, the fried meatballs that are served as part of a meze meal. Instead of meat, they're completely vegetarian and made with black-eyed peas. You'll also find dates, sun-dried tomatoes, and Greek herbs. Serve it all up with a lemon tahini dip or eat them in place of a meatball in any meal.
Kounoupidi me Patates Kapamas (Greek Stew)
Here is a traditional Greek dish that also happens to be vegetarian and vegan. Kounoupidi me Patates Kapamas, or stewed cauliflower with potato, is scrumptious vegan Greek food that's comforting and nourishing. This recipe by Kopiaste can be served as a main dish, or you can omit the potatoes and serve it as a less filling side dish.
Briam (Greek Vegetable Bake)
As someone who hasn't visited Greece yet, I hadn't heard of Briam before. What's Briam? Briam or Briami is a traditional Greek dish that's easily prepared vegan. Little Sunny Kitchen's Briam dish consists of vegetables sliced into rounds along with a mixture of Greek herbs and diced tomatoes. You can eat it as a main course with some crusty bread and vegan feta or as a side dish.
Mediterranean Eggplant Boats
These healthy Mediterranean Eggplant Boats by Dishing Out Health have everything going for them: they're vegan, gluten-free, flavorful, healthy, packed with protein, and ready in under an hour. They rely on a bounty of veggies, perfect for summers where you can find everything in season. The eggplant halves are filled with quinoa, a Mediterranean salsa, and seasoned with balsamic vinegar, tahini, and fresh herbs.
Lemon Roasted Potatoes with Chickpeas
This is one of many vegan Greek recipes in this blog post inspired by traditional Greek cooking. Greek Lemon Roasted Potatoes with Chickpeas by Veggies Save the Day is an easy, one dish meal. You'll enjoy a beautiful mix of potatoes, chickpeas, red peppers and red onions, seasoned with garlic, lemon, and oregano. Yum!
Learn How to Cook Vegan Greek Recipes
Are you learning how to cook? New to veganism and don't know where to start? It might be a good idea to start with some cooking classes. These ones can be done right from the comfort of your own home…with Veecoco!
Veecoco offers all vegan cooking classes by trained chefs in various cuisines from all over the world. Their healthy and easy plant-based cooking class is a great place to start. You'll learn how to make delicious recipes with vegan nutritionist and athlete, Marisa Hofmeister.
Looking for More Vegan Recipes?
First, be sure to check out my 60 favorite vegan books across all genres, including cookbooks. Beyond Greek vegan dishes, I'm rounding up plant-based recipes for cuisines all over the world. With so many worldly flavors to discover, you'll never get bored in the kitchen. You'll want to take a look at these: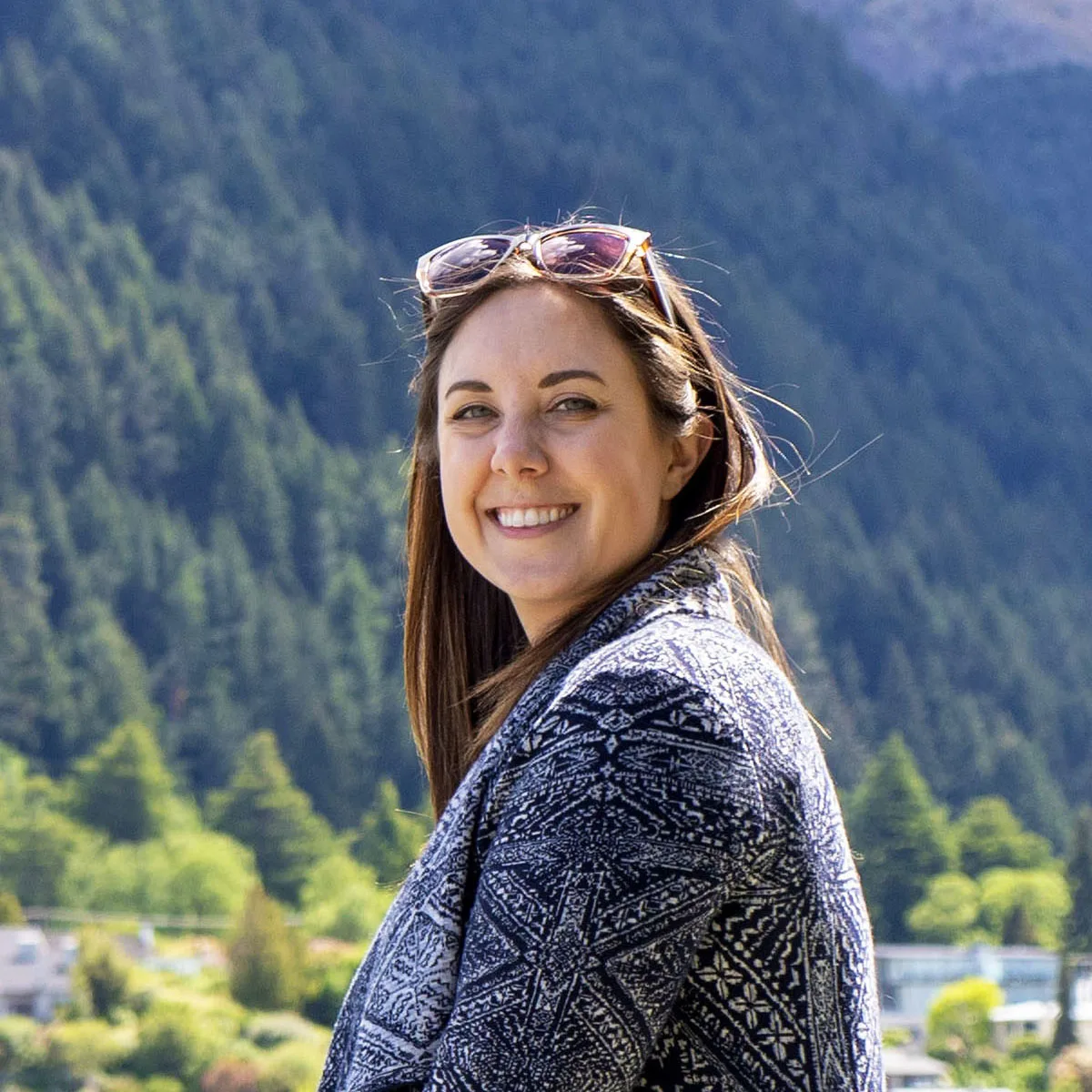 Lauren is the full-time travel blogger and content creator behind Justin Plus Lauren. She started Justin Plus Lauren in 2013 and has travelled to 45+ countries around the world. Lauren is an expert on vegan travel as one of the very first vegan travel bloggers. She also focuses on outdoor adventure travel, eco and sustainable travel, and creating amazing travel itineraries for cities and small towns.