There are many wonderful things to do in Oban, a seaside town on the west coast of Scotland. Justin and I took a day trip to Oban after spending one day in Loch Lomond and the Trossachs National Park. Oban was a stop on our Scotland road trip before continuing on to Glencoe and Fort William.
Oban is a resort seaside town that's known as the Gateway to the Isles. Tourists and Scots alike often make a trip to Oban before continuing on to the Scottish Highlands. The town itself is quite picturesque, there are many fun things to do in Oban, and you can also visit some of the surrounding islands quite easily from here.
Posts may be sponsored. Post contains affiliate links. I may be compensated if you make a purchase using my link.
In this Scotland travel blog post, we're going to show you the best things to do in Oban, the top Oban attractions and activities, boat trips from Oban, where to stay in Oban, and how to get to Oban. Though we didn't plan to spend too much time here, it really is one of the most wonderful places in Scotland and shouldn't be missed.
Best Things to Do in Oban: McCaig's Tower and Battery Hill
The top tourist attraction in Oban is McCaig's Tower, which sits on top of Battery Hill. You can't miss spotting McCaig's Tower when you're walking around town or even looking back at the town from the waterfront. It's the main defining monument of the skyline, and it looks straight out of Italy or Greece more than it does Scotland.
John Stuart McCaig built McCaig's Tower in 1897. He wanted to provide work for the local stonemasons while constructing a memorable and everlasting monument for his family. As an admirer of Roman and Greek architecture, McCaig was inspired by the Colosseum in Rome.
From the town centre, you'll steadily climb up a hill through the city streets until you reach the magnificent entryway to McCaig's Tower. This is a public park and garden at the top of a steep cliff that's free to visit whenever you like.
Originally, McCaig intended for there to be a central tower with statues of himself and his family members. He passed away before this could be completed, and only the outer walls were ever built.
Go for a wander within the outer walls and watch the sunlight pour through onto the maintained garden. Then, don't miss the viewing platforms that overlook the town below. You can see right across Oban Bay to the Atlantic Islands, including spectacular scenery of Kerrera, Lismore and Mull.
Can't get enough of the pretty views at Battery Hill? There's another hill in Oban called Pulpit Hill where you can enjoy beautiful scenery from the top. Head over there if you'd like to experience both spots.
Day Trip to Oban: Walk on the Oban Promenade
Once you view Oban from up above and get your bearings, you should go for a walk by the waterfront. The Oban Promenade runs alongside Oban Bay and the Oban Esplanade. You'll view colourful buildings and historic hotels on one side and the beautiful sea on the other.
You'll also witness many boats and ferries on this waterway, too. I'll go into more detail in a bit about the best boat tours and ferry boat rides from Oban. Along the promenade, you'll walk past St Columba's Catholic Cathedral and a number of hotels until you reach the Oban War Memorial.
There are another couple of notable landmarks as you keep walking: the Oban Lighthouse (a tiny cute lighthouse on the shore) and the Dog Stone (a unique rock formation). Eventually, you'll reach Dunollie Castle, Museum and Grounds.
Dunollie Castle and Grounds
Dunollie Castle is a historic property that was once the home of the Clan MacDougall. Dunollie was inhabited over 8000 years ago, and the castle itself was once the base of the early medieval Dalriadic Kingdom of Lorn. There are only castle ruins that remain, but the site itself is fascinating.
Aside from the fascinating ruins of Dunollie Castle, there are beautiful woodlands surrounding the castle that are open between April and October. During the other times of the year, you can gain entry by booking a guided tour. There are also lots of events and activities at Dunollie that happen all year long. Don't miss the 1745 House Museum with its collection of textiles and Clan MacDougall archives.
Visit the Oban Distillery
The Oban Distillery is a famous whisky distillery that opened in 1794. It was actually built before the town itself, which developed years later. They focus on using local ingredients: the water comes from a loch three miles from the distillery and the barley comes from nearby Speyside.
It is one of the smallest distilleries in Scotland, and they've never expanded or moved locations. Only seven people create the whisky at Oban Distllery. They produce one of Scotland's oldest sources of Single Malt Scotch Whisky. You're able to go on a tour of the distillery and participate in a tasting session.
Check Out the Local Shops and Galleries
There are lots of lovely little shops and galleries to discover as you walk around the town. George Street is one of the main streets, and there are some interesting finds when it comes to gifts and souvenirs.
Bay Bath and Body: locally made skincare and body care products
Oban Bay Gifts and Souvenirs
Mitchells Candies
The Highland Soap Company
Fancy That & Sci-Fi Planet (Gifts and souvenirs, items for sci-fi fans)
The Jetty Gallery
The Wee Gallery
Room 15 (art gallery)
Top Things to Do in Oban: Boat Trips
There are many great boat trips from Oban, whether you're going out for an hour or two or heading to another island. Argyll Sea Tours offers one of the best things to do in Oban, which is to embark on a seal watching tour. You'll travel by boat to visit a local seal colony behind the isle of Kerrera. They also have a combination history/wildlife tour that showcases local wildlife spots and nearby castles.
Oban Sea Tours offers a different boat trip with wildlife viewings, castles, and historical landmarks. You might be able to spot one of the rarest birds of prey in the UK, the white-tailed sea eagle, which lives on the Isle of Mull. After spotting sea eagles, you can see dolphins and porpoise on the same journey. On rare occasions, you can see whales. In addition, you'll see 3 Scottish castles (Gylen, Duart and Dunollie), as well as the Lismore Lighthouse.
On this half day boat tour from Oban with Turus Mara, you'll have the opportunity to visit the uninhabited island of Staffa. It's home to Fingal's Cave, caverns and basalt columns carved out by the sea. You might also spot some puffins there, too!
Dine at the Little Potting Shed Cafe in Oban
While Oban is known as the seafood capital of Scotland, there isn't any problem finding vegetarian or vegan eats here. Our top restaurant pick is the Little Potting Shed Cafe. It's a cozy little spot right in the middle of town that serves vegetarian cuisine with lots of vegan options.
It was very busy when we visited the Little Potting Shed Cafe and we were surprised to even be able to get a table. Keep this in mind if you're dining during the busier lunchtime hours. It took a while to be served our food because it was so busy, but it was worth the wait!
We enjoyed some wraps, sandwiches and soups from the Little Potting Shed Cafe. There are also tasty desserts, cookies, and coffee to savour as a sweet treat after your meal. They're open daily from 10:00 – 16:00.
Want to see more photos of Oban?
View all of our travel photography in one place! You can browse and buy any of our pictures in the form of canvas prints, things for the home, and more!
Things to Do Near Oban
While there are lots of things to do in Oban, you can also use Oban as a base to explore the region. We visited Oban after Loch Lomond and before heading to Glencoe. Many people spend at least a full day or two in Oban, depending on how much of the surrounding area they plan to visit.
Island of Kerrera
The Island of Kerrera is just off the coast from Oban, and you can take one of the daily ferry rides over to Kerrera. Just head to the ferry terminal in town to take the ferry across to Kerrera. It's a small island that's about 4 miles (7km) across, and most people visit Kerrera to go for a hike.
Kerrera is the perfect day trip in itself, especially for outdoor activities. You can spend all day walking the perimetre of the island, taking in the views. One of the most popular tourist attractions on Kerrera are the ruins of Gylen Castle, built in 1582. The Hutcheson Monument is a landmark to see on the north side of Kerrera. Another highlight on Kerrera is the Kerrera Tearoom and Bunkhouse, serving freshly brewed tea, baked goods, soups and sandwiches.
Isle of Mull
The Isle of Mull is another fantastic destination where you can spend a few days, at least. It's a large Inner Hebridean island, and some people might opt to visit the Isle of Mull instead of the Isle of Skye, if they were only able to choose one.
The idyllic town of Tobermory is lined with rows of colourful houses, and there's miles of coastline with tons of wildlife. You can also visit the nearby islands of Iona and Staffa from the Isle of Mull. Some of the top attractions on the Isle of Mull include Duart Castle, Ben More, Calgary Bay, and the Tobermory Distillery.
Loch Lomond and the Trossachs National Park
To the west of Oban lies Loch Lomond and the Trossachs National Park, wedged between the west coast of Scotland and Glasgow/Edinburgh. Loch Lomond is the biggest lake in all of Britain, and certainly one of the most beautiful bodies of water in the country.
The word, "Trossachs", refers to this area that's thought to be the Scottish Highlands in miniature form. It's all of the sleepy villages, enchanting forests, and twinkling lochs west of Stirling and east of Loch Lomond.
Castle Stalker
Castle Stalker is another rare find in Scotland, medieval castle ruins that sits on its own tiny islet. You can see the castle from the coast, and it is situated about 25 miles north of Oban. It's right on the way to Glencoe, so you can stop along the way.
While most people won't have the opportunity to visit Castle Stalker, there are a limited number of tours each year. I'd love to go back for this! The castle is privately owned, so you'll have to keep an eye on their website for future tours.
If you can't get enough of visiting old castles, Dunstaffnage Castle is another intriguing one. It is one of Scotland's oldest stone castles, and it's on the outskirts of Oban (only 3 miles northeast of Oban in Argyll and Bute).
Glencoe and Fort William
Next, we headed to Glencoe and Fort William, staying for two nights in Glencoe. These are stunning places in the Scottish Highlands with incredible nature and breathtaking views. You can see waterfalls and go hiking on miles of trails through the mountains.
Fort William might be known as the gateway to Ben Nevis, but it's a cute town in itself. We loved wandering around the old ruins, walking down the cobblestone streets, and getting cozy at little cafes and local restaurants.
Need Travel Insurance?
You should never leave home without travel insurance! Check out the best rates to make sure you're covered in case of an emergency or accident.
Where to Stay in Oban, Scotland
While we only took a day trip to Oban (staying the previous night in Callander and that night in Glencoe), you are welcome to stay a while longer in this cute seaside town. It's a great home base if you intend to do some more boat trips to neighbouring islands or even use Oban as a base to visit Loch Lomond and the Trossachs.
Here are some highly recommended places to stay that you should check out. These are top rated hotels in Oban for a variety of budgets and travel styles.
Perle Oban Hotel and Spa
The Perle Oban Hotel and Spa is Oban's premiere four-star property. Built in the 1800s, the hotel is located inside a charming, historic building. It's less than a one minute walk to the beach and waterfront. There are so many fantastic inclusions, like Bose sound systems, Nespresso coffee machines, and luxurious toiletries and bathrobes in every room. There's a Michelin awarded on-site restaurant that also has vegetarian and vegan options. Many rooms have spectacular views of Oban Bay and the hills of Mull, Ardgour and Kerrera.
Muthu Alexandra Hotel
The Muthu Alexandra Hotel is right on the scenic Oban Esplanade, offering panoramic views of Oban Bay. This three-star hotel has high ratings with guests and the property itself is beautiful. There are many amenities, like free parking, a flatscreen TV, complimentary toiletries, tea/coffee making facilities, and even hot chocolate and cookies. You will also be able to enjoy the free Wi-Fi, the property's swimming pool, and the on-site restaurant and bar.
Corran Guest House & Hostel
The Corran Guest House & Hostel is situated in two houses in a Victorian terrace with gorgeous views extending across the sea to the Isle of Kerrera. These are simple, clean and cozy rooms that are budget-friendly. Some are private rooms with private bathrooms, and others are dormitory style rooms with bunk beds. Oban town centre is only a 10 minute walk.
Compare Oban Accommodations
With this handy map, you can compare all Oban hotels and accommodations in terms of price, location, and amenities to find the perfect place to stay.
Getting to Oban, Scotland
As we went on a two week road trip of Scotland, we highly recommend that you rent a car to explore on your own. It's the best way to see Scotland at your own pace and visit exactly the places you want to see.
We suggest comparing car rental prices here to get the best rates. Justin and I rented our car from Glasgow, but you can easily rent a car in Edinburgh, Inverness, or wherever your starting point happens to be.
If you don't want to drive and would rather take the train, it's possible to reach many cities and towns in Scotland by train. Browse all train schedules at Rail Europe's website and order your tickets in advance. For instance, the train journey between Glasgow and Oban is around 3 hours long. The Oban train station is right in town.
You can also take a day trip to Oban as part of day tours. You'll have an experienced driver and local tour guide show you around Oban and some other Scottish towns. This day tour from Edinburgh ventures to Oban, Loch Lomond and Inveraray. Here is a similar day tour from Glasgow.
More Travel Blog Posts About Scotland
Planning a trip to Scotland or do you just love Scotland in general? We have many more articles that might interest you!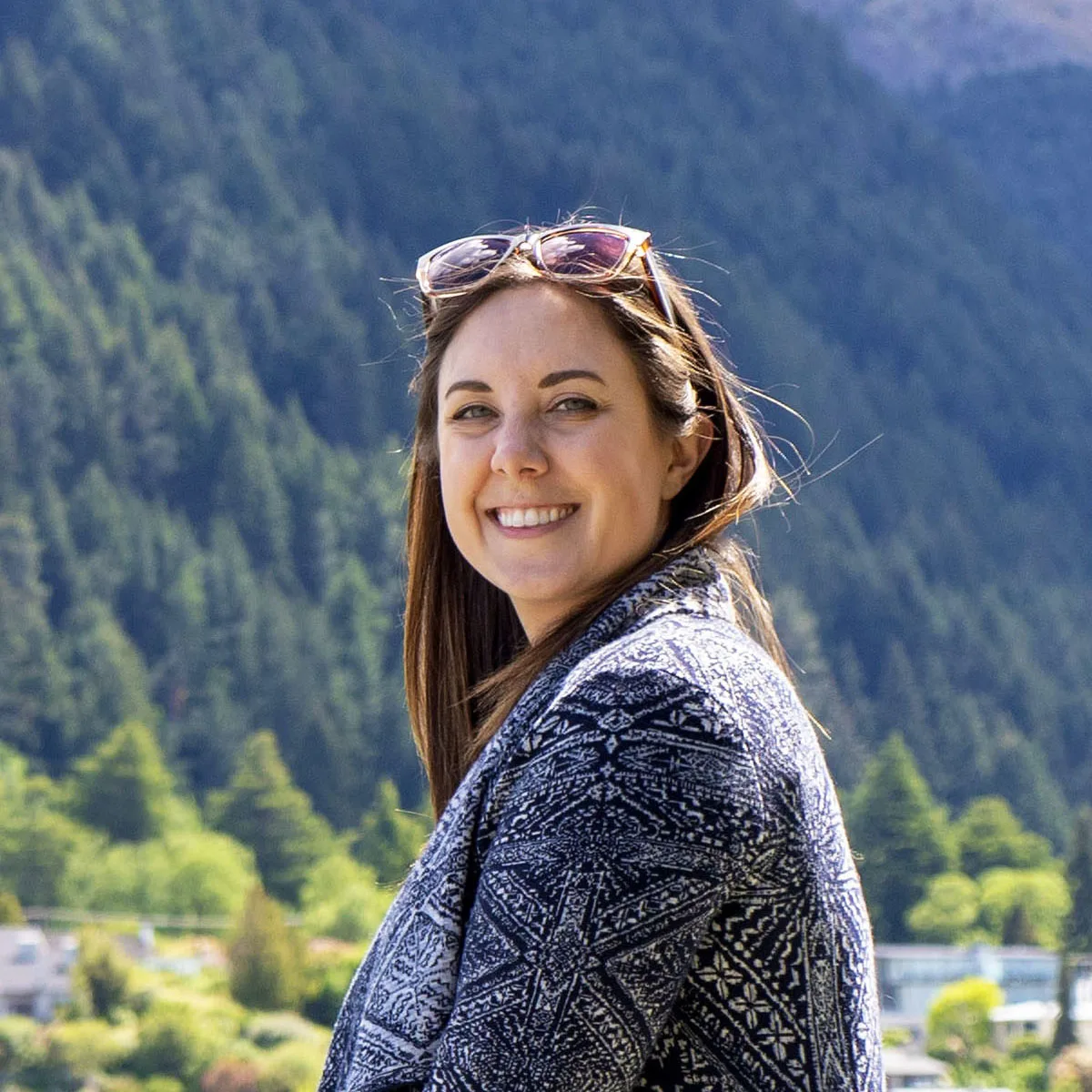 Lauren is the full-time travel blogger and content creator behind Justin Plus Lauren. She started Justin Plus Lauren in 2013 and has travelled to 50+ countries around the world. Lauren is an expert on vegan travel as one of the very first vegan travel bloggers. She also focuses on outdoor adventure travel, eco and sustainable travel, and creating amazing travel itineraries for cities and small towns.