Hiking a nature preserve only accessible by boat, at the world's largest freshwater archipelago.
It's one of Canada's national parks, and it's within driving distance of my home. And I hadn't even heard of it. Crazy, right? Georgian Bay Islands National Park is made up of 63 small islands in Georgian Bay. The largest island of the park, Beausoleil Island, was the island we visited for the day. And by "we", I'm referring to a couple of my fellow travel blogging buddies, Stephanie of The World As I See It and Lindsay of I've Been Bit Travel Blog.
Posts may be sponsored. Post contains affiliate links. I may be compensated if you make a purchase using my link.
ARRIVING AT HONEY HARBOUR
We embarked on a road trip north to Honey Harbour, a tiny town on the shores of Georgian Bay. We needed to take the DayTripper boat across to Beausoleil Island to begin our adventure. Though many of the islands in Georgian Bay Islands National Park are undeveloped, Beausoleil Island offers camping sites by cabin or tent, boat docking, and heritage education programs. The DayTripper transports visitors to either the southern or northern part of the island. Most of the camping sites are at the southern part, while the best hiking trails are found in the north. The DayTripper only takes passengers to the north part of the island once a day, so we had to make sure we arrived on time so we didn't miss the boat.
Be sure to make reservations ahead of time for the DayTripper. There are a limited amount of spaces on the boat and they can quickly sell out. If you aren't able to reach them by phone, it's a good idea to contact them on Twitter – it worked for us!
The three of us reached Honey Harbour early enough to relax and enjoy a bite to eat before an afternoon of hiking. In Honey Harbour, we spent some time at a cute restaurant and shop that looked like a cottage on the water. The Hive had a coffee shop with light meals and snacks at the back of the store. Can you believe that I actually found vegan ice cream in their freezer? Even though it was before noon, I couldn't resist buying a little tub of salted caramel and eating it right from the container with a spoon. Don't judge.
At the back of the restaurant, there was a wooden deck with several Muskoka chairs overlooking the bay. It was peaceful, serene, and a great introduction to the rest of our day.
THE DAYTRIPPER
Time to discover the natural beauty of Beausoleil Island and Georgian Bay Islands National Park! We met at the dock in Honey Harbour to take the DayTripper small passenger boat to the island.
They had hiking trail maps available at the information desk, but it didn't hurt to take a picture of the map just in case.
The boat ride to the northern part of the island, Chimney Bay, was about 15 minutes long. We marveled at the beautiful views. There were neatly-kept cottages with private docks. One was lined with thousands of delicate blooming flowers, introducing bursts of colour to the landscape. And there were windswept trees on the rugged bedrock that barely emerged from the water's surface. The sun was shining brightly, and there was a refreshing breeze off the water. It was easy to predict that we would have a fun-filled day of hiking ahead of us.
While the DayTripper dropped passengers off at Chimney Bay once daily, it also only had one pick-up time later that day. We did not want to miss that boat. Definitely don't lose track of time, and plan your hiking excursions wisely.
BEAUSOLEIL ISLAND
The terrain of Beausoleil Island is quite different from the mainland. We immediately noticed the massive boulders and bedrock of the Canadian shield, commonly found in northern Ontario. This landscape stretches from the Great Lakes to the Arctic Ocean – over half of Canada!
Beausoleil Island is a protected area that's important for indigenous wildlife. It's a natural habitat and breeding ground for 33 species of reptiles and amphibians, including the threatened eastern Massasauga Rattlesnake. It's the only snake in Ontario whose venom is dangerous for humans. Thankfully, we didn't see any snakes while we were hiking. Apparently, they are difficult to find and they like to hide. You'd really have to go searching for one to come across it (I don't recommend it). It's best to let wildlife be wild and untouched.
We were also warned that there were black bears on Beausoleil Island. Again, we didn't see any. They also avoid humans and try to eat food left by campers. It's always a good idea to be prepared and know what to expect when you're hiking in new places.
CAMBRIAN TRAIL
We had about four hours to spend on Beausoleil Island, so we had to make the most of our time. There were two trails that looped around the northern part of the island, providing a variety of scenery. We had lots of time to explore both the Cambrian Trail and the Fairy Trail, stopping to take photos along the way. We started on the Cambrian Trail, which led across rugged flat rocky slopes and shaded woodlands. The trail mostly followed the shoreline, with views showcasing the park's distinguished windswept pines. These pines and the landscape of Georgian Bay Islands National Park inspired the works of the famous organization of artists, the Group of Seven.
The trail markers for the Cambrian Trail were posts with yellow markers on top. It wasn't obvious where the trail was at times, as we were hiking across massive rocks. We searched for the trail markers and knew exactly where to go.
Even on the Saturday of a long weekend, we only met a few people on our way. Otherwise, the trails were mostly deserted and we had them all to ourselves.
At one point, we met a few campers, including one interesting man who lived in the wilderness all summer long. When we informed him that we were bloggers, he urged us to keep our knowledge of the island to ourselves. Even though Beausoleil Island is merely a two-hour drive from Toronto, many Ontario residents don't know about the national park. He said, "Keep this secret to yourselves!" I don't think he wants this beautiful park to become commonly visited by city dwellers. However, I love writing about local and international discoveries, and I would never keep such a stunning place a secret.
FAIRY TRAIL
Lindsay, Stephanie, and I continued our hike on the Fairy Trail, leading to Honeymoon Bay. There were some campers near Honeymoon Bay, and there was a great spot for swimming. I was wearing my bathing suit in anticipation of potential swimming opportunities. After some hours hiking in the hot sunshine, I was ready to cool off in the water.
Be careful – the rocks leading down to the water were super slippery! It was more difficult getting out of the water than wading into it. Take your time and watch your step.
One of the highlights of the hike was around Fairy Lake. Some of the most gorgeous views in the entire area were around this lake, with the trees forming perfect reflections in the still water.
The legend of Fairy Lake was printed on a nearby sign, and it's a very endearing story:
"Many years ago during the summer months, a beautiful little girl was born to the Anishnaabe people and given the name Miinegiizhgokwe (Lady of the Blueberry Moon). Because she enjoyed picking the blueberries so much that grew in abundance around what is now known as Fairy Lake, she later became known as Miinkekwe (Blueberry Picking Woman). Miinkekwe devoted much of her time to helping her grandparents who had become very old and unable to do things on their own. They in turn doted on her and taught her many things about life that she needed to know and shared many songs and stories with her. Her wisdom and knowledge increased and her beauty became very radiant.
She did not know that a dreadful beast watched her every time she picked blueberries and had coveted her for her knowledge and beauty.
Migcheshibzhii was of another level in the Anishnaabe world and wished for Miinkekwe to be his wife. One day while picking berries, Miinkekwe realized she had stayed too long at her task and hastily made her way to the opposite shore towards her home. Migcheshibzhii realized that this was his opportunity and grabbed her. Miinkekwe, understanding her fearful predicament found hard with the beast and cried for help. It was of no use, for no one was in the range of her gradually weakening cries.
However, the great protector of the Anishnaabek, Nanabozhoo, had heard his little sister's cries for help and came as fast as he could. He arrived as the life slowly ebbed from the limp body of Miinkekwe and Migcheshibzhii was readying to take her away. A great, long, and furious battle ensued with both combatants inflicting mortal wounds on each other. Migcheshibzhii perished on the site and his body now forms the outline of Beausoleil Island as you see it on the map. The eye of Migcheshibzhii is now formed by Fairy Lake surrounded by the rocks stained pink by the blood of Miinkekwe whom he had coveted many years ago. Nanabozhoo, too, had been mortally wounded and had lain down to rest on a small island just a short ways from their battleground. The outline of his body can be seen as you approach Giant's Tomb Island.
Today the cranberries, blackberries, and blueberries do not grow on Beausoleil Island as they did in the days of Miinegiizhgokwe.The spirit of this beautiful young woman can sometimes be heard and seen as she walks about her beloved island singing the songs taught to her by her grandfather and grandmother."
With a little time to spare, we made it back to the dock of Chimney Bay and boarded the DayTripper back to Honey Harbour.
Want more photos? Check out my entire photo album of Georgian Bay Islands National Park. You can order prints, buy canvas wall art, and even housewares directly from our photography site! These would make great gifts for those who love nature, the outdoors, and travel.
PLAN YOUR TRIP: GEORGIAN BAY ISLANDS NATIONAL PARK
You can travel to Georgian Bay Islands National Park / Beausoleil Island for the day aboard the DayTripper from May 20th (Victoria Day long weekend) until October 10th (Canadian Thanksgiving long weekend). For day visitors, there are three daily departures to and from Cedar Spring (the south side of Beausoleil Island) and one daily departure to and from Chimney Bay (the north side where we hiked).
For one adult, the DayTripper fee is $15.70, which includes entrance to the park and the round trip boat ride. With the Parks Canada pass, it was only $10 per person for us. For children and seniors, the price is even less. Please check out the Parks Canada website for more details. There's also more information about camping, mooring, and special programs at Georgian Bay Islands National Park.
Have you heard of Georgian Bay Islands National Park? What's your favorite national park?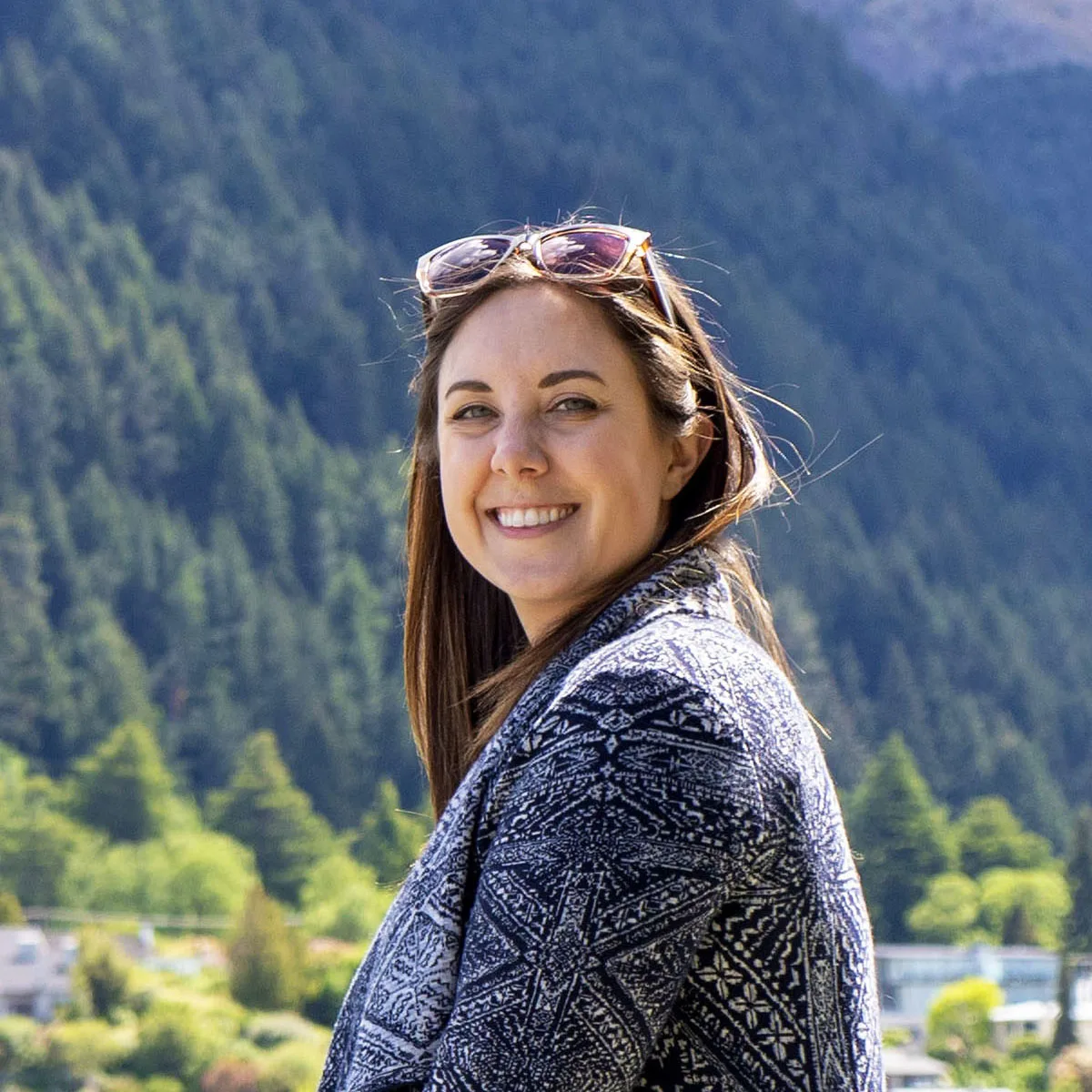 Lauren is the full-time travel blogger and content creator behind Justin Plus Lauren. She started Justin Plus Lauren in 2013 and has travelled to 45+ countries around the world. Lauren is an expert on vegan travel as one of the very first vegan travel bloggers. She also focuses on outdoor adventure travel, eco and sustainable travel, and creating amazing travel itineraries for cities and small towns.