Thornbury Ontario is a sleepy little town on the coast of Georgian Bay. While you might have heard of popular cities and towns like Collingwood, Wasaga Beach, and the Blue Mountains, Thornbury remains a little under the radar. After learning more about Thornbury, I'm sure you'll want to go there ASAP. It's one of the best small towns in Ontario.
You should totally add Thornbury to your list of cute small towns in Ontario to visit. There's a bustling downtown that has "main street" vibes. You're steps away from great walking and biking trails with unique features. Thornbury is also a great base for all kinds of adventures in the region. You can spend your day alternating between outdoorsy activities, enjoying a delicious meal, and getting cozy at a local cafe.
Posts may be sponsored. Post contains affiliate links. I may be compensated if you make a purchase using my link.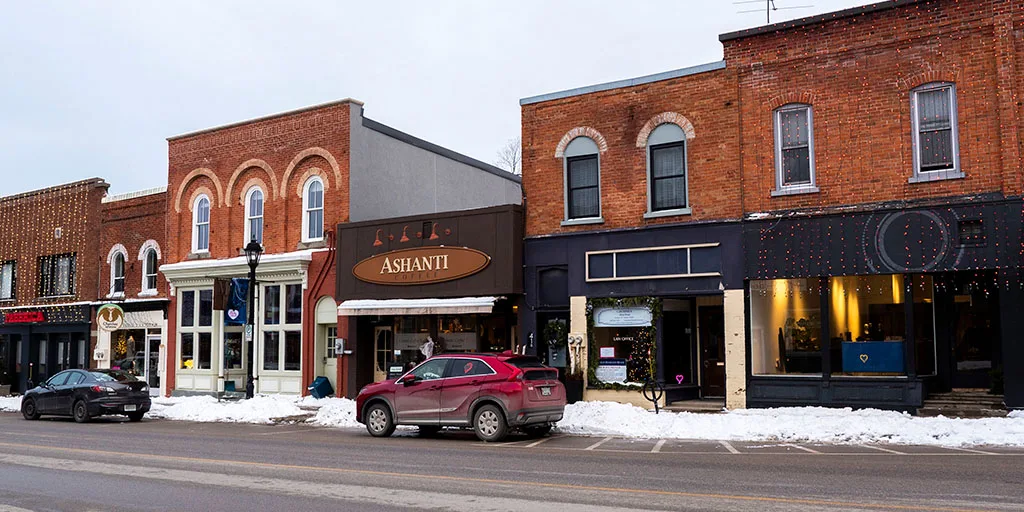 In this travel blog post about Thornbury Ontario, we're going to give you all the details on planning your trip to this hidden gem of Georgian Bay. We've got information about:
Where to stay in Thornbury
The best things to do in Thornbury, Ontario
Restaurants, cafes, and pubs
More great things to do near Thornbury
Where to Stay in Thornbury: Penny's Motel
As you're driving past, Penny's Motel might look like your run-of-the-mill roadside motel. That's totally not the case and you absolutely need to stay here. Penny's Motel is a recently renovated motel that's completely transformed into a boutique accommodation experience.
This formerly 1970s property was lovingly refurbished, and it's beautiful. There are 13 units in total and they each have their own aesthetic appeal and charm. For instance, our room had a tropical vibe with turquoise and pink floral wallpaper.
There's all kinds of modern amenities in the room, like a smart TV and complimentary Wi-Fi. The bathroom has a heated floor, a modern shower (ours had pink bathroom tiles!), and Malin+Goetz bath products.
There's a central courtyard where you can gather and mingle around the firepit. In the warmer months, there's a bocce ball court and you can borrow one of the motel's cruiser bicycles to go for a spin around town.
Penny's Motel is a gem. It's the perfect base for your adventures around the Georgian Bay region and Thornbury, Ontario. If you'd like to learn more about this new accommodation, you can read more reviews about Penny's Motel before your stay.
Best Things to Do in Thornbury Ontario
Even though Thornby is a pretty tiny town, there are so many things to do right in town. You can stay at Penny's Motel and easily walk into town, and there's are ample amounts of parking if you choose to drive down the street. I suggest walking all over Thornbury, exploring on your own two feet.
Visit the Small Town Main Street
Thornbury has a really cute main street that you'll love! I suggest poking your head into the little shops that line this main street (Bruce Street South) for some retail therapy. Adorn II is a boutique vintage clothing store, the Georgian Artisan Shop features handmade wares made by Canadian artists and artisans, and the Sincerely Yours Boutique has all kinds of unique gifts and brilliant cards.
Make sure you keep walking all the way down towards the harbour for even more restaurants, boutiques, and other amazing stops. I loved seeing the row of brightly painted houses as I'm always a total sucker for them!
Walk Across the Historic Thornbury Wooden Trestle Bridge
The Historic Thornbury Wooden Trestle Bridge, also known as the Thornbury Railway Bridge and the Georgian Trail Bridge, is a rare surviving example of a railway deck truss in Bruce Grey Simcoe. This was once part of the Northern Railway between 1872 and 1984.
Nowadays, you can walk or cycle across this old wooden bridge. I also suggest walking down to the little park beside the bridge for alternate viewpoints. This is also the point where the Beaver River empties into Georgian Bay. Admire beautiful views of the Beaver River from the bridge and alongside the river itself once you cross the bridge.
Walk or Bike the Georgian Trail
The Georgian Trail is a 34km walking, hiking, and biking trail that runs alongside the southern shores of Georgian Bay. This trail winds right through Thornbury, between Collingwood and Meaford. If you walk across the Historic Thornbury Wooden Trestle Bridge that I mentioned above, you're actually on the Georgian Trail.
There are regular distance markers as you walk or cycle the trail, and there are lots of shady rest stops with park benches. You'll encounter more than 30 access points along the trail, so it's easy to reach from many spots along the way. You can start walking on the Georgian Trail in Thornbury down by the waterfront, close to the main downtown area.
Browse the Thornbury Antique Market
The Thornbury Antique Market was just a couple doors down from Penny's Motel, so we had to take a peek inside. It's a fairly large market with tons of stalls and unique treasures. There are loads of antiques, collectibles, furniture items, records, and all sorts of knick-knacks. You'll never know what you'll find here, but it might be perfect for your home or whatever you like to collect.
Thornbury Ontario on the Apple Pie Trail
The Apple Pie Trail is a collection of culinary, drink and outdoor experiences in Southern Georgian Bay. You'll find everything inspired by apples, including orchards, breweries, cideries, seasonal menus, outdoor activities, and even apple-inspired art. Thornbury is a prominent location on the Apple Pie Trail.
There are 7 trail stops on the Apple Pie Trail in Thornbury. These include the Bruce Wine Bar, Thornbury Bakery, Cafe, Thornbury Village Cider House & Brewery, Grey & Gold Cider, The Cheese Gallery, Goldsmith's Orchard Market, and Loft Gallery Inc.
Where to Eat and Drink in Thornbury Ontario
For such a small town in Ontario, Thornbury is truly spoiled for choice when it comes to cafes and restaurants. I counted four cafes/coffee shops right on the main street alone! I'll list a few of our favourite spots, and we'll just have to return to check out the rest of them.
Thornbury Bakery Cafe
Justin and I went to the Thornbury Bakery Cafe for breakfast. It's a really popular spot in Thornbury and it seemed like the whole town came here for their morning coffee and breakfast. The Thornbury Bakery Cafe was established in 1901, though it recently underwent a major renovation in 2018.
Nowadays, Thornbury Bakery Cafe aims to cater to traditional and specialty diets with gluten-free, keto, and vegan products. Everything is made from scratch. We ordered some "Aussie Toast" (avocado toast), coffee, and some vegan banana chocolate chip muffins.
Bruce Wine Bar in Thornbury Ontario
Bruce Wine Bar is a local restaurant and wine bar in Thornbury, famous for their wood-fired pizzas. They offer a variety of handcrafted cocktails, wine, and beer. There's a vegan pizza on the menu (roasted squash puree, local apple, brussels sprouts, balsamic onions, vegan mozzarella, sourdough crumb), as well as a plant-based entree (roasted cauliflower, sweet potato curry, spinach, roasted root veg, crispy rice).
Ashanti Thornbury Ontario
Ashanti Thornbury is a lovely coffee shop in town, with delicious brewed beverages and delightful desserts. I stopped at Ashanti for an Americano, and I also treated myself to a vegan oat bar. Their Arabica coffee beans are grown in the heart of Africa's Eastern Highlands region in Zimbabwe. While there are a few Ashanti Cafes in Ontario (Port Elgin, Collingwood, Hanover and Thornbury), the coffee beans themselves are roasted right here in Thornbury.
Good Grief Coffee Roasters
Good Grief Coffee Roasters are specialty coffee roasters in Thornbury, Ontario. It's a cafe and you can also buy their coffee beans online. As a massive coffee fan, I can't wait to try this place out in the future. Unfortunately, they were closed when I visited, but it looks like one of the best coffee shops in the region.
Pom Pom Ice Cream Shop
Justin and I visited Thornbury in the winter, so it wasn't the best time for ice cream. But, I can't wait to try some from Pom Pom in the future. This cute little ice cream and treat shop happens to be a producer of small batch plant-based ice cream. They have all kinds of flavours of vegan ice cream and they sound amazing. I will definitely return as soon as possible.
Thornbury Craft Co. Cider & Brew House
Thornbury is the largest apple growing region in Ontario, so it only makes sense that there is a cidery right in town. The building for the Thornbury Village Cider & Brew House used to be a facility for storing apples, before it became a flea market, an ammunition storage building, and a nuclear fallout shelter during the Cold War.
Nowadays, you can find delicious cider, beer, and seltzers at Thornbury Village Cider & Brew House. They have 7500 acres of orchards, and all kinds of intriguing varieties of beverages for dining in or taking home. They have igloos on the patio that you can book by the hour (recommend that you do this in advance as they book up fast!) or you can order canned drinks from their takeaway window.
Want to see more photos of Thornbury?
View all of our travel photography in one place! You can browse and buy any of our pictures in the form of canvas prints, things for the home, and more!
Things To Do Near Thornbury Ontario
Looking for more things to do near Thornbury, Ontario? This small town is situated near Meaford, Collingwood, Blue Mountains, and other small towns in Grey County. You can embark on numerous outdoor adventures, like hiking and biking. There are also fabulous beaches around Georgian Bay and Lake Huron.
Here are a few suggestions of our favourite things to do near Thornbury, Ontario. There's a great mix of outdoor adventures, relaxation, and visiting one of the most popular resorts in the region.
Blue Mountain Resort
A trip to Blue Mountain Resort is perfect in all seasons. In the winter, there's skiing and snowboarding. In the summer, there's hiking and zip lining. Regardless of when you visit, you can always experience the Blue Mountain Village with its shops, cafes, and restaurants.
There are often special events at Blue Mountain, too. In the fall, we went for a forest stroll during Agora: Path of Light. There are various light installations set up throughout the forest, and it's really quite stunning.
Go Hiking at Loree Forest
Loree Forest is only a short distance from Thornbury and Blue Mountain, and it's a fantastic and free place to go hiking. You'll hike the Loree Forest Loop, a loop trail made up of the Bruce Trail and one of its side trails.
There's free parking at the trailhead, and the loop is just a little over 5km in length. It's an easy hike with beautiful scenery throughout the forest. Plus, there's a scenic lookout point and an interesting feature that you don't often see on hiking trails: a ski hill. Check out this guide to the Loree Forest Loop to plan your hiking trip.
Scenic Caves Nature Adventures
Scenic Caves is a wonderful place to visit all year round, whether you're hiking or snowshoeing. When Justin and I visited, we embarked on the Scenic Caves Eco Adventure Tour. It's a professionally guided treetop canopy walk and cavern tour with two ziplines going through the forest and across the valley.
As an eco tour, the Scenic Caves team takes proper care to avoid any damage to the natural environment. This allows tourists to visit the area with minimal negative impacts, ensuring that the natural environment is left relatively undisturbed. No trees were damaged in the creation of the treetop canopy walk, and we were provided with many interesting ecological facts on our journey.
Scandinave Spa
Scandinave Spa is a truly rejuvenating and revitalizing experience in Blue Mountains, Ontario. The baths at Scandinave Spa are based upon the traditional methods found at Nordic Spas in Europe. It is customary to rotate between hot baths, cold plunges, and relaxing saunas for its therapeutic benefits.
At this outdoor water spa, we discovered several hot baths with calming waterfalls, cold baths of varying temperatures, a Finnish sauna, a Norwegian steam bath, relaxation solariums, and relaxing spots outside with Muskoka chairs and hammocks.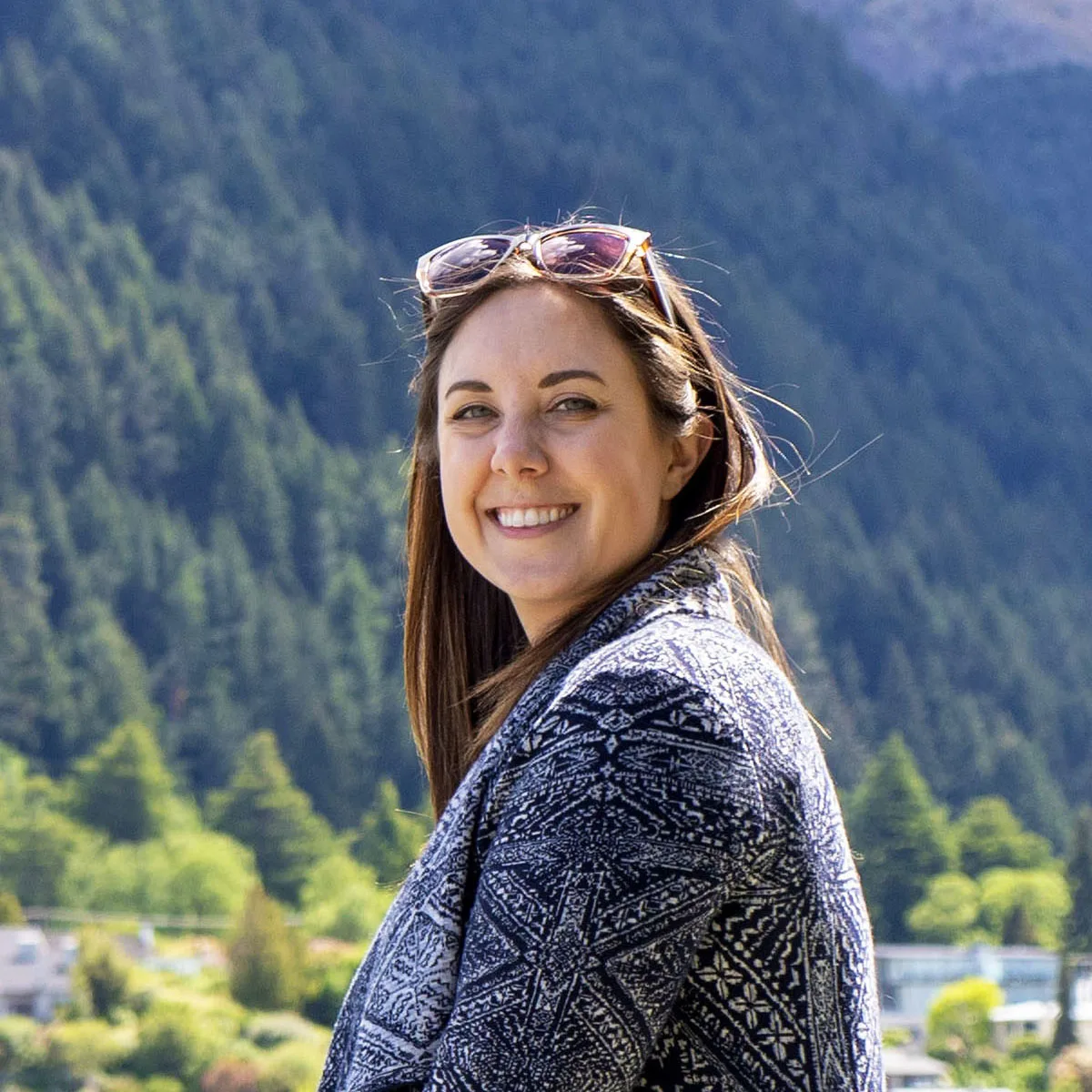 Lauren is the full-time travel blogger and content creator behind Justin Plus Lauren. She started Justin Plus Lauren in 2013 and has travelled to 45+ countries around the world. Lauren is an expert on vegan travel as one of the very first vegan travel bloggers. She also focuses on outdoor adventure travel, eco and sustainable travel, and creating amazing travel itineraries for cities and small towns.