Cape Breton Island, Nova Scotia is one of the most incredible destinations in Canada that you must experience in your lifetime. There are so many amazing things to do on Cape Breton, especially if you love nature, scenic landscapes, outdoor activities and wildlife viewing. A road trip of Cape Breton Island is an iconic Canadian bucket list adventure that you'll be raving about for years to come.
Cape Breton Island is home to the world-famous Cabot Trail and the unmissable Cape Breton Highlands National Park. There are many other brilliant places that I'll highlight in my guide that you might not have heard about before, including the Ceilidh Trail and Baddeck.
Posts may be sponsored. Post contains affiliate links. I may be compensated if you make a purchase using my link.
Acadian culture is alive and well on Cape Breton Island. Over 400 years ago, the first European settlers arrived to Cape Breton and the Acadian population grew in Nova Scotia. You can discover Acadian traditions during your trip to Cape Breton through festivals and events, music, museums and traditional rug-hooking.
Cape Breton also has strong ties to Scotland as many Gaelic-speaking immigrants settled in Nova Scotia. Therefore, many of those living in Cape Breton celebrate their Gaelic culture. You will see many road signs in both English and Gaelic. Attend a ceilidh (pronounced kay-lee), also known as a "kitchen party", with traditional music, singing and dancing. Cape Breton Island even has its own tartan!
When to Visit Cape Breton Island
So, when is the best time to visit? Justin and I visited Cape Breton Island in August. While I am generally a fan of "shoulder season" travel, you really need to travel to Cape Breton in the summer. July and August are perfect for long summer days and warm weather with the least chance of rain. And if it does rain, there's a saying in Cape Breton: "If you don't like the weather, wait five minutes".
June could be another lovely time to visit, and you'll be able to see the beautiful fall colours in September and October. This is a seasonal destination where many businesses and tour companies close down in the off-season. For the best weather and to ensure that your favourite attractions and activities are operational, I highly recommend choosing a summer vacation in Cape Breton.
Getting There and Getting Around
Some visitors to Cape Breton Island don't live too far away, while others will need to fly there. Justin and I flew from Toronto to Halifax, picked up our rental car, and drove to Cape Breton. While there is an airport in Sydney, you'll most likely find the most convenient flights and best prices flying to Halifax. Search for flights to Halifax here.
Once you arrive at the Halifax Stanfield International Airport, it takes about 2.5 hours to drive to Cape Breton Island. There's always the possibility of spending a day or two in Halifax before your trip to Cape Breton.
The Halifax Airport is about a 30 minute drive from downtown Halifax, which is south of the airport. I also have an itinerary for a 7 day Nova Scotia itinerary that doesn't include Cape Breton Island. You could ad on these travel plans if you decide to spend 2 weeks in Nova Scotia.
Renting a Car in Nova Scotia
Cape Breton Island is a road trip destination and I highly suggest renting a car for the duration of your stay. If you live in Canada or the USA, you may decide to drive your own car to Nova Scotia. While this could be a good option, you'll save time and the mileage on your car if you rent a car upon arrival at the Halifax Stanfield International Airport.
We recommend using Discover Cars to find your rental car. By comparing car rental rates across multiple companies, you'll be able to find the best car at the best price. Start your search and book your rental car here.
Things to Do on Cape Breton: A Road Trip Map
Would you like to see this Cape Breton road trip itinerary displayed visually on a map? Here are all of the best things to do on Cape Breton Island, displayed on a map. Click the square icon in the top right corner to view a larger version of this map.
How to use this map: Click on each icon to learn more about each location. To reference this map at a later date, click the star next to the map's title. It will save the map to your Google Maps account. Then, open Google Maps and go to "Your places" in the menu to see this map.
Things to Do on Cape Breton: The Ceilidh Trail
Justin and I spent our first two days exploring a driving route that isn't the famous Cabot Trail, but it's neighbour to the southwest, The Ceilidh Trail. Pronounced "kay-lee", a ceilidh is a traditional Gaelic gathering with traditional singing, dancing and storytelling.
The Ceilidh Trail is also known as Route 19, a main road in Inverness County, route 19. It includes many tiny towns and settlements, including Mabou and Inverness, among others. Inverness County is also known as Canada's Musical Coast because the communities along the western coast of Cape Breton Island are connected by musical culture and traditions.
Spend two days around The Ceilidh Trail visiting coastal paths, beaches, a distillery, a brewery, and don't miss hearing live music along the way. We also stayed in a memorable accommodation in Mabou, a luxurious geodesic dome, where we also participated in some outdoor activities on the water.
Glenora Distillery
Glenora Distillery is home to Glen Breton Rare, Canada's first single malt whisky. Glen Breton Rare is produced using traditional methods with only three ingredients: barley, yeast and water. The equipment, authentic copper pot stills and a mash tun, is straight out of Scotland. The present owners have Cape Breton roots and a lengthy lineage of Scottish ancestry.
Water is the most important ingredient for making a high quality whisky. The water used by Glenora Distillery comes from MacLellan's Brook, the purest and cleanest source of water in the Mabou Highlands and Cape Breton. You can catch a glimpse of this beautiful brook as it flows through the property of Glenora Distillery.
Glen Breton Rare 8 Year Old whisky was the first single malt whisky produced in Canada. Nowadays, Glenora Distillery offers aged whisky from 10 up to 30 year old. They also make the first single malt whisky finished in ice wine barrels, the perfect blend of Scottish and Canadian culture.
Notably, their "Battle of the Glen" 15 year old Canadian single malt whisky was named after a famous lawsuit brought against them by the Scotch Whisky Association. The Scotch Whisky Association argued that the prefix "glen" would confuse consumers who may think theirs is a Scottish product. Glenora Distillery won the nine-year battle over the name, "Glen Breton", and can continue to name their whisky as such.
Be sure to book an on-site tour of the distillery, which is open from late May until late October. Tours take place daily on the hour between 9am and 5pm. You'll learn more about the distillery and receive a sample at the end of the tour. After the tour, we went for lunch at the Washback Pub and ordered a whisky flight. There's also a daily ceilidh; listen to live music in the pub at 1-3pm and 8-10pm.
Celtic Shores Coastal Trail
The Celtic Shores Coastal Trail is a 92km coastal path between Port Hastings and Inverness. This trail system is ideal for bikers, hikers, cross country skiers and more. It's a fantastic way to slowly discover Cape Breton's beautiful scenery by bicycle or by foot.
Feel free to tackle the entire trail across a couple of days or experience a section of it. Justin and I stopped by a couple of small parks and lookout points to visit sections of the trail at Christy's Lookout and Michael's Landing.
Attend a Ceilidh on Canada's Musical Coast
You can't visit Cape Breton Island without attending a ceilidh! Pronounced "kay-lee", it is Gaelic for "gathering" and also known as a kitchen party. This is where you can enjoy traditional Cape Breton fiddle music, singing, dancing and storytelling.
There are a few larger events celebrating music on Cape Breton Island, such as Kitchenfest, although there are other places to find daily ceilidhs. The Celtic Music Interpretive Centre has a lunchtime ceilidh every day from June to October, as well as music on select evenings.
We also stumbled upon live music at Glenora Distillery, which happens twice a day in the pub. The Red Shoe Pub in Mabou is also an excellent place for live fiddle music every day.
The Red Shoe Pub in Mabou
Owned by the famous Rankin family, The Red Shoe Pub is an awesome place to go for dinner and live music. Four sisters, Heather, Cookie and Raylene Rankin, along with eldest sister, Genevieve Fakoory, purchased the pub in 2004 and opened their doors in 2005. It's a mainstay of the community for locals and visitors alike.
They boast traditional live music, seven days a week at the pub. This is a very busy spot in town, especially when live music is happening, so be prepared to wait for a table (it's worth the wait!). After waiting a short while, we were invited into the pub for a beer while we waited for our table to be ready.
There are a few vegan-friendly options on the menu, including the roasted vegetable pasta puttanesca, the veggie burger, the Red Shoe vegetarian chili, the Red Shoe salad, and a vegan brownie for dessert. We also loved listening to a pianist and fiddler perform while we dined for a memorable Cape Breton experience.
For more vegan options on Cape Breton Island, please take a look at our complete vegan guide to Cape Breton, Nova Scotia.
Golf at Cabot Cape Breton
Cape Breton Island is known for its renowned golf courses, especially Cabot Cape Breton. It's been named as a Top 100 Golf Resort in the World by Golf Magazine and offers spectacular views of Inverness Beach from the top of rugged cliffs.
Cabot Cape Breton features two sensational golf courses (Cabot Links and Cabot Cliffs), a 10-hole short course (The Nest), on-site restaurants and luxurious accommodations if you'd like to take a golf holiday in Cape Breton.
Inverness Beach
Inverness Beach offers two miles of long sandy beaches with the warmest ocean waters north of the Carolinas. Its shallow waters are perfect for families with small children or travelling couples like us who love a beach day.
Take a stroll on the beach or the boardwalk above the beach. Search for sea glass in the sand or admire golfers off in the distance. It's also possible to book a Mobi-Mat or Mobi-Chair (at the Inverness Visitor Centre) that provide beach access to those using wheelchairs, walkers or strollers.
While Justin and I didn't opt for a beach day at Inverness Beach, we visited the beach at sunset. The sunsets at Inverness Beach are some of the best you'll see on Cape Breton Island. Gaze off to the horizon as you watch the sun dip into the ocean and be dazzled by the shimmering waters and vibrant skies.
The Annex in Inverness
While in Inverness, The Annex is the perfect place to stop for dinner. Their patio overlooks the ocean, so it's another place where you can enjoy the sunset. The food and drink is quite delicious, too! Make sure you make a reservation to avoid disappointment.
They serve local beer on tap, and there's always a vegan option on the menu. I ordered a quinoa and tofu salad that was one of my favourite dishes on Cape Breton Island. You can also hear live music at The Annex on select evenings.
Route 19 Brewing
After sunset, we made our way down the road to Route 19 Brewing in Inverness. While there is a full pub menu for dinner, Justin and I only wanted to sample their beer. Unfortunately, they were out of most varieties of beer on tap, so we weren't able to get a flight. We ordered a couple of cans of beer instead.
We'd love to return in the future so we could sample more of their craft beer. You can also stop by their retail shop to purchase some cans of beer to go (or growlers), if you'd like to bring some home with you.
Stay at Northeast Cove Geodomes
Northeast Cove Geodomes is luxury glamping at its finest. These really emphasize the "glamourous" part of glamping! You'll be close to nature but with all the modern necessities for a comfortable and cozy stay in your very own geodesic dome.
Unwind at Northeast Cove and absorb the surroundings from your own private deck. Your dome overlooks the waterfront and the landscape of lush, rolling hills truly reminded me of Scotland. The domes face Mabou Mountain and the peaceful waters of Mabou Harbour.
There are only four domes available for an exclusive experience. Each dome is perfect for one or two guests, and it comes with a kitchenette, bathroom with shower, sitting area, air conditioning, and your own deck with outdoor seating. You can even gaze up and look at the stars through a ceiling skylight above your bed at night.
It's easy to pop into Mabou for groceries, and we enjoyed breakfast and coffee each morning from our dome. The owners, Danny and Lorna, are super friendly and welcoming, and we touched base with them regularly throughout our stay. Please note that a two-night stay is required. In order to maintain a tranquil environment, Northeast Coves does not allow children under 10 or pets to stay here.
Go Kayaking at Northeast Cove Geodomes
Danny is also the founder of the Mabou Sailing and Boating Club, dating back to 2008. While the sailing club no longer exists, Danny continues to provide outdoor recreational experiences to the public at Northeast Cove Geodomes.
It's possible to borrow kayaks, standup paddleboards, and bicycles at Northeast Cove Geodomes. This comes complimentary with your stay. Justin and I took two kayaks out on the water from the property and paddled around Mabou Harbour. While we didn't stray too far from the property, it's possible to paddle down into the village if you'd like.
Things to Do on Cape Breton: The Cabot Trail
Cape Breton is most known for The Cabot Trail, a 298km long highway that meanders around the sea and through the mountains. It's one of the most scenic drives in the world. There are numerous scenic viewpoints along the Cabot Trail, as well as the starting points for many wondrous hikes.
Experience the beautiful landscapes of Cape Breton Highlands National Park. Ride Atlantic Canada's only gondola to the summit of Cape Smokey. Uncover shops with locally handmade wares, delectable food at local restaurants, and spot wildlife on your journey. While you could probably drive the entire Cabot Trail in a day, we suggest spending a minimum of two days to explore the Cabot Trail.
Cape Breton Highlands National Park
Cape Breton Highlands National Park is an area of outstanding beauty in Canada. It's 950 square kilometers of captivating wilderness where the mountains meet the sea. The Cabot Trail winds through Cape Breton Highlands National Park. Admire rugged cliffs, forested river canyons, and so many spectacular views along the way.
This national park is home to 26 hiking trails, including the majestic Skyline Trail. There are also eight campgrounds within the park if you opt for camping over hotels, although some campsites offer the oTENTik roofed accommodations for extra comfort.
Remember to pay your entry fee when entering the Cape Breton Highlands National Park for the day. It's easy to do so at either end of the park when driving on the Cabot Trail. A Parks Canada Discovery Pass is a fantastic investment and allows unlimited admission to over 80 Parks Canada historic sites and parks all year long. Display your Parks Canada Discovery Pass on your dashboard or rear view mirror anytime you enter the national park.
The Skyline Trail
If there's one trail to hike when you visit Cape Breton Highlands National Park, it's the Skyline Trail. It's the most popular trail in the park for many good reasons. And it's even more amazing when you hike the trail at sunset.
First, this trail is pretty accessible for most people, which is one reason why it's such a popular hike. It's a 6.5km return hike, meaning that it isn't too lengthy of a jaunt. While the first portion of the hike involves walking through the forests, fields and across boardwalks, it's the end of the hike that makes the trip worthwhile.
When you reach the end of the Skyline Trail, you'll truly feel as though you're at the edge of the world. Make your way down to the end of the boardwalk, stopping to admire the many scenic views on the way. You'll have views of the mountains, the rugged coastline, the winding road of the Cabot Trail, and the Atlantic Ocean.
As this is a fragile ecosystem, please stay on the trail. Don't venture off the boardwalks as you approach the end of the trail as there are plants we need to protect growing all around. It's possible to view wildlife, like moose, from the Skyline Trail.
If you plan to do a sunset hike like we did, make sure that you leave the parking lot about two hours before sunset. This will give you more than enough time to make it to the lookout point before the sun goes down. Bring a flashlight or headlamp for walking back because it will get dark rather quickly.
An aside: if you were the couple who got engaged on The Skyline Trail in early August 2023, another big congratulations to you! To the future groom, I was the one who held your phone, pretending to take a photo of you both, when I was actually taking a video of your proposal (as instructed by you)! I hope that the future bride loved her marriage proposal. I thought it was so sweet!
Atlantic Gondola to Cape Smokey Mountain
One of the best things to do on Cape Breton is ride Atlantic Canada's first gondola. The Cape Smokey Gondola offers some of the best views of Cape Breton Island's impressive landscapes from high up above. Ride the gondola to the top and gaze out towards Cape Breton's pristine coastlines and picturesque islands near Ingonish.
At the top, there are many opportunities for photos, including a viewpoint lined with wooden Muskoka chairs. There's even a little hut, the Summit Shack, selling beer and other beverages to enjoy with your epic view.
From the top of Cape Smokey, you can go for a walk on the hiking trail. It takes about 45 minutes to walk on the trail to Hawley's Lake. At Hawley's Lake, you can rent a kayak and go for a paddle. Cape Smokey is a bit of a "choose your own adventure". Relax at the top with a beer in your hand or go hiking and kayaking. It's up to you!
Whale Watching with Keltic Express Zodiac Adventures
Keltic Express Zodiac Adventures offers zodiac boat tours to view the landscapes and wildlife around the coastline. Based in Ingonish, this tour company allows small groups to get up close to whales, seals, dolphins, bald eagles, and the dramatic cliffs near the Cabot Trail from the water.
While we didn't spot any whales on our whale watching trip, we managed to see a few seals and an eagle. We also peered into viewing devices on the surface of the water to look at lobsters and fish down below. The boat ride was a blast. At times, we zipped across the sea at great speed, which was quite thrilling.
When you are fortunate enough to see whales, it's possible to spot Fin whales, Minke whales, Humpback whales and Pilot whales. Keltic Express Zodiac Adventures boasts one of the best sighting success rates in Atlantic Canada, so I'm certain that you'll have better luck than we did.
All in all, this is one of the best things to do on Cape Breton Island. It's a great way to spend half a day on the Cabot Trail. I recommend getting out on the water at least once during your Cape Breton trip.
Salty Rose's and the Periwinkle Cafe
After a morning zodiac boat tour in Ingonish, pop over to Salty Rose's and the Periwinkle Cafe for coffee and a light lunch. This is a super cute cafe inside a decorated home by the seaside. I loved all of the lawn decor that welcomed us into the restaurant. You'll find seating both indoors and outdoors.
The cafe is split into two: on one side, there's a retail shop featuring local, handmade gifts. The cafe is on the other side. For lunch, there are sandwiches (including a veggie sandwich), which can be prepared on vegan or gluten-free bread.
To drink, they offer fair-trade coffee roasted on the east coast, handmade teas, specialty lemonades, locally brewed beer, local wine, kombucha, and cocktails.
Black Brook Cove Beach
Now, let's start to drive from east to west across the Cabot Trail for the day. Our first stop is Black Brook Cove Beach. This is one of the most popular beaches at Cape Breton Highlands National Park and it's right off the Cabot Trail. Spend a day at the beach or simply dip your toes in the water and admire the views.
On the northern edge of the beach, marvel at the beautiful Still Brook Falls, a horseshoe-shaped waterfall that empties into the ocean. You can see the waterfall from Black Brook Cove Beach or on the Jack Pile Trail, a short hike from Black Brook Cove Beach. The best view of Still Brook Falls is from below while standing on Black Brook Beach.
Neil's Harbour Lighthouse
Neil's Harbour Lighthouse is a heritage lighthouse that was built in 1899. Standing at 34 feet high, the lighthouse stands on Neil's Head, guiding ships into Neil's Harbour. The light is still operational, and you'll find a small ice cream shop in the base of the lighthouse during the summer season.
White Point Trail
The White Point Trail is a short distance off the Cabot Trail. This coastal trail is a 2.4km out-and-back walk (a little over 1km each way). Walk along a gravel path and across the stony coastline on White Point to eventually reach Burnt Head.
Standing on the mossy ground gazing at the dramatic white cliffs in the distance, I felt like I was transported to Ireland. I love that these beautiful scenes are actually located within Canada, and we didn't need to cross an ocean to see them.
There is a marina parking lot before the trailhead where you can park your car. We saw many people enjoying a picnic at this location as there's a small picnic area overlooking the harbour.
Meat Cove
Meat Cove is the farthest off the beaten path that you'll venture from the Cabot Trail. It's the northernmost place in Cape Breton Island with stunning views all around. You'll need to drive down a bumpy, gravel road with twists and turns. Just take it slow, and the drive isn't too bad.
Once you reach Meat Cove, there is a parking lot near the beach or you can park at the side of the road up near the campground. Please note that the campground owns the property with the best view of Meat Cove that you can only access if you're staying there.
You can spend a day at the beach – it's a rocky beach for the most part with sand once you get closer to the water. If you find yourself with some extra time at Meat Cove, there is a hiking trail with arguably the best views of the area. It's a 3.7km out-and-back trail that's steep and can be a bit muddy, but the scenery at the top is astoundingly gorgeous.
If you have only a limited amount of time to experience the Cabot Trail, I might go against the popular opinion and say that it's okay to skip Meat Cove. The scenery is a bit obstructed by the campground if you aren't able to embark on the hiking trip, and I'd argue that Black Brook Cove has the nicer beach of the two.
Stop at All the Lookouts
One of the best things to do on Cape Breton Island's Cabot Trail is stop at all the lookout spots. When you're driving on the Cabot Trail, there will be many parking lots at the side of the road where you can safely stop to see the beautiful scenery.
Some of the best viewpoints on the Cabot Trail include the two lookouts at MacKenzie Mountain, Pathend Brook Lookout, Lakies Head Lookout, and Pleasant Bay. I've marked these on the map in this blog post so you can easily find them on your journey.
L'abri Cafe in Cheticamp
Slightly beyond the Cabot Trail, stop at L'abri Cafe for dinner. It is an Acadian-owned restaurant. The word "l'abri" means "shelter", tributed to the fierce southeast winds in Cheticamp and the Cape Breton Highlands.
We dined on the patio by the edge of the cliffs, savouring the stunning scenery all around. They have an extensive wine, beer and cocktail menu. The vegetarian, vegan and gluten-free items are clearly marked as such on the menu, so it was easy for me to order a vegan dish. I ordered the L'abri burger prepared with a Beyond patty and vegan toppings.
Stay at Knotty Pine Cottages in Ingonish
Knotty Pines is a collection of waterfront cottages, cabins and motel rooms in Ingonish. We stayed in one of the Sunset Cabins which felt like a home away from home. Our private cabin included a queen-sized bed, loveseat, dining table for two, satellite TV, Wi-Fi, microwave, coffee maker and kettle.
We also had a private balcony with a barbecue, as well as patio chairs and a table. The balcony overlooks Ingonish Harbour. While it's a north-facing balcony, it's still a lovely place to watch the sunset as the sky turns brilliant shades of orange, red and pink over the water.
The staff here is super friendly and nice, and the sunset cottages offer such a pretty view of the harbour. We thoroughly enjoyed our stay at Knotty Pine Cottages and highly recommend that you call it home for at least a couple of nights, too.
Things to Do on Cape Breton: Baddeck
From Ingonish, continue driving south down the Cabot Trail. Stop for an afternoon kayaking trip on the North River and St. Ann's Bay. Then, continue on to the town of Baddeck, home to the Alexander Graham Bell National Historic Site and other nearby attractions.
Kayaking with North River Kayak Tours
One of the my favourite things to do on Cape Breton was our kayaking tour. Justin and I thoroughly enjoyed our trip down the river with North River Kayak Tours. Whether you've gone sea kayaking before or you're brand new to the activity, the staff at North River Kayak Tours will have you feeling confident as you paddle down the river, soaking up the sensational scenery.
On our half day trip, our knowledgeable tour guide led us down the North River towards St. Ann's Bay, pointing out some intriguing landmarks on the way. At about the halfway point, we stopped at a small rocky beach for some tea and a snack. The beach is home to a hidden waterfall just off the coast, which was such a lovely surprise.
Although we didn't stay on the property, the River Nest Wilderness Cabins are the perfect retreat after a day of paddling. These one to four person wilderness glamping cabins are just a 30 second walk from North River Kayak Tours and are owned by the same company. Next time we visit Cape Breton, we'd love to stay here.
Big Spruce Brewing
Big Spruce Brewing is a local organic craft brewery on the outskirts of Baddeck. The owners, Melanie and Jeremy White, opened the brewery in an old farmhouse with over 100 acres of farmland. They planted their hops on their certified organic field. Nowadays, it's a favourite place to go for a pint on Cape Breton.
The brewery has an amazing beer garden with ample indoor and outdoor seating. While they always serve pints and flights of beer, sometimes there are food trucks with pub fare and pizza. You're also welcome to bring your own picnic anytime.
On select days, you might hear live music happening at the brewery. I recommend checking out their Facebook page before you visit because it lists all of their events and daily food offerings. If I had to choose, Big Spruce Brewing was my favourite brewery in Cape Breton for its tasty beer and overall excellent vibes.
Alexander Graham Bell National Historic Site
Alexander Graham Bell National Historic Site is located in the middle of the village of Baddeck. Of course, Bell famously invented the telephone and was also a leading supporter for deaf education. His family had a summer vacation home in Baddeck. Both Bell and his wife, Mabel Hubbard Bell, played active roles in the community of Baddeck.
At the historic site, you can tour the museum and the property itself overlooking the UNESCO Biosphere Reserve, Bras d'Or Lake. The museum is home to the world's largest collection of Bell's models and mementos. There's a recreation of Mabel's gardens at the home as the ground's gardens were once carefully tended to by Mabel.
Uisge Ban Falls Provincial Park
Uisge Ban Falls Provincial Park features a 15 metre tall waterfall in a granite gorge. It's a 2.6km roundtrip hike from the parking lot to the falls and back. The waterfall and park are a short drive from Baddeck, and it's worth adding to your Cape Breton itinerary if you have the time.
Stay at Inverary Resort
Inverary Resort, situated on the shores of the Bras d'Or Lake, welcomes you for a wonderful stay in Baddeck. This hotel resort is the perfect place to stay before embarking on the Cabot Trail or after you've completed your Cabot Trail adventures.
This resort is a destination in itself. You could really have a fabulous time spending all day here. It's a year-round destination where you can go kayaking, standup paddleboarding, cruising on the pontoon boat, snowshoeing or snowmobiling.
Go cycling in the summer or ice skating in the winter. In the summer months, there's also a nearby golf course, Bell Bay Golf Club. I simply loved going for a morning stroll around the property to witness the pretty lakefront views.
Our room was spacious, comfortable, and had all the amenities we needed for a restful night's sleep. Justin and I dined at the on-site restaurant for dinner, The Narrows Cafe and Bar. Enjoy yummy pub fare, refreshing craft beer, and live music on Fridays and Saturdays.
More Things to Do on Cape Breton Island
If you find yourself with a few more days, there are even more things to do on Cape Breton Island. This destination quickly became one of my favourite places in North America, so I suggest spending as much time there as you can.
We didn't have the time to venture over towards Sydney or the eastern or far southern sides of the island. Here are even more things to do in Cape Breton to add to your list, especially if you're spending 7 days in Cape Breton, Nova Scotia.
Fortress of Louisbourg National Historic Site
Cape Breton Miners Museum in Glace Bay
Gaelic College of Arts & Crafts
Middle Head Trail
Franey Trail
Les Trois Pignons (Acadian history through world-famous hooked rugs and antiquities)
Celtic Music Interpretive Centre
Golf at Cape Breton Highlands Links
The Big Fiddle in Sydney (Roadside attraction)
Want to see more photos of Nova Scotia?
Browse and purchase any of our photos as downloadables, prints, large canvas prints, housewares and so much more. Makes great gifts!
More Things to Do in Nova Scotia
Planning a trip to Nova Scotia? This beautiful Canadian province belongs on every bucket list as it's one of the best places to visit. Here are some travel guides and itineraries for your Nova Scotia travels.
Need Travel Insurance?
You should never leave home without travel insurance! Check out the best rates to make sure you're covered in case of an emergency or accident.
This blog post was written in partnership with Nova Scotia Tourism.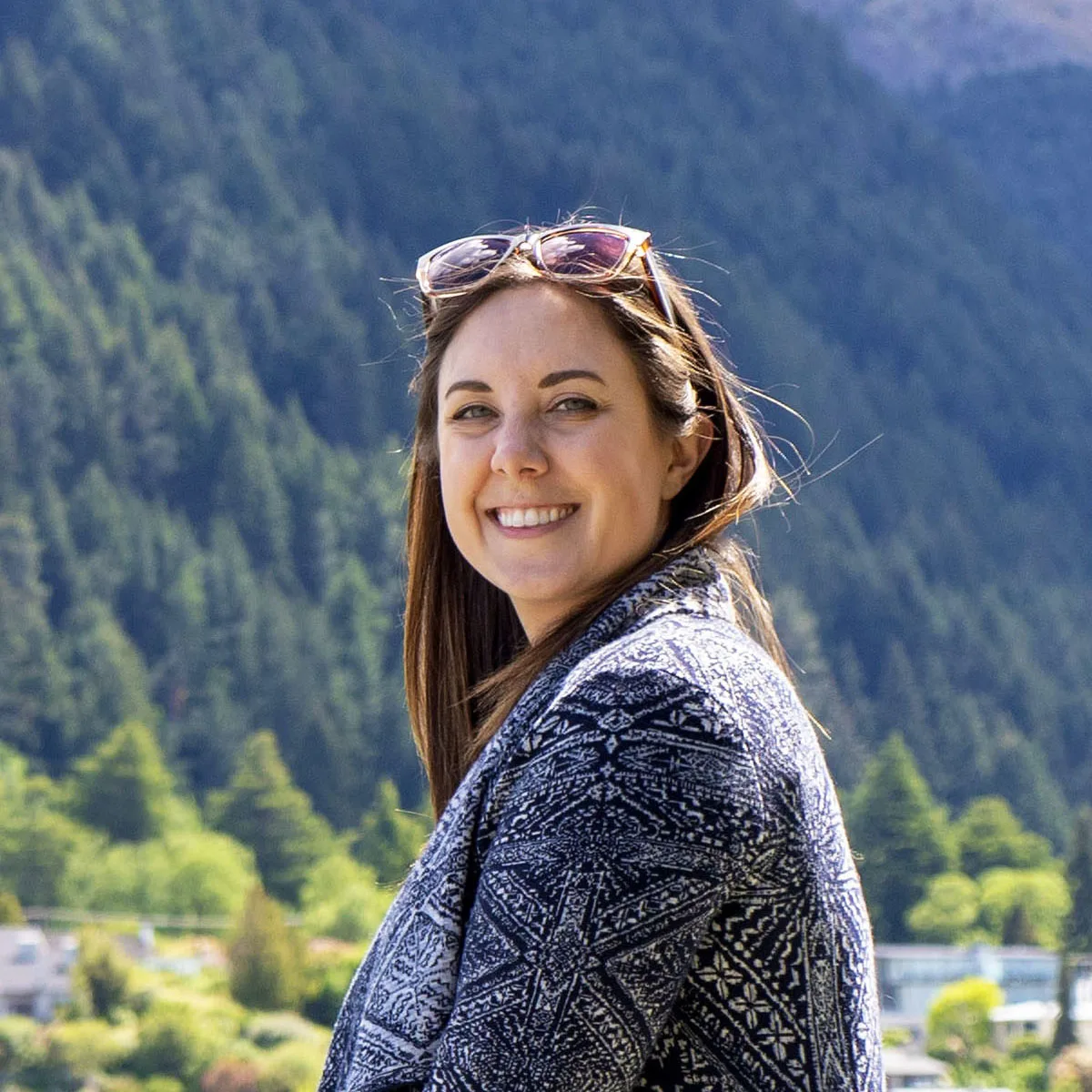 Lauren is the full-time travel blogger and content creator behind Justin Plus Lauren. She started Justin Plus Lauren in 2013 and has travelled to 50+ countries around the world. Lauren is an expert on vegan travel as one of the very first vegan travel bloggers. She also focuses on outdoor adventure travel, eco and sustainable travel, and creating amazing travel itineraries for cities and small towns.