Here's Part 2 of our collaborative series, Tips For Saving Money For Travel! You can read part 1 here if you haven't already. I will provide some more of my own helpful tips, as well as a collection of tips from travel bloggers from around the web!
These tips for saving money can help you on a daily basis to build a travel fund for whenever you decide to get away!
You might discover that you can save money faster than you thought possible before by making a few simple changes in your life, and soon enough, you'll be at your dream destination!
Savings Tip #3: Make Your Own Meals at Home
I realize in some places around the world, it might actually be cheaper to eat at restaurants. However, it is mostly better if you buy your own groceries and prepare your own meals at home. Don't know how to cook? No worries! There are so many free recipes all over the web with very easy to follow instructions. Plus, you'll learn a new and very important skill in life! Here are a few tips that will help you along your way:
Cook your food at home and eat at less restaurants. This one is pretty self-explanatory. Usually a meal in a restaurant will cost way more than one you prepare at home. You will be able to get way more food out of a home cooked meal, typically with lots of leftovers that can be used for lunch the next day. Or you can freeze the extras for a later date when you don't feel like cooking.
Bring a bag lunch to work with you. This doesn't have to be anything boring or tasteless. You can bring leftovers from last night's dinner to work with you (that's what I try to do!). You can prepare your lunch meals on a Sunday before the work week if you are the type that works a 9-5 job. You will save lots of money by not purchasing a meal at a takeout restaurant or your workplace's cafeteria by bringing your own meal.
Shop at Farmer's Markets. If you have a local market with fresh produce straight from the farmers, it will always be cheaper than the local grocery store! Plus, you'll be getting way fresher food, you'll be supporting a local farmer, and you might be able to ensure that it is organic / non-GMO just by asking the farmer. We have some markets near us that only allow organic fruits and vegetables, which is fantastic. Unfortunately, these are seasonal and only run from June – October in our neck of the woods.
Make your coffee / tea at home. This is a big one for me. I'm really bad about this. When I go to work, I always buy a coffee or two a day. I love my coffee and it really does help me get through the day. I also really like tea, so lately, I've only been purchasing one coffee a day, and replacing my second beverage with a tea that I make at work. I have lots of tea at home, so I just bring some with me, along with a mug. My next step is to buy a nice coffee travel mug that keeps your beverage hot for hours, and prepare my coffee at home to bring to work. Even switching from a Starbucks latte to a regular coffee with help you save money, but I totally recommend just making your caffeinated beverages at home and bringing them with you. I did a little bit of the math – if you purchase a Starbucks latte once a day for 5 days a week, that's around $1500 a year! I calculated what I would spend on regular coffee if I purchased just one a day – $655 a year! Those could equate to be a flight, meals on a vacation, nights at an apartment or hotel, etc. If you cut out the Starbucks for the year, you could easily pay for a 7-day Caribbean cruise, and likely your flight, too!
Go Vegetarian/Vegan. This one is obviously close to my heart since I was raised vegetarian and have been vegan for the past five years. Eating more vegetarian and vegan saves you a lot of money. There are so many amazing websites out there to guide you along your way to eating more vegetarian food, including Choose Veg, Meatless Monday, and my favorite recipes from the Post Punk Kitchen. Even if you do a Google search, you should be able to find a vegetarian or vegan version of your favorite meal. Getting back to the topic of saving money, usually the most expensive foods are meats, dairy products, and eggs. If you switch to eating more grains, legumes, beans, and of course, vegetables and fruits, you'll save money and you'll be eating healthier in the process! You might end up feeling better and have more energy in general. I found that when I switched from vegetarian to veganism, I had way more energy and didn't need to sleep as much. If you ever would like to talk about eating more vegan food, feel free to contact me – I would be happy to help!
Savings Tip #4: Adjust Your Social Life
In the title, this one sounds a bit depressing. But, it really isn't at all! I think you can have a social life, have lots of fun, and save money in the process. Who said that you have to spend lots of money to enjoy time with your friends? I think that being in the company of your greatest friends can be some of the best times no matter what you're doing.
Stay In. Your friends can take turns being the host/hostess and have a gathering at their place. Sometimes I get together with friends and we'll play board games or video games, listen to music, eat food, cook or bake food together, have a couple of drinks, watch a movie, or just chat! I swear that playing Cards Against Humanity have produced some of the most hilarious nights together!
Host a Pot Luck. Have all of your friends bring a meal or a snack to your place and have a pot luck meal together! This is way better than meeting at a restaurant because you get way more food options, and everyone created something special for the day.
Spend Time Outdoors. Often times, going for a walk, hike, or bike ride is completely free of charge, and you'll get to get some fresh air and exercise! Other times, the only cost is transportation to the site or a small entrance fee.
Quit Smoking / Drink Less. I enjoy having a drink now and again, having a glass of wine, or having a pint of beer just as much as anyone else. If you cut back a bit on this, or enjoy some drinks at your friends' houses rather than the bar, you'll save some cash. Going out for drinks is expensive. I'm pretty sure that many of my co-workers wonder how Justin and I are able to always travel or visit new places. But, I see how many people are out every weekend spending hundreds of dollars at the bar, and then they have no money to do anything else. I would much rather save for travel! Plus, drinking to excess is not healthy. Neither is smoking, so try to quit that habit if you can. I don't think I need to go into how expensive that habit can be!
Savings Tip #5: Have a Savings Account for Travel
I have a couple of separate ways to save towards our holidays. It is most important that you choose a bank that does not charge you any service fees, plus try to get as high of interest as you can. Also, there are many travel credit cards out there that give you points or miles towards travel. I won't go too much into that because I know that this varies from country to country.
Open a Travel Savings Account. I put $100 every two weeks into a separate savings account and let the money accumulate. It is amazing how quickly it adds up!
Coin Jar. In Canada, we have these $2 coins called "Toonies". Every time I spend money and get my change back (like when I purchase a coffee..haha), I take all of my toonies and throw them into this change jar. On our last Caribbean cruise, I had so many toonies that it translated into all of my spending money for the trip!
Do Additional Work. If you're able to, do some extra freelance work on the side, work a little bit of overtime at your job, or get a second job to save towards your vacations. You can put all of this money straight into your travel savings account. Between my regular job and the part-time school that I'm doing at the moment (studying to be a Registered Holistic Nutritionist!), I don't really have any extra time for this type of thing. But, you might find that you have some free time and can spend a couple of hours a night doing some freelance work from home for a little bit of extra cash.
There you have it! Those are all of the tips that I have for you. You can use these tips in your everyday life even if you aren't saving for a vacation – maybe you're saving for something else, or trying to pay off some debt. By following some of the examples in this blog post and Part 1 of the series, you'll be able to save some extra cash and perhaps even improve your quality of living!
Here are some tips from some other fellow travel bloggers. Thank you to everyone for contributing your thoughts, suggestions, and ideas!
Lina and David say: It is imperative that you setup an exclusive travel savings account. Something that isn't tied to your everyday accounts where you can set aside money for your upcoming travels. For us, we did this to reach our long-term travel goals. As we sold stuff from our house, we put that money straight into the travel account and never touched it. It was exciting to watch the account grow and before we knew it, we had  enough to pursue our passion of long term travel. This method works well for any type of travel planning through. If you are just saving for a smaller trip, designate a certain amount of money from each paycheck and put it straight into the travel account each time you get paid.
Samantha and Yeison of MyTanFeet
Yeison and Samantha say: Our most valuable tip when saving for travel is one that'll also help your health. Cut down on junk food. Whenever I looked at our grocery bill, it was amazing how much we spent on junk food. We love to buy a bag of chips here, some popcorn, crackers, cookies, and the like. $4 for a bag of chips may not seem like a big deal but if you think about it, that can be an entire meal if you're in Thailand or somewhere cheap. $5 for a venti white chocolate mocha 5 days a week equals to 100 dollars a month just spent on coffee! Instead of drinking it all away, you can save that money for a plane ticket. I'm not saying don't buy what you like, but cut down on it. Get drip coffee instead and bring your own cup or just buy that $5 coffee once a week. You might be surprised at how much these little things add up at the end and how much money we actually spend on them.
Unless you're making a ton of money, most people have to save up for their travels and a lot of that comes from different aspects of your life. You can definitely do research and find discounts and great deals for hotels and such but if you take it one step further by cutting down on unnecessary food costs, you can save even more. And help you get your beach body ready!
Anna says: You probably hear a lot about sacrificing in order to save for travel. Yes, while I agree sacrificing is important in order to achieve your savings goals, but let's be real… it takes an enormous amount of self control that most humans don't have. For example: Like a lot of people trying to save, eating out was the first sacrifice. However, after a few weeks, it was obvious that this was a terrible thing for us. Our existence pretty much depended on good food and it really sucked to not eat out. Guess what happened after eating the same boring home-cooked food for weeks? We ate out EVERY MEAL for a couple of weeks straight, and our bank statement went through the roof. So I don't believe in depriving yourself of everything you love. Trust me, deprivation will only lead to over-indulgence at the first signs of a crack in control. No one wants to feel deprived. Instead, I think a better strategy is to identify what you can and cannot live without, and work to cut out the excess and only keep what's really important to you.
And most importantly, don't live beyond your means. I know people who took out the biggest mortgage on a house they could afford, upgrade to a new car every few years, buy all the latest tech toys, etc.. But are all those things really necessary? What can you live without? Can you do without cable? Can you cut the daily Starbucks run? Or even move to a smaller apartment? So I didn't stop eating out completely (because there's NO WAY that was happening), but I stopped buying clothes, I continued to drive a dented-up car that I already paid off, I sold a bunch of junk I didn't need, I didn't have a TV, and hell, I didn't even own a smartphone. I didn't NEED any of that.  But being able to eat out a couple of times a week made me happy, and that in no way broke the bank. By cutting out all the other stuff, I was still able to meet my savings goals every month while not feeling deprived.
Molly says: When Justin and Lauren asked me to write a tip on how to save money for travel, my first reaction was….eek! Saving has never been my strong point, and I've even worse at any kind of financial planning. I never make detailed budgets. I very rarely make detailed enough travel plans to take advantage of things like journey passes, pre-booking at major attractions, and early-bird discounts. I don't have a credit card, and because I don't usually travel long-haul, I don't collect air miles. Basically, I keep life simple. I save as much as I can each month, I know how much I have to spend while I'm away travelling, and I don't spend more. So far, it's worked like a charm, and despite my plans to travel around France for 4-5 months next year, I haven't changed that philosophy. So the only practical tip that I can offer anyone else who's saving for travel is a simple one, but it's one that's doing wonders for my savings account – prioritise. If you really need that new pair of jeans or pair of shoes or new smartphone, go ahead. If you absolutely can't live without a Starbucks in the mornings, fine (and believe me, I completely understand the consequences of caffeine withdrawal). But if it's a case of want rather than necessity, train yourself to think again. Do you really want it? Or would you rather have an extra night away on your travels? And be honest about the answer! If you really want to travel, you will find a way to afford it.
Taylor says:  As I explain in 'Travel Doesn't Need to be Expensive', my number one tip for saving is to make a plan. Work out how much you will actually need to in order to get to your chosen destinations. If you find it too hard to make a detailed budget, just work out the money you need for the flight(s) and think about the spending money another time – that can be your second plan!
Next, work out where your income goes. I'm a fan of the app 'Spending by MH Riley'. Work out what you could cut down on or what you might be prepared to give up in order to make your travel dreams a reality We're all different, so perhaps you could take a packed lunch to work instead of buying one, perhaps shop at a cheaper supermarket or quit smoking. It will depend on your current lifestyle and how much of a struggle it's going to be to pull the money together.
The final part of your plan is to set up a standing order from your account for the amount you've worked out you need to set aside each month. It's quite exciting watching the money build up, knowing you are getting closer to that trip of a lifetime.
Flora says: I think my most valuable tip for saving for travelling would be to research the prices of different things you want to do when travelling – be it hostels, a local meal, an activity etc – and then compare it to the price of normal activities you do at home. When you can equate a cup of takeaway coffee to an overnight bus journey in South America it gives the money you're saving a lot more meaning, and also helps you to cut out the little luxuries you often indulge in at home in favour of their travel-related equivalents.
Heather says:  One of the ways we save money for travel is by not exchanging Christmas presents. We decided not to give each other gifts one year as we were saving for a big trip and have continued the practice ever since. We'd much rather treat ourselves to new experiences than buy each other meaningless things we may not even like. Recently, we've taken it a step farther by not buying big gifts for our family and friends. Instead, we pick up small souvenirs on our travels we think they might enjoy. We don't buy just to buy, but keep an eye out for items with personal meaning or interest: a pottery sail boat in Greece for our uncle who likes to sail and handmade paper in Laos for a crafty friend. Our loved ones are so touched we thought of them on our travels that they don't miss those generic gift cards to a store at the mall!
Adelina says: After living abroad and traveling around Europe, I've learned that all I really need on the road is a laptop, a camera, and clothes to be happy. Everything else is extra and you can always find a creative solution for your problems. Now that I'm back home and saving up for the next adventure, I use the same mentality. I always ask myself one question: "do I really need it?" Usually, the answer is no and that means I need to put whatever it is down and walk away. The more I do it, the easier it becomes. As I watch my savings add up in my account, it almost becomes a competition with myself to see how much I can add to it from my pay cheque every month. However, there is a balance to the saving process. You don't want to be stuck at home all the time and never being able to go out with friends or take in experiences close to home. It is important to set aside a little bit of money to live a normal life, otherwise you'll go crazy from boredom. I really like using Mint for keeping track of all my expenses and savings. They help you to track trends and alert you when you have unusual spending or have blown all your budget.
Dennis says: Saving money for travelling was actually not as difficult as it seemed, all it took was some strict discipline. Well, that doesn't mean that strict discipline was an easy thing to do, but once there was a reason and a focus, in this case long term travelling, it was actually quite possible to stop all expenses that were not absolutely necessary. While a lot of these expenses appeared to be reoccurring monthly events, the one thing it came down to in the end was to quit drinking. Even if I was never much of a drinker in the first place, but entirely stopping to go out on weekends and spending money on clubs and drinks, resulted in surprisingly big savings.
Luckily the savings didn't stop there, because continuing the behavior and not drinking while travelling was the next logical step to save money. This was especially true in places like India where one single beer cost as much as a night in a hotel and this expense was simply not justifiable. So refraining from drinking and not treating the long term travels like a vacation was definitely a really important step to saving money and to making it last as long as possible.
A HUGE thank you to everyone who contributed! Do you have any additional tips to save money?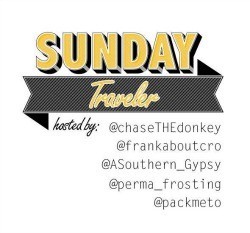 Linking up with the popular #SundayTraveler series! Grab a coffee, sit back, and travel around the world from the comfort of your own home. Check out Pack Me To's post about Driving in Crete and check out all of the other awesome blog posts, too!