After we enjoyed a delicious dinner at the Wildflower Cafe in Watkins Glen, we needed to complete our meal with a delicious dessert. Just down the main street in town, The Great Escape Ice Cream Store served up a huge variety of frozen treats, including a great variety of vegan soft serve ice cream flavors! This darling ice cream parlor has been family-owned for the past 32 years, and we could tell that it was a beloved spot in the downtown region.
First of all, it is often difficult to find vegan desserts of any kind while traveling about, let alone in a small town like Watkins Glen. Secondly, it is rare that we would find delicious, plant-based desserts in such a great amount of flavors! Oh, the choices! It was difficult to decide as all of these sounded so yummy. After some deliberation, I eventually chose the Maple Nut flavor (sticking with my Canadian roots, I suppose), and Justin opted for the Caramel vegan ice cream. The above board shows all of the vegan options available at Great Escape. Most of these are flavors added to soft serve ice cream, and there were two different kinds of the hard ice cream, too.
When we placed our orders, we were given the option of having vanilla, chocolate, or a twist of vanilla and chocolate soft serve ice cream. Maple nut seemed to go best with vanilla, and Justin chose to have the chocolate-vanilla twist with his caramel-flavored treat. We ate the ice cream out of small bowls, although they did have vegan cones available as well.
The vegan ice cream at Great Escape is soy-based, though you would hardly know it. It tasted exactly like what I recall dairy ice cream tasting like! Dairy-free ice cream can be made out of a variety of different plant-based milks, including soy milk, almond milk, coconut milk, cashew milk, and the list goes on. Most grocery stores nowadays carry at least a few types of dairy-free ice cream, so you should give it a try! Our personal favorite to purchase at home is a coconut milk ice cream made by Luna & Larry in the chocolate peanut butter flavor. It is the best ice cream we have ever eaten! Oh, my apologies for getting off on a tangent there…we are used to buying the hard ice cream at home, but eating soft-serve ice cream was such a treat.
If you find yourself in the Finger Lakes region of New York state, be sure to stop by The Great Escape in Watkins Glen for a yummy frozen treat, although you may have a tough time choosing what flavor to eat!
The Great Escape

221 S. Franklin St.

Watkins Glen, NY

Summer Hours: 11:00am-10:00pm

Spring & Fall Hours: 12:00pm-9:00pm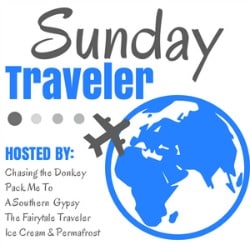 This post is part of the #SundayTraveler blog link party, where each Sunday we are able to travel the world by reading various travel blog posts! You can check out What to Pack for a Vacation in Croatia by Chasing the Donkey this week.
What flavor of vegan soft serve ice cream would you like to try?